Return to the Home Decorating & Design Forum
|
Post a Follow-Up
---
| | | |
| --- | --- | --- |
| I present to you...... | | |
Posted by
oakleyok
(
My Page
) on
Fri, Jun 13, 14 at 17:39
...from the Humane Society, No Name and No Name.

3 mo. old brothers, 1/2 Retriever, 1/2 Lab/German Shephard. Right up our alley!

My dh and I couldn't stand not having a dog any longer, we were lost. First time without a dog in 37 years.

We're open for suggestions for names!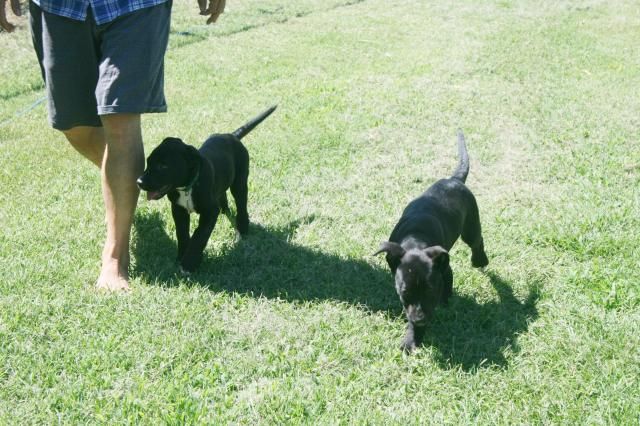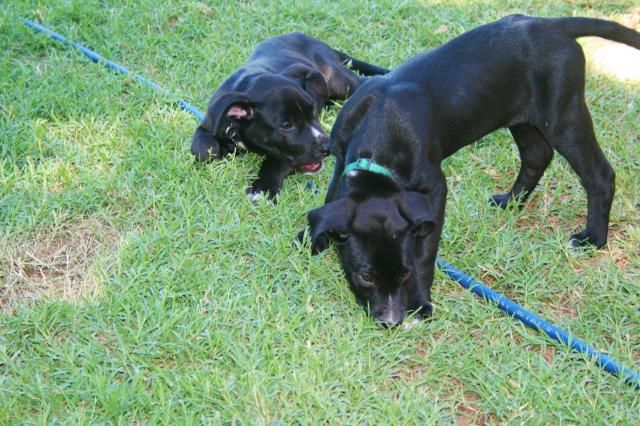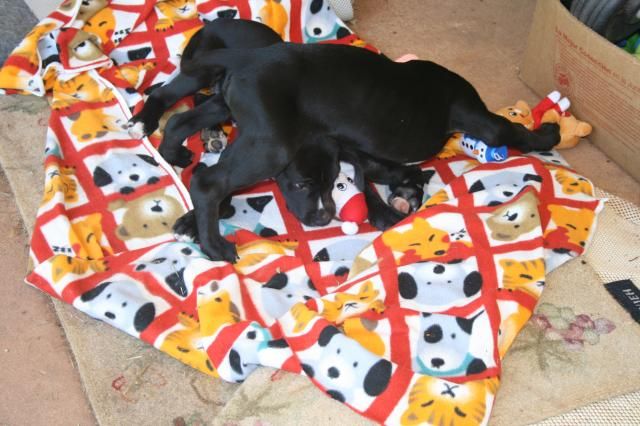 ---
Follow-Up Postings:
| | | |
| --- | --- | --- |
| RE: I present to you...... | | |
Aww, they're adorable--good for you for rescuing them! They will keep each other company and give you years of joy.
---
| | | |
| --- | --- | --- |
| RE: I present to you...... | | |
I am SO happy for you! Congrats!

First Annie's kittens, now your puppies. We can all enjoy the cuteness overload together!
---
| | | |
| --- | --- | --- |
| RE: I present to you...... | | |
Oh, my....lucky, lucky pooches! So happy for you.

We had a dog once we named "No Name"; "Noni" for short:)

You'll enjoy them SO much. I hope you'll keep us posted with updates and pix.
---
| | | |
| --- | --- | --- |
| RE: I present to you...... | | |
lol tweedle dee and tweedle dum
---
| | | |
| --- | --- | --- |
| RE: I present to you...... | | |
Too cute! As for names ... at least for the next year ... Trouble and Mischief !!!!!
---
| | | |
| --- | --- | --- |
| RE: I present to you...... | | |
Congratulations on the addition to your family. SO cute! THANK YOU for saving 2 lives by adopting from a shelter.
---
| | | |
| --- | --- | --- |
| RE: I present to you...... | | |
Adorable pups. "Scotch & Soda"?
---
| | | |
| --- | --- | --- |
| RE: I present to you...... | | |
Adorable!!! Congrats on your new furbabies . . . and another BIG thank you for adopting them from a shelter! These little guys are so blessed to have you for their mom. What a great life they have ahead of them now, thanks to you and your DH!
Lynn
---
| | | |
| --- | --- | --- |
| RE: I present to you...... | | |
Oh I love puppies! I'd name one "JF" for Joe Friday and one" Gannon" for Joe Friday's sidekick Bill Gannon in the classic Dragnet crime show. After all they are a team and with that little bit of Shep they will be keeping an eye out for bad guys.
---
| | | |
| --- | --- | --- |
| RE: I present to you...... | | |
Aw, so cute! Congrats! Bullet and Ranger. Don't ask me why, they just popped in my head. lol
---
| | | |
| --- | --- | --- |
| RE: I present to you...... | | |
How wonderful!! Congratulations. They look like my Sparky.

They will give you so much love. They were meant for you.

How about Maks and Val after those gorgeous black haired brothers on dancing with the stars. Except...your guys are more beautiful ;-)

Just a heads up...we got my Sparky early last summer (adopted him). When I took him to the vet he had roundworms and hookworms but was negative for heartworm. He has been on prevention and recently tested positive for heartworm. The vet told me that he likely had them when we adopted him but it was too early to show up on the test at that time. You might want to have your little beauties checked more than once a couple months apart.
---
| | | |
| --- | --- | --- |
| RE: I present to you...... | | |
Adorable! Looks like it's going to be a busy summer for you!

YAY Puppies!
---
| | | |
| --- | --- | --- |
| RE: I present to you...... | | |
Mutt and Jeff...super cute!
A new dog (or dogs) definitely helps heal your heart after losing a beloved pet. Have fun!
---
| | | |
| --- | --- | --- |
| RE: I present to you...... | | |
Adorable, and they look energetic. Reminds me of my sisters dog when it was a pup. They named it Audi and the other could be Mercedez.
---
| | | |
| --- | --- | --- |
| RE: I present to you...... | | |
Bib and Tucker?

Tux and Edo?
---
| | | |
| --- | --- | --- |
| RE: I present to you...... | | |
Thanks, everyone! Red, they go to the vet around June 5th for more heartworm meds for their size, rabies, parvo, whatever else they are too young to get right now, but they've been wormed.

They were neutered 5 days ago and seem great.

Can I ask you all a couple of questions? One of our local news stations has a dog or cat from the Humane Society every Friday at noon, which is what made us go today. I wasn't really paying attention today, but in the past when they talk about cost it always said about $70 or so, more if the dog had to be spayed.

The "donations" for these dogs were $200 each. Yowza! Of course they're tax deductible. lol.

Doesn't the "donation" seem a bit exorbitant to you? They did throw in new leashes and lots of new toys, and I asked for the blanket they were laying on, which is heavy duty.

Another thing, they told us they really didn't want to find them a home together, but we insisted they not be separated. We were told it's not because of fighting but because they are littermates they compete with each other. We fed them from the same bowl (dry) when we got home and they scarfed it down together.

Did we make a mistake? See, years ago we had two female Pointer sisters (hee), and when they turned six months old one dog started attacking the other, it was really bad and we had to get rid of her.

Pointers are very posessive dogs, and I chalked it up to that.

Any suggestions? They also said we need to separate them for an hour or two each day, which is easy to do. It supposedly helps with the competition they have, or are supposed to have.

Right now they're best buds. :)
---
| | | |
| --- | --- | --- |
| RE: I present to you...... | | |
I would take them to "puppy kindergarten" and that might help them to continue to get along well w/ each other as they get older. Also, when we got our pups, the breeder said to be cognizant of their "pack order" and to reinforce it (i.e. whichever dog appears dominant, give food to first) to reduce the risks of competition. Our two have gotten along very well despite an initial little tiff when we first brought Bailey home when Molly was five months old. We do feed them in separate crates so there is no chance of food fighting.

We took one of our dogs to puppy kindergarten and one did not go ( the younger one b/c we didn't really like the teacher for M's class and couldn't find another one)

Molly, who attended school, is WAY better behaved than Bailey who did not. Better listener, better w/ other dogs on leashes, etc. Could just be their personalities but I will always wonder if the early education had something to do with it :)
---
| | | |
| --- | --- | --- |
| RE: I present to you...... | | |
I just looked at their photos again. So cute. Mo and Shep flew into my head as names.
---
| | | |
| --- | --- | --- |
| RE: I present to you...... | | |
I love a good rescue story--and those sweet puppies!

Goofus and Gallant? ;-)
---
| | | |
| --- | --- | --- |
| RE: I present to you...... | | |
Thank you, Beagles. I fould a slew of websites talking about "Littermate Syndrome."

The key is to separate them daily so they can handle being away from each other. That should be easy to do.

We're lucky that our son's two little dogs are here, who are 10 years old. They all get a long.

We will definitely read more about this and work hard so they won't fight.

Pray for me. LOL!!!
---
| | | |
| --- | --- | --- |
| RE: I present to you...... | | |
Congratulations on your new pups. You need them, they need you.... a match made in heaven.
Your loss of your boy motivated me to be more diligent giving the monthly meds to my two pups.
Benjamin & Oliver? Gus & Henry? I like Bib & Tucker!
---
| | | |
| --- | --- | --- |
| RE: I present to you...... | | |
I have no idea why but I instantly thought of Romulus and Remus!
---
| | | |
| --- | --- | --- |
| RE: I present to you...... | | |
What cuties! How lucky for them that you took them in.
---
| | | |
| --- | --- | --- |
| RE: I present to you...... | | |
Two years ago we adopted a pup from a rescue which fostered dogs which were brought up from North Carolina kill shelters. The adoption fee for their dogs vary with the age of the dog and several other factors. Kallie came to us at 4 months old spayed and under treatment for mange. She had also had some of her initial puppy shots. The adoption fee for our Kallie was $350.

Best wishes with your new pups. I've had lots of success having 2 or even more females at the same time, but I've never had luck with more than 1 male in the pack, but I've never had the boys as pups.
---
| | | |
| --- | --- | --- |
| RE: I present to you...... | | |
They are so precious!

I know my BIL had problems with littermates but as far as I know, they've been able to work it out with a lot of training.

Names are fun, esp in pairs. What does your DH suggest?
---
| | | |
| --- | --- | --- |
| RE: I present to you...... | | |
Names are one of those things that come to you once you get to know the pups better.

Mother named the neighbor cats...brothers...Mike & Ike, they look alike. Right up there with Ringo and Bingo!

Happy & Lucky?

But there are so many paired names, esp for boys depending on your background and things you like....Smith & Wesson; Bartleby and James; Orville and Wilbur; Butch and Sundance; Watson and Crick; Statler and Waldorf; Lewis and Clark; Holmes and Watson; Brisco and Logan; Ben & Jerry; Proctor and Gamble; Abbott and Costello; Abercrombie and Fitch; Smith and Jones; Felix and Oscar; Stan and Ollie; Mason & Dixon; Rosencrantz and Gildenstern...

And of course for a decorating forum: Ball & Farrow!
---
| | | |
| --- | --- | --- |
| RE: I present to you...... | | |
I think my family would look at me funny if I suggested "Ball and Farrow!" lol.

We're searching for one syllable names, where each would roll off the tongue.

About 3am I got up to check on the boys, and I had my houseshoes on. Both kept attacking them as I walked around the patio! I did notice they know the word "No" pretty good.

BEAGLES. The lady at the society said one of them was more mellow than the other. And it's true. Should the more active dog be the top dog? Or should we keep watching them, and if one backs down from play, then the other is the head?

We were given two $20 coupons to a dog training place about 25 min. from here. I really want to go and DS and I are trying to convince DH it would be in their best interest. I think it would be fun for us, too.
---
| | | |
| --- | --- | --- |
| RE: I present to you...... | | |
I think Zeke and Alfie would be cute too.
---
| | | |
| --- | --- | --- |
| RE: I present to you...... | | |
Adorable puppies. First thought that came into my mind when I saw them was they should be named Cooper and Bailey.

Not sure why!
---
| | | |
| --- | --- | --- |
| RE: I present to you...... | | |
Regarding the issues of dominance... My oldest is a veterinarian, and she says the most important thing is for humans not to interfere in the process. There is lots of constant communication going on between dogs that we don't even notice. When we get in the way of it, confusion sets in, and the dogs aren't sure how to behave. When we let them establish it, it will go more smoothly and efficiently. Of course, this doesn't include letting either of the pups become injured.
---
| | | |
| --- | --- | --- |
| RE: I present to you...... | | |
they are really cute! They will reveal their names to you, in good time.

eta - oops, meant to add that I'd not have rhyming names for puppies as it won't be clear to them which you are calling. Not as critical for cats, as they likely won't come when you call anyway. :)
This post was edited by olychick on Sat, Jun 14, 14 at 12:29
---
| | | |
| --- | --- | --- |
| RE: I present to you...... | | |
Oakleyok~
If you really want to raise them together it can be done but it will be difficult.
The top dog is you.
Beagles has a different situation since one of her dogs had already bonded with the human prior to getting the second.
The pack order goes down the chain once you've established that you are the leader.

Put them in separate crates at night to sleep.(separate rooms)
When you get up to take them out for their middle of the night duties take them separately.
Go to puppy class separate.
Feed in separate areas.
I would even walk them on different streets so as not to have the recognizable scent of the other.

I'm sure you've read all the horrors of littermates,actually lived it yourself.
Seems the common thread throughout is to keep them separated as much as possibly for the first year.(Meaning not to separate an hour a day-they can only be together an hour a day.)

The question is ..
Can you keep two dogs that can only be together limited amount of time for the first year ?

Seek out the advise of a trainer that specializes in littermates.
That will run about 250.00 an hour .
Well worth it when you look at long term it averages
about $14 a year.
---
| | | |
| --- | --- | --- |
| RE: I present to you...... | | |
Oakley, so happy these 2 have come into your lives. I have always liked the name Trooper for a male dog. Our current dog (male) is Sarge. We always had females before we got Sarge when he was a year old. The 'finders' had named him so we just kept the name because it seemed to fit him. I agree with picking names that don't rhyme too much so they won't be confused when called.
---
| | | |
| --- | --- | --- |
| RE: I present to you...... | | |
Just to be clear, the breeder did not say to interfere in establishing dominance. He said once the dogs have clearly established dominance, to reinforce what they have done.

E.g. in our house, it is clear Molly is dominant (she humps Bailey periodically just to make it clear and woe betide him if he ever tries that!). So we feed Molly first and her leash is a little longer so she leads, because if b. was fed first, that would confuse things.

maybe others do things different, but it works for us...
---
| | | |
| --- | --- | --- |
| RE: I present to you...... | | |
We're not going to interfere with determining dominance. We've spent most of the day outdoors with them and it's clear who is the dominant dog. Of course things can change.

We're going to start Puppy school next week for 4 weeks, then continue on to obedience training. This place trains police, detection and companion dogs too, so I'm hopeful they'll be full of advice.

I'm really excited about their training. We've always had sporting dogs (except for Boone,) but this will be our first time in training. DH will be taking them on a lot of hikes and swims so the faster they learn the better.

Unlike last time, we're going into this with eyes wide open. lol.

Their names: Wolf and Lobo. Anyone know spanish? :)
---
| | | |
| --- | --- | --- |
| RE: I present to you...... | | |
| | | |
| --- | --- | --- |
| RE: I present to you...... | | |
So much cuteness! Congratulations!
---
| | | |
| --- | --- | --- |
| RE: I present to you...... | | |
We've always lived with multiple dogs. We've always had dominant breeds, Dobies, Rotties.

The main thing is you must always be the most dominant. The info given above is correct. You and your husband are alpha dog.

The rest of the pack figures out who's who. Females always dominate (at least that was our experience). They keep the boys in their place and it can sound scary but no one gets hurt.

I have never separated our dogs except with crates. They always had their own place (crate). They boys will always fight for dominance but if one pup appears more dominant than the other, its probably the way it will stay. You can respect that order.

Both boys have been spayed so they won't go through the horrid 'teenage' period where much of the fight for dominance starts to begin.

Our dogs would chase each other. They would cause quite a scene in the yard which sounded horrible, but there was never a bite. It would come up occasionally and always ended quickly.
If it happened in the house, I always stepped in. My dogs had to listen to me and they did. They never challenged my authority.

You must set yourself as the boss without any doubt. Obedience training is very important. It puts you in the position of alpha (top dog). Make sure to follow up at home with each dog separately. All your obedience work should be done individually. The importance of setting you up as 'top dog' will take place through these exercises. They should only relate to you and not each other.

Sometimes the most important work you have to do is convince yourself you are the boss. For many people, that is hard to do.

Jane
---
| | | |
| --- | --- | --- |
| RE: I present to you...... | | |
So happy for you, your hubby and those 2 beautiful baby boys ! I am certain you will do all that is needed to work out the littermate issues. I had not heard of this before, but then again I only know of 1 family who adopted littermates together- 2 golden retriever mixes- but they were male/female siblings.
LOVE the names ! Enjoy those beautiful boys Oakley
---
| | | |
| --- | --- | --- |
| RE: I present to you...... | | |
Thanks so much for the information, Jane! I'm thinking they have figured out I'm the alpha dog here, and also my husband.

Our humane society fosters out dogs, they don't keep them overnight, which means the pups have been exposed to people. Both boys have figured out when I raise my voice and say "No!" they stop dead in their tracks. lol.

Lobo seems to be the alpha dog, he starts all the rough housing which is kind of fun to watch. Like you said, no biting. There were a few times I stepped in and got onto him (he was probably okay though), and he stopped.

We really don't have room to crate them, especially as they get older. We've always had inside/outside dogs which these boys will be. Right now they're sleeping on a ruined Safavieh runner with their blanket on top, near the backdoor on a covered patio. We'll be taking turns bringing them in and out during the day. Already spoiled. :)

This morning was awful. We let Lobo inside and my cat Lizzie, who is about 6 years old & has been around big dogs since day one, but no puppies, literally attacked him! She didn't do any damage, but she wouldn't give up. Lobo would run away yelping, and Lizzie chased him. She is MAD. So now I have to take the time to make sure Lizzie won't kill them. LOL. Suggestions welcome on this!

Does neutering help with aggression between littermates?

They also microchipped them and entered out name in the system which I thought was great!
---
| | | |
| --- | --- | --- |
| RE: I present to you...... | | |
Oh, LIZZIE is the alpha dog!
---
| | | |
| --- | --- | --- |
| RE: I present to you...... | | |
Varying adoption fees around here. We got Sparky near my mothers home which is in a very economically disadvantaged area and the shelters are busting at the seams. So the adoption fee was cheap. But, his surgical wound was also infected and he came to me with intestinal parasites. I don't blame the shelters. They are mostly volunteers run by volunteers staffed by volunteers with overworked volunteer vets donating their time.

Near my home the adoption fees are higher. $200. Does seem high. But they look like they will be worth it.

Since your pups got neutered young, doesn't that help with the aggression and marking, etc issues?
---
| | | |
| --- | --- | --- |
| RE: I present to you...... | | |
Near us, adoption fees for puppies range from $250-350. It really isn't high, considering the expense of keeping a shelter going. You aren't as much "paying" for the dog as you are making a charitable contribution.
---
| | | |
| --- | --- | --- |
| RE: I present to you...... | | |
Nip and Tuck?
Butch and Sundance?
Hey You and Who Me?
Supper and Time?
---
| | | |
| --- | --- | --- |
| RE: I present to you...... | | |
oakleyok, I wasn't thinking you were going to interfere with dominance, I was replying to some of the other comments :)

Hopefully your puppy training will be fun. When we took Molly, she got to do cool stuff like learn to jump through a hula hoop. We didn't like the teacher b/c she spent half of the class trying to sell us stuff but some parts of the class were great.

I think the key for the training is not just to get them to know you are in charge but also to have them exposed to different situations (bikes, skateboards, people w/ umbrellas, other dogs on leashes, etc.). That was a big part of our puppy kindergarden and Molly is OK w/ all that stuff but if Bailey sees a bike on our walk he is NOT happy.
---
| | | |
| --- | --- | --- |
| RE: I present to you...... | | |
| | | |
| --- | --- | --- |
| RE: I present to you...... | | |
I think my family would look at me funny if I suggested "Ball and Farrow!" lol.

That made me laugh out loud!!!!
---
| | | |
| --- | --- | --- |
| RE: I present to you...... | | |
First of all- it's wonderful that you did adopt from a shelter/escue. I cannot fathom buying a dog.
We learned the hard way, when we inherited our daughter's dog, a young female mix of we don't know what-- (we already had a middle aged female shepherd_) that what is "Fair" with children is not a good thing to judge with dogs
But I digress- if anyone is in the NY area, and thinking about adopting, please have a look at 2 good sources:
Yonkers Animal shelter (they have awesome dogs and they are actually no kill) and, the NYC ACC *on Facebook there is a page for URGENT PART 2) which is unfortunately a kill shelter. There are amazing dogs (and cats) at both- and they could really use exposure.
Here is a link that might be useful: urgent part 2 albums
---
| | | |
| --- | --- | --- |
| RE: I present to you...... | | |
Wolf and Wolf? Cute! As Lobo is Spanish for "wolf".
---
| | | |
| --- | --- | --- |
| RE: I present to you...... | | |
Yes! My dh minored in spanish, and has a lot of clients who speak only spanish. He loves the spanish language. Our very first dog was named "Paco," which I think means friend.
---
| | | |
| --- | --- | --- |
| RE: I present to you...... | | |
Cute pups. I have had pups from the same litter and never had any issues-both males and neutered. So glad you adopted them-two are always more fun!

Paco does not mean friend, btw. It is simply a boy's or man's nickname.
---
| | | |
| --- | --- | --- |
| RE: I present to you...... | | |
| | | |
| --- | --- | --- |
| RE: I present to you...... | | |
Cute pups. I have had pups from the same litter and never had any issues-both males and neutered. So glad you adopted them-two are always more fun!

Paco does not mean friend, btw. It is simply a boy's or man's nickname.
---
| | | |
| --- | --- | --- |
| RE: I present to you...... | | |
Cyn, I had to ask my husband and you're right. There is a reason he named him Paco, which I had no idea until now!

Yeah, I couldn't leave one of them back, it seemed cruel to me, and we have the big fenced in yard, and a lot more land once they're trained. It's a dog's paradise here. :)

Right now we're bringing them inside one at a time, then we let both in together. One of the dogs whined when the other was inside & he was out, then he quieted down fairly soon.

It's funny though, they both prefer being outside in the heat and humidity over inside. Come winter I'm sure they'll be inside constantly!

I told you all my oldest cat tried to attack one of the dogs, well, my youngest cat who is about six months old, practically tore my arm up! She likes to play in the backyard, and she was on a tree limb. Since the dogs arrived, she stares at me from the limb to come get her and carry her inside. Once I had her in my arms today both dogs came and started jumping up and down. She bolted while I was trying to hold her. Worst pain since my kidney stones! LOL
---
| | | |
| --- | --- | --- |
| RE: I present to you...... | | |
Congrats Oakley!!!!

Since I'm a huge old-school Star-Trek fan, I would've loved the names to be Romulus & Remus too!!!!

In the original Star-Trek episode "Balance of Terror", those 2 names are two of the Romulan-empire home planets, on their side of the "Neutral-Zone". In the show, the Romulans were mounting sneak-attacks across the N/Z with a new invisibility/cloaking weapon. They would destroy Federation ("Our side"!) outposts built on asteroids close to the N/Z.

It was SUCH a cool episode back in the day (mid/late-60's)!!

Obviously, Romulus & Remus come from old Greek or Roman mythology I believe???

Faron
---
| | | |
| --- | --- | --- |
| RE: I present to you...... | | |
Oh Faron, too funny... I know NOTHING about Star-Trek. But I did have a fabulous Greek Language professor in college (Dr. Roman, no less), who taught us Greek through the myths. And I've never forgotten Romulus and Remus!
---
| | | |
| --- | --- | --- |
| RE: I present to you...... | | |
Yeah....the pix of those cute pups playing, makes me think they'll be launching many "sneak-attacks" in the near future!
They seem very "capable" of that....LOL!!!

Lotsa luck Oakely & Co....;-)

Faron
---
| | | |
| --- | --- | --- |
| RE: I present to you...... | | |
They struck me as sort of gangly. Legs and Begs?
---
| | | |
| --- | --- | --- |
| RE: I present to you...... | | |
Rocky and Bullwinkle.

They are adorable. Enjoy!
---
| | | |
| --- | --- | --- |
| RE: I present to you...... | | |
Congrats! Take lots of pictures because they aren't going to stay this size long.
---
| | | |
| --- | --- | --- |
| RE: I present to you...... | | |
When it rains, it pours, right? I think Wolfie has Kennel Cough, but in the very early stages. He goes to the vet later this morning.

Yesterday I noticed he coughed a few times, almost like something was stuck in his throat. I didn't hear him cough anymore so I blew it off. This morning, same thing. I knew then it had to be something, so I looked up "puppy coughing," and Kennel Cough came up.

It's highly contagious, so we need to keep an eye on Lobo, and my son's two dogs, Gus and Buddy.

We'll have to postpone puppy school. At least they're leash trained!

I'm exhausted! lol
---
| | | |
| --- | --- | --- |
| RE: I present to you...... | | |
This post was edited by jstell2008 on Fri, Sep 26, 14 at 20:29
---
| | | |
| --- | --- | --- |
| RE: I present to you...... | | |
I'm so excited for you Oakleyok!
---
| | | |
| --- | --- | --- |
| RE: I present to you...... | | |
OMG Oakley, I'm so happy to read this post. What beautiful babies you have adopted, I'm so happy for you and your family. They will never replace your handsome blessing Boone but hopefully can fill you with more love than you've ever known. This post made my heart smile so big, thank you!
---
| | | |
| --- | --- | --- |
| RE: I present to you...... | | |
I love Wolf and Lobo! Hope the KC goes away quickly!
---
| | | |
| --- | --- | --- |
| RE: I present to you...... | | |
Judging by the photos, I'm guessing the one with the stronger white blaze is the submissive one. In the first photo, the other one looks inquisitive whereas the 'blaze' is staying close to the human. The other pics are self explanatory. : )
The fees around here are close to what you quoted and they're based on age and breed. Once you compare the fee (which includes the neuter, right?) to the cost of your vet doing the surgery, then $200 is a bargain.
I think having them neutered early will make a difference in any aggression but as someone mentioned earlier you may have no problems at all.

Great choice on the names!
---
| | | |
| --- | --- | --- |
| RE: I present to you...... | | |
Annz, you are quite astute!! I never would have come up with your assessment, but I do think you nailed it. It's almost neck and neck, but we also think Lobo is the alpha dog.

Now if I could just figure out a way to potty train them inside. I'm going to have to buy a puppy gate to block off the back of the LR, even though I have puppy pads all over the place.

Anele, Wolf is almost over his cough, but Lobo picked it up the second day. They got started on the antibiotic immediately, thank goodness.
---
| | | |
| --- | --- | --- |
| RE: I present to you...... | | |
Oak~ Are you away from the pups for long periods of time ?
I was just wondering if there is a need at all to train them to use a p-pad .
---
| | | |
| --- | --- | --- |
| RE: I present to you...... | | |
They stay outside most of the day and all night. They will be inside outside dogs eventually, but with 2 puppies, the potty training is really realy hard. I've potty trained a lot of pups, but never two at a time.

We let them in several times a day, especially when it warms up in the afternoon.

I caught one peeing the other day, (his face was pointing to the pad inches away from him) and said no to him, and put him outside. If I'm watching one pup the other pup is somewhere out of sight. lol.

Right now they are in the house and I have the front part of the house blocked off. They're in the kitchen with DH while he's cooking jelly.

The gate I ordered will really come in handy. It will help put them both in my eye sight.

My goal is they'll be fireside dogs come winter. :)
---
| | | |
| --- | --- | --- |
| RE: I present to you...... | | |
Interesting. A few moments ago my son saw Lobo walk towards the back door. He asked Lobo if he needed to go potty. Lobo went out to the yard, peed, then came right back in!

I started thinking....these dogs never spent the night at the humane society, they were fostered out at someone else's house. So maybe they already know the words "go potty" and it didn't even register with me?

Lobo also got a treat when he came back inside. Good boy!
---
| | | |
| --- | --- | --- |
| RE: I present to you...... | | |
Ok~ One thing to mention...Well alot of things but I'll start with this...
You have to be there when they peep outside to praise.
I use the command "go potty" as they are going then it's a party atmosphere when they are done.
I know you said that you will not be using a crate but if you could use a couple for 2-3 weeks they will be trained..
Without the crates I would have them on leash in house ,one attached to you and one to your husband.
Keep in mind psychology.
You're training the pups WHERE to go ..
Not where NOT to go !

I'm sorry~ I rarely make sense to myself as well.
---
| | | |
| --- | --- | --- |
| RE: I present to you...... | | |
OOPS~ I was typing while you posted...Sounds like things are better then at first glance...
---
Post a Follow-Up
Please Note: Only registered members are able to post messages to this forum.
If you are a member, please log in.
If you aren't yet a member, join now!
---
Return to the Home Decorating & Design Forum
Information about Posting
You must be logged in to post a message. Once you are logged in, a posting window will appear at the bottom of the messages. If you are not a member, please register for an account.
Please review our Rules of Play before posting.
Posting is a two-step process. Once you have composed your message, you will be taken to the preview page. You will then have a chance to review your post, make changes and upload photos.
After posting your message, you may need to refresh the forum page in order to see it.
Before posting copyrighted material, please read about Copyright and Fair Use.
We have a strict no-advertising policy!
If you would like to practice posting or uploading photos, please visit our Test forum.
If you need assistance, please Contact Us and we will be happy to help.

Learn more about in-text links on this page here