Return to the Home Decorating Forum
|
Post a Follow-Up
---
| | | |
| --- | --- | --- |
| Activities for elderly. Ideas needed | | |
Posted by
golddust
(
My Page
) on
Thu, May 31, 12 at 12:10
I know there is a Caregivers forum but when I went there, it seemed more of a support group for caregivers ho were pulling their hair out.

Mom is pushing 89. She shuffles her feet, has balance problems and low muscle tone. It's difficult for her to get out of a chair. She has short term memory issues, often asking the same question 3 or 4 times in a 5 minute period.

Still she wants to be productive and frequently offers to help do things like vacuum (balance), put laundry away upstairs (still can't work her stair lift by herself or carry a laundry basket once she gets up there). You get my drift. She offers to do things here that she has been unable to do at her house for years. It would be crazy irresponsible of me to have her vacuum.

She sets the dinner table if she is awake, makes her bed and helps fold laundry (smaller items) but I'm having a hard time finding things for her to do around the house and she often says that she feels useless. I feel guilty when she says that.

I bought her 'Word Find' books that she is enjoying. I drug out my pot holder loom but she could not understand the weaving nor does she have the fine motor strength to weave the loops in and out... I bought some acid free photo albums, thinking she could sort her family photos and preserve them. No interest.

I'm thinking of rug hooking but the kits are so stupid looking unless you spend good money and I don't know if she would enjoy it. She used to sew but has no history of needle crafts, etc.

Any ideas on what I can try to occupy her time or how to make her feel like she is contributing?
---
Follow-Up Postings:
| | | |
| --- | --- | --- |
| RE: Activities for elderly. Ideas needed | | |
Do you guys have a Senior Center? She may enjoy having a chance to get out and engage with other seniors. There may also be some women's chapters like purple hats she could join.

Does she knit, crochet, embroider? Women of her generation used to embroider a lot. I'm not sure if you feel comfortable with the needle aspect but she might enjoy that if she doesn't have arthritis in her hands. Just make sure she has a threader so she can thread her own needles.

Does she have boxes of pictures she can go through and record the story behind?

Or if no pictures, maybe she has stories from her history or about the family that she can record for later generations to listen too? We did that with our great uncle before he passed, he had the best stories about vaudeville and when he and our grandfather were kids. He could sit in front of the microphone for hours telling them. Then after he passed, we burned them on to cds so we'd have them forever. We could see he thoroughly enjoyed the attention and that we were interested in him and his history.
---
| | | |
| --- | --- | --- |
| RE: Activities for elderly. Ideas needed | | |
That's a hard one, Gold. Does she like to read? Is her mind able to learn new thing, like playig simple games on your iPad, laptop or PC? When my mom got older, she discovered Solitaire on a computer and became addicted.

The only thing about needlecrafts is a person has to be very patient and have good hand coordination.

I'll be thinking of ideas for you!
---
| | | |
| --- | --- | --- |
| RE: Activities for elderly. Ideas needed | | |
I agree that a senior center would be a great start but I also think that plants and tending to them is great for a person. Could you make a waist height garden on your deck? Let her choose the flowers and have to maintain them. Just having something living means a lot to a person. How about leaving dishes in the sink that she can wash. Heck you can run them through the dishwasher later if they're not good enough, she could dust all the furniture daily, clean the silverware for you, clean the t.v. screens etc. If you just had a small daily routine like the above for her to do she'd feel needed. You're a dear daughter to want to give her what she needs. Call the senior center, explain the situation and see if there are any programs (even a simple exercise) that would apply to her abilities. They'd be a good source too.
---
| | | |
| --- | --- | --- |
| RE: Activities for elderly. Ideas needed | | |
Listening to books on tape, puzzles, oakley, you had mentioned coloring books for adults awhile ago, maybe she would like that.

Maybe you could go to a crafts store and look around? I will try to think of more, too, golddust.
---
| | | |
| --- | --- | --- |
| RE: Activities for elderly. Ideas needed | | |
Sorry Gold, I didn't see your comment about the needle crafts. Maybe embroidery isn't the best idea then.

Yaya that's a great suggestion about the garden!

It is so sad when they say they feel useless because they really do and that is a seniors biggest fear is when they hit the point of being useless. Don't feel guilty though Gold, you are working so hard and doing a great job to ensure she's happy and content.

Another idea, is an Ipod for her to listen to music with, you know from her generation. That might make her more comfortable when she's doing the word searches.

Do her and Jack get a long? Is there anyway she can interact with him and brush his coat?
---
| | | |
| --- | --- | --- |
| RE: Activities for elderly. Ideas needed | | |
(Sigh) my sibs and I are right there with you, trying to come up with ideas for our parents! My dad turned 85 today and he & Mom just flew back yesterday from their Florida place to their summer place up in Michigan. A couple of years ago, I bought them one of those lightweight gardening benches (for each of their homes) that they can use to sit on and garden or kneel on when it's flipped over. It's a huge help because neither of them can get up by themselves from a kneeling position any more without help. Does she like to garden? Even a one or two big raised pots might be enough for her. These gardening kneeler benches are also a huge help for them inside their homes, too, when they need to pick up anything. They love their and use them daily.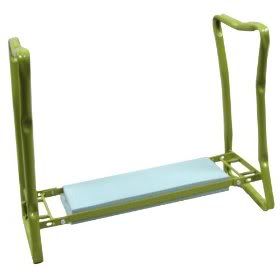 They like to visit with their neighbors and just bought a used golf cart to drive around on at their summer place. Would this help your MIL . . . or just help her to get lost on your property?
Both my parents swim in their community pools for exercise. Actually, they probably just walk around in them most of the time, but any exercise at their ages is better than none. Any community pool around with senior exercise time?
The local senior center has exercise times every day. Any close by you? Many of these places have a shuttle bus that will pick seniors up at their homes and bring them to the center. They're a nice place to meet other seniors in the area, too. They're also used to dealing with (mild) short-term memory issues, although I'm sure not any major ones. A local church might have a similar program for seniors.
You could also do some online research or talk to your
healthcare providers and find some age-appropriate exercises that you two could do together. Tell her you need an exercise partner to keep yourself in shape. She may be glad to work with you then.
How about a bird book and a pair of lightweight binoculars?
Books from your local library if she's a reader.
Do you think she might like - and be able to - email her friends or distant family members? We bought my dad a computer for that but he was constantly frustrated with it and finally donated it to a local shelter (grrr). How a man who used to be the vp of an international banking corp could not figure out simple computer functions is beyond me, but he couldn't. He retired 29 years ago, though, and probably had his secretary do everything back then (LOL!).
Does she like to watch tv? Can you rent her movies she loved from the Forties, Fifties, etc.? My parents tell us that tv today is too violent for them, but they do enjoy watching those old movies. Lawrence Welk reruns, too (LOL!).
I hope that you get some good ideas that I can use for my own parents, Goldie. I'll be checking back.
Lynn
---
| | | |
| --- | --- | --- |
| RE: Activities for elderly. Ideas needed | | |
I'd put her to work helping with kitchen chores...peeling, husking, shelling, stirring, etc. Even if you have to make things you don't usually, an easy cake, cornbread, etc. You could also have her go thru pictures and organize them (her own or those you have of your husband's family) make scrapbooks, etc. The result isn't as important as the task. You could take the unfolded laundry upstairs and ask her to fold and put back in the basket if she can't put it in each room where it lives. Could she still sew/mend? Polish silver, organize junk drawers, that sort of thing?
---
| | | |
| --- | --- | --- |
| RE: Activities for elderly. Ideas needed | | |
I think there are a lot of good suggestions here!

When she complains of feeling useless, ask her what would help her feel more useful. Also express concern that she may be bored, and inquire, "How would you really like to spend your time? What's your favorite way to spend a day?" You can tell her that you want her to be happy, and want to support her interests, but you're unsure of just what would be the most enjoyable activites for her.

As far as the "useless" issue goes, you can also share that you're not quite sure how to "put her to work" just yet, but as opportunities present, you'll call upon her for assistance! In the meantime, "let's just enjoy one another's company and get to to know each other better."

Sounds like you're trying very hard to make her happy and to feel at home. Let her help you to help her. You're jumping through hoops to please her (& I admire your efforts SO much) but she also needs to communicate what she needs and wants.
---
| | | |
| --- | --- | --- |
| RE: Activities for elderly. Ideas needed | | |
Goldie - my grandmother is 95 and is now is assisted living. A couple of years ago she was diagnosed with beginning stages of Alzheimers. She is on medication and has not progressed. She is a very fiesty lady! She lives in a villa with 13 others. They have a day program also. I'm wondering if your MIL might like something like that? I know someone above mentioned a Senior Citizen center. My mom and dad went to one near them. They have such neat things! My mom took french and art. They participated in dancing (I would have never believed it!), and met friends there to play cards and my dad played pool with some of the men.

But back to the assisted living center. My grandmother is much the same way. She likes to "help" the caregiver in her villa. She helps bring dishes to the kitchen, fold clothes, etc. She is still quite coordinated. If your MIL could go somewhere like that as a day client a couple of days a week, she might like it. It's good for them socially. They also do "chair" exercises, play bingo, do crafts, have times where they sing and play music, they have a small garden area which the clients help tend, and they have outings several times a week. Ha - there is a weekly Walmart trip. My grandmother loves the find a word books. Mostly I think she enjoys talking with the others in her villa and the workers there. Just a thought!
---
| | | |
| --- | --- | --- |
| RE: Activities for elderly. Ideas needed | | |
There have been studies showing that even the elderly can benefit from weight bearing exercise.
Here is a link that might be useful: Strength training for the elderly
---
| | | |
| --- | --- | --- |
| RE: Activities for elderly. Ideas needed | | |
Senior center also often have "chair work-out classes" where the participants sit in chairs and do their exercises. They do arm workouts but also things like leg lifts, knee lifts etc. They do coffee drop-ins as well. If she likes to read, does your library do a bookclub that she might be interested in. My mom who is 83, is active on the computer but also likes do play solitaire and other games. Others have mentioned gardening, what about a little corner in her living area with some plants, terrariums etc that she could take care of. Heck, send her here, we'll talk to her.
---
| | | |
| --- | --- | --- |
| RE: Activities for elderly. Ideas needed | | |
Ugh. I do have her chop, etc but DH grosses out when she helps. She always has a dirty Kleenex in her hand and I can't trust her not to wipe her nose and not wash her hands. She chops food while holding her Kleenex between her hand and knife.

I had her put teabags in a sun tea container and DH announced later (not in her presence) that he would not drink any of that tea because she was pushing the teabags down with her dirty Kleenex fingers. Sanitation is an issue. Bad habits are hard to break at 88!

Will try to find senior activities but she complains that she is too shy to participate. Her short term memory loss makes it challenging for strangers to converse with her.

I know I am sounding negative. I'm not trying to!! She is very limited mobility wise and to give her water for a garden may make her fall. She has fallen about 6 times in as many months just walking. Last wek she fell while visiting her sister while I worked on her house.
---
| | | |
| --- | --- | --- |
| RE: Activities for elderly. Ideas needed | | |
Hmmm, that could be my Dad but he doesn' t feel any need to help out. (Although he would do anything I asked).

He is wildly interested in sports and spends most of the day watching various sporting things. We get the NFL package during football season and I record favorite games for him to watch over and over.
The other "main thing" in his life is audio books. He is addicted. I go to the library every week and get 15 which he listens to the entire time he is not watching sports.
I take them out of the case and stack them in order. He can put them in the simple cd player and hit the play button. I don't think he knows exactly what he is listening to (if he listens out of order or from different cds he doesn't notice)
At night he is with us upstairs, watching regular tv or a movie. We talk sports a lot and I check the guide every day to see if his teams are playing and televised. He loves certain tv shows- Law and Orders, Mash.

Personally, I would put a high emphasis to your mil that her presence is a great blessing to you and the very best thing she can do to "contribute" is to take good care of herself. So, mild, elderly type exercising, mental stimulation and things for dexterity- puzzles- do "contribute" to the household.

And buy some beans for her to snap once in a while...wash more socks...
---
| | | |
| --- | --- | --- |
| RE: Activities for elderly. Ideas needed | | |
Personally, I would put a high emphasis to your mil that her presence is a great blessing to you and the very best thing she can do to "contribute" is to take good care of herself. So, mild, elderly type exercising, mental stimulation and things for dexterity- puzzles- do "contribute" to the household.

I agree with Bumble on that. She needs to feel needed. Socialization is important though. Even if she is shy, I encourage you to try it. We didn't have a choice when we placed my grandmother in assisted living, and he was furious with my sister and I for a while. But then she started enjoying herself and she is now quite content. We had planned to bring her back home with round-the-clock caregivers after mom's passing, but realized she is so much better off where she is. Maybe you could try going with her to a senior's center for a few times and if she likes it, work on getting her there alone.

Best of luck!!

tina
---
| | | |
| --- | --- | --- |
| RE: Activities for elderly. Ideas needed | | |
You don't sound negative at all, Golddust! You sound like a champ! This is a very challenging scenario. My heart goes out to you. Keep us posted.

As I said before, I so admire your efforts.
---
| | | |
| --- | --- | --- |
| RE: Activities for elderly. Ideas needed | | |
Golddust, when I worked in the convalescent home, I would try to encourage the residents to participate in group activities and met with resistance out of fear, which is what your MIL is experiencing. It's very common, but just like with a child starting at a new school you have to help them along. Maybe even just go on a whim without really preparing her and then sit with her until she's comfortable, if it's been a while since she was social, it may even take a couple of visits. In my experience, the other seniors always understood and responded compassionately. Some may even be experiencing the same issue, it would really do her good to have time with people of her own age.
---
| | | |
| --- | --- | --- |
| RE: Activities for elderly. Ideas needed | | |
Interesting Gold, that you are the supportive one and it is your husband's mother! I get what your husband is saying but it adds more stress than help to the situation.
Another vote for a senior center or day center. She needs to get out of the house for a few hours for a change in scenery.
A friend I once had , had an elderly aunt. She realized there was nothing they could really do together so she started having a regular tea time. Older people like routine and this might give you a chance to slow down and have a quiet cup of tea with MIL. This could possibly expand out to discovering different tea, reading and talking about them.
Did she have any hobbies that coud be simplifyed?
At 89 (wow) she has earned the right to take it easy!
---
| | | |
| --- | --- | --- |
| RE: Activities for elderly. Ideas needed | | |
Ok. Now she has taken over my iPad. LOl. She is playing card games. If she hogs it, I am so buying her one. "I can't make that work. I don't understand it." ... "You don't have to understand it to make it work." Later, "Look at you, Mom! You are computing!!" She laughs.

I have a call in to the Director of our local Senior Community Center. I will get her started there. Peers are important.

This is such a great group, even if I did just give my iPad away. She forced me back to my iPhone.
---
| | | |
| --- | --- | --- |
| RE: Activities for elderly. Ideas needed | | |
Maybe you could get her a cat? It would give her something to take care of.
---
| | | |
| --- | --- | --- |
| RE: Activities for elderly. Ideas needed | | |
OMG. She and DH are very allergic to cats. She is enjoying the dogs, however.
---
| | | |
| --- | --- | --- |
| RE: Activities for elderly. Ideas needed | | |
well, maybe since she can do the computer you could get her started on gardenweb!
---
| | | |
| --- | --- | --- |
| RE: Activities for elderly. Ideas needed | | |
My brother's MIL lives with them. She just turned 91 this month. When she visited us we knew she loved movies...she watches old one on her TV a lot of the day. DH set up his Mac laptop with a movie and showed her how to stop/start. Next thing we knew she was doing it all alone and pausing and getting up to go to the bathroom. She is/was a mensa member but still. We were impressed. She also has a stationary bike and has used it for 15 min a day for years. She loves it. Goes slow and steady and can start and stop it alone too. She is VERY unstable and not able to walk w/o holding something. Still as fragile as she is the bike is so perfect. So let her try it at the senior center. I am sure they have them. Also get her a Mac Air...mine weighs almost nothing and she can watch all kinds of movies etc and listen to music. Good Luck ! c
---
| | | |
| --- | --- | --- |
| RE: Activities for elderly. Ideas needed | | |
You all have some up to date seniors with the computer stuff!

Dad has not mastered the tv remote (well, neither have I, really) and cannot turn the channel. Or use the telephone. Sigh.
---
| | | |
| --- | --- | --- |
| RE: Activities for elderly. Ideas needed | | |
There are many good suggestions here, but, as the dtr of an 88 yo mom much like your mil, I have a few thoughts. My mom can no longer read or watch movies because of her short term memory issues. She simply cannot remember the story long enough to follow it. She isn't even frustrated by that because she doesn't realize it is happening - she reads the first page or two over and over again without any memory of having read it five minutes ago.

I agree with your hub about food prep and setting the table. Proper sanitation and food prep are too important to everyone's good health and mental well-being to let her help. I don't think it is just her old habits, though, coming through. My mom was a stickler for hand washing and good prep habits all my life, but not any more. I don't know why. And like your mil, she always has a kleenex in her hand! Always!

Like my mom, your mil has probably been useful and independent all her life, and now, though she still wants to be, she cannot be. She doesn't understand why, probably resents it, and there is nothing she or you can do about it. My mom thinks being being thrust among a lot of other old ladies is being babysat by a bunch of well-intentioned young people who know nothing of what she
needs or wants, and I am sorry to say I think she is right. But any more, neither Mom nor I know what she wants, either.

You've take on an extremely difficult assignment, golddust. I wish you abundant patience, and good humor. You have to laugh, and you have to cry sometimes. And remember: What goes 'round, comes 'round. We are next.
---
| | | |
| --- | --- | --- |
| RE: Activities for elderly. Ideas needed | | |
Well said, Sherrmann! My heart goes out to you, to Goldie and to all the primary caregivers of elderly parents.
---
| | | |
| --- | --- | --- |
| RE: Activities for elderly. Ideas needed | | |
I will add that movie selection is easy for DB's MIL as she doesn't remember which ones she has watched either !! Enjoys them over and over.

My Mom lived with me for 3 1/2 yrs. She was 88 when she passed, in her room sitting in her chair. We were lucky that she remained very alert and healthy inspite of lymphoma/chemo until one week before she passed away. She wouldn't go to any senior center or activities of that sort for the reasons that Sherrmann noted. I think it was Mom's loss. I wish now I had insisted as I think she would have gotten used to it and enjoyed it. It is a very difficult road you are traveling. I wish you much love and support. c
---
| | | |
| --- | --- | --- |
| RE: Activities for elderly. Ideas needed | | |
Glad my iPad suggestion worked! Yay! lol. And you know, it also sharpens the mind too.

Here's a thought. She sounds like she has early onset dementia with the short term memory loss. That's how it began with my mom. My brother took her in and he lived in another state. He said she was in the dumps quite a bit and feeling like your mom, useless.

She was taking her regular meds, then the doctor put her on a antidepressant, and my brother said it worked wonders on her mood!
---
| | | |
| --- | --- | --- |
| RE: Activities for elderly. Ideas needed | | |
I agree with what others are saying - for an elderly person, having pleasurable things to do is not the same as being helpful doing household tasks.

Most people need a mission in life. Thinking off the top of my head: folding laundry, such as towels and washcloths. Brushing the dog. Polishing the silver. You may have to make up tasks, such as tearing up junk mail with your name/address on it.
---
| | | |
| --- | --- | --- |
| RE: Activities for elderly. Ideas needed | | |
Is she interested in doing a family tree? Would be a good "project" to get the younger generation involved. They can spend time with her & listen to her stories & tape & write down what she says; then someone can teach her how to look things up using the ipad & one of the family tree sites.

She can watch the episodes of "Who Do You Think You Are" online using the ipad to get inspiration


I don't want to switch the convo; but was going to email you the story below. Click on print at the bottom of page 1 to read the whole thing on one page. They're talking about it on City-data's Caregiving board
Here is a link that might be useful: A Life Worth Ending
---
| | | |
| --- | --- | --- |
| RE: Activities for elderly. Ideas needed | | |
A vote for an antidepressant,if she is not already on one. I am not a big proponent of them and was concerned about someone elderly taking them. But in my nursing practice i saw amazing response in so many elderly patients . When I noted my Mom's depression I asked her MD. Mom agreed to try it for week or so. We were stunned at how well she responded in just a few days. Part of that is placebo and part of it is the med. At any rate she commented on it too...it made a huge difference in her energy level and response to others. c
---
| | | |
| --- | --- | --- |
| RE: Activities for elderly. Ideas needed | | |
Thanks to all who have taken the time to think about this and offer such great suggestions and links.

Mom is on an antidepressant. She is taking memory pills as well. She takes tons of medicine! Most because of her missing thyroid, due to cancer years ago. It's a challenge to get her to drink enough water daily. Warfarin and diet has necessitated a learning curve for me.
---
| | | |
| --- | --- | --- |
| Life worth living | | |
Roselvr, wow. I just read that great article on aging and quality of life. I hope I have the wherewithal to make wise choices for my MIL as well as for myself. The will to live is so strong in some people.

Thank you for guiding me to a very thought provoking article. I was thinking you should start a new thread with that link. I think it is an interesting topic.
---
| | | |
| --- | --- | --- |
| RE: Activities for elderly. Ideas needed | | |
What an article. I am over-whelmed at the moment. It has hit very very close to home. My Dad was in much the same condition/mental state for 6 months before he died and I was his caregiver. I moved to FL to live with Mom and Dad and take care of him. His dementia was brought on by something a pd caregiver did/gave him . She had been in their home for 1 month. She and her spouse were attempting to get my Dad to sign checks behind Mom's back. By the time Mom realized what was going on and my DB and I got there all was lost. Except for the horror and the bills the incompetent medical community that we had to deal with.

My only fault with the article is his ending. There is nothing you can do personally that will hasten your own end except suicide. If you decided to do this while you are still able then so be it. But...if you wait...ah...then who will you designate to carry out your wishes. Will they ? When will be the right time ? Tomorrow...OK...what if it is a good day ? See what you are facing. Hubris ...that is what is at work .

Thank you Gold for a powerful thread and roselvr for an eye opening article. And the writer, thank you.
Here is a link that might be useful: Hubris
---
| | | |
| --- | --- | --- |
| RE: Activities for elderly. Ideas needed | | |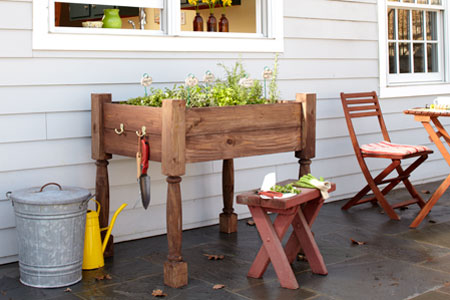 My husband made this for me for Mother's Day. It's a great height and a manageable size for someone elderly.
http://www.thisoldhouse.com/toh/how-to/intro/0,,20587439,00.html
You can purchase similar standing gardens at Gardener's Supply.
Here is a link that might be useful: Standing garden
---
| | | |
| --- | --- | --- |
| RE: Activities for elderly. Ideas needed | | |
Someone can go ahead & start a post if you'd like.
It's a shame the article is so long. He could have cut it down a lot. I wonder how many people will fully read it?

Such a shame that she had the right paperwork to stop something like this. :(
---
| | | |
| --- | --- | --- |
| RE: Activities for elderly. Ideas needed | | |
I don't believe it is hubris to want an exit strategy that includes some form of assisted suicide. Religious, moral and legal issues put aside for the moment, thinking about your own end-of-life possibilities and communicating them clearly to like-minded relatives is a first step. Some people can do it, some people cannot begin to fathom looking at the situation under which they will live at the end.

One excellent point the author made was to show how the tipping point moments of decision happen in a flash without our realizing it. The tipping point moment may be whether you call EMS. After that, other people are making decisions about your life.

---
| | | |
| --- | --- | --- |
| RE: Activities for elderly. Ideas needed | | |
Post a Follow-Up
Please Note: Only registered members are able to post messages to this forum.
If you are a member, please log in.
If you aren't yet a member, join now!
---
Return to the Home Decorating Forum
Information about Posting
You must be logged in to post a message. Once you are logged in, a posting window will appear at the bottom of the messages. If you are not a member, please register for an account.
Please review our Rules of Play before posting.
Posting is a two-step process. Once you have composed your message, you will be taken to the preview page. You will then have a chance to review your post, make changes and upload photos.
After posting your message, you may need to refresh the forum page in order to see it.
Before posting copyrighted material, please read about Copyright and Fair Use.
We have a strict no-advertising policy!
If you would like to practice posting or uploading photos, please visit our Test forum.
If you need assistance, please Contact Us and we will be happy to help.

Learn more about in-text links on this page here