Return to the Home Decorating Forum
|
Post a Follow-Up
---
| | | |
| --- | --- | --- |
| Camping anyone? | | |
Posted by
tinam61
(
My Page
) on
Thu, May 3, 12 at 8:43
This one's for you Trail! LOL I saw your response on the tanning thread when I said I'd start a camping thread. Would you believe, I don't think I have a single picture of us camping? OR OUR FOOD??!!! You are cracking me up on the food! Hee!!

Anyhoo - Any other fellow campers out there? I know on the tanning thread camping somehow came up. I know someone mentioned they could not sleep in a tent, etc. As much as we enjoy camping, we do not camp in a tent or sleep on the ground. Yes I know, we are not roughing it. I'll be the first to admit that we camp with many comforts of home. For our 25th anniversary we decided to gift each other with a camper (pull behind travel trailer). We also decided if we were going to get use out of our camper, we would be sleeping comfortably, so had a queen size mattress custom fit to the platform bed in the camper. The camper has a bathroom with a shower, kitchen with appliances, heat and AC, etc. However many places we camp do not offer full hook-up so we've used AC rarely (other things run off gas and/or battery). Plus, we prefer camping in spring and fall.

We do not camp at campgrounds that we call "concrete camping". You know, campgrounds full of concrete, pools, wi-fi, cable hook-up, etc. We love many of the state parks, national parks, etc. that type place. A couple of weeks ago we camped at the base of the Smoky Mountains here in TN.

Trail, just for you, food info. On this past trip we were close enough to home that we had some friends coming up one evening to eat and hang out. On the morning we left, I made a potato casserole before leaving home. I took honey glazed ham (sliced), and made deviled eggs there in the camper. Also cooked up a pot of green beans before leaving home. Add rolls, iced tea and chocolate cake (our friends brought), and that evening we had a great meal! We also took stuff to grill and snack on for other meals. We have a camp stove and also take a grill. Most of the time, unless it's pretty cool out, I will not cook much in the camper so as not to heat it up. There is a microwave in there. You should have seen us Thanksgiving weekend. We had the family to our house for Thanksgiving dinner. We camped in the same area (smoky mountains), so once our guests were gone and we'd cleaned everything up, I packed up all our yummy thanksgiving left-overs and that was the bulk of our eats for the next couple of days!! LOL I was able to just heat things up. We like roasting wienies and marshmallows over the campfire. Breakfast is wonderful cooked outside.

Many times we will camp near water - creeks, lake, etc. Many creeks in the mountain area. Most of our state parks will have a lake. So there is fishing, boating, etc. Some areas we camp we just hang out at the campsite, relaxing, enjoying nature, etc. Others there are scenic areas to drive/hike, etc. (such as the mountains). We enjoy that. There's one particular state park we go to that we usually will drive into a nearby city and go antiquing. There can be as much or as little as you want to do.

Okay, let's hear from other campers here!!

tina
---
Follow-Up Postings:
| | | |
| --- | --- | --- |
| RE: Camping anyone? | | |
I have SO many pics I am SURE I will be asked to cease and desist !! This is a typical site and set up with DH. We have a 2 person tent and use Big Agnes air mattresses. They are amazingly comfortable and deflate to the size of a qt bottle . Neat . You can get them at Amazon. Here are 3 pics from a recent trip to a GA state park that is 45 min away . We love it and always camp by the lake. We take our bikes and do a lot of biking and DH hikes while I run the trails.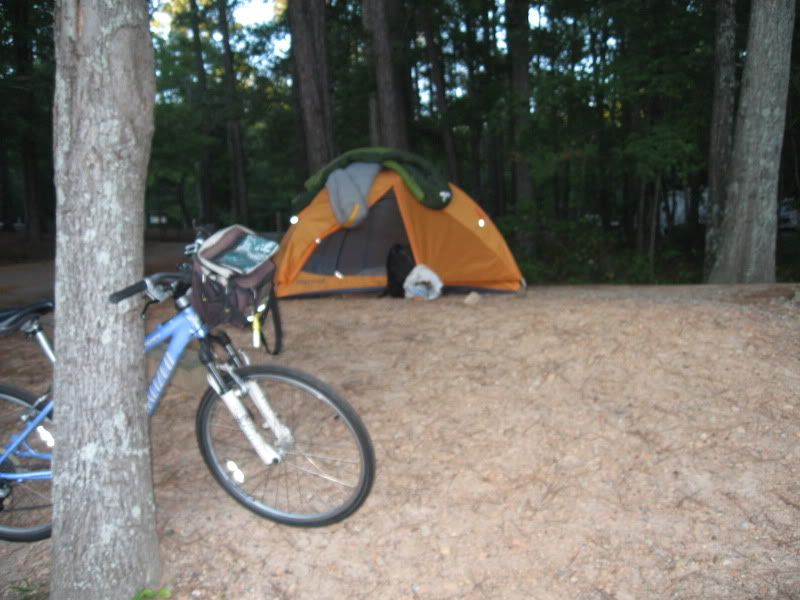 more later...DH is calling...have to go do some errands. Look forward to seeing what others post. THANK YOU TINA !!
---
| | | |
| --- | --- | --- |
| RE: Camping anyone? | | |
I'd love a camper trailor! If I get the courage I'll tell you all about my one and only camping trip, which scarred me for life. lol.
---
| | | |
| --- | --- | --- |
| RE: Camping anyone? | | |
oooo tina, that sounds absolutely wonderful! I've been looking at small pull-behind campers for a couple of years now. Can't convince DH yet. I think it would be fun to have one to throw bikes into & go someplace for a biking/camping vacation. Afterall, we live close enough to the Adirondacks, the Catskills, the Berkshires, the Finger Lakes, all of scenic New England...sigh.

Do you mind posting pictures of your camper? I'd love to see it.

My cousin enjoys her camper so much that she & her husband have retired and are touring the country in it, going wherever the whim wills.

Wishing you beautiful weather for your camping adventures this year!
---
| | | |
| --- | --- | --- |
| RE: Camping anyone? | | |
Funny you mention this, DH and SIL decided to go camping in a couple of weeks together, just the guys. DH hasn't done anything to spoil himself in a very long time so I couldn't be more excited that he's doing this; but I also love camping and am hoping he'll like where they're going enough for us to go back.
---
| | | |
| --- | --- | --- |
| Hit enter too soon... | | |
Tina, Sounds like such fun, I love all the lakes and wooded parks that we have here, a lot of it looks like TR pictures but I still miss the mountains.

Trailrunner, now that's the way I like to camp too. Just the basics.
---
| | | |
| --- | --- | --- |
| RE: Camping anyone? | | |
awm03 I don't have any pictures of the trailer and we don't keep it at our house. But I will try to remember next time we use it to take a couple of pictures. It's nothing fancy - camping is something we'd definitely like to continue in years to come, hopefully into our retirement, so we've talked at some point of buying something a little roomier.

tina
---
| | | |
| --- | --- | --- |
| RE: Camping anyone? | | |
We love, love, love to camp! We started our kids out when they were each 1 year old by tent camping for several years. After getting caught in a storm which blew our tent over, we decided to try a pop-up camper which was very fun too! We then started using it to take the kids all over the country to see things, and so we have now upgraded to a hybrid camper which has hard sides, but fold out beds on the ends. Our hope is to eventually take the kids out west with this camper. But we do have a special place in our hearts for tent camping, and still do that too on occasion.

We try to stay at state parks whenever we can, and hardly try the same place twice, with the exception of weekends close to home, or our favorite spot we go to once every summer. We fit those in around the new spots we try every year. We have never found a state park we didn't love.

Camp cooking is the best too!

There is never a dull moment. It is the best way to take a family vacation, in my opinion.
---
| | | |
| --- | --- | --- |
| RE: Camping anyone? | | |
My hubby and I before we married did several camping trips every summer. We slept in tents on the ground with friends. We also roughed it at the Woodstock '94 anniversary concerts where it rained most of the time and we wore mud in every crevice of our bodies. I really have no recollection of eating anything the whole weekend, but remember paying $9 for a bottle of Pepsi. Slept in tents that settled in mud. Eeww. But at the time, I didn't mind it was fun- gross but fun. Real camping though- haven't gone in years.
The most fun trips were to a cabin that belonged to a friend's family on the Susquehanna river in PA. The cabin had no electricity and the plumbing consisted of water pressure from a fresh water stream. So it was very limited. That was an annual trip, I have some great pics but none exist digitally and I don't have a scanner. We cooked on a fire pit and kept the beer cold in a trough that caught the cold water from the stream. It was always a great time. I think the beer helped A LOT with the rough conditions. This was probably not the smartest move but we also all brought pool rafts and walked the train tracks up stream of the river and rafted back down to the cabin. Lots of fun, but incredibly stupid- oh to be 20 again! Anyhow we'd go every year but- those friends divorced and we all lost touch and that was the end of an era.
Planning on a camping trip with my Brownie troop next year and somehow this just does not seem like it's going to be fun. Thirteen 8 and 9 year olds and some other mothers that are not always pleasant. I'm the leader, so I get to see the best of everyone ;) Lord give me strength :)
---
| | | |
| --- | --- | --- |
| RE: Camping anyone? | | |
Ok you all have me curious about this camping thing. I'm a little more interested now that Trail has mentioned a comfortable bed. Maybe there is even a little camping fan so I don't get too hot lol. What I would really like to know is what a basic camping list of supplies would comprise of. And, how do you wash and brush your teeth if you are out in the wilderness?
---
| | | |
| --- | --- | --- |
| RE: Camping anyone? | | |
jterrilyn, when we first started, we were very basic...tent, sleeping bag & pillow, a mat or mattress that makes YOU comfortable, a cooler for simple foods, a lantern, a water container, bug spray and clothes/toiletries. I also prefer to always have a vinyl tablecloth, to take the guesswork out of what has been on the picnic table prior to me using it. lol! When you start, find a place that is not a super-long way from home, and one that suits your preferences, whether that be a remote wilderness area, a state park, or a popular place full of people and amenities. Everyone's preferences are so different, but I've seen lots of people try to start out with a week long trip somewhere far from home and at a place that didn't really fit their needs. That will not be a successful trip! As you camp more often, visit camping and sporting good sections of stores and you will add what you need and like. And we love to always walk around campgrounds and see ideas or supplies that make camping fun that we have not thought of before.

I'm sure others will have great ideas on starting out, trailrunner especially, so these are just my opinions!

And, yes, there ARE camping fans - that you can use if you are at a state park or campground with electrical hookups at your site. Actually any fan would work :)
---
| | | |
| --- | --- | --- |
| RE: Camping anyone? | | |
I love to camp and we used to do a lot of it. In tents, sleeping on air mattresses. One trip up in the Adirondacks we canoed in, with two of our teenagers and a twelve year old. Walkman headsets had just become popular, (that shows you how long ago this was), and our two teenage kids bickered incessantly the whole weekend over who could use the stupid thing! The first night was great, but we woke to pouring rain and it continued to pour all day, keeping all five of us confined to the tent and getting miserable. We had to construct a french drain around the tent to keep the water from soaking in and getting our floor and sleeping bags wet.

By nightfall, the rain had let up enough to let us out in the air, and we discovered that animals had gotten into the bread stocks for the burgers we had planned on cooking. The child in charge of securing the food items up in a bag hanging high in a tree had forgotten to do this - so all the bread, cookies, pastry items were gone! So we had the meat, but little else!

Morning of day two arrived and it was still raining. We decided that we needed to canoe back out because the kids were wet, tired and still bickering over that one link to civilization, so we hit the trail. It was a wet journey across Upper and Lower St Regis lakes before we got to the dock. The kids were starving and we were damp inside and out. Not the best of trips, but I still look back at it with laughter.

Back in the 90's, we took our young grandson, who we raised from 2-12, on several trips in the SC and GA mountains, and had a blast. I love being in the woods again! He caught his first fish with us, and here is the photo of dinner by the campfire that night. That was years ago, and I really miss it! Perhaps we need to start camping again......

---
| | | |
| --- | --- | --- |
| RE: Camping anyone? | | |
I like just the basics too. Tent, sleeping bag, fire, big tub to use as a sink. I have to admit though, I do like having showers and a bathroom on site.
---
| | | |
| --- | --- | --- |
| RE: Camping anyone? | | |
We used to backpack often into the High Sierra where once our campsite was attacked by bears! After we had children, we settled for "car camping" (drive-to campsites)--we always use a tent and sleep on small inflatable pads. Our daughter was 9 months old when we first took her camping.

We have had many family adventures on our trips. Once we had our tent flattened in a huge storm on the coast, and had to hastily disassemble camp and drive inland. Another time, up in Cape Breton, a severe windstorm ripped our backpacking tent from one end to the other, the weather was so wild.

We haven't been camping in years, but may do some this summer! I love being disconnected from computer, phone, and home. My extended family meets every Memorial Weekend for a "camp-a-thon"--2012 marks our 43rd consecutive year!
---
| | | |
| --- | --- | --- |
| RE: Camping anyone? | | |
Not since the early 80s. It was always in a tent ... usually on the beach in FL or TX. In the early 70s ex-dh and I took a camping trip out west in a VW Beetle. There was a definite art to packing that bug.

Having a camper would be so luxurious, but I'd want one big enough to pull a small vehicle.
---
| | | |
| --- | --- | --- |
| RE: Camping anyone? | | |
The only "lie" I told my Dh when we were dating was that I would hike and camp the West Coast Trail on the west side of Vancouver Island with him. This "hike" or torture takes a week and it is muddy and rugged and there isn't a hope I would ever do it. If I can't plug in my hair dryer I don;t do it.

However, I have 2 boys and I thought they should be introduced to camping. So, a girlfriend who also has two sons thought the same thing. And along with our DH's we went camping. We camped 45 mins from a town that had a Starbucks and the morning paper which was a requirement for her DH. The boys had a blast, my friend and I laughed at the ridiculousness of the whole situation all weekend and our DH's wondered how they got roped into this adventure. Well, it must have been ok because we did it 3 more times. My sons have since done a lot of camping and hiking with their friends. But camping, not for me.
---
| | | |
| --- | --- | --- |
| RE: Camping anyone? | | |
I loved camping as a child and spent many nights for a few summers camping with my best friend in near-by woods, starting at age 11! I would never let my child do that! But those were different times. I ashamed to say that we've only been camping a few times as a family. I absolutely love it, hubby tolerates it. It's just such a hassle to pack everything up and go to an unknown destination, unpack by nightfall and get a fire started before dark. Kids often are fighting. But I still think the experiences are important and hope to get more organized with the whole thing because we're going again this summer, come hell or highwater. We prefer tent camping. Kids sleep on the ground with mats and hubby and I have cots. May have to check into the air mattresses though. We had one once and company used it and put a hole in it. We threw it out. Maybe it wasn't a good one. Any recommendations for one?
I have this dream that once the kids are grown and gone, hubby and I can travel in our pickup truck. We'll throw a mattress in the bed of it and get a truck topper. Well throw some fishing gear coolers, ect. in the truck and just sleep in the bed of the truck each night. We'll travel and enjoy lots of destination with our camping truck. Doesn't that sound great?
---
| | | |
| --- | --- | --- |
| RE: Camping anyone? | | |
JT - You can go from as little as you like to as much as you like. I do not enjoy tent camping. In the mountain area where we often go, bears frequently come in to the camping area. I also prefer to be more comfortable than a sleeping bag or air mattress. But that's just our preference. Our camper is a pull behind and we do have a truck. We also have a boat, and my husband would never be without a truck anyway.

In our camper we have pots/pans, dishes, I even have a hand mixer, etc. Most are cast-offs from when I've bought new stuff for home. I keep sheets/towels, kitchen linens, etc. in the camper. The shower is small but we like being able to bathe normally. LOL Years ago when we were first married we camped in a small pop-up that belonged to my in-laws. My MIL had this huge tub that we'd heat up water over the fire or campstove and fill the tub and then do a sponge bath. Hee!! I guess it depends on how much you enjoy the outdoors and outdoor activities. Of course you don't have to "do" anything. I noticed an older couple near us not long ago that all I ever saw them do was sit outside the camper and read. THey must have eaten all their meals inside, they never even had a campfire (which is a must for us!). But different strokes for different folks. My husband has camped all his life and could do it for weeks at a time. Me, I prefer a shorter period at a time. LOL

tina
---
| | | |
| --- | --- | --- |
| RE: Camping anyone? | | |
Great topic ! Our very first camping trip was a hike into the wilderness in the Uinta Mts to Christmas Meadow. We had a 3 1/2 yr old and a 1 yr old. We had never backpacked our hiked before. I carried DS2 in a backpack and DH carried everything else and DS1 hiked. We cooked over a wood fire and had a steak and baked potatoes and a bottle of wine. I had also brought an apricot pie in the pie dish !! We were up there to see the Perseid Meteor shower of 1978. We did see the meteors. DS2 fell backward into the smoldering campfire just as we were ready to break camp. Thank goodness we had poured on a lot of water from the stream. That was ALL a long time ago.

Here is how I traveled and camped for 2 months in 2010 and also 2011. Everything a person could possibly need :) We buy food each day and cook in camp. A one burner gas stove and a pot meal ! Knorr and Near East and a few fresh veggies and fruit and a pint of Haagen Dazs and I am good to go. I now have 4 panniers and will carry the same amount of stuff but on my bike w/o a trailer. Lighter and faster !
and liquid refreshment :)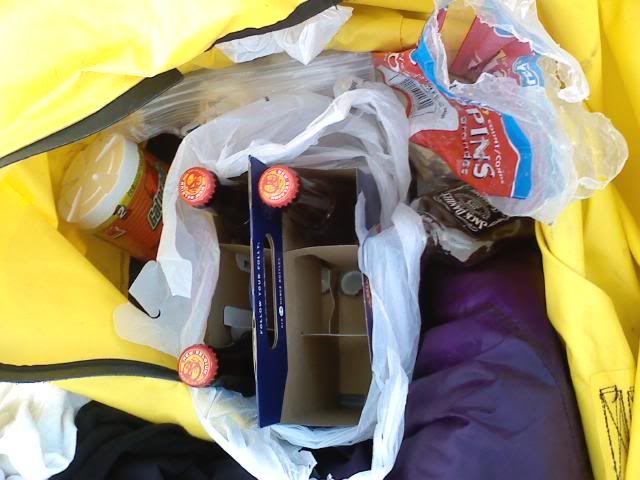 oh and pie and ice-cream in Silver City NM after climbing the mountains and crossing the Continental Divide 3 times !!!
more pie and more mountains ! I stop at a cafe and buy a piece whenever I see it and then when the going gets tough I do the hard part and stop at the top for a reward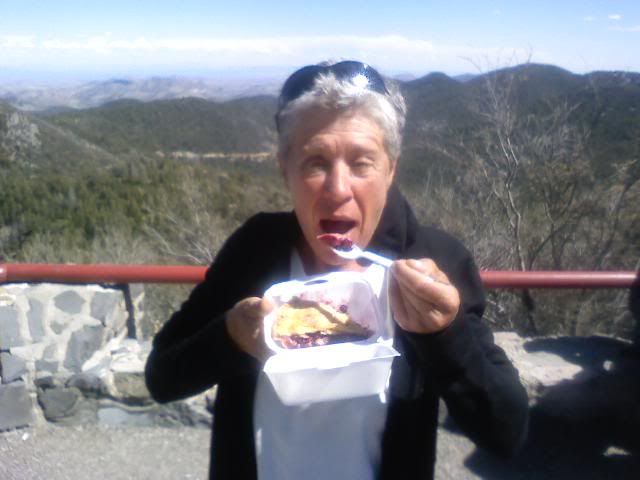 my little one person tent from 2010. I have a different one now...like the clothes line ???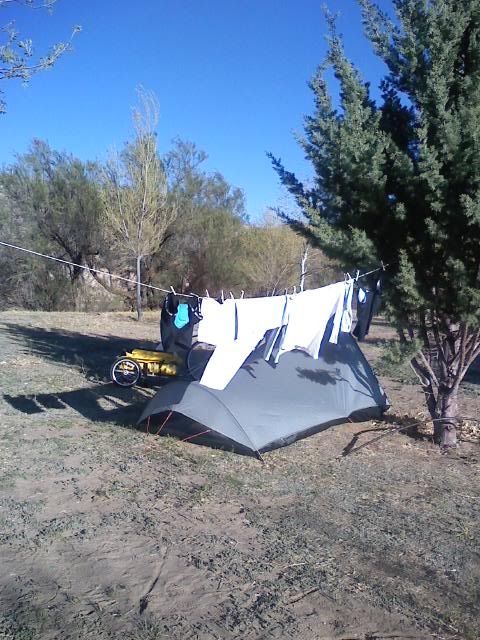 typical dinner cooking set up :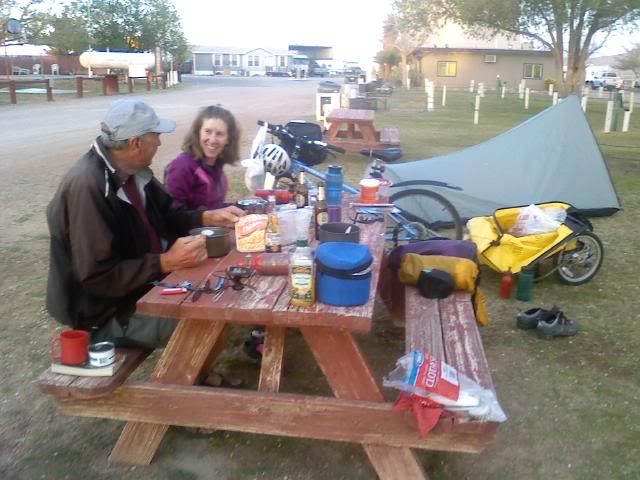 We have almost always had a shower/bathhouse set up. On the rare occasion that we don't I found a very nice truck stoo and paid $6 to use the showers and got nice towels ! On another couple of occasions we pd a person to let us use their home bathrooms. Almost all folks are very nice to cyclists.
A pretty place in TX that I hiked in to from out campsite.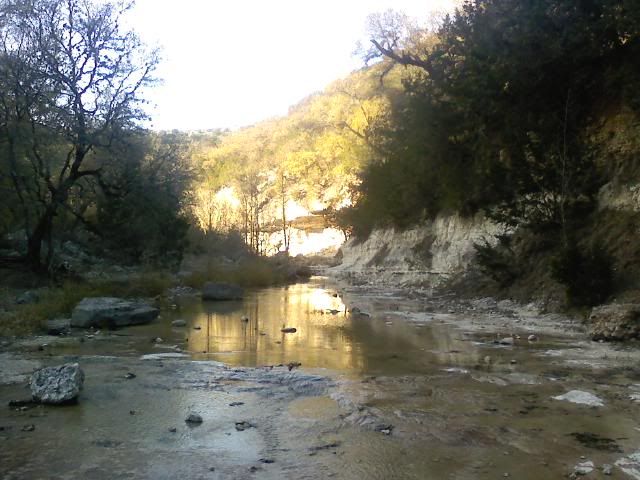 I sure hope others will post pics.
---
| | | |
| --- | --- | --- |
| RE: Camping anyone? | | |
Buffalo Bill State Historical Park in Nebraska. No running water, but it was just a stopover on our way to Colorado, so we didn't mind. It was so peaceful there, one of my favorite nights in a tent!

Our pop-up camper at Prophetstown SP in Indiana. This place had a large prairie next to the campsites and was peaceful and awesome as well.

And here is our new baby. This is at Skidaway Island SP in Savannah Georgia.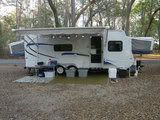 Skidaway Island SP. Was so pretty and different from what we are used to in the Midwest.

---
| | | |
| --- | --- | --- |
| RE: Camping anyone? | | |
Oh, those pics have me itchin' for a road trip! What fun I've had in years gone by camping. My dad and I did a father-daughter trek annually until about 10 years ago. He and I camped in some very remote areas (particularly on the Colorado Plateau in southeastern Utah) and made spectacular memories. He and I share a love of Native American culture and history, and we've hiked to some sites in the backcountry where you'd almost swear the ancient Anasazi inhabits just left - pottery sherds and corncobs littering the ground, kivas and houses still largely intact. Places I'm convinced only a handful of people have ever visited because they remained so pristine and untrampled.

But I digress. Although I haven't camped in a number of years, I do still have all of my gear and would love to plan another trip soon. I'm pretty much a basics girl myself - I love my little Marmot tent and my North Face sleeping bag has served me well - but I will admit to one piece of luxury: A small cot to go inside my tent, because I'm much more comfortable if I'm up off the ground. I have a ground pad, but the cot is infinitely more comfy.

The sound of rain pitter-pattering on a tent, when you're cozily tucked in for the night, is pure bliss. My tent is a 2-person tent, but I've never shared it - and wouldn't want to. If DH ever went camping with me, he'd have to make his own arrangements for accomodation. ;-)

Like lukki, I too enjoy having access to showers. I think the longest I've ever gone without a real shower was maybe 3 or 4 days. One can only do "so much" with a jugs of water and a tub (and Baby Wipes). A toilet is nice too. I used to have a little camping potty that was very cool. Sure did beat digging a hole next to a fallen log.
---
| | | |
| --- | --- | --- |
| RE: Camping anyone? | | |
More years ago than I care to admit we backpacked frequently.
---
| | | |
| --- | --- | --- |
| RE: Camping anyone? | | |
DS, Ex and I camped up and down the east coast in the 70s: Montreal, Quebec, Niagara, Maine and, of course, Disney World. Tried a popup camper one summer and went back to tent camping. I'm not fond of housework and the popup was just more inconvenient, cramped housework! Since you couldn't cook in a tent that meant the ex took care of setting, dismantling and cleaning the tent plus grill cooking. Now, that's a vacation! When ex became ex, DS and I continued tent camping through the upper midwest where we were living. My favorite trip was 2 weeks in/around Custer State Park and Mt Rushmore with DS and his cousin. After that trip they were affectionately known as the Jellystone Campers for their inept firemaking attempts and surprise buffalo encounters while hiking.

Now, I'm more inclined to feel deprived if the hotel I stay at isn't close to a Starbucks.
---
| | | |
| --- | --- | --- |
| RE: Camping anyone? | | |
Four - our camper is very similar! I had no idea of that state park in Savannah. We love that area and go at least yearly anywhere from Charleston, SC down the coast into Florida.

Java - I don't care about the Starbucks, but I do enjoy a nice hotel although we've gotten quite picky as we get older. We've taken to renting condos, villas, etc. in coastal areas and last year twice rented small houses/cottages. LOVED that. Once in Highlands, NC and again near Charleston.

tina
---
| | | |
| --- | --- | --- |
| RE: Camping anyone? | | |
I'm kind of embarrassed to say this... but... I'm afraid of bears! Have any of you had any encounters?
---
| | | |
| --- | --- | --- |
| RE: Camping anyone? | | |
Tina, we had a great time at that SP. Our site was very big, and all the sites there were pull-through, which we loved since we are still getting used to the bigger trailer. Here is a picture of our entire site, you can see how much room we had to ourselves! The kids loved it. It was a pretty easy route to get from the SP into downtown Savannah and Tybee too. I am jealous that you get to that area often! We loved the food there. We would like to hang out in the Smoky Mts. for a trip too. I am sure that makes for some awesome camping. When we are on our way home from camping trips, we pull out the atlas to find which State Park to try next!

---
| | | |
| --- | --- | --- |
| RE: Camping anyone? | | |
Not yet !!! We will have SO many this bike trip that we have to keep bear spray on the bike at all times. Most cyclists say they see at least 15 a day including grizzly bears. But so far I have not read even one report of a problem. Many cyclists get a passing car to drive slowly along side of them as they pass the bear/s. In camp sites you have to have a bear proof can /lock box or hang your stuff from a supplied pole or else sleep inside a wire compound. All of this will be very interesting as my only sightings of bears has been in zoos.

I am actually way more afraid of moose. They are much more likely to cause injury ...depending on the season. I hope I will have nothing to post in September :)

In most parts of the country all you have to worry about nancy are raccoons !!! They are truly masked marauders !!! I have had more stuff ruined by them than I can list...and they are VERY aggressive . Show no fear at all. Get a tent and get out there.it is so much fun. c
---
| | | |
| --- | --- | --- |
| RE: Camping anyone? | | |
Ah, we used to backpack. We went tent camping with the kids every summer for vacation- were tent camping in Md state parks. My DS was 3 when he went for first time, and our DD was about a year when she went for first time. We all adore it. We had a dining tarp over the picnic table and usually moved the table to be near the tent so the entrance was covered a bit by the tarp. And it always rained. and we always stayed. I have great memories of the kids coloring at the picnic table, the dining tarp keeping the rain off of us.Cooking on the campstove, always had a fire in the firepit- marshmallows a must! We learned to unpeg the tent and turn it upside down in the sunlight when the rain stopped. And the sleeping bags on the rope we always tied for clothes line. we may be campground campers but we are hardy! We took the boat with us sometimes and eventually bought a canoe to take as it was simpler. But, now I have a CPAP machine and I will not sleep in a tent plugged into an outlet! or a battery.LOL also the ground is pretty far away. One day we would love to have a camper, or a winnebago deal- if any of us can still afford the gas. or at least a cabin rental in the woods somewhere.
I will never forget how cozy it was with all of us sleeping in our four person back packing tent.Where has the time gone?
---
| | | |
| --- | --- | --- |
| RE: Camping anyone? | | |
| | | |
| --- | --- | --- |
| RE: Camping anyone? | | |
Cute, Olychick! I'm right there with you! But, we are so happy to see others having so much fun in the great outdoors!
---
| | | |
| --- | --- | --- |
| RE: Camping anyone? | | |
trail, when I read what you wrote about the bikers and the grizzlies my blood ran cold! And, I had a dream last night with racoons in it- I'm sure it was because of what you wrote- :)
---
| | | |
| --- | --- | --- |
| RE: Camping anyone? | | |
HA HA...Nancy you are so funny !! Everyone assures me we will be OK as far as the bears. The roads are so well travelled that I think the bears are more afraid of us than we are of them. Most folks say the bears just keep eating by the side of the road...berries that is LOL..or run into the brush...some just stand and stare...probably sizing up the cyclist !

The raccoons just get in to everything ! They have eaten their way in to a couple of my packs and in one memorable episode last year a raccoon sucked the yogurt out of 2 containers through the zipped shut cloth bag that they were in after getting into the big stuff sack that the cloth bag was in !! How it managed to rip open the top of the yogurt and then suck it through the cloth I will never know. No holes in the cloth bag :) I slept through most of it as I use ear plugs. When I woke and realized there was a major disturbance outside my tent I yelled at the dang raccoon. It ignored me !! I crawled out of the tent and chased it away and dragged my raccoon spit soaked bag into the tent . When the AM came I saw my ravaged stuff. Sigh...it was SO gross. I emptied everything and washed it all out in hot soapy water. Will carry the cloth bag again this year. I shall prevail ! c
---
| | | |
| --- | --- | --- |
| RE: Camping anyone? | | |
We've never had a problem with a bear Nancy. They do tell you to keep all food items, containers, etc. put up. Those things will attract bears. Rangers will take these things from you if you leave them out. If a bear is sighted, the rangers are good about warning people and trying to lead the bear out of the camping area.

We don't see alot of raccoons. I'm not sure if it is because we go more spring and fall or what. There is one state park we go to that we do occasionally have a problem with racoons. Same thing though, keep all food items put away and you don't attract them. At that park though, each camp site has a large covered garbage can near the road way. Sometimes the coons will try to get in those.

Around my parents and grandparents houses, they often have coons. My grandmother used to feed her cats outside and the coons would come around at night for the food. They can be deadly to a cat or small dog.

tina
---
| | | |
| --- | --- | --- |
| RE: Camping anyone? | | |
That's reassuring, tina.

I always thought raccoons were pretty but I know they are pests. My MIL used to feed them chicken, and they waited at her sliding glass door every night for it.
---
| | | |
| --- | --- | --- |
| RE: Camping anyone? | | |
The only time we had trouble with bears was in the remote high country of Yosemite, after backpacking in for 2 days. The bear managed to destroy our food bag stowed overhead on a thin branch of a tree. We banged our metal pots and pans to try to scare it from our camp, to no avail. The visiting British member of our group was terrified, but it has made a good story all these years. We had to hike out double-quick because we had no food left. We still use the dented and misshapen cookware.
---
| | | |
| --- | --- | --- |
| RE: Camping anyone? | | |
Oh, kkay- I don't see how you lived through that- I would have had a heart attack!!
---
| | | |
| --- | --- | --- |
| RE: Camping anyone? | | |
We live in the middle of the city and have 'possums, coons, and red foxes. There's nothing more eerie than hearing those foxes screaming at night. The raccoons occasionally drink from the hummer feeders, but don't bother anything else.
---
| | | |
| --- | --- | --- |
| RE: Camping anyone? | | |
Natal, I agree about the foxes. I live in the forest and when I heard that the first time I bolted out of bed and tried to see what it was. Omigod what a sound! Plus, no one could tell me what it was. Finally, after years of hearing it, I found a reasonably close recording online that confirmed it for me. It had been speculated that it was a raccoon taking a great blue heron from its nest or a great horned owl youngster begging for food from parents..or?? I love having foxes in my yard!
---
| | | |
| --- | --- | --- |
| RE: Camping anyone? | | |
We love camping and try to go twice a year. We sleep in a tent, no air mattresses but I'd like some...

We use state park tent sites with bathrooms handy, no wilderness camping yet. We usually stay 3 nights.

I always cook up a giant pot of chili, make fruit salad and an Asian noodle salad, plus snacks for the kids,fruit and granola for breakfast, s'mores supplies, DH takes lots of meat to grill with his brother or buddies, depending who we are camping with.

Sitting around the campfire at night with DH and others playing guitar, everyone singing, I know those are some of my children's happiest memories.

The first time we went camping we borrowed equipment from friends since we didn't want to invest in stuff if it turned out we didn't like camping. I'm glad we did, because we learned we wanted a larger tent and different chairs.

We bought our giant refurbished Kelty tent on eBay about 12 years ago for $100 and we've spent I don't know how many nights in it since and never got wet. It seemed expensive at the time because we were quite cash poor, but looking back it seems like the best $ ever spent :)
---
| | | |
| --- | --- | --- |
| RE: Camping anyone? | | |
leafy you will love these. I will link below. Your trips sound great. These air mattresses are " da bomb" ! So small and so comfy ! I have used mine so many times now I have lost count . It is easy easy to blow up and way way better then the awful Thermarest things. They are the pits after you use on of these.

Your tent was a real deal . Have never heard of a refurbished tent...you were so lucky ! c ( I have the petite insulated...20 X 66)
Here is a link that might be useful: insulated air core
---
| | | |
| --- | --- | --- |
| RE: Camping anyone? | | |
I've been all many ways of camping. Tent camping doesn't thrill me. I believe the last time I was camping my friend didn't close the tent at one point during the night and we woke up with tons of gnarly bugs. I was not a fan of finding a squished daddy long legger on my pillow.

Honestly, I guess camping in general isn't really my favorite thing to do. I do have fun when we go but I don't know if I'll ever suggest it first or get super excited for the trip. I just prefer to sleep in my own bed. Vacations and weekend getaways for me growing up were usually to the beach or other day trips. DH on the otherhand, spent LOTS of weekends camping, snowmobiling, etc so we try and mix both types in our lives. I really enjoy relaxing on a chair outdoors but that's different than sleeping in the woods. Guess you probably can't call it camping if you head home late at night after roasting marshmellows, huh?
---
| | | |
| --- | --- | --- |
| RE: Camping anyone? | | |
I love camping. We started with a tent, then a pop-up, a fifth wheel, a class A motorhome, and now back to a fifth wheel. I like sleeping on a memory foam mattress. Bathroom is nice. I rarely use the stove inside. DH usually cooks on the grill outside. Now that we are old, A/C is nice on a really hot day. Love camping.
---
| | | |
| --- | --- | --- |
| RE: Camping anyone? | | |
ROTFL, Olychick! My sentiments exactly!
---
| | | |
| --- | --- | --- |
| RE: Camping anyone? | | |
Ok. Bear with me. My dream, once the kids are grown and gone, is to go-what I like to call ghetto camping, with hubby. I want to get a truck with a topper, throw a mattress in the back, throw chairs, cooler, fishing equipment behind the seat and take off and see the world. I love camping but don't want to do a 5th wheel or camper of any kind. But something easier than tents appeal to me. I am serious about this. Has anyone done this?
There is nothing like an open campfire, the woods, the noises, the fresh air... Love it.
---
| | | |
| --- | --- | --- |
| RE: Camping anyone? | | |
We have camped all over the United States in a tent, then a pop-up and now a travel trailer. Out grown son tells us that these are some of his best memories and he credits our journeys with his love of travel....

We appreciated the time spent together as a family with no television, cell phones or computers. Just the three of us with lots of time to talk, hike, sightsee etc.

My DH and I are currently living in our travel trailer for 3 months as we are wintering in Arizona. No longer forbid tv, cells and computers (obviously)! We love this life style!

JR
---
| | | |
| --- | --- | --- |
| RE: Camping anyone? | | |
joanie..I love our tent and it takes less than 5 minutes to assemble..really. My best friend that cycles with me has a set up like you are contemplating.I will pass along his comments. It really doesn't work..especially with 2 people.

If it is cold you will quickly find out that the metal of the vehicle holds the cold and you will never get warm. You will have to have a small electric heater plugged in to your lighter or better yet to the campground hookups.

If it is hot there is no way to cool the inside of the vehicle or get the moisture out without opening the windows..if there are mosquitoes you are going to be eaten alive. With a tent you have mesh and flaps etc and it is great...never any bugs and plenty of air and the rain can't get in.

Also you will still need to carry something that can be erected to protect your dining area if/when it rains . You have to have a place to set up all your cooking stuff and leave it out and ready . you can't count on a covered shelter in most campgrounds. You won't want to have it stashed in the truck with your other stuff and have to sleep with it in there ...if you decide to stay in the truck bed and then haul it all out every time you want to cook. '

Just some thoughts. I have tent camped for months at a time..a different site every single night. I can offer lots of tips if you are interested and brands that are great ! I love to camp with DH and alone and with friends. Hope this gives you some ideas for ways to make camping work for you. c
---
| | | |
| --- | --- | --- |
| RE: Camping anyone? | | |
Thank you trailrunner! We have tent camped but for 2 nights only at the most, and not far from home. I don't mind the tents, but find that the ground is too hard, the cots uncomfortable, and our last air mattress was ruined by overnight guests and hasn't been replaced. I guess I thought of a truck because we used to have one with a removable topper that had windows on the side with screens to slide open. It sounds so easy, but you're right there is a lot of equipment that would need to be hauled in and out. We're used to cooking on the open campfire only. I hadn't even thought about rain. We've also only camped in the summer, so no need to worry about being cold. But being hot is a real possibility. Thanks for giving me some more things to think about.
---
| | | |
| --- | --- | --- |
| RE: Camping anyone? | | |
Hey joanie. We have the Big Agnes insulated air mattresses. They are fantastic and very comfortable. They are the size of a qt bottle and are easy to blow up. They are very tough and as I said I have used mine almost every night in camping set ups for months and it has no leaks or problems. I will link below to the ones we have.

I hadn't thought about the truck windows having screens to that would be great. A small fan would help to move the air. You would definitely need a canopy of some kind. We got one at Dick's Sporting Goods. It is easy to set up and very sturdy. Gives great protection if it is raining. We have even pulled it over so that it is 1/2 over our tent front and we can then get in and out without getting wet :)

I haven't cooked on open fires for all meals. Just an occasional cookout. We have a 2 burner propane stove that I love. I can make pancakes and coffee and great dinners with it. We have a camp fire only for warmth and ambiance. We have a folding table and set everything up the minute we get to camp and then we are done for the time we are there. We have one cooler and restock often from the grocery.

When I am on the road with my bike it is a whole different setup . I have a tiny campstove and we use a picnic table if there is one or the ground if there isn't :(. I have a one person tent that is very light. I still use my Big Anges though..it is never far from me !

If I can help with any other ideas let me know. I love to camp !! c
Here is a link that might be useful: Big Agnes air mattress
---
| | | |
| --- | --- | --- |
| RE: Camping anyone? | | |
how much do you pay to camp every night?
---
| | | |
| --- | --- | --- |
| RE: Camping anyone? | | |
Depends where we go but the GA park system is I think $15 a night for a tent site. Very cheap. Lovely clean bathhouses and conscientious camp hosts. We have paid as much as $35 a night in other private places but that isn't the norm. Less than $20 is almost always the case. c
---
| | | |
| --- | --- | --- |
| RE: Camping anyone? | | |
I was going to say anywhere from $18 - $36 a night - and that's a camper and hook-up. Only in the Great Smoky Mt. National Park do we not have full hook-up (of the places that we frequent).

tina
---
| | | |
| --- | --- | --- |
| RE: Camping anyone? | | |
DH and I both had good memories of camping with our families when we were children so it was natural we would continue this after we married. At first we tented very rustically and even cooked over open fires. Gradually we improved our camping equipment and continued tenting for 9 years. We then bought our first travel trailer and camping was never quite the same again! We never gave up some of the fun traditions of rustic camping tho and almost every evening had a campfire when allowed. Many breakfasts DH cooked bacon and eggs on the Coleman out on the campsite table. We preferred provincial or state parks that were less like parking lots than many of the completely paved campgrounds.

One year we were away for a month before Christmas so had "pre-Christmas" in the trailer. I always brought real dishes, silver cutlery (not my best), and pottery wine glasses. No melmac or plastic, thanks! I did have a supply of disposable dishes for the times we entertained family while camping.
We cooked fairly similarly to the way we did at home and once even made bread altho I hadn't brought a bread pan so improvised!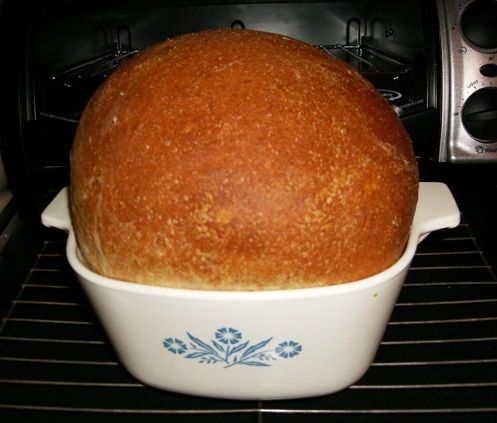 Our dog had fun digging at many campsites so she had many baths in the small tub in the trailer.
I have many really good memories of camping but now travel differently. Camping is a great experience for kids and one of ours has continued the camping traditions with his family.
This post was edited by luckygal on Mon, Jul 29, 13 at 20:28
---
Post a Follow-Up
Please Note: Only registered members are able to post messages to this forum.
If you are a member, please log in.
If you aren't yet a member, join now!
---
Return to the Home Decorating Forum
Information about Posting
You must be logged in to post a message. Once you are logged in, a posting window will appear at the bottom of the messages. If you are not a member, please register for an account.
Please review our Rules of Play before posting.
Posting is a two-step process. Once you have composed your message, you will be taken to the preview page. You will then have a chance to review your post, make changes and upload photos.
After posting your message, you may need to refresh the forum page in order to see it.
Before posting copyrighted material, please read about Copyright and Fair Use.
We have a strict no-advertising policy!
If you would like to practice posting or uploading photos, please visit our Test forum.
If you need assistance, please Contact Us and we will be happy to help.

Learn more about in-text links on this page here