Return to the Home Decorating & Design Forum
|
Post a Follow-Up
---
| | | |
| --- | --- | --- |
| Do you have some kind of "charging station" for your I-stuff? | | |
Posted by
sueb20
(
My Page
) on
Sun, Apr 27, 14 at 17:17
DH and I each have an iPhone and an iPad. Every day, we have up to 4 devices sitting on a section of our kitchen counter (fortunately not in the main part of the kitchen -- it's in a pass-thru area between kitchen and dining room) charging away, and it's starting to annoy me. I've seen the devices sold online that have different methods of standing the phones/pads up while being plugged into the bottom, or whatever. There are quite a few out there with different looks. Do you have one? Any recommendations? We seem to be taking up far too much counter space with our iPads and phones laying around the counter top. There must be a better way!

Putting them elsewhere really isn't an option -- this is the most convenient location we have near outlets (older house, not a lot of outlets available in other rooms).
---
Follow-Up Postings:
| | | |
| --- | --- | --- |
| RE: Do you have some kind of "charging station" for you | | |
This post was edited by jstell2008 on Fri, Sep 26, 14 at 20:57
---
| | | |
| --- | --- | --- |
| RE: Do you have some kind of "charging station" for your I-stuff? | | |
I would think any station that fits with your decor would work for you. Just make sure that your devices while in their covers will fit into the station. I had to return a station because it only worked with naked devices.
---
| | | |
| --- | --- | --- |
| RE: Do you have some kind of "charging station" for your I-stuff? | | |
We had a cute white wooden charging station from Pottery barn with a little drawer, and a place for the charging cords to come out and a shelf for them to sit on. It took up a lot of space and became another catchall for junk. Plus, it was really too big for a counter. And a bit too small for iPads, even minis. Another problem we experienced was that whenever anyone needed a charging cord in another room, he or she would remove it from the charging station and forget to put it back, so half the time it there weren't enough cords available,

So my solution was to change out at least one electrical outlet in each room to one that has a single ac dc plug thingie and two USB receptors. Then I made sure every room had a couple of USB cords plugged into those receptors. Here's what happened with that: first, if you don't use "real" apple cords there is no way to know if they'll work, even the guaranteed amazon ones. Second, the cords are not long enough to continue to use the devices while they are plugged in, so that is another problem. Then the worst problem of all--- USB charge cords plugged directly into a USB receptacle charge at the speed of an octogenarian turtle, and I mean SLOW. When the USBs are plugged into an adapter which is then plugged into an outlet they charge about 3x as fast. I have experimented with every outlet we have and this holds for all of them. PLUS, when you have TWO USBs plugged into a single outlet, one of them may not charge at all. And the other will still charge slowly.

Additionally, when all our kids are home visiting at the same time and go back to their various schools,apartments and jobs, the charging cords disappear!

So my recommendation for daytime is to not change your outlets to USB receptors or even half USB, but get a USB acdc adapter for at least one outlet in every room and leave it in (or the Beltone thing described below), an extra long APPLE brand only charging cord for that adapter, and mark it in some way so that it can be identified as a house cord, like tying a red twist tie on it. We finally abandoned the charging station now just plug our devices into whatever room we happen to be in at the time.

The Beltone thing actually plugs into the outlets (therefore making the USBs work like those in adapters) that has gives you USB receptors and acdc plug ins. We have these in the outlets in our respective bathroom vanities. That's where my phone goes at night, it's ready the next morning. Dh's phone has to be plugged in next to the bed for night calls, but it's in an adapter to charge faster. No docking stations as they don't work with many phone cases.

Sorry this has turned I to such a long post, but we have been trying to find the "perfect" solution in a multi iPhone, multi ipad family. Not sure we have found it yet!
---
| | | |
| --- | --- | --- |
| RE: Do you have some kind of "charging station" for your I-stuff? | | |
It's kind of hard to explain, but we keep all our devices in a drawer in a sideboard/buffet type thing. The drawer sits above a cabinet door and that side of the buffet happened to be in front of a wall outlet. So we took the plywood back off that section of the sideboard and plugged in a big outlet strip into the wall and placed it on the shelf in that cabinet. We then plugged the charging cords for all our devices into the outlet strip and ran them up behind the drawer and pulled them into the drawer. Dh labeled each cord with the name of the corresponding device. So now we can put our devices in the drawer and plug them into the cords, which are connected to the outlet strip in the cabinet below. And this one smallish drawers holds a ton of stuff - ipad, a couple kindles and several phones. As an added bonus, we also put the wireless printer in the cabinet below the drawer so now I can print from anywhere in the house and never have to look at the printer. The whole setup is really handy and I'm pleased that we were able to do it -- it has hidden the whole mess completely from view.
---
| | | |
| --- | --- | --- |
| RE: Do you have some kind of "charging station" for your I-stuff? | | |
We use the small charger shown above. We keep one in the kitchen (I usually use that one) and my husband has one on his bedside table. Our iphones don't need to be charged daily, but he charges his every night as he uses his phone as his alarm. I also have one of those chargers at work that I occasionally use. For the ipad and nook, those aren't used that often (we use our laptop more), and we have a charger for those in our bedroom. We have a chest in there that we just lay the device on top of it while charging. It's convenient for us, but out-of-sight for others.

tina
---
| | | |
| --- | --- | --- |
| RE: Do you have some kind of "charging station" for your I-stuff? | | |
I do! I got this idea from Pinterest, using a photo box, curtain grommets and a power strip.
Top off...the mess is inside.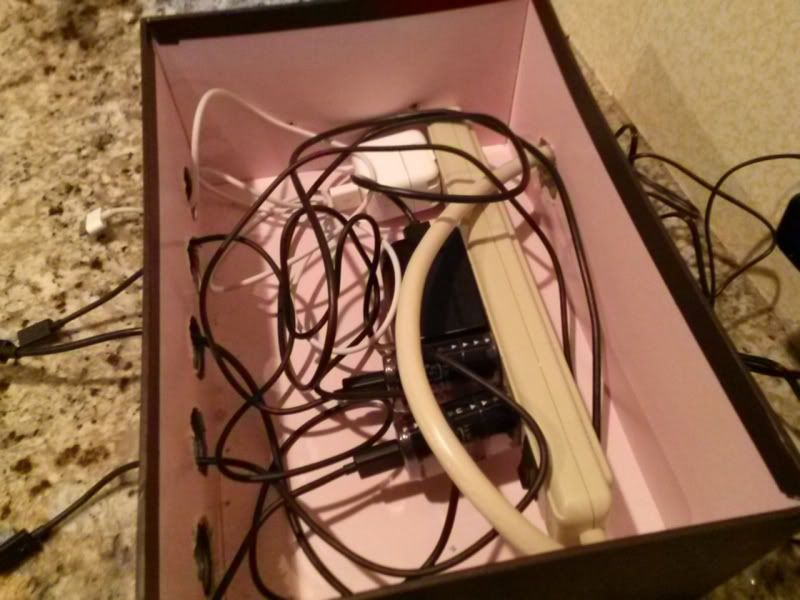 ---
| | | |
| --- | --- | --- |
| RE: Do you have some kind of "charging station" for your I-stuff? | | |
I have one of those charging stations similar to the Pottery Barn one and it was great when just dh and I had phones. However, the spots for the phones are not the same width and only one is wide enough to hold an iPhone and now we both have iPhones.

We have three iPhones (dd has one), five iPads, two iTouches and one regular phone, so yes, lots of electronics. I could do without all the iPads but our kids' school actually requires them next year for all middle/high school students so we just got them and they received them for their birthdays.

Dh and I usually charge our iPads upstairs in our bedroom. The other three get charged in a variety of places. Phones in the Pottery Barn like thing, except for dd who charges hers in her room.

When we redo our kitchen, I'm adding a desk/work area outside the working part of the kitchen and will design something to charge everything sight unseen, like in a drawer.

We have several after-market chargers so we have them all over - the car, bedroom, kitchen and family room. It will be nice to have a central location, esp for my kids' iPads. They are not allowed to have them upstairs in their rooms at this point b/c I need to supervise them (not playing games when supposed to be working on school stuff). Don't even get me started on how annoyed I am at the school for requiring them. They are a total distraction.
---
| | | |
| --- | --- | --- |
| RE: Do you have some kind of "charging station" for your I-stuff? | | |
Love the drawer idea, wish I had known we'd have all these gizmos when we did our kitchen 7 years ago!
---
| | | |
| --- | --- | --- |
| RE: Do you have some kind of "charging station" for your I-stuff? | | |
We had one of those Pottery Barn gizmos (black) and I actually liked it on our kitchen desk, but agree it was large and it did become a place to put other junk. Stamps, ipod, extra keys, Wii charging stand, and other things crammed in the little drawer. That was before we had ipads and iphones. Now that we have those, we just use the regular outlets near the desk and one of the Belkin multi-plugs on occasion (with the USB ports on the top). Unless I have to charge a camera battery or something else, it is sufficient for day-to-day use. I keep a car charger in my car too. I can't bring my electronics to my desk at work so I put everything on 'airplane mode' and that saves battery life until I need it.
---
Post a Follow-Up
Please Note: Only registered members are able to post messages to this forum.
If you are a member, please log in.
If you aren't yet a member, join now!
---
Return to the Home Decorating & Design Forum
Information about Posting
You must be logged in to post a message. Once you are logged in, a posting window will appear at the bottom of the messages. If you are not a member, please register for an account.
Please review our Rules of Play before posting.
Posting is a two-step process. Once you have composed your message, you will be taken to the preview page. You will then have a chance to review your post, make changes and upload photos.
After posting your message, you may need to refresh the forum page in order to see it.
Before posting copyrighted material, please read about Copyright and Fair Use.
We have a strict no-advertising policy!
If you would like to practice posting or uploading photos, please visit our Test forum.
If you need assistance, please Contact Us and we will be happy to help.

Learn more about in-text links on this page here