Return to the Home Decorating & Design Forum
|
Post a Follow-Up
---
| | | |
| --- | --- | --- |
| Oscar Fashions any one? | | |
Posted by
AnnieDeighnaugh
(
My Page
) on
Mon, Mar 3, 14 at 10:40
I watched the red carpet and then the oscars...there were some absolute knock-out dresses and a few misses, but all in all, it was a great night for fashion in addition to those in the movie business.

Hits: Lupita Nyong'o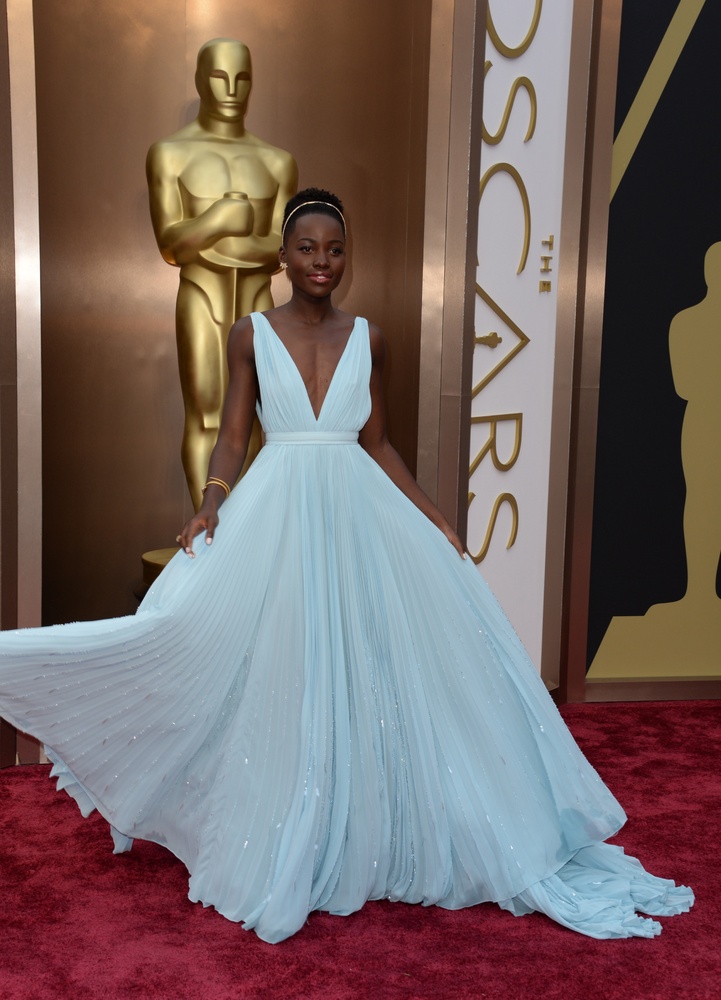 Amy Adams

Sandra Bullock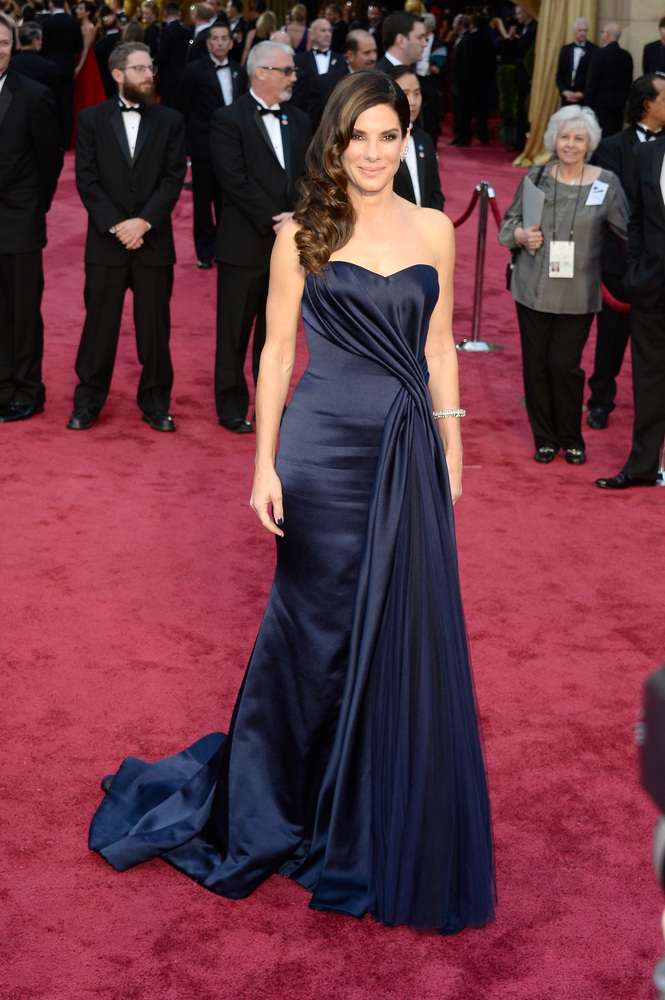 Total Miss: Hillary Swank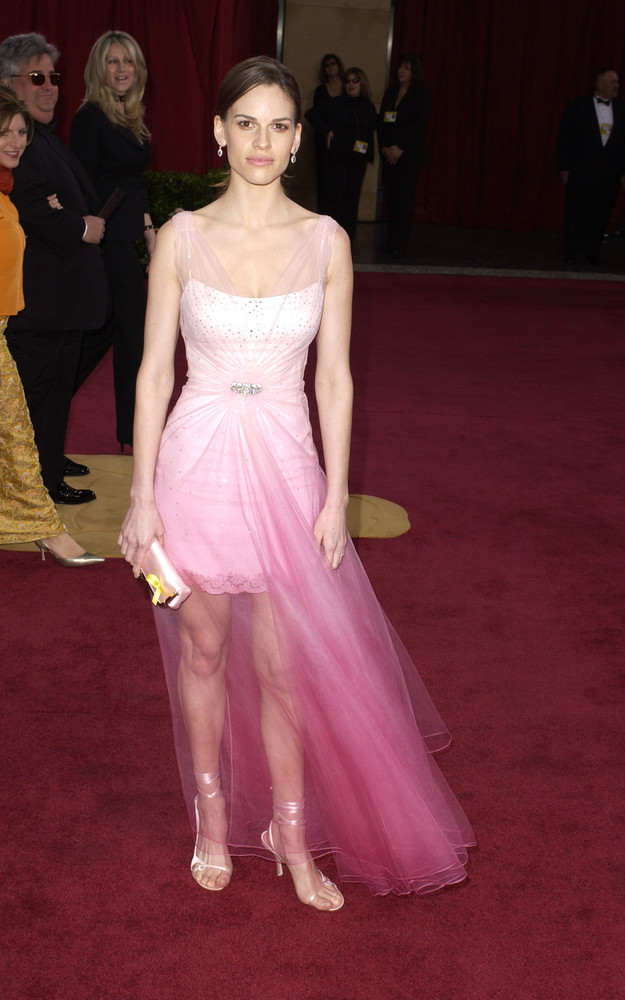 ---
Follow-Up Postings:
| | | |
| --- | --- | --- |
| RE: Oscar Fashions any one? | | |
It always amazes me that some of these famous women choose fashions that must be very uncomfortable to wear. A dress dragging on the floor isn't something I'd want to wear. One would have to be conscious of walking carefully.

I know sheer is one of the trends for spring altho IMO most people's knees are not an attractive feature - unfortunate that Hillary didn't realize that.

I do like Sandra's dress except for the excessive length. And IMO the designer should have specified a non-wrinkling fabric. Picky, picky, I know! LOL

Didn't watch the Oscars last night altho will later check the pics online when I have time. I'm sure there will be some dresses I really like!
---
| | | |
| --- | --- | --- |
| RE: Oscar Fashions any one? | | |
Yes, most everyone looked great. Would have loved softer hair and sparkly earrings on Amy Adams. Charlize Theron was stunning...she usually is. Anna Kendrick was a miss for me..her dress just had too much going on for her petite frame. I know Whoopi is Whoopi...but glam it up a LITTLE for the Oscars...I think I'll just put a blouse on under a strapless gown.... She looked awful. Cate, Jennifer, Kate Hudson....beautiful. Will be fun to watch Fashion Police!
---
| | | |
| --- | --- | --- |
| RE: Oscar Fashions any one? | | |
I liked Jennifer Lawrence's dress also. Stunning on her. Agree with your votes above too. And Cate Blanchett and Angelina. And Pink - Wow did she hit it out of the park! Both with her dress and her voice!
---
| | | |
| --- | --- | --- |
| RE: Oscar Fashions any one? | | |
Comfortable? It's their livelihood to look glamorous.

I never watch the Oscars. I don't really get awards ceremonies, unless I expected to win something!

I don't think Lupita's dress looks right. It's the kind of dress you look at and wonder who would look okay in that bodice. Almost no one.

Amy Adams and Sandra Bullock remind me of going through all those Mother of the Bride dresses for the poster below! Nice but not Oscar material. I like Hillary Swanks' style but not the color. At least it says "I'm a movie star".
---
| | | |
| --- | --- | --- |
| RE: Oscar Fashions any one? | | |
Lupita has had so many other gorgeous dresses. I prefer her in the more structured dresses that she has been wearing over this princess look (although the color was gorgeous on her). And I agree with mtn, that neckline just didn't favor her shape. She is a beautiful women with a great body and perfect skin but her chest was doing something a little wierd there.

Overall, I can't recall a single knock it out of the park moment like their usually is. Everybody seemed a little "safe" to me. Where was the equivalent of this
---
| | | |
| --- | --- | --- |
| RE: Oscar Fashions any one? | | |
| | | |
| --- | --- | --- |
| RE: Oscar Fashions any one? | | |
Yes, Kellie. I agree.

Here's another shot illustrating just how unwearable that Prada gown is (maybe it would work better with a backpack).
I have decided, this is a dress for a 12 yr old girl. The flat chested ones.
Here is a link that might be useful: Source of Photo and good piece in the New Yorker
---
| | | |
| --- | --- | --- |
| RE: Oscar Fashions any one? | | |
Look at how much better these look for her body type. She reallly is a stunning, but this is a perfect example of why it is so important to dress for your body type.

I "watched" with a group of women (online since we had a snow storm) and it sounds like we are in the minority mtn. Thanks for the article, I do wonder how much of the praise is because she is the media darling de jour (well earned, she was awesome in 12 Years a Slave) and it feels wrong to critique.
---
| | | |
| --- | --- | --- |
| RE: Oscar Fashions any one? | | |
I have the benefit of having my nose buried so deep in making choices for the beach house that I am totally out of it on popular culture. So I am unburdened by any halo of goodwill regarding her part or her history, I'm just lookin' at a lady in a dress.

That Prada dress is junk! She is stunning in the others.
---
| | | |
| --- | --- | --- |
| RE: Oscar Fashions any one? | | |
I may be wrong but I think that picture of Hillary Swank is from years ago. In any event, I have always disliked that style and think it is not Pretty in Pink...or purple..or green.....or...

I love Sandra Bullock's and Amy Adams' dresses...simple elegant...beautiful.
---
| | | |
| --- | --- | --- |
| RE: Oscar Fashions any one? | | |
I thought Lupita looked great because only a flat chested woman can pull off that gown...she looked beautiful in the others gowns as well..my guess is she wanted to switch things up a bit.

I know Angelina had a double mastectomy, but her dress, though pretty, did nothing for her. Her bustline looked undefined and her breasts just looked saggy/too low. And the dress did not give her a waistline......this was a miss for me.
Here is a link that might be useful: Angelina's dress
---
| | | |
| --- | --- | --- |
| RE: Oscar Fashions any one? | | |
I thought the red dress was stunning on Lupita. I didn't like this pale blue one so much, but she knew how to walk in it. She went up the stairs to the stage and then pulled the fabric of the skirt out as she walked across the stage so that it flared out beautifully.
---
| | | |
| --- | --- | --- |
| RE: Oscar Fashions any one? | | |
Kate Hudson did the plunging neckline and it looked gorgeous. Maybe the difference is that it wasn't open on the sides?

And I was disappointed in Amy Adams dress. I think it's kind of boring. As was her hair.

(ps - I may or may not have watched the show in the same KU pajama bottoms I put on to watch the basketball game on Saturday night, so probably have no room to judge those more successful, beautiful, and thinner than I could ever hope to be. But like mtn said...it's their job)
---
| | | |
| --- | --- | --- |
| RE: Oscar Fashions any one? | | |
Speaking of the stairs, I'll never understand why they don't put up a beautiful railing for the safety and security of the winners...same with other shows...I'm always holding my breath when women in gowns and high heels are made to descend a staircase...often while singing!
---
| | | |
| --- | --- | --- |
| RE: Oscar Fashions any one? | | |
I agree about the bodice, but I just want to say, Lupita has to be THE most beautiful actress I've ever seen in my life!
---
| | | |
| --- | --- | --- |
| RE: Oscar Fashions any one? | | |
I'm not at all shy about critiquing an outfit regardless of who is wearing it.

I wasn't that fond of Kate's look...too Jessica rabbit for my taste....trying too hard...though her figure is slammin'.

I liked what Giuliani rancic was wearing...or at least the bodice of it...until she blew out the zipper!

I agree about pink's dress and performance. Fab.
---
| | | |
| --- | --- | --- |
| RE: Oscar Fashions any one? | | |
Marlene, you may be right...I was flipping through images on screen and later realized some of them were vintage.
---
| | | |
| --- | --- | --- |
| RE: Oscar Fashions any one? | | |
Can we mention permanent mistakes on this thread?

Like Kim Novak (google images before and after).

And stupid John Travolta, who looked better til he opened his mouth.

ML
---
| | | |
| --- | --- | --- |
| RE: Oscar Fashions any one? | | |
Yeah, and under all that hair, Goldie hawn had some pretty bad plastic surgery too.

I was sorry to see how difficult it is for Liza to move and sorry to see Poitier in growing frailty.

But I thought the twitter crashing selfie and the pizzas were fun.
---
| | | |
| --- | --- | --- |
| RE: Oscar Fashions any one? | | |
Yes, do not understand with all their $ how their plastic surgeries are so bad. Barbara Walters has one heck of a surgeon...she looks very natural....and she is 84!

So sad to see Kim Novak like that...still love her movies.

Liza has had two hip replacements and a knee replacement and a host of other health problems so not surprising she's not spry.

I really wish John would just lose the rug...and how could he have messed up Adina Menzel's name...how hard is that to remember? He said something like Adele Dazeem....and I kept thinking at first" that sure looks like Adina Menzel" until I figured out it actually was!
---
| | | |
| --- | --- | --- |
| RE: Oscar Fashions any one? | | |
I thought that Gabourey Sidibe picked a beautiful dress and color for her body type. Very well done.
---
| | | |
| --- | --- | --- |
| RE: Oscar Fashions any one? | | |
I pretty much wanted to feed the women. I thought the man who won the best supporting actor's (sorry, I don't remember his name... or obviously "know" most of them!) mother looked great! Hair and a face to match her age; elegantly dressed. There is dignity in aging, ladies!
---
| | | |
| --- | --- | --- |
| RE: Oscar Fashions any one? | | |
I didn't watch one minute of the show, but Googled the fashions afterwards. I thought that Angelina Jolie looked matronly. I agree with those who didn't care for Lupita's dress. Her other award ceremony dresses definitely were better.

I love this picture showing her in every color of the rainbow
---
| | | |
| --- | --- | --- |
| RE: Oscar Fashions any one? | | |
Camila Alves looked lovely IMHO.
---
| | | |
| --- | --- | --- |
| RE: Oscar Fashions any one? | | |
Agree with the opinion on Whoopi's outfit -- to me, it was a Whoops! I know she dances to her own tune and doesn't give a fig about what others think. But even when I was listening to her, I wanted to reach into the TV and fix that necklace that was caught on her right-hand boob.

(I liked her "Wizard of Oz" ruby shoes, tho! And I thought Ellen's post-"Wizard of Oz" Glenda outfit was very funny -- those pointy wings on the sleeves!)

I heard on some post-Oscars show that Kate Hudson had to pretty much be horizontal in the limo ride to the ceremony to avoid creasing her gown, which I thought was very "Old Hollywood," and I love those styles.
---
| | | |
| --- | --- | --- |
| RE: Oscar Fashions any one? | | |
I was waiting all evening for Idina to sing and nearly fell off the chair when John pronounced her name.

Someone said he's dyslexic, but that's no excuse. If he can memorize a script he can surely memorize Idina's name!

She took it like the pro that she is. "The show must go on." lol.
---
| | | |
| --- | --- | --- |
| RE: Oscar Fashions any one? | | |
ok well I didn't actually watch but I did see Sandra Bullock getting interviewed, and I thought she looked wonderful in the gown (and yes, it's navy like most of the mother of the bride gowns I am looking at:) but --- and I rarely notice makeup but I thought something was VERY off wit her eyes or eyebrow area. It really bothered e watching her and I don't notice that much.
Yes I agree about the bad plastic surgery. I understand not loving the changes in our faces as we age (see my other post on the birthday thread:) but MOST of them really look wrong. Goldie Hawn in particular has always bothered me think because I have a clue as to her real age, and to try to continue to be the 20 something year old from Laugh In does not become anyone.
don't know who most of them are anyway and I agree with the comment above- let's feed them!!
---
| | | |
| --- | --- | --- |
| RE: Oscar Fashions any one? | | |
Regarding Whoopi's dress, didn't Julia Roberts do something very similar recently? I think she wore a dress that looked like a black gown with a white blouse stuffed underneath. I think they were almost exactly the same.
---
| | | |
| --- | --- | --- |
| RE: Oscar Fashions any one? | | |
Yup...wonder if Fashion Police will use it for a B*tch stole my look! segment.
---
| | | |
| --- | --- | --- |
| RE: Oscar Fashions any one? | | |
I am on Oscar overload at the moment. I could not believe how it was rehashed a thousand times on Monday. I watched most of the show, although I don't know why. It was such a yawn. I kept hanging in thinking something fabulous would happen soon. I think my fave of the night was the pizza delivery guy with the ripped jeans. Very "of the moment".

I don't know why the women wear dresses with trains. I get riveted on watching the feet of people around them, waiting for that moment when someone steps on the dress and yanks her backward like a dog at the end of its leash.

I'm another who holds her breath as the women totter up those stairs to the stage in stilettos, dresses that are skin tight and or trying to avoid stepping on their hems. Surely it's possible to design a dress that is a knockout yet functional. I do agree that it is their job to be fabulous. A handrail or an assigned escort would be nice.

I felt so bad for Kim Novak. It took a lot of courage to get up there at age 81 and try to pull off the old time sex symbol routine. All the comments later were so cruel. She looked kind of dazed through the whole thing.

My favorite dress of the evening was the red number worn by Jennifer Lawrence. She looked amazing, even though she fell down again while getting out of a car!

Loved Jared Leto's mom and Matthew McConaughey's mom. They both looked lovely and age appropriate. Matthew's wife had a look on her face that said "I can't believe I am here with my MIL." Jonah Hill's mother, on the other hand, looked not so good. Her hair was way too long and dark for her. Proof that long hair after a certain age drags the face down. She also had bare arms and did not have the lovely toned arms to go with that look. I felt a little bad for her.

That's enough pettiness from me for one day. Next year I'll skip the Oscars and go directly to Fashion Police. Speaking of bad plastic surgery.......!
---
| | | |
| --- | --- | --- |
| RE: Oscar Fashions any one? | | |
Oh yes...I thought Julia looked awful at the GG's with the blouse under the gown...and she can pull it off a lot better than Whoopi!

Agree Camila Alves looked beautiful in her pink gown.

Goldie needs to do something with her hair as well...she's too old for the Farrah Fawcett look....it did not look nice at all and looked like she needed conditioner.

Speaking about feeding them.....the worst one to me is Guiliana Rancic.....I'd like to give her a big old Italian meatball sandwich and some cheesecake!

Watched FP last night...pretty much agreed with everything they said. They ripped Liza, but I thought she looked OK...she might have to wear comfy shoes because of her knees and hips.
---
| | | |
| --- | --- | --- |
| RE: Oscar Fashions any one? | | |
Mmmm, I somehow missed the comments about Kim Novak.

Yes, I think Liza could have done better. It never ceases to amaze me how some star can continually look so wrong! OK, I get that she had knee and hip replacements and needed comfy shoes, but they were scuffed!

I also agree about Goldie Hawn. She needs a haircut.
---
| | | |
| --- | --- | --- |
| RE: Oscar Fashions any one? | | |
My favorite dress was Charlize Theron's. Even tho it has a train the length in front is good. It looks like a really well designed dress and she looks fabulous in it.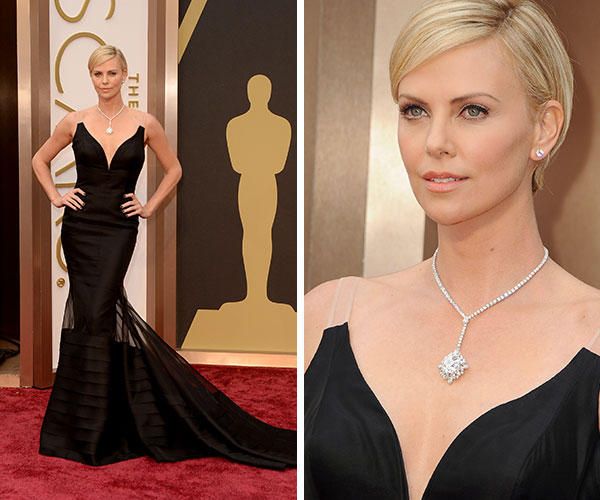 I really dislike the excessive length of many of the fashions. This is one of the unfortunate things that can happen with a dress that is too long. Either someone stepped on the bottom of Kerry Washington's dress or she did it herself. Not how I'd want to look throughout the evening.
I wore a dress almost exactly like this 46 years ago altho it wasn't a maternity dress! :D
---
| | | |
| --- | --- | --- |
| RE: Oscar Fashions any one? | | |
I loved Kerry Washington's dress - the color looked amazing on her. I didn't notice the wrinkles or the bottom of her dress though I only saw her on the red carpet at the beginning.

I personally didn't like Charlize Theron's dress much - well, at least from the bosom up. The bottom is pretty. But I thought, especially with the dark color, that it just didn't look natural the way the top met with the flesh colored straps. I didn't even notice the straps at first, which I suppose is the point, but I just thought that not only was it cut too deeply between her breasts, but also didn't like how the black "straps" were cut squarely off. The rest of the dress really showed off her figure nicely.

I too thought the mothers looked gorgeous. Not afraid to wear their gray hair proudly. I didn't know that was Kim Novak, but she was before my time and I didn't hear her introduced. All I could think when I saw her was what was wrong with her face? I didn't know she was in her 80s but it's sad to think that she felt it necessary to do so much work rather than allow herself to age gracefully. Meryl Streep is one that I adore.

And does Sally Field EVER age? I absolutely loved her when I was a kid - Gidget (though made before I was born) was one of my favorite shows as a teen. I've watched her in various things over the years and she never looks any different. If she has had plastic surgery, she picked a good surgeon.

I have to say, that I didn't know who half the people were on the Oscars. I'm not a big movie goer and don't watch that much TV and am only in my mid-40s, but geez, I didn't realize just how out of touch with pop culture I am sometimes. I don't care much about the Oscars but had it on b/c dd wanted to watch so I sat there too, but was mostly reading or doing other things with an occasional glance up or did watch for the big awards or the ones with people I recognized.
---
| | | |
| --- | --- | --- |
| RE: Oscar Fashions any one? | | |
Charlize Theron's dress, when I looked quickly, looked like one of the ones you'd use for paper cut out dolls.
---
| | | |
| --- | --- | --- |
| RE: Oscar Fashions any one? | | |
Charlize Theron is my girl crush. Look at that face! Perfection. Overall not my favorite dress that she has worn but I have yet to see her look bad.

Biggest shock of the night for me (and I only realized it when watching the Fashion Police) was Margot Robbie. I saw her sitting with the Wolf Of Wall Street crew and thought it was somebody's date, not the captivating actress. She looked like a whole other person. Something tells me that this movie probably wasn't viewed much by the GW group, but she is just a stunning woman. Not so much at the Oscars.

Exhibit A
---
| | | |
| --- | --- | --- |
| RE: Oscar Fashions any one? | | |
| | | |
| --- | --- | --- |
| RE: Oscar Fashions any one? | | |
kellie, I agree about Charlize. I think she is one of the most gorgeous woman I've ever seen. She is in a perfume commercial, the name I can't remember, and I can not take my eyes off of her. I even called DH over to look at her. However, I really didn't care for her Oscar choice.

I also love Example B above. I had a similar cocktail dress that I absolutely adored so I guess it's just a look I am partial to.

Oh and Whoopi! She could wear a paper bag and I would love her look. I love the woman!
---
| | | |
| --- | --- | --- |
| RE: Oscar Fashions any one? | | |
What a frivolous and silly discussion...and what fun!

Agree about the blouse-over-strapless look,it just does. not. work. Not on Julia, not on Whoopi, not on anyone. I also don't really care for Meryl Streep's anti-glam look which she seems to do deliberately. I know Oscar fashions can be way skewed to the young and the genetically blessed but really, Meryl, couldn't you find something simple and classic to go with your timeless elegant beauty?

As for the gentlemen, I am not a fan of the white jacket/dark slacks ensemble as sported by Jared Leto and Matthew Mcconaughey. It looks sloppy to me; I much prefer the look of a handsome man in a well cut tuxedo.

And I love that moms were well represented! Very nice to see and hear them being appreciated by those glorious Hollywood stars.
---
| | | |
| --- | --- | --- |
| RE: Oscar Fashions any one? | | |
I really liked the white tux jackets on MM and JL! They were so fresh looking.

Lupita, what can I say, she is gorgeous. I loved the dress, it was different, and I can see how her body type can wear that. The icy blue color was so gorgeous on her.

Charlize is usually always good, too.
---
| | | |
| --- | --- | --- |
| RE: Oscar Fashions any one? | | |
Did not watch the Oscars but looked through a few red carpet photo sites the morning after. While I agree there weren't any big winners this year, neither were there a lot of huge losers, either....mostly everyone looked presentable, at least. That light blue dress.....the fabric looked so cheap. I know it wasn't, of course, but it looked like fake fortuny with rhinestones.

And Pink...what's up with the regulation short haircut brushed up stiff like that, or making long hair look like that? Pink, Jennifer Lawrence, several others. Kate Hudson, a roger rabbit refugee, brilliant, Annie! And finally, Pink's rendition of Over the Rainbow? I find it very sad that every singer has to sing songs with that vocal adornment technique that used to be reserved for soul music in the 70s. Now it is used to disguise or compensate for narrow vocal ranges and the fact that the voice cannot sustain long notes on an even tone. Nowadays a singer is a person who can sing enough, and has some schtick that makes him or her famous. Most of today's singers actually have terrible voices. The likes of Judy Garland, Karen Carpenter, Cass Elliott, Patsy Kline, Barbara Streisand and others with true star quality voices are mostly gone. Lea Michele is one singer who sometimes uses that type of vocalization but doesn't need it, and she would have killed that song at the Oscars.
---
| | | |
| --- | --- | --- |
| RE: Oscar Fashions any one? | | |
Kswl----totally agree that Pink was too much of a vocal lightweight to sing Over the Rainbow. Why didn't Idina sing that or even Bette?

Totally agree also about today's singers....watching Idol, Voice, etc...they all sound the same. And why is screaming at the top of your lungs and throwing runs on every other note considered good singing?

And of course, today's singers have to hide their poor skills with a zillion back-up dancers, crazy outfits and big production numbers, not to mention auto-tune.

Barbara Streisand, alone on a stage with just a microphone....pure heaven.....and talent!

(Im listening to Karen Carpenter as I write this)
---
| | | |
| --- | --- | --- |
| RE: Oscar Fashions any one? | | |
My favorite look of the evening was Evan Rachel Wood's green dress and really disliked all those boring navy dresses.
---
| | | |
| --- | --- | --- |
| RE: Oscar Fashions any one? | | |
Yes, Joanie, I forgot about Bette Middler, she has a beautiful voice. She is one of those who can actually sing, without that cheap vocalization that emphasizes popular "technique" over true talent and musicality. Standards are lowered in every discipline....we are experiencing a massive regression to the mean in all the arts.
This post was edited by kswl on Thu, Mar 6, 14 at 10:22
---
| | | |
| --- | --- | --- |
| RE: Oscar Fashions any one? | | |
I finally finished watching fashion police. Pregnant with twins or not, Elsa Pataky would've been my worst dressed, with Pharrel Williams in the tux with the shorts a close second. That dress was just wrong...I agree with george...it looked more like a beer belly than a baby bump. And a dropped armscye is one thing on the flat Lupita, but a totally different thing on a woman with pregnancy breasts.
And not wanting to rag on poor Liza with all her health issues, but if you are going to the Oscars and know you are going to be recognized, can you at least put on a bra????
---
Post a Follow-Up
Please Note: Only registered members are able to post messages to this forum.
If you are a member, please log in.
If you aren't yet a member, join now!
---
Return to the Home Decorating & Design Forum
Information about Posting
You must be logged in to post a message. Once you are logged in, a posting window will appear at the bottom of the messages. If you are not a member, please register for an account.
Please review our Rules of Play before posting.
Posting is a two-step process. Once you have composed your message, you will be taken to the preview page. You will then have a chance to review your post, make changes and upload photos.
After posting your message, you may need to refresh the forum page in order to see it.
Before posting copyrighted material, please read about Copyright and Fair Use.
We have a strict no-advertising policy!
If you would like to practice posting or uploading photos, please visit our Test forum.
If you need assistance, please Contact Us and we will be happy to help.

Learn more about in-text links on this page here