Return to the Home Decorating & Design Forum
|
Post a Follow-Up
---
| | | |
| --- | --- | --- |
| Would you take a cruise? | | |
Posted by
AnnieDeighnaugh
(
My Page
) on
Thu, Feb 14, 13 at 23:13
DH and I have never been on a cruise as they hold little attraction for us....eating too much...being trapped in a city with several thousand strangers...every port you stop in is crowded as you bring the crowd with you. We always thought that would be great for when we get older and can't do the things we can do now.

But especially after the horror stories....this latest one was awful....they were setting up tent cities on deck as the cabins were unventilated...let alone the sewage issues, lack of food and water. The only good news is the fire was suppressed. I can't imagine what the disaster would've been if it wasn't! Other disasters include running aground, getting tossed by rogue wave, disease break outs, attacked by pirates...and of course the remedy is the firm gives them another free cruise! Oh boy!

I'm not sure we'll ever be old enough for a cruise....
---
Follow-Up Postings:
| | | |
| --- | --- | --- |
| RE: Would you take a cruise? | | |
Never, and not because of this. I was in Hamilton, Bermuda one day in the very early spring many years ago (before the big cruise ship terminal), and one boat came in. Hamilton had been absolutely charming till they arrived, but seeing what the hordes of people from a single ship can do to destroy the pleasant ambience of a small town, I swore off ever going on a cruise myself.

As you say, you bring a city with you wherever you go. Not for me.
---
| | | |
| --- | --- | --- |
| RE: Would you take a cruise? | | |
Well, actually the one exception (which I would never be able to afford) might be this:
Here is a link that might be useful: ss sudan
---
| | | |
| --- | --- | --- |
| RE: Would you take a cruise? | | |
No. It holds no appeal for me at all. The city within a ship is not my style. I'd rather fly to my destination and explore the area. Spending time with nothing but water around me and a DisneyWorld experience within... Not a priority for spending my hard earned money. I'd rather go camping at Walmart with my dogs.
---
| | | |
| --- | --- | --- |
| RE: Would you take a cruise? | | |
Nope, if I can't see a sliver of land at least in one direction, you an count me out. I *am* chicken little. ;o)
---
| | | |
| --- | --- | --- |
| RE: Would you take a cruise? | | |
The "idea" of an Alaskan cruise is very nice -- the scenery (based on photos a frequent cruiser over on GW's Kitchen Table posted).

But yeah, I would prefer not to be surrounded by water because I know that after a couple of days I would want to escape. And that's just too much swimming for me to get to shore! LOL!

Unfortunately, between the stories about this latest cruise chaos and the one overseas where the captain abandoned his post, that kind of travel makes me nervous. I'm sure the majority of cruises are lovely, no problems, but with my luck ...

Sunday's New York Times had a piece on a transatlantic crossing that was really interesting -- the divide on what was available depending on how much you paid was interesting, I mean, even a restaurant or two open only to the highest-level cruisers. (Maybe that's how some other cruises operate, I'm just not familiar with the whole cruising thing...)
---
| | | |
| --- | --- | --- |
| RE: Would you take a cruise? | | |
Ditto what Gold said. My parents always enjoyed their's, but they were partiers.

And if I must take a cruise, you can bet it won't be with Carnival. Not just because of the current ship, but they've been having major problems yearly that makes the news.

Give me a nice hotel in an out of the way place on a beach.
---
| | | |
| --- | --- | --- |
| RE: Would you take a cruise? | | |
I'll switch over to cruises when I'm not ambulatory enough to take more active holidays. As long as I have my physical abilities, I'll take planes that might crash, trains that might derail and cars which might crash.
---
| | | |
| --- | --- | --- |
| RE: Would you take a cruise? | | |
Annie, I'm with you as far as what is going on with cruise ships lately. I have a cousin who goes on the most expensive cruises and the last one had a virus going around which she caught.
That said, sometimes you hear about planes crashing. But that has not stopped me from flying.
I went on one cruise for four days. We flew down to Florida down met my sister and her husband. We were celebrating a special birthday. I have to say that the four days felt longer than usual because you pack so much in to each day. My DH would like to go on a longer one but I am not interested. For me it's two reasons. Since I don't travel regularly,I want to go to a place and really have a chance to see it. Not run off and on a boat. And second, the over eating just does not appeal to me any more.
I think it is good for older people, but even then if you have difficulty walking you will find it difficult getting around a large ship.
Cruises are for people who love to relax and be out on the water.
---
| | | |
| --- | --- | --- |
| RE: Would you take a cruise? | | |
There are probably a few trips where a cruise makes sense. I'm thinking of the trips where you cruise up a river and you can enjoy the scenery along the way from the comfort of your room or lounge. Perhaps something similar can be achieved by taking the train but then you have to worry about schedules, luggage, changing trains etc.

But a cruise on the open sea in the super carriers is not something I'd be interested in. They remind me of a floating amusement park. I want the freedom to change things as I travel.

My brother cruises at least once a year - but that's because he's very budget conscious and he'll book the cheapest room on the ship. His theory is that you only use the room to sleep so why pay for a roomy room. ANd he and his wife love the abundance of food.
---
| | | |
| --- | --- | --- |
| RE: Would you take a cruise? | | |
Speaking of the Carnival ship... I have a high school student who just came back from a cruise. Parent told me they were on the ill fated ship 2 weeks before, and had to stay in Progreso waiting for parts and repair after a fire on the same ship. Guess they didn't get the problem fixed......
---
| | | |
| --- | --- | --- |
| Would you take a cruise? | | |
Ladypat, it was on the news this week about the ship having problems recently.

Did anyone watch the lead story on GMA today about this ship & the executives of Carnival? Smug. They ran away from reporters and nearly ran one over with some kind of golf cart. Just the other night, KNOWING thousands of passengers were in peril, the owner of Carnival was at a basketball game (he owns one of the teams), just laughing and smiling.

Because of TPTB of Carnival, I would never get on one of their ship's, just out of principle.
---
| | | |
| --- | --- | --- |
| RE: Would you take a cruise? | | |
My only experience with a cruise was years ago on a Carnival ship from hell, a corporate cruise DH had to attend, after the disastrous 4 days, Carnival reimbursed the company and said the ship was on his last legs and was to retire, explaining the malfunctions, etc

Why do they take the risk and stretch the life of their older ships ? it seems Carnival does that.

I also did not enjoy the "group" aspect of it all, disembarking was long because of procedures, etc

I do have friends who cruise and love it, there are amazing ships out there apparently. My friends seem to enjoy jewellery shopping, great deals apparently but I googled that and there are a lot of scams going on at the port destinations where they await the tourists from the ships.
---
| | | |
| --- | --- | --- |
| RE: Would you take a cruise? | | |
I have cruised several times and would not hesitate to do it again.

*****BUT*****

The huge floating cities (great analogy) are not for me and the smaller, more intimate ships offer ports that are not accessible to the behemoth 'boats'. Everyone has their own preferences, of course, but I love being at sea and not seeing land. Some people need a port (and shopping) everyday - not me. I don't want to be given a choice of dinner at 6 or 9, watch canned shows that the performers do in their sleep because they do them 2x per day for each dinner seating.

If you think you might enjoy a cruise, look into smaller ships or even European river cruises.
---
| | | |
| --- | --- | --- |
| RE: Would you take a cruise? | | |
No, the big ships have to appeal to me whatsoever. In fact, from what I have seen, it would be my idea of hell. However, I have friends who cruise on Crystal Cruises and she had described it as a floating Four Seasons. I suppose the fact that it is so very expensive controls who takes the cruise and you don't get families with screaming kids, etc.

They love to dance and there is a lot of dancing on the cruises they choose. One thing they mentioned that made my skin crawl is that the cruise provides extra male dancers so the single ladies can dance. Ugh. I would just hate that.

The one cruise company that appeals to me is Overseas Adventure Travel. They have small ships and go to interesting places. From what I have heard, there is lots of camaraderie among the travelers, and since I travel solo, that would be great for me. I'd be totally lost on a huge ship.
---
| | | |
| --- | --- | --- |
| RE: Would you take a cruise? | | |
Dh and I went on a 9 day Caribbean cruise once with Carnival and I did enjoy it a great deal. We stopped at a different island everyday and overall, the whole trip was fun and entertaining and we are not partiers in anyway. We took excursions on each island so there was plenty to do, from sail boating, snorkeling, local sites, etc.
However, even though the boat was one of their largest, I still felt slightly nauseous from motion sickness so for that reason (amid the myriad of all other current cruise troubles) we won't do another one.
---
| | | |
| --- | --- | --- |
| RE: Would you take a cruise? | | |
Absolutely! We love cruises! You board your 5 star hotel, every morning you wake up in a different city or country. You only have to unpack once.

My first cruise was with my dh back in 1995. I actually won it in a drawing (yeah, I know). It was quite a trip. 250 passengers, crew of 300. Every cabin was a suite, it stopped at ports that other ships couldn't get to because they were too large.

After that we have taken our children, gone alone, gone with other couples. We have traveled all over the Caribbean to South America, Central America, & Alaska. We went to Europe for a 12 night cruise we met up with a large group of people from Cruise Critic, with whom we planned our private tours. This would not be a cruise to take when you are unable to be active, so don't say that....12 nights and 10 ports (Barcelona, Monaco, Florence, Rome, Naples (Capri, Positano), Istanbul, Ephesus, Mykonos, Athens, & Venice, it was the most exhausting but fascinating trip ever. And to be able to come back at the end of the day and sit on our balcony, have a glass of wine from the bottle bought that day while ashore before heading off to our dinner---it was incredible.
I will cruise again for sure. Next one might be a wine cruise in Europe.
Cruises vary depending on the line you choose. They are all not food feasts and booze cruises. I'm not trying to convince anybody to go, but in my opinion there is not a better bang for your buck than to travel this way.
---
| | | |
| --- | --- | --- |
| RE: Would you take a cruise? | | |
I guess I should modify my "never" with a few exceptions:

We did actually take a "cruise" but it was on a 3-masted sail boat with less than 40 passengers and about 20 crew...down the pacific side of costa rica and panama, stopping at nature preserves and private islands along the way for swimming and snorkeling, and through the panama canal to the atlantic. That was interesting, the food was delish, but the portions were well controlled, and I actually LOST weight on that trip which was a nice little bonus!
I would like to take a river boat cruise in Europe...the benefit being you're bringing your hotel room with you so you can see a bunch of cities without having to pack and repack at every stop.
The other cruise I would take would be the inside passage to Alaska as the scenery would be worth it.
---
| | | |
| --- | --- | --- |
| RE: Would you take a cruise? | | |
Yes, the Alaskan cruises are wonderful. You can do the two week deal where you are at sea one week and inland the next.

I love the riverboat idea. There is one that goes up through New England. Hubby and I have toyed with the idea of that trip. However, generally, cruises are not for us. We greatly enjoy road trips, seeking out the backroads, the little out-of-the way spots, etc. in a new area. We do not like to be on anyone's schedule or confined to certain outings. We like to do our own thing, when we want to do it. Not big on the cruise food and definitely not the shows. Also not big on staying on the ship, etc. I have friends who cruise frequently and that is what they enjoy doing! They don't go on alot of the outings, they enjoy being pampered, the food, and the sun, pool, ship, etc.

Those I know who enjoy cruising do not go to "party", although I do have a male aquaintance who enjoys the gambling. LOL Many feel the same as mentioned here - a good value for your money. It's great for some, not so much so for others. I fall in the "others" category. If illness, problems on the ship (such as this week), etc. happen, then it can be hell on water!

tina
---
| | | |
| --- | --- | --- |
| RE: Would you take a cruise? | | |
I'm in the camp of "never say never", but cruises hold little appeal for DH and me. I have taken three cruises in my past (with my ex). The first was a honeymoon on Carnival, then another Carnival cruise a few years after that, and then the last time was aboard a Royal Caribbean ship, which we found much nicer than Carnival. All three cruises were to Caribbean destinations. The trips were enjoyable, but on the second Carnival cruise, we timed it "just right" so that we were onboard with entirely too many spring breakers, and the atmosphere could get downright unpleasant ... drunken "kids", and we even had to walk over a couple of boys passed out in hallways. Ugh. The Royal Caribbean cruise was comprised of mostly middle-aged and older folks, and the atmosphere was much more genteel. Our dining companions for the week were a family that included three generations, and we felt as though we had been automatically adopted by a wonderful bunch of folks. We made new friends that we stayed in touch with for years following the cruise.

My travel style is much more along the lines of DIY/self-catering. I enjoy traveling very much, but prefer to stay in one or two locations, and like to rent privately-owned homes or condos to stay in. To me, this is far less contrived (for lack of a better word) than cruising. Luckily, DH is right "on board" with my preferences. :-)
---
| | | |
| --- | --- | --- |
| RE: Would you take a cruise? | | |
A Rhine River Cruise with Viking Ships is on my bucket list, but never, never have I desired to go on one of the big ships out on the Atlantic or Pacific. This latest cruise disaster is exactly why it has been unappealing to me....no thanks! I'll fly!
---
| | | |
| --- | --- | --- |
| RE: Would you take a cruise? | | |
I have been on one "cattle call" cruise for my parent's 50th anniversary (they chose it), and never again. A woman JUMPED OFF the ship and killed herself between Mexico and Belize. Horrible, horrible experience. I do enjoy smaller, initmate ships though.
---
| | | |
| --- | --- | --- |
| RE: Would you take a cruise? | | |
I'm with most of you in that a cruise on a large ship just doesn't hold much appeal for me, though I think that it would be a fascinating way to see Alaska, and the smaller river boat cruises look like they could be fun. I'm also not interested in All Inclusive mega resorts. When I travel I prefer to be in or close to a city or town, with the ability to walk and explore easily from my hotel or condo. My mother cruises quite a bit, and has done both the large ships and smaller ones, and did a land/cruise package in China a few years ago that she enjoyed.
---
| | | |
| --- | --- | --- |
| RE: Would you take a cruise? | | |
I don't really have a desire for a cruise vacation and thanks to my husband's years being a "ship driver" as an officer in the Navy, he has never wanted to take a vacation on a ship.

My parents have done a few but only on smaller ships in Europe/the Mediterranean. Most they really enjoyed, but there was one they did that they really disliked - it was on a river in Eastern Europe if I remember correctly.

The only kind of "cruise" I would want to do is a chartered sail. I know several people who have done them and loved them but we live in a sailing town so that doesn't surprise me!
---
| | | |
| --- | --- | --- |
| RE: Would you take a cruise? | | |
Oh - another thing about crusing: I have been told "Oh, you don't even feel the movement of the ship. There's no way you'll get seasick." Baloney! On my second cruise, the ship was 44,000 tons. One evening, the captain averted course slightly to avoid a storm at sea. Still, the sea was very rough, and it was estimated that at least 1/3 of the passengers were in their cabins, quite ill. I didn't get full-on sick, but most definitely felt the ship rocking to and fro ... a very unsettling feeling on such a large vessel, to say the least!
---
| | | |
| --- | --- | --- |
| RE: Would you take a cruise? | | |
From what I have read, sea sickness is one reason why food is served constantly. A full stomach will combat most effects and they do want happy campers.
I wore nausea preventative wrist bands constantly while cruising, even during those formal dinners, and found they did help somewhat as I was able to enjoy the cruise.
---
| | | |
| --- | --- | --- |
| RE: Would you take a cruise? | | |
I had the same experience in Bermuda as Writersblock. Half the men were wearing homemade muscle shirts - not my kind of crowd. Also a friend, who I would say is a foodie, described the food as cafeteria quality.

Plus I get motion sickness easily - so I don't have any curiosity at all.

I have heard that the Alaskan cruises are much nicer than the Caribbean.
---
| | | |
| --- | --- | --- |
| RE: Would you take a cruise? | | |
I've been 'talking' river cruise the last year or so~sounds very appealing to me. The fact land is never out of sight fits my comfort level. Cruising a river on the outskirts of cities in Europe(or wherever)and taking in the sights of beautiful architecture as well as villages could be a unique experience. I do wonder about sewage and being engulfed by the vile smelling stuff. I would hope any route taken would have already been investigated, yet things do happen, given the right circumstances, and foreign countries do not have the sophisticated sewer system as the US. Please let me not start over-thinking!
---
| | | |
| --- | --- | --- |
| RE: Would you take a cruise? | | |
I'm with beekeepers wife, we LOVE to cruise. We have been on 10 cruises and plan on cruising well on into our "golden years". We like to travel and take far more vacations by air than by sea, however, there is something about the ease of a cruise that appeals to us when we just want to relax. We cruise out of our hometown of Boston to Bermuda-easy peasy. We have also done air to Bermuda, which at only 1.5 hours is a piece of cake. We never follow the pack. Instead, we plan our excursions (love cruise critic!) and hire a driver/car to pick us up.

We are fit and very active. We hike, climb ruins (Belize), climb waterfalls (Dunns Falls) and climb hills (Eze, France).
We like meeting new people and enjoy most of the activities. We don't gamble and we're not heavy drinkers. We don't do the midnight buffets. What we do is:
pack once-unpack and that's it

order room service for breakfast if we are lazy

choose our excursions carefully and rarely go through the cruise line

hit the gym daily or run/walk the track

For most of our cruising we have flown to Miami, Puerto Rico or Europe. I would not recommend a cruise out of Europe unless you've done a land vacation first because your time in each port is limited.

I get 4 weeks/vacation a year and almost always, one of those is a cruise. Just because it's so easy and so relaxing. I get the BEST nights sleep on the water!

A barge trip down the Rhine or Rhone is on our bucket list for when we get "older" and unable to do the things we now do on cruises. LOL, it's all a matter of perspective.

It clearly is not for everybody, but I like being in the middle of the ocean where nobody can reach me. That is what allows me to "shut off" the work mindset.
---
| | | |
| --- | --- | --- |
| RE: Would you take a cruise? | | |
The only cruise I've thought of taking would be an Alaskan cruise. I've never heard of a river cruise before--those sound interesting, too. Traveling down the river, seeing the country, and stopping at various cities--I could deal with that.

But I burn every easily in New England sun. A Caribbean cruise would be spent hiding from the sun, applying sun block and staying indoors most of the day. Absolutely no appeal to me at all. I can burn in northern latitudes with sun block and a long-sleeved shirt and a hat. I can't imagine what would happen on the ocean in the Caribbean.

And given the problems some of the cruise lines have been having, going on a cruise is not high on my list of things to do.
---
| | | |
| --- | --- | --- |
| RE: Would you take a cruise? | | |
>A Caribbean cruise would be spent hiding from the sun, applying sun block and staying indoors most of the day.

But that makes you the perfect cruise ship passenger. Nobody I know who goes on those cruises ever sees the light of day except when they do a port/shore excursion, other than maybe one token trip to the pool deck for photos. It's like worrying about getting sunburned at the mall.

So if the cruise lifestyle appeals to you otherwise, don't let that stop you.
This post was edited by writersblock on Fri, Feb 15, 13 at 17:39
---
| | | |
| --- | --- | --- |
| RE: Would you take a cruise? | | |
writersblock, here I was imagining everyone out on deck, swimming and playing tennis, when they weren't below deck ice skating or at the spa, of course.

Since I don't like crowds of people, I'm probably better off at home. The thought of spending money to stay inside as if I were at home. . . boggles the mind.
---
| | | |
| --- | --- | --- |
| RE: Would you take a cruise? | | |
Camlan, here's the site for Viking cruises. Click on "cruises" in the heading and it should bring up the current cruises. Of course it doesn't include your air fare.

There are other river cruises, but I haven't made any comparisons yet. Avalon is one I want to check out.
Here is a link that might be useful: Viking
---
| | | |
| --- | --- | --- |
| RE: Would you take a cruise? | | |
A river cruise in Europe-yes. An ocean or sea cruise-no. I think the Poseidon Adventure ruined me for that and I have never actually watched the entire movie! ;)
---
| | | |
| --- | --- | --- |
| RE: Would you take a cruise? | | |
Yes, I would, I have, and I am again.
Next cruise is a 7 day CARNIVAL cruise on the beautiful, redesigned Sunshine out of New Orleans.

Wow, writersblock.... no one you know that goes on cruises ever sees the light of day etc.... ?
They sound like strange people to say the least or maybe gamblers that can't tear themselves away from the casino?
That most definitely is not the description of a typical cruise passenger or cruise experience.

I never go during Spring Break season or when school is out so the child to adult ratio is always very low which makes for a much more serene time on board.

Btw, I have never felt crowded or 'in a crowd' and every cruise I've been on has been close to or sold out.

All of the cruise lines have state of the art stabilizers.
Barring a hurricane or storm, the waters in the Caribbean are generally calm enough that you can barely tell that the ship is moving.

A cruise is what you make it.

Run the top deck track and spend most of your day in the glass walled fitness center.

Get a spa treatment every day

Sit on one of the numerous decks and soak up the sun and enjoy the ocean view.

Sit in a covered area of the deck and relax.

Participate in on board activities or not.

Eat when you want or not, healthy, greasy, vegetarian, meat based, etc. - your choice.

Swim, hot tub, etc. - never once have I seen them crowded on any ship - again, I go when the kids are sparse.

I tried something new and took my last cruise in conjunction with a round trip overnight bedroom on Amtrak's City of New Orleans, another thing I love.

I always bring my iPad on trips so I downloaded 6 books to my Nook app, 30 magazines to my Next Issue app, and rented 8 movies from iTunes.
I did NOT read one book or magazine or watch one movie because there was so much else to do.

That's just scraping the surface of the things you can do, you'll run out of time before you run out of things to do.

If you're decidedly anti-cruise or feel it's too declasse, middle class, mainstream, or pedestrian for you but grudgingly go to appease family members, you, more than likely, won't enjoy it.

~Short story~
Last Spring, on my way to catch the train for a short visit to NOLA, we got t-boned going 45mph less than 1000' from our house, were forced into oncoming traffic, hit another car almost head on - could have been fatal but, miraculously, we weren't injured at all.
Car was totaled and they towed it away.
We walked home, got the other car and I caught another train to Chicago so I could catch my train to NOLA.

What happened on the Triumph does not scare me.
I have complete confidence in the crew and staff of all cruise ships because the very last thing any of them want is to die a horrific death at sea.
They do not take safety lightly.

On a brighter note....
This will be the 3 level, adults only, Serenity Deck on the Sunshine - separate from all of the other decks.

I'm really looking forward to this next cruise, as it will also be my 2 time cancer survivor, amputee daughter's first cruise - takes a lot to scare her though :-)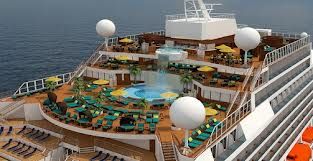 This post was edited by joanie_b on Sat, Feb 16, 13 at 12:34
---
| | | |
| --- | --- | --- |
| RE: Would you take a cruise? | | |
I want to take a cruise, I've always wanted to do that. I love the idea of being in the middle of the ocean, that appeals to me so much-and having all the activities available also appeals to me. I like knowing that I can snooze all day in the sun or do a mulitude of activities whenever I want.

There are a lot of Rock 'n Roll cruises lately, and if there is a band i especially like, i'll go on that cruise. DH will not go on a cruise, so I'd probably go solo-I don't mind solo travel.

My DD's and I want to take a Mediterranean cruise one day-we figure it'd give us the chance to sample areas we'd want to come back to at a different time, via land.

When I lived in So Cal I always wanted to take the 3 day Mexico cruises, but never was able to. I don't care to go on an Alaskan cruise, but I've heard good things about the river cruises. A colleague went on one that set out in Amsterdam and she said it was amazing.

I would NOT chose a cruise line that caters to families-Carnival seems it's one. I prefer a less hectic crowd. We're going to Las Vegas in April and I booked a hotel off the middle of the strip-it's got ammenities that DH will like, but not a party place like the Hard Rock (where I will be at for a concert).
---
| | | |
| --- | --- | --- |
| RE: Would you take a cruise? | | |
no one you know that goes on cruises ever sees the light of day etc.... ?
They sound like strange people to say the least or maybe gamblers that can't tear themselves away from the casino?

No, they don't gamble much. I have one friend who goes on a cruise to shop, others who spend their time in the spa, in the restaurants/bars, watching the entertainment, shopping, in the gaming arcades (pinball and such, not so much slots--these are younger folks who game at home, so they do on a boat, too), the rock climbing wall maybe, but never do any of them loll by the pool, although they enjoy the excursions to the fake islands very much, probably a lot more than they like most of the real shore excursions. I'm talking about people who live areas ranging from Panama north to Montreal, incidentally. They do like having seats next to the windows in the restaurants to watch the ocean, FWIW.
EDIT Oh, and they like the wine tastings and the art auctions.
My local (older) neighbors love anything with gambling and free food, but they're just as happy on the day boats as on a longer cruise.
This post was edited by writersblock on Sat, Feb 16, 13 at 13:13
---
| | | |
| --- | --- | --- |
| RE: Would you take a cruise? | | |
DH and I went on a Royal Caribbean cruise about ten years ago with a friend, and a group of her friends. I was a little worried because because I thought I'd be bored, but we had a blast hanging out in the pools and doing the ports of call. The only negative for me was when I got seasick from a rough ride on a excursion to Jamaica. While my group was having a grand old time exploring, I was lying on the beach wanting to die.

That being said, I'd only do another cruise if it were a group event. Otherwise, I'd just assume fly or drive to our destination.
---
| | | |
| --- | --- | --- |
| RE: Would you take a cruise? | | |
We went on a Carnival cruise but we went in October so there were hardly any kids on the ship. And, after rising early for breakfast, doing an island excursion, which varied, coming back to change, nap then have a formal dinner, we were tired! I certainly don't recall much time spent in the cabin at all nor much "downtime" either.
The fake island thing/ maybe, but snorkeling is snorkeling and always fun, so is seeing historical sites/waterfalls, etc. same with sailboarding, water skiing...
I loved Martinique and we just walked around there and had quiche for lunch at a bistro.
---
| | | |
| --- | --- | --- |
| RE: Would you take a cruise? | | |
And here's another fun fact:

"According to analysis of crime statistics, Ross maintains that a person is twice as likely to be sexually assaulted on a cruise ship than on land."

"James Walker, another Miami-based attorney who advocates for cruise passengers, noted that about one-third of the approximately 75 sexual assault or molestation charges against major cruise lines that his firm has handled in the last decade involve minors."
Here is a link that might be useful: How safe is your cruise ship
---
| | | |
| --- | --- | --- |
| RE: Would you take a cruise? | | |
I've never been on one of the huge Carnival-type cruises, they don't appeal to me at all. Small ship cruising is a blast. The passenger limit is approx 100-125 people, the ships can get into places that the huge cruise lines can't, and they don't offer the 24 hr. a day food grazing. No they don't offer gambling & dancing, but what they do offer is a unique way to see some awesome places in the world.

The emphasis is on getting off of the ship when possible. Not to touristy type attractions, rather hiking, boating, wildlife, etc. Love the small ship adventures I have had the good fortune of taking.
---
| | | |
| --- | --- | --- |
| RE: Would you take a cruise? | | |
I would like to do an Alaskan cruise. That seems like the best way to see much of Alaska without flying. My sister and BIL had a wonderful time.

Now, Carribbean, Mexico, not so much, but I'm just not overall interested invisiting those areas. We are both fair-skinned and sun sensitive, so we really can't do too much of that.
---
| | | |
| --- | --- | --- |
| RE: Would you take a cruise? | | |
I went once with some friends who had won the cruise - so it was essentially free. It was an interesting experience and we had no problems but once was enough. I don't really have a desire to go again, especially not after chartering a fully staffed sailboat with a group of ten friends. Though we like to actually sail, the friends weren't avid sailors so we got a crew to take care of us while we ate, drank, relaxed and had fun. At the time I remember thinking, this is my kind of cruise - would do this any day over a cruise ship.
---
| | | |
| --- | --- | --- |
| RE: Would you take a cruise? | | |
I have been on a few delightful cruises (Alaska and the Norwegian fjords) where the destinations, not an onboard party, was the vacation. DH and I would like to take the Queen Mary on an Atlantic crossing because it is much easier to get used to the time change--- they set the clock back an hour each day for five days. Also, we have talked for years about learning to play bridge and think it would be fun to have a block of time to play every day while learning.

Annie, that ship doesn't really look like a sailboat. It has three staysails but they are very small in proportion to the ship's size and I can't see any rigging for other types of sail. Also the hull design is not suitable for sailing and it doesnt seem to have a bowsprit. What's the name of the ship--- I'm curious!
This post was edited by kswl on Sun, Feb 17, 13 at 20:19
---
| | | |
| --- | --- | --- |
| RE: Would you take a cruise? | | |
I've also heard of state rooms broken into, and money/jewelry taken, and it was in a safe! They suspected a staff member, but never found enough proof. Just something to think about.
---
| | | |
| --- | --- | --- |
| RE: Would you take a cruise? | | |
The name of the boat is Le Ponant
Here is a link that might be useful: Le Ponant
---
| | | |
| --- | --- | --- |
| RE: Would you take a cruise? | | |
Thanks, Annie! I lived on a sailboat for a few years and the sail area/displacement ratio of that boat is unusual. It looks like a powered yacht with sail for stability and extra speed. Typically the ratio to be wind powered only should be around 16 or 17, while the Ponant appears to be about 10, so my initial impression wasn't wrong. The other photos show it with two jibs as well as the staysails.

I sailed on tall ships and, unless there was a race, always used both the motor and sail, one for speed and the other for stability and fun :-)
---
| | | |
| --- | --- | --- |
| RE: Would you take a cruise? | | |
For those that are interested in a European river cruise, make sure you thoroughly investigate before you book. My parents have taken a few cruises (only in Europe/in the Mediterranean as they are not "sun" people). I remember my mother being very disappointed in one of them. They were just here on Sunday for dinner so I asked about it - it was a Danube river cruise. She had expectations of seeing beautiful scenery but she said it was totally boring - all forests and nothing to look at. She said she only remembers seeing two things that were fabulous. One was when the pulled into Budapest at night and it was a lit up. The other she actually couldn't remember! She also said the water was murky and often, when pulling into ports, smelled horribly. The particular ship they were on had absolutely no entertainment at all - nothing to do at all when underway. My parents, especially my father, are very interested in European history so when they were in port, they did enjoy the day tours they took. However, she told me that she wished they had more thoroughly researched that particular trip as she said she would have preferred to have done a land trip had she known what it would be like.

They did a Scandinavian cruise that included Denmark, Sweden and St. Petersburg that they absolutely loved. And another Mediterranean cruise that went to Greece, Turkey and a couple of other places that they really enjoyed. It was just that river cruise that they said they wouldn't have recommended so I just wanted to warn anyone who might consider that one to make sure you research it well.
---
| | | |
| --- | --- | --- |
| RE: Would you take a cruise? | | |
Thanks for the heads up...I've been wanting to take a river cruise on the Danube...but I trust the co. we're looking at. We've taken 5 tours with them and all have been wonderful.
---
| | | |
| --- | --- | --- |
| RE: Would you take a cruise? | | |
This is the river cruise we were thinking of...not sure if there should be a preference for westbound vs eastbound....
Here is a link that might be useful: Danube River Cruise
---
| | | |
| --- | --- | --- |
| RE: Would you take a cruise? | | |
According to an editorial in our local paper today, which I believe they picked up from the Boston Globe, there are ships currently being built which will hold 8000 passengers. Gah.
---
| | | |
| --- | --- | --- |
| RE: Would you take a cruise? | | |
We went on a few cruises growing up. I remember then being upscale and elegant.

A lot of cruising has become mass market, for whatever reason. They look like spring break to me.

The smaller cruiseships look quite nice, but I understand they are rougher. Considering I was seasick in the tranquil Caribbean in a huge ship, I am afraid to cruise. I think we were the only ones who saw Galapagos without a cruise ... a mistake IMHO.

River cruises sound interesting but I have friends who also said the landscape was monotonous and boring and the ships not large enough to keep you entertained in the meantime ....
---
| | | |
| --- | --- | --- |
| RE: Would you take a cruise? | | |
I went to the emergency room the other day and my nurse was actually on that Carnival Cruise. Surprisingly, she said she still had fun even with all the inconveniences. She didn't get into all the details, but she said some passengers definitely had it worse than others. One thing she said was her room had a window, so it wasn't stuffy like the ones without a window. I asked her if she would go on a cruise again and she said she would.
---
Post a Follow-Up
Please Note: Only registered members are able to post messages to this forum.
If you are a member, please log in.
If you aren't yet a member, join now!
---
Return to the Home Decorating & Design Forum
Information about Posting
You must be logged in to post a message. Once you are logged in, a posting window will appear at the bottom of the messages. If you are not a member, please register for an account.
Please review our Rules of Play before posting.
Posting is a two-step process. Once you have composed your message, you will be taken to the preview page. You will then have a chance to review your post, make changes and upload photos.
After posting your message, you may need to refresh the forum page in order to see it.
Before posting copyrighted material, please read about Copyright and Fair Use.
We have a strict no-advertising policy!
If you would like to practice posting or uploading photos, please visit our Test forum.
If you need assistance, please Contact Us and we will be happy to help.

Learn more about in-text links on this page here