Return to the Home Decorating & Design Forum
|
Post a Follow-Up
---
| | | |
| --- | --- | --- |
| light over kitchen sink | | |
Posted by
sheesharee
(
My Page
) on
Thu, Feb 6, 14 at 13:55
What type of light do you have over your kitchen sink? If it's a pendant light, how tall are your ceilings and how far does it light hang? I was going to buy a pendant light but saw photos of semi flush lights and now am considering those.

Thanks!
---
Follow-Up Postings:
| | | |
| --- | --- | --- |
| RE: light over kitchen sink | | |
Semi-flush. I think a pendant light could be annoying if you were looking out the window.

Before you buy anything, make sure the fixture will hold the wattage you want. I like 100w above the sink, and some fixtures don't have that.
---
| | | |
| --- | --- | --- |
| RE: light over kitchen sink | | |
I have a can light. I don't really like pendants because they are just another thing to wash and dust.
---
| | | |
| --- | --- | --- |
| RE: light over kitchen sink | | |
I have a pendant and a 9' ceiling. It is not annoying at all and it brings the source of light closer to where you need it.
GF also chose a pendant over her sink. It's really lovely.

This post was edited by AnnieDeighnaugh on Thu, Feb 6, 14 at 20:36
---
| | | |
| --- | --- | --- |
| RE: light over kitchen sink | | |
This is one of those things I never gave any thought to. My saved kitchen inspiration photos all have different styles. I suppose I'll need to go through more pics to figure this out.

Fun2be - I did think about a can light as it seemed like a simple solution, but I don't have any other can lighting and don't want to start adding a bunch (I'll have to make more decisions where to put them, lol). This project has already morphed into something bigger than I planned, IYKWIM. Would one can light, or two smaller, look strange above the sink if they were the only ones?

Oakely - I need to look up the placement guidelines for lighting above the sink. I'm finding out there are some pendant styles I don't care for and other styles that just won't look right in my house. I also need to take my other lighting into consideration. I've been thinking of changing those out too, but can't justify it. I don't think that's going to happen unless I stumble upon something second hand I fall in love with. Ah, decisions!

Annie - Thanks for posting those photos! Looks good!
---
| | | |
| --- | --- | --- |
| RE: light over kitchen sink | | |
We have a corner sink with a corner cabinet above it so our light is an under cabinet light. Which I'm sure is not much help, but I will say whatever you do make sure to check the bulbs available for it so you'll have plenty of light when working at your sink.
---
| | | |
| --- | --- | --- |
| RE: light over kitchen sink | | |
Part of the recessed light scheme.
---
| | | |
| --- | --- | --- |
| RE: light over kitchen sink | | |
Is your sink in front of a window with upper cabinets on either side? If so, I don't think a recessed can would look out of place necessarily, but it's hard to know without seeing your kitchen. What other light sources do you have in your kitchen?
---
| | | |
| --- | --- | --- |
| RE: light over kitchen sink | | |
When we had our kitchen gutted and redone, I had my heart set on a particular pendant light from Hudson Valley Lighting, in their Randolph line. I have a corner sink with windows on either side and was originally concerned with it being blown around by our mountain breezes. But, as it came with a stabilizing rod instead of a chain, this has been no problem at all. I'm thinking the ceiling in there is 11 feet high. I absolutely love it and am so glad I went with my gut and bought it.
Lynn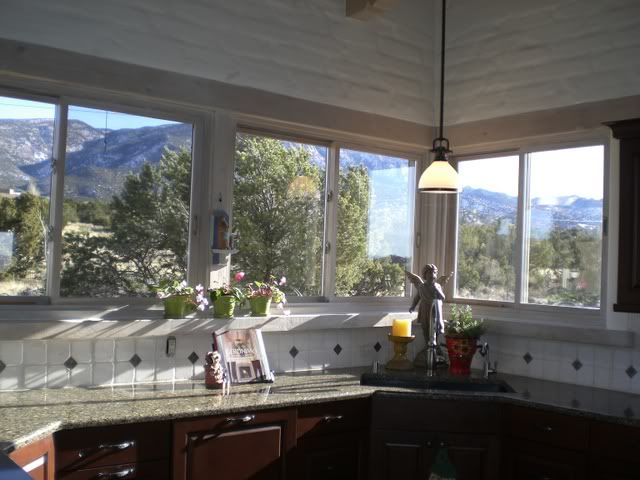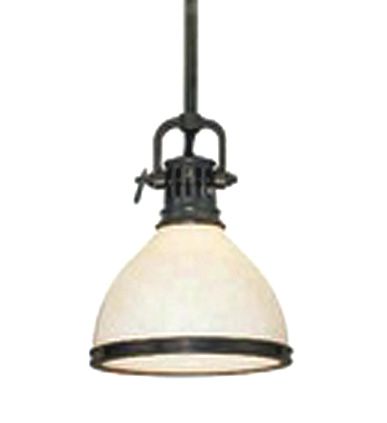 edited to add that I had a rheostat put on the light. Love it!
This post was edited by lynninnewmexico on Fri, Feb 7, 14 at 12:13
---
| | | |
| --- | --- | --- |
| RE: light over kitchen sink | | |
Fun - Yes, there are cabinets on both sides of the window. We have under cabinet lights and a double light over the island. The DR and kitchen are open together and we also have a chandelier above the table.

Lynn - Your home is so pretty. I love those windows, the view, and that glorious light that pours in! Thanks for posting the info and photo.
---
| | | |
| --- | --- | --- |
| RE: light over kitchen sink | | |
Annie, I haven't had a kitchen sink window since my second home, a semi custom and one of my favorite. I choose to do a lantern style fixture on the side of each cabinet. What I chose and looked(to me!)English style-like lanterns, what you might see in a Olde English cottage. They were antique brass, about 10" or 11" tall, 6 sided w/amber glass, a round shape, and had a slight point on the top with a circle, which looked as though they should be hung. In the evening they were beautiful, the amber glass casting a warm glow. Needless to say, I have never forgotten that kitchen, and hopefully can re-create it when I decide to build/purchase a re-sale, and downsize to something smaller. It's very unique and IMO, perfect for your beautiful kitchen!
---
Post a Follow-Up
Please Note: Only registered members are able to post messages to this forum.
If you are a member, please log in.
If you aren't yet a member, join now!
---
Return to the Home Decorating & Design Forum
Information about Posting
You must be logged in to post a message. Once you are logged in, a posting window will appear at the bottom of the messages. If you are not a member, please register for an account.
Please review our Rules of Play before posting.
Posting is a two-step process. Once you have composed your message, you will be taken to the preview page. You will then have a chance to review your post, make changes and upload photos.
After posting your message, you may need to refresh the forum page in order to see it.
Before posting copyrighted material, please read about Copyright and Fair Use.
We have a strict no-advertising policy!
If you would like to practice posting or uploading photos, please visit our Test forum.
If you need assistance, please Contact Us and we will be happy to help.

Learn more about in-text links on this page here