Return to the Home Decorating & Design Forum
|
Post a Follow-Up
---
| | | |
| --- | --- | --- |
| Valentine's Day questions | | |
Posted by
hhireno
(
My Page
) on
Thu, Feb 14, 13 at 9:25
Does anyone here go out to dinner on V Day? I don't know anyone who does. I see plenty of restaurant ads about specials but I don't know anyone who goes out to eat. Who is filling the seats?

If you do go out to eat, is it something that is unusual or do you eat out often?

Does anyone here get a heart shaped box of chocolates? Again, I don't think I know anyone who does yet the stores are full of them so someone must be buying them.

Does anyone get flowers? Delivered by a florist or by your loved one? Is it something besides red or white flowers?

For two days now my grocery store has set up an incredible impulse aisle display in front of the produce. Flowers, candy, cupcakes, cookies. I'm sure they know what they're doing to temporarily devote so much space to these items.

I'm not a romantic and we don't treat VD as anything other than a day of the week. I appreciate it more when my husband does something 'romantic' (or out of character) on some other random day when the grocery store wasn't pushing candy-flowers-cookies.

edit:
Just to be clear, I don't think there is anything wrong with going to dinner or getting red flowers or eating candy out of a heart shaped box. To each, their own. Whatever rocks your world is good. I was just curious who is doing that because I don't know anyone who does but clearly, based on the ads & store displays, there are plenty of people who do. I was curious about how other people I know, like my imaginary friends here, spend the day.
This post was edited by hhireno on Thu, Feb 14, 13 at 9:48
---
Follow-Up Postings:
| | | |
| --- | --- | --- |
| RE: Valentine's Day questions | | |
I'm in your camp. I used to waitress years ago, and the tables were filled all night long. I think Valentine's Day is for the newly in love...lol. They are guilted in buying all those thing the stores are stocking up on. After 31 years together, we treat it like any other day, but I did plant the seed for an Orchid. :)))
---
| | | |
| --- | --- | --- |
| RE: Valentine's Day questions | | |
Well, since you asked, we are on our way to a Gun Control March. But we don't do that most Valentine's Days.

By DH is truly D and he will always give me a card and flowers. Not red, because he knows I abhor red. No candy --- I don't care for it.

Whether or not we go to dinner depends. Usually I don't like to because it is a PITA, and on a school night we are far less likely.

But I agree, random gestures (which he is also good at!) are far more romantic than knee-jerk responses to, as DH called it the other day "the holiday industrial complex".
---
| | | |
| --- | --- | --- |
| RE: Valentine's Day questions | | |
We don't make a huge deal out of v-day, but we always do "something" to mark the day. I am somewhat romantic and definitely sentimental - so I enjoy it and I think hubby does too. But what I most love is the random gestures throughout the year and the little things he does each and every day that shows his love. So, I agree with you on that point.

I do not enjoy going out to eat on VDay at all. Too crowded, etc. and to me that is not very intimate. We do eat out fairly often (at least a couple of times a week), so going out is not something that "special" for us. Most years I will cook something a bit special and we'll set the evening aside for time alone. Sometimes hubby has ordered a meal and brought home instead of me cooking. My husband loves giving flowers. I received beautiful roses last week for our anniversary. I receive them at times with a note "just because". I'll admit it - I love flowers and I love receiving them. HOWEVER, the pricing at V-day is so ridiculous - I would kill him if he sent me flowers today. LOL One gloomy V-Day, he did bring me beautiful potted pink tulips for my office (he delivered them himself!) They did make my day.

I do have a little something for him and I am picking up a little treat (a couple of gourmet cupcakes) for tonight. Chocolates are a no-no but I do buy them for my grandmother - she loves them. My parents always bought us a small heart box of candies for V-day.

tina
---
| | | |
| --- | --- | --- |
| RE: Valentine's Day questions | | |
No dinner out on VD. I've planned a special dinner at home for tonight. I think that quality of most restaurant meals on holidays like VD tend to be a let down. Restaurants in our area are overcrowded and the food is less than desirable since the establishments are trying to turn over alot of tables on one evening.

DH & do exchange cards on VD. Some years I've received a nice piece of jewelry from DH to mark the holiday. DH knows that I really don't want cut flowers, since they often die very quickly. My preference is a GC for the nursery where I shop seasonally. That way, I have money to buy something with a longer shelf life when planting season starts. I can enjoy my "flowers" for the whole season, or if I am buying perennials, they are the gift that gives year after year.

Have to agree about Valentines Day, along with alot of other holidays having become a Hallmark/commercially driven merchandising opportunity. Too much pressure for men, and unrealistic expectations for many women.

When I worked in an office with other women, VD was, in my mind, a hoot. Day long florist deliveries of roses in vases arriving from my co-workers' DHs or SO sending their sweeties' flowers to their place of employment. I would be mortified, as I would much rather receive a VD, or any gift for that matter, in a more private setting: home.

Random gifts, the gifts that are given "just because" are most meaningful for me.

Kudos mtnrdredux for your support of gun control. There seem to be no rallies in our area, I wish there were.
---
| | | |
| --- | --- | --- |
| RE: Valentine's Day questions | | |
We never go out on V-Day. We'll just have our usual grub at home this evening, and spend a quiet night in. We do exchange gifts, however, and DH will receive some cologne and a couple of books from me. I must admit that I also picked up a heart-shaped box of mini Reese's peanut butter cups. He loves those things. I already know that he's gotten me a necklace that I've had my eye on for quite some time, and something else is wrapped along with it, so I'm eager to see what that could be! He often shows up at my office with a bouquet that he's picked up at the local market. I like that much better than florist-delivered flowers, as I get to see DH in the middle of the day, along with getting some pretty flowers for my desk.

Our anniversary and DH's birthday fall very close to V-Day, so we are going to treat ourselves to an evening at the theater to see "Anything Goes", and we're really looking forward to that.
---
| | | |
| --- | --- | --- |
| RE: Valentine's Day questions | | |
There was a time when I went out for Valentine's Day-- it was important to one of my ex's. I insisted on an early reservation-- before things got crazy-- and then followed by home time :) He also insisted on getting me red roses-- despite my pleas to save the money. V-Day flowers are atrocious-- often bruised and old and they really don't make me feel special (especially because I too hate red!). I much preferred the flowers he brought home from costco "just because".

I never got candy-- just not a candy person. I've received a wide range of gifts-- from a funky tea kettle to the DVD Sylvia (haha so not appropriate for a romantic evening!).

Current bf is just not a gift guy. He's given me a few gifts-- none on a special day. There will be no flowers, candy or tea kettles .. but he'll call with sweet sentiments. I am ok with that-- it's much more honest than the previous bf who I believe made a big deal over V-day because the other guys at work did.

I am alone tonight-- bf is a few states away. I'll be taking dinner to my bff and her family who are dealing with some heavy and stressful real life "stuff".
---
| | | |
| --- | --- | --- |
| RE: Valentine's Day questions | | |
In my 20's and 30's and 40's it was understood - NO CANDY! Seems I was always dieting.

Now, I LOVE a big heart shaped box of chocolates (the good stuff) with all those yummy, cream centers that you try to guess what flavor it is. He loves them too! There is just something so tasty about the raspberry and orange cream centers covered in dark chocolate! I will ration them to myself like I do my Dove chocolates.

I really like Russell Stover - tastes gourmet, but not expensive!

Tuesday
---
| | | |
| --- | --- | --- |
| RE: Valentine's Day questions | | |
We typically don't do anything special on the day. But DH baked me my favorite cake. And I got him a card that I slipped in his gym bag last night (don't know if he got me a card). We're going to go out to eat tonight just because a new catfish place opened up nearby(!) Nothin' romantic about catfish.
---
| | | |
| --- | --- | --- |
| RE: Valentine's Day questions | | |
The heart boxes were welcome when I was a kid. My tastes in choc since have grown up as have I.

We went out for dinner ... actually lunch ... on Tuesday to celebrate VD (oh that doesn't sound right!) but he wants to try out the new diner that just opened in our area for lunch today, which is fine by me. We rarely eat out...maybe 1 or 2 x per month, so it is a treat for us.

In the old days we used to give little gifts or he'd send flowers to my office, but eating out is just easier. After nearly 35 years of marriage (our anniv is in June) easy counts for a lot. But I don't like doing nothing as there are so few times, it seems, when we can celebrate just to celebrate (perhaps if we had families with bdays it'd be different) so I hate to miss the opportunity....especially in the winter when the winter blues are so prevalent.
---
| | | |
| --- | --- | --- |
| RE: Valentine's Day questions | | |
Too funny - I am working today and I have received a red rose and a small HEART BOX of candy. LOL

It's actually nice to be thought of.

Work - I enjoy getting flowers at work. Not to show them off - or compete - but they just brighten things up. Also, it can get pretty funny. I'm in my own office, not like I can see who/if others are getting flowers today, but generally when I receive flowers people who come in my office might ask "who are the flowers from" or "what are the flowers for", etc. It cracks me up. I've been married 30 years - who do they think the flowers are from???? I finally broke down one time and told someone they were from my lesbian lover. LOL
---
| | | |
| --- | --- | --- |
| RE: Valentine's Day questions | | |
DH gave me a kiss for Valentine Day. I think it is a Hallmark invented Holiday. I like it when DH brings home random gifts through out the year. He is very good to me. I have to watch what I admire in front of him because he wants to buy it for me. I am blessed and don't need Hallmark to remind me.
---
| | | |
| --- | --- | --- |
| RE: Valentine's Day questions | | |
Different things happen each year. We talk about it and decide. Some years it's chocolate, other flowers, some years dinner. Sometimes a combo of a few things.
This morning we exchanged cards. I have to say DH picked the perfect funny card that was totally me. I am going to save it.
Tonight we are going out to dinner. We go early so maybe that is why I never feel places are super crowded.
I do hear what you are saying. Sometimes these holidays, VD, Mother's Day, Father's Day, Fourth of July, feel like someone else is having a hand in telling you when and how to celebrate.
---
| | | |
| --- | --- | --- |
| RE: Valentine's Day questions | | |
I got pretty pink tulips from Trader Joe's and a card. I'll make dinner at home, serve it on special dishes and add candles to the table setting. I sent Valentine's Day cards to parents, aunts, uncles and out-of-town friends. I think I've covered all the bases...LOL!
---
| | | |
| --- | --- | --- |
| RE: Valentine's Day questions | | |
We don't go out for dinner on Valentine's Day even though it is also DH's birthday! The restaurants are too crazy! We went out for a special birthday meal with friends last night and I am cooking a special dinner for DH tonight (his choice of dishes). We always exchange cards, two from me, a VD card and a birthday card. I buy him a birthday gift but we do not exchange VD gifts, so no flowers or candies.

On St Valentine's Day in England only romantic love has been celebrated for centuries. Cards and gifts are, or were for the 40 years I lived there, sent anonymously. Even now DH and I do not put names on the cards or envelopes. It was unheard of for the exchange of Valentines between friends or family members, as it is a ritual for lovers only.

VD was exciting when I was in my teens, when cards would arrive from unidentified admirers. I remember receiving 11 one year and having bragging rights among my friends! The worst VD moment for me was receiving an elaborate floral VD gift apparently from a mysterious admirer, 4 years into my marriage. We almost did not make our 5th anniversary! My husband was understandably furious about the gift! To this day I have absolutely no idea who would have sent it so I suspect the motive was to make mischief! If so, it worked!

Although VD provides yet another opportunity for those in the USA who want to send gifts and cards to all their loved ones, it is a pity in my opinion that the older and unique meaning of Valentine's Day has been lost somewhere during the transatlantic crossing! It certainly used to provide a lot of fun and mystery for young people, especially singles.
That said, I am in the USA now so I hope everyone had a very happy Valentine's Day!
This post was edited by sis3 on Fri, Feb 15, 13 at 0:12
---
| | | |
| --- | --- | --- |
| RE: Valentine's Day questions | | |
These comments made me LOL
Nothin' romantic about catfish.
I've been married 30 years - who do they think the flowers are from????

After I posted, I remembered I do send VD cards (that I make myself) to my 5 yo niece & my 3 yo nephew, and usually a token of my affection to my 25 yo niece. The young ones live in Europe so it gets too expense to send them gifts so I mostly send them cards and letters. Who doesn't love to get real mail? For the older niece who lives in the States, I don't send her things as frequently as I send to the little ones so I don't mind paying postage for a package a few times a year. I don't send the older nephews anything except on their birthdays.

I guess I think of VDay as more a kid thing (although at 25 my niece isn't a kid anymore), which doesn't really make sense since they market it more, but not exclusively, as romantic love.

One of my sisters used to make a meatloaf in a heart shaped pan and then 'frost' it with mashed potatoes dyed pink. Surprisingly to me, she's still married 25+ years later. I would consider that grounds for divorce, but I'm not a meatloaf fan.
---
| | | |
| --- | --- | --- |
| RE: Valentine's Day questions | | |
I send valentines out to friends, neighbors, my sister. Less a "romantic" occasion & more a day to celebrate Love in a broader sense. A mid-February opportunity to offer good cheer & gush a little!

I am sporting my pink cable knit turtleneck today & the checkout clerk & lady behind me at Target this morning remarked that I was dressed appropriately for the day!
---
| | | |
| --- | --- | --- |
| RE: Valentine's Day questions | | |
I celebrate by buying gifts for my grandkids and always get homemade cards from them, better than any candy or flowers! When I was younger, it had a level of importance, along w/anniversaries and New Years Eve. I now tell everyone all three 'are overrated', and i've now added s-e-x to the category, but that's only because there isn't a man in my life. LOL
---
| | | |
| --- | --- | --- |
| RE: Valentine's Day questions | | |
We don't always go out for dinner on Valentine's Day, but we do have a dinner reservation tonight. My husband is very thoughtful and left one piece of my favorite See's candy in my car, and these gorgeous flowers were just delivered to my office.
---
| | | |
| --- | --- | --- |
| RE: Valentine's Day questions | | |
DH is in the floral industry, so I really hope people are buying lots of flowers this year! ;)

In our house Valentine's day is more for the kids. I bought them each a small gift and a VERY small heart heaped box of chocolates. I bought DH a card and a small, non-heart shaped box of chocolate that is much better quality than the boys'. I also bought him a bottle of Woodford Reserve bourbon, but it really shouldn't count as a gift. We're headed up to Cashiers for the long weekend, and I was buying him a bottle to take up there, but I decided to slap a red bow on it and call it a gift!

We'll go out to dinner as a family to our neighborhood Mexican restaurant. Not fancy. Not special. We eat there at least once a week!
---
| | | |
| --- | --- | --- |
| RE: Valentine's Day questions | | |
I am finding it somewhat amusing (for lack of a better word) that I've encountered several people who, having seen the pretty pink roses on my desk, make it a point to declare that they don't go all in for Valentine's Day ... it's just "another day/nothing special." There's some sort of superiority implied in their comments, and I really don't think I'm reading them wrong either. Not trying to start any controversy here ... just sharing what I've observed "IRL." I just don't see the point of making a derogatory comment to someone who is obviously observing the day as something out of the ordinary.
---
| | | |
| --- | --- | --- |
| RE: Valentine's Day questions | | |
I agree, Sunny. Appropriate responses would be along the lines of, "What pretty flowers!" "Lucky you!" or nothing at all.
---
| | | |
| --- | --- | --- |
| RE: Valentine's Day questions | | |
Sunny,
Those comments are odd. I don't celebrate but I certainly don't begrudge anyone who does.I'm actually interested in differences, hence this thread. How do you not response to them "bitter much?" I love to see flowers, like Terri's lovely arrangement, and don't analyze why someone received them. The reason you, or anyone, receives flowers is no reflection on the rest of us so why wouldn't they say nothing or "how lovely"?

One of my sisters is attending an out-of-town business event with her husband. He always ends up taking the staff out tonight to thank them for their work at the event. She said it can be a challenge to get a reservation for 14 on VD.
---
| | | |
| --- | --- | --- |
| RE: Valentine's Day questions | | |
I agree too Sunny & Stinky; why do people think we want to hear all their thoughts?, even a simple smile and nod would be better than mouthing off.

For some reason, I've become sensitively aware of clueless comments recently.

My birthday is 3 days before Valentine's day so it's overkill for me. I have flowers already on my counter !

terricks, gorgeous bouquet !!
---
| | | |
| --- | --- | --- |
| RE: Valentine's Day questions | | |
The reason you, or anyone, receives flowers is no reflection on the rest of us so why wouldn't they say nothing or "how lovely"?
That's what I'd like to know. I think the few comments I've received/overheard are from people who are just a bit on the negative side of the spectrum anyway. V-Day seems to really bring out the curmudgeon in some, and that's fine -- but yeah, they should have the consideration to keep it to themselves. ;-)
Terriks, those flowers are absolutely lovely. The big white lily is just gorgeous!
---
| | | |
| --- | --- | --- |
| RE: Valentine's Day questions | | |
Terri - those are lovely! When I went out to pick up the cupcakes, there is a little garden shop store next door. The door was open and they had some moss wreaths (hearts) hanging up and a beautiful arrangement (fresh) of flowers sitting on a table that propped the door open. Hydrangeas, a couple of red roses, some greenery, etc. A bit different but very pretty!

Pattycakes - bite your tongue! LOL

tina
---
| | | |
| --- | --- | --- |
| RE: Valentine's Day questions | | |
I don't like to go out for Valentine's Day. I think the restaurants are too crowded and I feel the staff tries to hurry you along because of all the people wanting to dine then.

I don't care to receive chocolates, but love getting pink or red roses for VD; this year DH got me a dozen long-stemmed red roses.

DH & I are both romantics and we've always made VD a special event. Even when our kids were young, we made it special for them, too. Heck, I just mailed off a Valentine's box to DD at college last week filled with special treats, a nice Starbucks gift card and a special VD card from both DH & I .

Tonight I'm making Lamb Shanks in a red wine and mushroom sauce over orzo, Caesar salad, and my Winter Spiced Molten Lava Cakes with Rum-Ginger Ice Cream. DH called a little while ago to tell me he picked up a special bottle of wine for tonight. I always set the table with candles, my angel santo and my red transferware plates. I've been cleaning all morning and haven't set the table for dinner yet, but I plan on doing the same table I did last year for VD, except this year it's just DH & myself. Here's a pic I took of it then.
Lynn

---
| | | |
| --- | --- | --- |
| RE: Valentine's Day questions | | |
We kind of celebrated yesterday. Monday I came down with the Norovirus, yesterday I got a staph infection, which means I have to be watched for fever. So family brought dinner to me, a large heart box of candy, and valentines cookies. And I have no appetite! lol.

I always give cards and a little gift to the grandkids though. IMO, Valentine's Day as a kid was magical with the decorated sacks, little candy hearts saying, "Will you be mine?" & all the treats.

If I do get forgotten on VD, it's no big deal. I think it's more of a women's holiday.

I had to LOL about women getting flowers at the office. It was the same way when I worked at the bank. Pity the poor woman whose hubby forgot her. lol
---
| | | |
| --- | --- | --- |
| Valentine's Day questions | | |
Sunny, when I wrote "Pity the poor woman..." well, the rude ladies in your office are good examples of the "poor woman." They're showing their St. Paddy's day GREEN. :)
---
| | | |
| --- | --- | --- |
| RE: Valentine's Day questions | | |
We tried to go out for Vday once or twice, way back when. I assume the tables are filled with those people -- the young romantics who will try it once and then never again! Ha. DH usually sends flowers but since we are going on a trip in a couple of days, I reminded him that he shouldn't do that this year. And chocolates are always off limits because I'm always on a diet or pretending to be. Jewelry is fair game, though! This morning I was given one of those little aqua blue boxes containing a beautiful necklace. I find it hard to get DH really "romantic" gifts but I did get him a cheese cutting board and knife set because he's obsessed with cheese, as well as a hat and cool shirt to wear on vacation next week.

I always give the kids a goodie bag -- the boys, age 17 and 20, got candy and movie theater gift cards. DD, age 12, got candy, earrings, and a bottle of nail polish.

Making one of my standard dinners tonight, nothing special. But this weekend we'll be dining in St John!! Can hardly wait.
---
| | | |
| --- | --- | --- |
| RE: Valentine's Day questions | | |
Terriks--too pretty.

Lynn--love your table. If my dh came home to that he would think I was on something. Just beautiful.

DH took me to lunch today. And we are ordering pizza tonight! And my boys made me Valentines.
---
| | | |
| --- | --- | --- |
| RE: Valentine's Day questions | | |
Hmmm. I personally would not enjoy dinner out on V Day. I think restaurants are not at their best when churning out large numbers of meals and I do not enjoy crowds. I don't know anyone who is going out tonight, but obviously plenty of people do.

I don't even like most chocolate, but I do adore flowers and would appreciate flowers any time anyone wants to send some to me.

I gave flowers to my mother, flowers to a friend whose life is not very happy, and some candy (gummy bears and swedish fish) to my son. He gave me a cute Valentine cupcake that I am saving for after dinner.

I bought myself some flowers and some chocolate covered pretzels! The pretzels cost 3 for $4 and were stale. Yuck! I am going to take them back. It just isn't right for them to get away with overcharging for stale pretzels. They came from a fancy candy store.

Anyway, that's my V Day. I really do see it as yet another Hallmark holiday. I don't wait until Feb 14 to tell people that I love them.
---
| | | |
| --- | --- | --- |
| RE: Valentine's Day questions | | |
My husband texted me very early this morning-
The text said, "Happy Valentine's Day!"
That is more than enough of a Valentine for me.

I'm just now leaving work, and so is he - from a meeting two hours away from home.
I'm going to pick up some flowers for his mother, and we can take them to her when he gets home.

Don't care for candy????
Boy, I wish I didn't care for candy!
Unfortunately, I love candy!
Candy, candy, candy!
However, if I am going to my husband's class reunion this summer, I'm going to have to avoid candy for the next few months.
Starting tomorrow.
---
| | | |
| --- | --- | --- |
| RE: Valentine's Day questions | | |
ROFLMAO, Melsouth! Was just there last year, getting in shape for my DH's class reunions.
Happy Valentine's Day Mel and All!!!
Lynn
---
| | | |
| --- | --- | --- |
| RE: Valentine's Day questions | | |
When I was young, my dad would always fill a beautiful heart box with M&Ms for each of us and slip it under our pillows for us to find in the morning. Sweet (no pun intended) memory. DH brings me flowers every week, so I am spoiled (can't imagine any better gift than fresh flowers and I do think it is lovely when someone receives them at work), but we do exchange cards. No dinner out-definitely not a fan of restaurants on Valentine's Day, Mother's Day, or New Year's Eve unless that last is a very early celebratory dinner with the kids before the crowds hit(another treasured childhood tradition).
Today, I was given more candy than any ten people could possibly want! Cookies and cupcakes too. Our students don't have much, but they love to celebrate Valentine's Day. As one little boy told me when I thanked him for the heart box of chocolates, "they were two for four dollars at Safeway!" ;)

By the way, if you are feeling sad that you didn't get a heart filled with chocolate, just send me your address. I can fix you right up!
---
| | | |
| --- | --- | --- |
| RE: Valentine's Day questions | | |
DH told me this morning that he forgot to order flowers for me this year. I told him to give me some money and I would get my own flowers while running around this afternoon, so he gave me $100. Guilt is expensive!

I bought myself two dozen orange roses from the grocery store for $11.99 a dozen and pocketed the rest!
---
| | | |
| --- | --- | --- |
| RE: Valentine's Day questions | | |
TinaM,

At work I once received three different deliveries of long-stemmed roses on Valentine's Day. It caused quite a stir because people didn't know I had broken up with my then husband (one of the deliveries) and that I was dating (the second delivery), including the man who is now my DH (the third delivery).

It was all the more dramatic because I worked on a trading floor, a city square block, and the delivery guys had to walk all the way over to me. I have to be honest, it was a scream.
---
| | | |
| --- | --- | --- |
| RE: Valentine's Day questions | | |
We do not eat out much and would most likely not enjoy it on a busier day like today. I think as far as gifts are concerned, it would be nice if somebody thought ahead and did something but it often seems to not work out. DH was going to pick up some fabulous cheesecake but forgot that the place closed after lunch. His back up plan was See's Candy, but apparently, they are no longer in the mall so I got a sorry.

I also have to work tonight. Since we cannot play, I took his gift, a steering wheel cover and a box of car seat covers and I "dressed" them in a new sexy bra, a garter belt and laid some thigh highs on the bed with them. At least I can still get some laughs.
---
| | | |
| --- | --- | --- |
| RE: Valentine's Day questions | | |
| | | |
| --- | --- | --- |
| RE: Valentine's Day questions | | |
Got my homemade Valentines and a couple of big hugs and kisses from 2 of my favorite little ones in the whole world. One of the the other favorites in the whole wide world called, as well as sent me my Doves with a homemade card. I love my kids, but those (((grands))) are something else, especially when they're young. The bigger ones didn't call, or send anything, but I understand, i've been where their at. ;o)
---
| | | |
| --- | --- | --- |
| RE: Valentine's Day questions | | |
We don't celebrate, but then at this point other than Thanksgiving and Xmas, I'm pretty much over holidays the rest of the year. Somehow everything seems so very commercialized and marketing-oriented. It's nice reading about the sweet spousal gestures and gifts though. Have to admit I'd love it if my guy was a flower giver, I adore them!

I had my book club meeting for lunch so after a lovely Thai meal dinner was a mini bag of microwave popcorn since I wasn't very hungry. Husband ate leftover spaghetti. We watched the news and talked about work politics (we both are employed at the same university). I did mention to him how grateful and happy I am to be married to him. Now that our kids are launched, life is more relaxed and we seem to enjoy each other more with less stress than we ever have.

Oh wait, I did pick up mini packs of gourmet cupcakes on the way home from lunch, for each of my kids and one for my assistant at the office.

And that's as much celebrating as we did. For those who are partaking though, enjoy the pretty flowers, fancy dinners and chocolates!

Ann
---
| | | |
| --- | --- | --- |
| RE: Valentine's Day questions | | |
I love hearing about everyone's Valentine's Day.
DH and I have been in the restaurant business forever. For years one or both of us was always working. He's tending bar tonight at the place we met in 1983.

We've always exchanged cards and occasionally a gift. DH is way better at giving gifts at random times, so I never expect much. We had a really nice dinner on Tuesday night, which was a good thing because we realized that it'll be the last time we are alone until after the MA and NH school vacations! We have family visiting and a young man helping us with our business until March 3rd. I got DH some new sporty clothes for our Wallyball games and a sudoko book.

Last night I was at the mall with DS (16) and got a desperate text from one of his friends who needed a gift for his adorable girlfriend. DS and I had a surprisingly fun time shopping around and found a really cute bracelet for her. He was very grateful and it was fun to put myself in 16 year old shoes for the night. So much pressure! :)

Beth P
---
| | | |
| --- | --- | --- |
| RE: Valentine's Day questions | | |
Ann, my DIL is a teacher and she brought home so much candy yesterday. Also 4 of those cupcakes you were talking about. When no one was looking, I took a cupcake and went to my office and enjoyed it in peace. Bite by bite. :)
---
| | | |
| --- | --- | --- |
| RE: Valentine's Day questions | | |
I always thought Valentine's Day was awkward; an obligation loaded with potential disappointment. The men I have been involved with in the past never did much, if anything, so I had low expectations again this year. I've been dating someone just about two months, and honestly I thought he would just ignore it, due to my past experience and since we've been dating for such a short time, but he surprised me big time. He took me to dinner at a fabulous restaurant (yes it was crowded but great service and food), and he brought me beautiful flowers. I don't remember the last time I went out to dinner on V Day, maybe never! It was awesome!

I guess this means he likes me? LOL

That's my kitty Earl Grey inspecting the flowers
---
| | | |
| --- | --- | --- |
| RE: Valentine's Day questions | | |
awww, kitchenwitch, good for you!

Oakley id take cupcakes over candy anyday. Actually I think my first choice would be Brillat Savarin on rainforest crisps --- surely more caloric than a box of candy!
---
| | | |
| --- | --- | --- |
| RE: Valentine's Day questions | | |
I too have such fond memories of my Dad bringing home the heart-shaped box of candy for me on Valentine's Day. He did this from the time I was just a little girl, until I was well into my teen years. One year, he brought home a little ceramic heart-shaped box that had a little bird perched on top. I cherished that box for years, and have no idea what became of it -- but I still think of from time to time, and wish I still had it. I can remember exactly what it looked like, and it was very sweet!

Such pretty, pretty flowers in this thread! (And who wouldn't love a kitty named "Earl Grey"!) ;-)

My DH did bring a bouquet of lovely pink roses to my office yesterday. Not bad for "Target flowers"!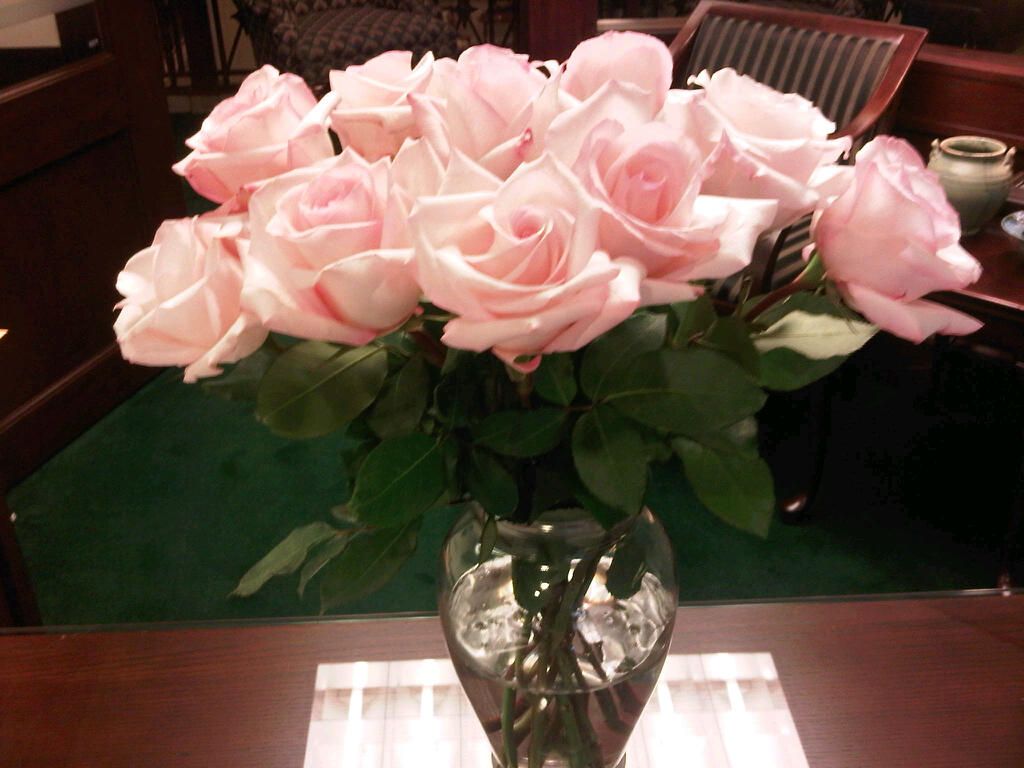 ---
| | | |
| --- | --- | --- |
| RE: Valentine's Day questions | | |
Gorgeous, Sunny. Why would anyone want red?
---
| | | |
| --- | --- | --- |
| RE: Valentine's Day questions | | |
Tish: LOVE your idea of a great VD gift wrap . . . and I'll bet your DH did, too!

Beautiful pink roses, Sunny!
I usually end up with red ones for VD. I guess DH relates red more than pink for this holiday, but I do like pink even more. I need to mention that to him.
This was the first time since taking the Christmas decs down that I could handle red anything(LOL)! DH actually got home early (for him) at 7:15PM, bringing a great bottle of wine to go with our dinner. and putting on my favorite romantic cd: "Chris Botti - Too Love Again". Ahhhh! I loved being able to just relax with him while we ate, instead of being rushed in a noisy, crowded restaurant. A totally romantic evening from start to finish!

---
| | | |
| --- | --- | --- |
| RE: Valentine's Day questions | | |
Awww Jen, beautiful~pink Roses are my favorite! Like your Father, I remember my husband getting a card for each of our 3 DD's every year and a small heart box of Russel Stover candy. I would share my bigger box of candy with our 2 boys~I always felt bad for them, so now buy cards for all of them.
---
| | | |
| --- | --- | --- |
| RE: Valentine's Day questions | | |
(Well, I'm pretty sure I got pink because that's all that Target had left, but I'm certainly not complaining. ;-D)
---
| | | |
| --- | --- | --- |
| RE: Valentine's Day questions | | |
Sunny-- those are gorgeous!

I don't care about VD for me. I am not much of a romantic at all. DH always gets me a card and candy (our cats eat flowers). I finally got him something this yr, which was the Sound of Music DVD he's been wanting.

I do enjoy doing things for Valentine's for the kids. We keep it simple. Red tablecloth, homemade Valentines, our obligatory baking of the heart-shaped giant chocolate cookie, word search w/our names, etc. I don't make them eat their veggies. :)

I am trying to create more family traditions. Growing up, our family had few.
Here is a link that might be useful: Family Traditions Book
---
| | | |
| --- | --- | --- |
| RE: Valentine's Day questions | | |
What beautiful flowers everyone received! My DH called me white I was at Costco the day before and told me to buy myself something I would not usually buy and he'd pay for it. I refused, but was tempted to buy a bouquet. He knows I do not celebrate Valentines Day. We actually have a joke about it-his ex was married on Valentines Day so we refuse to celebrate. Besides, i've always told him that sending me a bouquet at work on a random Thursday for no reason is WAAAY better than the typical occasions (b'day, anniversary, V Day, etc).

I did get him a card and a red velvet cupcake, tho-and I sent my kids cards. Dropped off a little package to DS that included Dove chocolates (his nickname is Dove) and he got a kick out of that.

One year, when we were dating, DH had not gotten me a valentine, and I was pretty upset, but didn't say anything. The next day we were going to visit his brother and we stopped off at a drug store. They had all their V stuff on half price and DH looked at me and said, 'oh, if you want to pick something out for yourself, go ahead'. I ALMOST broke up with him right then and there. Turned out that since he worked in a factory full of men, he never realized that V day was the day before.

One year I DID receive 3 delivers in one day-from a beau, another fellow I'd dated on and off, and another guy who hoped to ask me on a date. That was quite fun-and the beau who came to take me to dinner that night and saw the other bouquets was not too happy. (none of them ended up being my DH tho!)
---
| | | |
| --- | --- | --- |
| RE: Valentine's Day questions | | |
Valentines Day is a special holiday for us, as it is our anniversary and two of our three children were christened on Valentine's Day. When the children were home we had a special breakfast, with everyone getting a fun bag of goodies (plastic heart sunglasses, that sort of thing) a card and a small box of four Godiva truffles, which they all loved more than any other sweet. DH and I went out if it was possible, usually we waited until the weekend for a special evening out.

We had brunches at Tavern on the Green for our children after their baptisms, and even though they didn't remember the original occasions we went there every year to celebrate when we lived in NYC and it was always their favorite restaurant---- despite the food, which was often terrible!
---
| | | |
| --- | --- | --- |
| RE: Valentine's Day questions | | |
Aww, that's sweet KSWL. What a nice tradition. I used to love Tavern on the Green, although, alas, never the food. It has been dark for almost three years now, what a shame. I think it is supposed to reopen next winter.

Pesky,
That's funny about the card! My DH is pretty good about cards, although he sometimes has to be pretty creative to find one that isn't red (I detest red). You got three deliveries, too? I wonder what the record is. Anybody get four? LOL
---
Post a Follow-Up
Please Note: Only registered members are able to post messages to this forum.
If you are a member, please log in.
If you aren't yet a member, join now!
---
Return to the Home Decorating & Design Forum
Information about Posting
You must be logged in to post a message. Once you are logged in, a posting window will appear at the bottom of the messages. If you are not a member, please register for an account.
Please review our Rules of Play before posting.
Posting is a two-step process. Once you have composed your message, you will be taken to the preview page. You will then have a chance to review your post, make changes and upload photos.
After posting your message, you may need to refresh the forum page in order to see it.
Before posting copyrighted material, please read about Copyright and Fair Use.
We have a strict no-advertising policy!
If you would like to practice posting or uploading photos, please visit our Test forum.
If you need assistance, please Contact Us and we will be happy to help.

Learn more about in-text links on this page here