Return to the Home Decorating Forum
|
Post a Follow-Up
---
| | | |
| --- | --- | --- |
| Where can I find a rectangle flower pot/planter? | | |
Posted by
oakleyok
(
My Page
) on
Fri, Jan 29, 10 at 20:14
Does anyone know of a website that sells rectangle flower pots for indoors? I've been searching for two hours now, and the closet I can find in the size I need, 11-12" L x 5" deep x 6" tall is a Bonsai pot from Amazon, which is nice.

It's like looking for a needle in a haystack! I can find big ones for outdoors, but I just need a pretty little planter/pot for my kitchen.

Any help would be greatly appreciated!

Oh, and I don't think it's a coincidence that I've been looking at flowers and pots online while we have 2 inches of packed sleet and 5 inches of snow on top of it! lol
---
Follow-Up Postings:
| | | |
| --- | --- | --- |
| RE: Where can I find a rectangle flower pot/planter? | | |
Hello again....I also do a lot of gardening and have many containers on our patio outside and also lots of house plants too. I've collected attractive jardinieres through the years from e-bay and our local nurseries and honestly have not seen many square containers....yes, you are looking for a needle in a haystack!

It was so sweet of you to post a link to my needlepoints on another post! I felt very flattered especially because it inspired YOU to start creating your own tapestries for your home. My photos were only the tip of the iceberg of the needlepoints throughout our home....ha ha. I'm hoping you order the 'lady and the unicorn' and enjoy stitching, a great way to spend a winter day.

Wait a minute....I just did a search for 'tole planter' and found these right away. The word 'tole' may bring up some square container results for you.

I really need to stay away from this addictive board and get to some needlepointing but I'm glad to see your post so I could thank you for being so complimentary.

Let me know about your needlepoint choice....Cheers to you!
Here is a link that might be useful: tole planter
---
| | | |
| --- | --- | --- |
| RE: Where can I find a rectangle flower pot/planter? | | |
You might also check Ballard Designs; I've seen rectangular & square pots there. Another phrase to search is cache pot.
---
| | | |
| --- | --- | --- |
| RE: Where can I find a rectangle flower pot/planter? | | |
Oakleyok, try checking a florist shop for those types of planters. They have them and will usually sell just the planter without plantings if you ask.

When Googling use *florist* in with your other search terms. A bunch will come up. Try including the word *ceramic* in your search too for more hits. (That is unless you do not want ceramic ones.)

In my area we have a chain of "Steins Garden and Gifts Center" stores that sell them, but they do not have locations in your state and they don't send things out.

Consider checking vintage sellers on eBay like Grandma's Attic or Ruby Lane. They have them.

Vintage: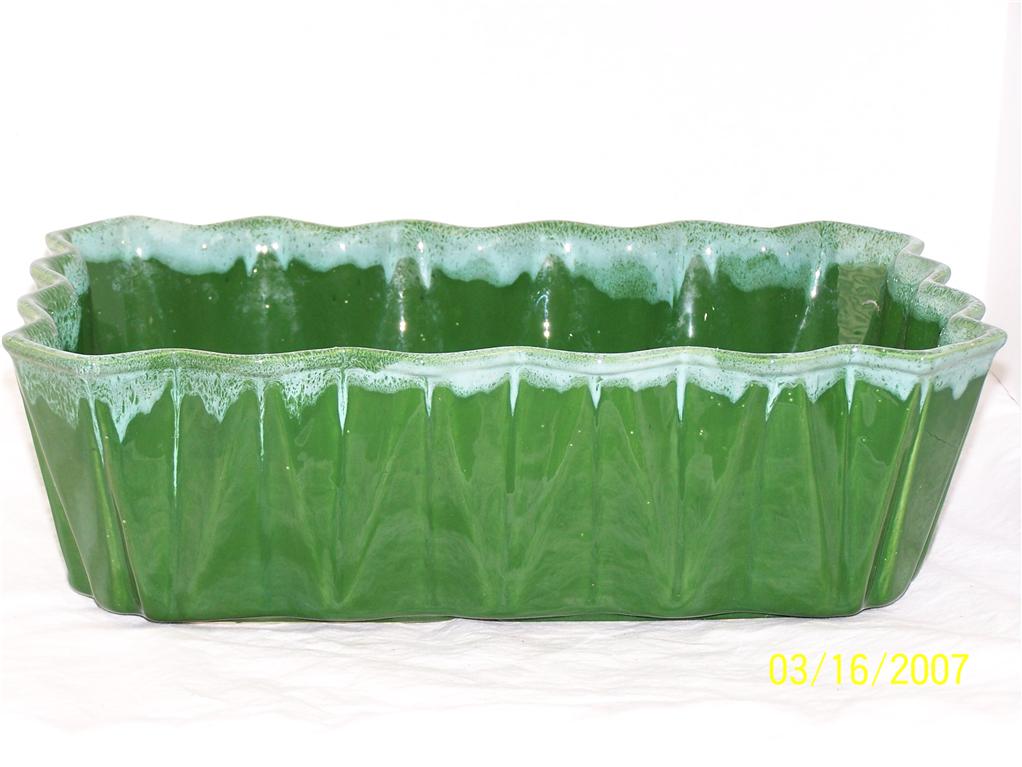 ---
| | | |
| --- | --- | --- |
| RE: Where can I find a rectangle flower pot/planter? | | |
Dilly, that's exactly what I'm looking for. I'll do what you said and hopefully find the right one. It has to be in the ballpark of a certain height since it will sit on the kitchen counter under a cabinet.

Begonia, I looked at the pot and they're out of stock. :( It would have been perfect for another room.

Kathleen, I didn't even think about Ballard Designs. Thanks for the heads up!
---
| | | |
| --- | --- | --- |
| RE: Where can I find a rectangle flower pot/planter? | | |
Since you indicate that that is what you are looking for also try using the word *vintage* with your search terms since most ceramic rectangular planters are vintage and not many being made anymore. Also use common maker names like *McCoy*. When you see vintage ceramic planters take note of the pottery maker names and Google those too. Names like Cookson, Miramar of Calif, Ungemach, Roseville, Homer Laughlin and the like.

Here is just one of many that come up using *VINTAGE MCCOY RECTANGULAR PLANTER*


http://cgi.ebay.com/ws/eBayISAPI.dll?ViewItem&item=230408331558&rvr_id=&crlp=1_263602_263622&UA=WVF%3F&GUID=7d54f8591260a0aad4c0d0b0ff65dfb6&itemid=230408331558&ff4=263602_263622

and this too:
Ruby Lane has a few of the size you are looking for. You may not like this pink one but they have others:
http://www.rubylane.com/shops/countryartistantiques/item/1233

Here is a new sleek Modern one
Made of ceramic 12" l x 5" w x 5" h sold at Kaboodle.
http://cn1.kaboodle.com/hi/img/2/0/0/67/5/AAAAAmzJQ2QAAAAAAGddng.jpg?v=1187912550000
http://www.kaboodle.com/reviews/gloss-white-rectangle-planter?refItemId=AAAAA_9kLYEAAAAAAC-MEw&fromStoreDomain=sprouthome.stores.yahoo.net
When you are searching for "the one" you will see that the 8"x4" seems to be more common for some reason in vintage ceramic planters. Be careful to not fall into endless hours of blog reading of the myriad of vintage ceramic pottery collectors blogs while you shop for your planter unless you really want to get serious about vintage ceramic. Lots of fun!
---
| | | |
| --- | --- | --- |
| RE: Where can I find a rectangle flower pot/planter? | | |
Thanks for the tips. Funny, I had a pink planter that I got as a gift back in the 70s. And I swear I didn't throw it away. It could be in my dh's workshop because I think I stored it there. But the doors were iced shut yesterday and I couldn't get in!

Why in the world would they stop making planters this size? It makes no sense to me.

I did find some Fiestaware flowerpot "bowls" which are just darling! I'd love to have a row of them in my windowsill if I could figure out a plant to grow there. No direct sunlight though.
---
| | | |
| --- | --- | --- |
| Pots | | |
I just found a boat load of them in various sizes. I'm putting an ivy in the pot, the ivy is very bushy and grows straight up like grass.

These are all bonzai pots.
Here is a link that might be useful: Pot
---
| | | |
| --- | --- | --- |
| Oh yeah... | | |
I hit the mother lode! Ebay's "Buy it Now". They have everything and more. From vintage to regular, and hundreds and hundreds of them!

I'll be back in a few days after I search through them all. lol
---
| | | |
| --- | --- | --- |
| RE: Where can I find a rectangle flower pot/planter? | | |
Oh yeah, the word *bonsai* would be a good search term too if you want plain ones.
Searching by maker like Hull, Shawnee, Haeger will bring up both vintage ones and newer ones.
They never stopped making ceramic planters but they were definitely more popular decades ago so they were manufactured in abundance.
Obviously I've outed myself as a collector of vintage ceramic planters. They are so cute. The ones you really don't see being made anymore are the animal shaped ones, deer were popular and poodles, and the ladies heads which I started collecting until everybody else in the world did too.
http://shop.ebay.com/i.html?_nkw=rectangular++planter+&_sacat=0&_trksid=p3286.m270.l1313&_odkw=rectangular++planter+mccoy&_osacat=0
Here is a link that might be useful: Rectangular
---
| | | |
| --- | --- | --- |
| RE: Where can I find a rectangle flower pot/planter? | | |
Dilly - I like vintage planters too - especially love McCoy (even have some pink).

tina
---
| | | |
| --- | --- | --- |
| RE: Where can I find a rectangle flower pot/planter? | | |
Thanks Dilly. I love vintage planters also and have a few of them.

I want to start using some to put in my kitchen windowsill.

The plants would have to be small, and get indirect light until the evening when the sun sets. I also have shelves on both sides of the kitchen cabinets next to the window, so I have plenty of room. And a good excuse to buy more. :)

Are there any small houseplants you all could recommend for me? I used to be a pro at houseplants years ago, but it's been a long time since I've grown many of them. Now I have several large one's, but that's it.

I really don't want to do ivy, but if I have to I will. lol

Love this link at Ruby Lane!
Here is a link that might be useful: Vintage Planters
---
| | | |
| --- | --- | --- |
| RE: Where can I find a rectangle flower pot/planter? | | |
Have you ever gone to Goodwill Auctions online? I just did a search there for 'planter' and there are some very nice rectangle vintage ones. Check it out - I love their site!
Here is a link that might be useful: ShopGoodwill Planters
---
| | | |
| --- | --- | --- |
| RE: Where can I find a rectangle flower pot/planter? | | |
That site has some nice things! I got burned at an auction years ago and I won't ever do one again, unless no one is bidding against me. lol. That's why I usually use Ebay's Buy It Now.
---
| | | |
| --- | --- | --- |
| RE: Where can I find a rectangle flower pot/planter? | | |
Mission (and more) accomplished! I bought a nice Delft rectangular planter. It will really stand out on my countertop I think. Perfect size.

What I'm really excited about is I found a Johnson Brother's oval platter, the Friendly Village pattern. I've been wanting decorative platters to lean against the hutch. It was only $14.00.

I bought several other small planters, and the total I spent for all of it was under a $100.

Not bad for a snowed/iced in Saturday night! lol
---
Post a Follow-Up
Please Note: Only registered members are able to post messages to this forum.
If you are a member, please log in.
If you aren't yet a member, join now!
---
Return to the Home Decorating Forum
Information about Posting
You must be logged in to post a message. Once you are logged in, a posting window will appear at the bottom of the messages. If you are not a member, please register for an account.
Please review our Rules of Play before posting.
Posting is a two-step process. Once you have composed your message, you will be taken to the preview page. You will then have a chance to review your post, make changes and upload photos.
After posting your message, you may need to refresh the forum page in order to see it.
Before posting copyrighted material, please read about Copyright and Fair Use.
We have a strict no-advertising policy!
If you would like to practice posting or uploading photos, please visit our Test forum.
If you need assistance, please Contact Us and we will be happy to help.

Learn more about in-text links on this page here