Return to the Home Decorating & Design Forum
|
Post a Follow-Up
---
| | | |
| --- | --- | --- |
| Spa Resort Recommendations? | | |
Posted by
dlm2000
(
My Page
) on
Mon, Jan 13, 14 at 13:13
We're looking for a 4 - 5 night getaway, hiking, fitness classes, spa treatments....... and something warmer and sunnier than Chicago in February which is almost anywhere :-/

We've been to and loved the Green Valley Spa in St George, UT and that is certainly a possibility but are open to other locations. We'll fly out of O'Hare and my one stipulation is it has to be a non-stop - nothing can un-do the R&R faster than changing planes and all the hassles of flying multiplied with a non-stop. I don't mind renting a car and driving a bit - St George is an hour or so from Las Vegas and that's fine.

Anyone have any ideas and/or personal experience?
---
Follow-Up Postings:
| | | |
| --- | --- | --- |
| RE: Spa Resort Recommendations? | | |
Twenty years ago I did my undergraduate internship at this spa on Tampa Bay, near Cleawater. You would fly into Tampa and then it is very close to the airport.

Weather should be great in Feb!
Here is a link that might be useful: Safety Harbor Spa
---
| | | |
| --- | --- | --- |
| RE: Spa Resort Recommendations? | | |
I havent been to this place in a long time either, but I LOVED it when I was there!
Here is a link that might be useful: La Costa
---
| | | |
| --- | --- | --- |
| RE: Spa Resort Recommendations? | | |
I don't have any ideas, but can I come with you??
---
| | | |
| --- | --- | --- |
| RE: Spa Resort Recommendations? | | |
Koa Kea resort on the island of Kauai. Wonderful!!! Go there and you won't want to leave!

Direct flight from o'Hare to Honolulu and then a 35 min puddle jumper to Kauai.
Here is a link that might be useful: Koa kea
---
| | | |
| --- | --- | --- |
| RE: Spa Resort Recommendations? | | |
Not sure if you can fly to Phoenix from Chicago nonstop, but I love The Phoenician.
Here is a link that might be useful: The Phoenician
---
| | | |
| --- | --- | --- |
| RE: Spa Resort Recommendations? | | |
Please do NOT go to the Safety Harbor Spa. My DH and I went there last year and it was horrible. Horrific. Dirty. The treatments were not nice. The spa experience was just bad bad bad bad bad.

I had a mud wrap and they stuck me in a room w/ some other girl getting one at the same time (not private rooms, really!?!?!) and it was noisy. We also had massages and they were not very good (the people giving them were very, very old) and this water treatment which was in this dirty and gross tub. BAD. We've gone to a lot of spas and this was far-and-away the worst one I've ever gone to.

The Spa at the Vinoy in St. Pete was slightly better, but just slightly.

The Sandava Spa on Clearwater Beach was lovely. However, there is just one main room that is dedicated only to spa guests (you can use the pool & hot tub that are shared w/ hotel guests). I am used to the Hershey Spa in PA (which I love, but not warm this time of year) where there are a lot of areas just dedicated to the spa only, so I guess I'm spoiled and want there to be more dedicated spa-only rooms.

However, the hotel and the treatment were very nice and the hot tub area was a great view of the whole clearwater beach. We had the Sun Warmed Shell massages and those were lovely.
---
| | | |
| --- | --- | --- |
| RE: Spa Resort Recommendations? | | |
Canyon ranch tuscon? I loved every minute of my experience there.
---
| | | |
| --- | --- | --- |
| RE: Spa Resort Recommendations? | | |
I want to be a Spa reviewer - anyone hiring?

gsciencechick - you did an undergrad internship at a spa?? I had the wrong major!!

boopadaboo - La Costa looks lovely and I love the massage assortment

sueb20 - I'll let you know what we decide but I'm betting it isn't going to happen in Feb - March is probably more realistic.

jmc01 - Kauai? In my dreams! But sadly not realistic for this trip.

texanjana - we can absolutely fly direct and I'm already looking into The Phoenicean

beaglesdoitbetter - what a shame you had such a bad spa experience. I totally agree that the treatments should all be private. I guess that's one reason we loved Green Valley because they are first and foremost a spa, not a resort. I'd love to go somewhere new and you've given me some very specific things to ask about - my assumption would be there are private treatments but obviously it is prudent to ask.

Has anyone been to Pagosa Springs in CO? It doesn't qualify for the warmer part but CO is so sunny it might be ok. The idea of a hot spring in snow sounds kind of fun! I'm going through the Conde Nast 250 best spas list. Now I really want to be a spa reviewer!
Here is a link that might be useful: Green Valley Spa - St George, UT
---
| | | |
| --- | --- | --- |
| RE: Spa Resort Recommendations? | | |
Oh i thought of another one - the breakers. Love that place! I have no idea about flights though....

I have only been to these places for work, but they were awesome! :)
Here is a link that might be useful: the breakers
---
| | | |
| --- | --- | --- |
| RE: Spa Resort Recommendations? | | |
Another vote for La Costa. Until recently (when it became an Omni hotel), they had always answered the phone with "its a beautiful day at La Costa!" and it always is. I have been to many but it remains my favorite.
---
| | | |
| --- | --- | --- |
| RE: Spa Resort Recommendations? | | |
We've vacationed in Pagosa Springs a few times. It's basically a magnet for skiers, especially those from Texas. It's a pretty town but IMO, there's not that much to do other than ski. There is no major airport in PS or near it, either. By March, I doubt that there will be very good Spring skiing, although I realize that you're going for the spa. To me, though, it might be a boring time to vacation there.
Lynn
---
| | | |
| --- | --- | --- |
| RE: Spa Resort Recommendations? | | |
Have you considered the Hyatt Tamaya Resort & Spa, just north of Albuquerque? We've stayed there once, but not for the spa. The resort is gorgeous though, with drop-dead views in every direction.

As I mentioned, I haven't visited the spa itself, but one of their masseuses is my good friend and I know it's a top-notch place.

It's a quick, easy 20 minutes from the ABQ airport. They have a hotel shuttle that will pick you up, although I'd recommend renting a car, because there's so much to do and see in the area. It's quiet and peaceful there but with much to do at the resort itself and being only an easy 40 minute drive from Santa Fe and 20 from Albuquerque, I think it might be perfect for you.

I do know that it's a non-stop flight from O'Hare to Albuquerque International Airport (ABQ), as we've taken those flights many times.

Tamaya's rooms are well-appointed. They have several very nice restaurants at the resort and many more close by. The golfing is wonderful. My DH golfs there at their Twin Warriors course at least once a month with his foursome and they love it. They also have tennis courts and stables, with access to hot air balloon rides there, as well. The weather here now is in the hgh-40's to low-50's during the day, going down into the Twenties or thirties at night, but with our very low humidity here, we golf, etc. pretty much year-round.

Our son worked there as a waiter one summer while home
from grad school and told us that most every movie star, athlete and music star stays at the Tamaya when they're in the area for a concert or whatever. He met many that summer.
Anyhoo, I'm adding a link to their site below. If you do decide to try the Tamaya, let me know as I can recommend many great restaurants, shops and things to do in the area.
I forgot to mention that there is fantastic hiking all over the area.
Lynn
This post was edited by lynninnewmexico on Tue, Jan 14, 14 at 17:00
---
| | | |
| --- | --- | --- |
| RE: The Breakers | | |
I had to chime back in after reading Boopadoo's recommendation for The Breakers in Palm Beach. DH & I stayed there last April and loved it. Again, we didn't use their spa, but everything about The Breakers is wonderful, gorgeous, and elegant .

We flew into Palm Beach's airport, which is smallish but very nice, as you can imagine. The restaurants and bars at the resort are wonderful. We ate at most of them during our stay, but especially loved their Seafood Bar. The bar tops in there are shallow, lighted saltwater aquariums and fun to sit at while you have late-night cocktail. Try their Basil Martinis . . . yumm! We loved having our breakfasts in The Circle every morning, too.

The Breakers is right there on the ocean, and has at least 5 pools, although our favorite was the one at the very south end of the resort, right on the ocean. Gosh, what gorgeous views!. The weather while we were there was perfect for swimming, beach combing and golfing.

Am adding a few pics from our trip below. One of the Seafood Bar, one of our room there and one of our favorite pool where I loved to lie in the sun and watch the ocean.
Lynn

Seafood Bar: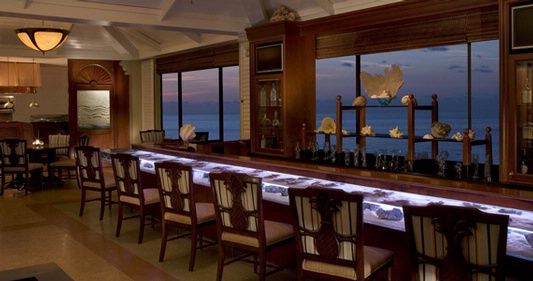 Our room at The Breakers (BTW, the bathroom was TDF!):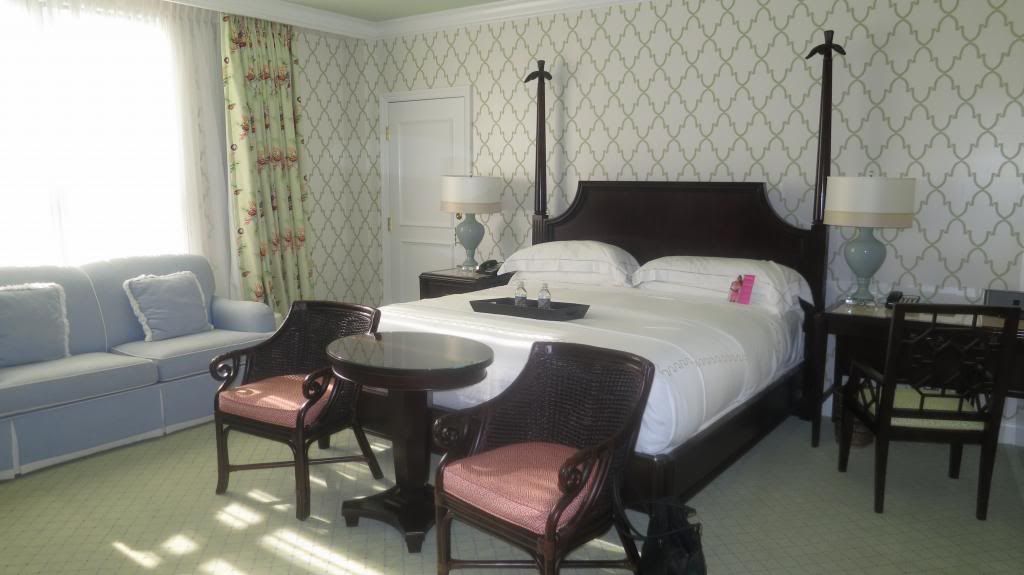 Our favorite pool, taken from my lounge chair . . . ahhh!

---
| | | |
| --- | --- | --- |
| RE: Spa Resort Recommendations? | | |
Lynn I want to be you - you've taken some really wonderful trips over the years!

Look at this list - yowza

http://www.cntraveler.com/spas/polls/2011/conde-nast-traveler-spa-poll-2011

I really want to go here.....
Here is a link that might be useful: Sanderling
---
| | | |
| --- | --- | --- |
| RE: Spa Resort Recommendations? | | |
The Outer Banks are so pretty! We vacationed there one Summer, but not up in Duck. We rented a beach house down in Waves, on the ocean there. I like the area, although the 2 lane road from Duck down to the southern tip is often very slow moving because of all the traffic and tourists.
Lynn
---
| | | |
| --- | --- | --- |
| RE: Spa Resort Recommendations? | | |
Several of my favorites are on the list dlm posted (love Calistoga Ranch, for example), but many won't offer the warm weather you're looking for during February. I would focus on flying to Phoenix and picking a spa around Scottsdale or Sedona. There are many from which to choose. Refer to that list to check them out.

I highly recommend Camelback Inn. The spa is its own separate building and has a restaurant and pool, and the locker room amenities are very nice. I had the best facial every at Camelback Inn that included a full leg and arm massage with hot stones. Awesome. Camelback Mountain is just across the street and offers a nice hike. Lots of great restaurants and shopping areas nearby. Downtown Scottsdale has an ArtWalk every Thursday night, which is a lively stroll through art galleries.
---
| | | |
| --- | --- | --- |
| RE: Spa Resort Recommendations? | | |
Sorry, beagles, it was a bad experience. I haven't been back since the internship, so that is sad to hear that it is in disrepair now. It was not a new place then, but it was clean and had character. I took people on walks and bike rides, taught pool classes, taught aerobics and other group fitness, did client assessments, and monitored the fitness areas. Plus, I came back with a great tan, probably the last time I really had a tan.

One of my students did her internship at a place called Hilton Head Health, but there is definitely less emphasis on spa treatments and more on wellness. However, on HHI you can probably get any type of spa treatment you want.
Here is a link that might be useful: Hilton Head Health
---
| | | |
| --- | --- | --- |
| RE: Spa Resort Recommendations? | | |
I didn't stay at The Breaker's(did happy hour)but it's quite a luxurious hotel, so I can imagine the spa experience would be quite nice(Lynn, my 3 DD's and I were in Palm Beach last April, staying at The Chesterfield.) I can recommend it as a fine hotel, and the only Red Carnation Luxury Boutique Hotel in the US. Palm Beach itself is quite an experience, but we were too busy doing other things to take the time to spa. We're planning to go back again this year and stay in the same 2 BR/3BA suite.

It's a nice slow pace in PB, and once you get to Worth Av. can walk for blocks. The beach is 3 blocks from the hotel and a nice walk~for us it was all about the food and window shopping! Here's a link if you would like to check it out.
Here is a link that might be useful: hotel
---
| | | |
| --- | --- | --- |
| RE: Spa Resort Recommendations? | | |
pattycakes that hotel looks lovely but I think my DH would rather shoot himself than stroll through Palm Beach! He's not a window shopping kind of guy preferring open spaces and physical activity like hiking or rock climbing. Of course, this trip is supposed to be for MY birthday but the reality is, if DH ain't happy on a trip, DW ain't happy either!

jujubean that Calistoga Ranch is something else - wow! The Camelback in - was there for a family birthday many years ago and it was lovely - thanks for the reminder.
---
| | | |
| --- | --- | --- |
| RE: Spa Resort Recommendations? | | |
Shoot!
You ruled-out Hawaii!!?!?

Got a video for ya-
How 'bout this place?!?
Link below....

I stayed at their version of this on Maui.
I can't think of a better place on Earth!

Faron
Here is a link that might be useful: FS Las-Vegas...
---
| | | |
| --- | --- | --- |
| RE: Spa Resort Recommendations? | | |
Loved Canyon Ranch Miami!
---
| | | |
| --- | --- | --- |
| RE: Spa Resort Recommendations? | | |
I just heard about this place. Sounds amazing.....
Here is a link that might be useful: spa
---
| | | |
| --- | --- | --- |
| RE: Spa Resort Recommendations? | | |
I LOVE Red Mountain Resort, also in the St. George, Utah area--a few miles away at Ivins, Utah.

I have been there twice and intend to go at least yearly for a birthday present to myself from now on, and if I can squeeze more than one trip in per year I will do so.

I always go by myself--it's a great physical, mental and spiritual renewal and you can stay as busy as you want or not.
Food is great and lots to do on the property and off.

A fellow guest I met at Red Mountain last September drove over to the Green Valley Spa one day to check it out and reported back to us that she preferred Red Mountain Resort.
---
| | | |
| --- | --- | --- |
| RE: Spa Resort Recommendations? | | |
demifloyd I wonder if there's a preference to the place you start at - we toured Red Mountain during our stay at Green Valley and decided we liked the smaller experience better! But I believe both have excellent reputations.

boop that Rancho la Puerta looks absolutely amazing. Wish I had a week to spend there.

unfortunately this whole venture has been pushed to the back burner. My brother was hospitalized with a bad toe infection (non diabetes neuropathy related) and underwent an amputation. He's fine and fortunately this was a middle toe so little relation to balance and he'll be fully mobile without the boot in a few weeks. Meantime though, his middle daughter and I are shuffling back and forth to take care of food, his dog, his store....... I will REALLY need a spa vacation when it's all over!
---
| | | |
| --- | --- | --- |
| RE: Spa Resort Recommendations? | | |
dlm--sorry to hear of your brother's health misfortune.

I hope you are able to enjoy a spa vacation soon.

I think perhaps you are right about the comfort factor--sticking with what you know.

The lady that I befriended at Red Mountain had been there, along with another lady I met, back in the late 90s when it truly was a weight loss facility and food was carefully rationed. I like the variety of activities, the hikes, food, and quiet atmosphere at Red Mountain. If you want to sit by the pool all day and read or have massages and facials you can; if you want to hike at 7 am and exercise all day long in classes, whitewater raft, horseback ride, take classes--it's all up to you.
The food is healthy but very good and beautifully presented.

If I ever rent a vehicle instead of taking the shuttle to Red Mountain I will check out Green Valley.

Right now a friend and I are considering Mll Amo Spa at the Enchantment Resort at Sedona.
I've been to Sedona but not this resort.

Every woman I think deserves such an experience at some time!
---
| | | |
| --- | --- | --- |
| RE: Spa Resort Recommendations? | | |
Demi, we stayed at the Enchantment last June and loved it! Didn't use any do the spa amenities, but it was a wonderful place to stay. Breakfasts on the outside deck were fabulous.
---
Post a Follow-Up
Please Note: Only registered members are able to post messages to this forum.
If you are a member, please log in.
If you aren't yet a member, join now!
---
Return to the Home Decorating & Design Forum
Information about Posting
You must be logged in to post a message. Once you are logged in, a posting window will appear at the bottom of the messages. If you are not a member, please register for an account.
Please review our Rules of Play before posting.
Posting is a two-step process. Once you have composed your message, you will be taken to the preview page. You will then have a chance to review your post, make changes and upload photos.
After posting your message, you may need to refresh the forum page in order to see it.
Before posting copyrighted material, please read about Copyright and Fair Use.
We have a strict no-advertising policy!
If you would like to practice posting or uploading photos, please visit our Test forum.
If you need assistance, please Contact Us and we will be happy to help.

Learn more about in-text links on this page here