Return to the Cooking Forum
|
Post a Follow-Up
---
| | | |
| --- | --- | --- |
| Burgers on Parade...The Burger Cook-Off | | |
Posted by
msafirstein
(
My Page
) on
Sat, Sep 29, 07 at 0:18
Please post your pictures, menus, recipes and information here.

Thanks everyone and hope you had a great time!

Michelle
---
Follow-Up Postings:
| | | |
| --- | --- | --- |
| RE: Burgers on Parade | | |
Sharon (chase) could not be with us today but she sent me a picture of her burger a few days ago.

Here is her description:

"It's the Ultimate Canadian Burger, Alberta ground beef, Quebec 5 year old raw milk cheddar, peameal bacon, a slice of good old Ontario field tomato and a slice of Niagara sweet onion.

Sorry I can't join in this weekend but I will be watching from afar.

Sharon"
---
| | | |
| --- | --- | --- |
| RE: Burgers on Parade...The Burger Cook-Off | | |
Good Lord, that looks good!
Lisa
---
| | | |
| --- | --- | --- |
| RE: Burgers on Parade...The Burger Cook-Off | | |
My contribution is an alternative burger. This meatless, spicy black bean burger is served with taco-seasoned, oven roasted fries with chipotle sauce and guacamole.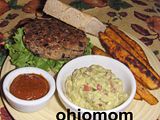 ---
| | | |
| --- | --- | --- |
| RE: Burgers on Parade...The Burger Cook-Off | | |
Sharon, that burger looks awesome! Can't get peameal bacon and it looks so good, every time I see it.

Ohiomom, that looks great. Is the recipe posted?
---
| | | |
| --- | --- | --- |
| RE: Burgers on Parade...The Burger Cook-Off | | |
Oh that was fun....even though Wolf eats burgers without the bun!
We had ours with assorted salad, pickles and sauteed vegetables, sitting outside for a late lunch/dinner with Spanish red wine..
My Spanish Fiesta Hamburguesa
Ingredients:
for 4 burger patties:
2/3 lb ground Spanish beef steak
1/3 lb ground lean Spanish pork
1/2 onion minced ......from Granada
1 clove garlic minced
1 teasp dried thyme.....from the hills of Tenerife
slices of semicured Manchego cheese......from La Mancha
dashes each of Tabasco and Worcestershire sauce
1/4 teasp dry mustard
chopped Italian parsley......from my garden
1 beaten egg............from a Tenerife hen
salt & pepper
Montreal steak seasoning....a dash....(just to add a Canadian touch!)
Lettuce & tomato from Tenerife south
Sesame bun from the German bakery
Mustard and red Tenerife mojo sauce on the bun
Banderilla sticks ....white onion pickles, baby gherkins,
olives from Seville....and the Spanish flags made from red and yellow peppers from Granada.
SharonCb
---
| | | |
| --- | --- | --- |
| RE: Burgers on Parade...The Burger Cook-Off | | |
OMG...this is better then I ever thought it would be!! So far 3 CF members have posted and all are fabulous burgers and so unique.

Can't wait for the rest!!!!!!!!

Michelle
---
| | | |
| --- | --- | --- |
| RE: Burgers on Parade...The Burger Cook-Off | | |
Oops, sorry I was rushing out the door this morning to the farmers market and realized I didn't post the recipe for the burgers.

Spicy Black Bean Burger:

2 cups cooked black beans
1 Tbsp. olive oil
1 Tbsp. fresh minced ginger
2 tsp. whole cumin seeds
2 carrots, grated
1 stalk celery, sliced thin
1 small bell pepper, diced
2 cups bread crumbs
2 eggs, beaten
1 Tbsp. crushed red pepper

Roughly mash beans, not too mushy :) Heat oil. Add ginger and cumin, sautee till seeds are fragrant, about 30 seconds. Add carrot, celery, bell pepper and crushed red pepper and saute till tender.

Mix all ingredients together, season with salt and pepper to taste.

Shape into patties. Heat a little olive oil in skillet, fry burgers over medium low heat until golden brown on each side.
---
| | | |
| --- | --- | --- |
| Correction | | |
Senior moment :) That should read 1 cup bread crumbs and sweet potatoes. I posted the entire recipes (bread etal) on my blog so my posts are kept short. Wish we could edit our "mistake" posts on GW LOL !

Thanks
---
| | | |
| --- | --- | --- |
| RE: Burgers on Parade...The Burger Cook-Off | | |
oh don't worry ohiomom, you weren't going to get away without posting the recipe!!! Your burger looks fabulous!

They all do - SharonCB - how festive! I can't believe it.

And Sharon, mouthwatering - and I love how they are representative of your areas.

I am feeling a bit under the weather and was floundering about what to do - and took a "small" cue from you and SharonCB and got some local cheese to put on my burger...I am doing them tonight, and hopefully, by tomorrow, I'll feel well enough to make something really inventive!

As usual, you all are an inspiration.

Stacy
---
| | | |
| --- | --- | --- |
| RE: Burgers on Parade...The Burger Cook-Off | | |
Here's mine:

If you saw the WFD thread, you saw my burger all decked out..top off..
Here's what it looked like with a few bites removed!


Mine was lean ground beef patties finger pressed thin, filled with feta and a few chopped roasted red peppers, sprinkled with a Citrus Basil seasoning and stove top grilled, served on Honey Wheat Roll with a bit of avocado.
~Hubbies~no picture..he was hungry, was stuffed with a bit of American cheese and 2 slices of bacon. He topped his off with Thousand Island Dressing.
The little ones just had patties seasoned with Penzey's 4S.
Kellan's no cheese, ketchup and he almost ate 2 burgers. (See WFD thread.)
Kamren's had cheese only. And served on a dinner roll size bun with a small patty.

---
| | | |
| --- | --- | --- |
| RE: Burgers on Parade...The Burger Cook-Off | | |
Ohiomom, you are a lady after my own heart. I tried making veggie burgers from black beans, as I described in the "How's your burger" thread, and failed miserably. Thanks for the recipe. I may copy you if it's alright.

All the burgers look wonderful.

Terri, your burger looks great, but Kamren, what a doll!

Sally
---
| | | |
| --- | --- | --- |
| RE: Burgers on Parade...The Burger Cook-Off | | |
Sally2

It took a while for me to come up with this recipe. DH and I like Morningstar spicy black bean burgers (but not the price:)

When you mash the beans do not puree, although some recipes call for that, I personally like it roughly mashed with some whole beans left. I found the bread crumbs and eggs (which is not a vegan burger) hold it together, the veggies/spices you can then play with. I do prefer the cumin seeds to powder also ... better flavor, IMO. This recipe will make 4 large or 6 medium burgers.

Copy away, I hope you enjoy them.
---
| | | |
| --- | --- | --- |
| RE: Burgers on Parade...The Burger Cook-Off | | |
Those are some burgers ladies. Sharon where did you learn to cook a Canadian burger like that? It looks so good !!! I'm Canadian and my burgers don't look that good. Way to go!!! Diana55
---
| | | |
| --- | --- | --- |
| RE: Burgers on Parade...The Burger Cook-Off | | |
don't discount my pictures - they aren't as good as the taste of everything on our plates and i am lucky we got any pictures at all. it was a little chaotic, plans and people changed, menu changed, batteries died, things were left in the frig, but it all turned out most excellent!

our burgers were good old american burgers and they were juicy and delicious. pays to start with good meat and then season to taste -- ground sirloin, salt, pepper, paprika, onion and garlic powder and some fresh parsley. some were cheeseburgers (american cheese) some not. my friend's kids are the pickiest eaters so anything out of the norm and they cry and whine and carry on and it just gives me a major headache and i want to either throw them out or throw plates at them. luckily, none of that happened this time.


the lettuce was crisp, the tomatoes fresh from the garden.


as were the peppers for the pepper salad (rosemary, EVOO, lots of garlic, a little fresh lemon and a splash of white balsamic vinegar). the olives were marinated in lemon, oil and pepperoncino. not sure if you can tell by the picture, but there are three different types.


potato salad and macaroni salad, courtesy of company.


i played around with onion rings, they were a major hit and most were gone before we sat down to eat. luckily i pulled a few for a picture, which were almost forgotten. i thinned out the leftover cornmeal pancake batter, added some seasonings to it and a dash of hotsauce and deep fried them.


our drink of choice was a frosted mug of rootbeer.

this was fun michelle. i haven't participated in the prior virtual dinners because the first time i had no clue what it was about and the second time - the theme wasn't to my tastes - but this was simple, easy and fun and no one turns down a burger.
i never did get a picture of dessert which was fresh juicy sliced pineapple and a decadant chocolate cake.
maryanne
---
| | | |
| --- | --- | --- |
| RE: Burgers on Parade...The Burger Cook-Off | | |
Here's my Mexican burger with a side of black beans with Rotel tomatoes and chilies.

I used Debbies recipe and some of Steve Raichlen's recipe to come up with a great burger. Big hit, thanks for the recipe! next time I have to omit the cilantro, the kids didn't like it, and I had only used a tablespoon chopped. Far be it for me to actually read a recipe through so I ended up making the sauce and mixing in the tequila and the egg from Debbie's recipe into the hamburger mix. I put the pepper jack on top instead of in the burger. The family didn't like the sour dough bread from Trader Joe's so we all used Kaiser rolls. I put mustard on mine with tomato and avocado and more jalapeño.
Mexican Burgers
===============
1 lb ground beef
1 egg
1/2 cup finely chopped cilantro
1 jalapeno
1 medium onion, finely chopped
1 tsp salt
1 tsp Tequila
1/4 tsp fresh ground black pepper
sour dough bread
Top with:
sliced tomato
avocado
salsa
mustard
1. Finely chop onion, jalapeno and cilantro.
2. Combine beef, egg, cilantro, jalapeno, onion, salt, tequila and
pepper in large bowl.
3. Divide into 4 patties.
4. Cut up the tomatoes and avocado and set aside for topping.
5. Grill burgers on each side for 4 minutes for medium doneness.
6. Toast bread lightly, if desired.
7. Top burger with avocado and tomato slices. Serve with salsa and
mustard.
Pepper Jack Cheeseburgers with Jalapeño-Cumin Sauce
by Steve Raichlen from Food and Wine,June 2003
3 large fresh jalapeños, seeded and coarsely chopped
1/2 cup plus 3 tablespoons coarsely chopped cilantro
3 large garlic cloves, smashed
2 tablespoons fresh lime juice
2 tablespoons water
1 teaspoon ground cumin
Kosher salt
1 1/2 pounds ground sirloin, at room temperature
4 ounces Pepper Jack cheese, shredded (about 1 cup)
Freshly ground pepper
4 hamburger buns
Olive oil, for brushing
About 1/4 cup mayonnaise
1 cup shredded iceberg lettuce
4 thin tomato slices
pickled sliced jalapeños, for serving
In a blender, combine the fresh jalapeños with 1/2 cup of the cilantro, the garlic, lime juice, water, 1/2 teaspoon of the ground cumin and a generous pinch of salt. Puree the jalapeño-cumin sauce until smooth.
In a medium bowl, lightly knead the sirloin with the Pepper Jack cheese, the remaining 3 tablespoons of cilantro and 1/2 teaspoon of cumin. Loosely shape into 4 patties about 3/4 inch thick; tuck any large pieces of cheese into the burgers. Season very generously with salt and pepper and transfer to a plate lined with plastic wrap. Brush the cut sides of the buns with olive oil.
Light a grill. When the fire is medium hot, brush the grate with olive oil. Grill the cheeseburgers for about 10 minutes, turning once, for medium meat. Move the cheeseburgers away from the heat and grill the cut sides of the buns until they are toasted, about 1 minute.
Spread a thin layer of mayonnaise on the cut sides of the buns. Set the cheeseburgers on the bottom halves and top with the lettuce, tomato and pickled jalapeños. Spoon some of the jalapeño sauce on the burgers, top with the buns and serve right away, passing the remaining sauce on the side.
---
| | | |
| --- | --- | --- |
| RE: comments | | |
chase: peameal bacon? never heard of it, what does that taste like? burger looks delish!

sharon cb - great picture. very festive.

terri your son is just adorable. i had to promise not to post any pix of people.

ohiomom - are they sweet potato fries? those are my favorites. your recipe sounds like fun.

looking forward to hearing about everyone else's burgers.

maryanne
---
| | | |
| --- | --- | --- |
| RE: Burgers on Parade...The Burger Cook-Off | | |
WOW ! All these burgers look great, I like the looks of that Mexican burger Dishesdone, might try that with ground chicken.

Thanks Michelle, this has been a lot of fun. Love seeing what everyone comes up with.

Earthly, I marinated the sweet potatoes with olive oil and taco seasoning and then just oven-roasted them.

Terri your son is a sweetie !
---
| | | |
| --- | --- | --- |
| RE: Burgers on Parade...The Burger Cook-Off | | |
I used homemade Focaccia Bread and ground chuck for the burgers topped with melted Brie Cheese. Joe wanted his with bacon and mine is topped with sliced Cortland Apples. Joe like his very much but mine was delicious and I will definitely put apples and brie on my next burger albeit a thinner burger and thicker apple slices!
For our sides we had Sharon's Dills and Carol's Marinated Toms. The fried onion strings was an untested recipe Nancy sent me when she read I wanted to make onion rings. The onion rings were delicious and as the recipe stated "stayed crispy to the bottom of the bowl". I would most definitely make the Onion Strings again but I would cut the onions a bit thicker, I did 1/8" this time.
For dessert I made individual Banana Crisp but I had some nectarines I needed to use so added 1 nectarine. But I forgot to take a picture. But I loved it!
Focaccia Bread (My recipe)
1 1/3 c. warm tap water
2 1/2 tsp (1 envelope) active dry yeast
6 TBL. Olive Oil
3 1/4 c. Flour
2 tsp. salt
1 tsp. Kosher Salt
10 1/2 by 15 1/2 Jelly Roll Pan
1. Measure water into bowl and whisk in yeast and 3 TBL Oil.
2. Measure Flour and 2 tsp. salt into bowl. Mix.
3. Stir yeast/water into Flour. Cover bowl and let rise.
4. Spread 1 1/2 TBL. Oil on baking pan. Turn dough out onto pan and press into edges. Cover the dough with a piece of oiled plastic wrap and allow it ot rise again until doubled up to an hour.
5. Preheat oven to 450 Degrees
6. Poke cavities into dough at 2" intervals.
7. Drizzle remaining 1 1/2 TBL Oil and sprinkle with Kosher Salt.
8. Bake until brown on edges.
Note: Keep you eye on this bread as it bakes quickly. When it starts pulling away from the edges of the pan it is done.
NOTE: I dribble more EVOO on top of bread.
Fried Onion Strings
1/2 cup milk
1/2 cup flour
1/2 tsp. salt
1/2 tsp. sugar (I skipped)
1/2 tsp. pepper
1/2 tsp.(or more)cayenne pepper
1/2 tsp. garlic salt (I used minced garlic)
1 large onion,cut into thin rings and the rings cut in half
1/2 cup flour
1/2 cup corn meal
1 tsp. garlic salt (I used garlic powder)
Mix first 7 ingredients into a batter.Put onions in batter,stir well to cover,let set for 30 min.Mix remaining flour,cornmeal and garlic salt.
Remove onions from batter,dredge in the flour/cornmeal mix and deep fry for about 5 min. till crisp.
Broiled Banana Crisp
A truly unique sweet treat that apple crisp lovers should really give a try! NOTE: this recipe is specifically created for individual ramekins/portions...Any attempt to make it into a 'one pan' dish may alter the recipe beyond the intended results...Alter this recipe at your own risk, LOL!
4 bananas
1 tablespoon lemon juice
3 tablespoons brown sugar
3 tablespoons quick-cooking oats, UNcooked
2 tablespoons all-purpose flour
1/4 teaspoon allspice
2 tablespoons butter or margarine
Peel bananas and drizzle with lemon juice; then cut in half lengthwise and then again across.
You should have a total of 16 quarters of banana.
Then distribute these banana quarters equally among 4 broil-and-serve dishes.
In a small bowl, combine the brown sugar, uncooked oats, flour and allspice -- NOTE: Allspice tastes like a combination of nutmeg, cinnamon and cloves, so you could probably substitute a mixture of those three if you're out of allspice or go with just cinnamon.
Cut butter into the mixture until it resembles crumbs and then spread the crumbs equally over all the bananas.
Turn on your broiler and place these dishes under the broiler, 5" from the heat source and broil 3 min; the idea is to brown it and warm it at the same time.
Serve warm with vanilla ice cream
Michelle
---
| | | |
| --- | --- | --- |
| RE: Burgers on Parade...The Burger Cook-Off | | |
This was a lot of fun and eveyone's burgers look great!

I was inspired by a favorite salsa that we enjoy, Apple Chipotle.

First I made our buns.










I've already posted the bun recipe on the other thread.

Here's my burger with all the trimmings.




Here are the recipes:
APPLE CHIPOTLE BURGERS
1 lb fresh ground beef
½ C finely chopped apple
2 green onions, finely chopped
1 egg, beaten
¼ C bread crumbs
½ chipotle pepper, finely chopped
1 clove garlic, grated
salt and pepper to taste
2-3 Large Kaiser Rolls
butter
Suggested burger toppings, Queso Blanco cheese, sliced tomato, lettuce, red onion slice and Chipotle Mayonnaise
Set up grill for direct grilling, preheat coals to high.
Thoroughly combine Beef, apple, onions, egg, bread crumbs, chipotle pepper, garlic and salt and pepper. Loosely pack 2 or 3 burgers (depending on desired size). Grill about 7 minutes per side. Spread butter on cut side of rolls and grill over indirect heat, buttered side down, until golden brown.
Place burger on bottom half of grilled roll, top with Queso Blanco (white Mexican cheese), sliced tomato , lettuce, red onion slice and Chipotle Mayonnaise (recipe follows).
Makes 2 large or 3 medium burgers.
CHIPOTLE MAYONNAISE
1 C mayonnaise
1 chipotle pepper
½ tsp ground cumin
Mash the chipotle pepper with a fork, combine with mayonnaise and cumin.
Refrigerate to let flavors blend.
~~~~~~~~~~~~~~~~~~~~~~~~~~~~~~~~~~~~~~~~~~~~~~~~~~~~~~~~~~~
GRILLED POTATO SALAD
3 lbs red potaoes
1 yellow pepper
1 red pepper
1 large red onion
½ C olive oil plus more to drizzle over salad
1 C whole kernel corn (fresh cooked or canned, drained)
½ C chopped cilantro
6-7 slices bacon, cooked crisp and crumbled
2 tsp chili powder
3 Tbsp cider vinegar
salt and pepper to taste
Wash potatoes, leave skin on and cut into 1 " pieces. Par boil for 5 minutes, drain and set aside.
Stem and core red and yellow peppers, cut into quartes and place in large bowl. Cut red onion into rings and add to peppers in bowl. Drizzle the ½ C of olive oil over the peppers and onion. Salt and pepper to taste.
Heat grill to medium, place a grill tray on grill and place pepper mixture on grill tray. Grill about 5 minutes and turn over and grill another 5 to 10 minutes. You want nice brown grill marks. Remove from grill tray and place in large serving bowl. Place potatoes on grill tray, grill for 5 minutes and turn, continue to grill until cooked and nicely browned. Add to pepper mixture in bowl.
Add corn, bacon, chili powder, cider vinegar to vegetables in bowl, toss to combine. Drizzle with olive oil, salt and pepper to taste.
Let set 30 minutes to an hour for flavors to combine.
Serves 6.
Nancy
---
| | | |
| --- | --- | --- |
| RE: Burgers on Parade...The Burger Cook-Off | | |
WOW NANCY..that looks amazING!
Is the mayo made with a fresh chipotle or one that comes out of adobo?
Michelle, your burger sounds good..I've never been that adventerous and added fruit to my burger..oh wait I've had a grilled pineapple slice with teriyaki sauce out one time..that is good.. I'll have to try the Banana Crisp too..thanks for sharing it.
Maryanne, your plate looks good too..I just love burgers..so a plain ol cheeseburger with American works for me. BTW,Kamren begged for his picture to be taken with his mouth around his burger..Kamren has been on THS/GardenWeb forums since he was in utro..LOL So he loves to pose for Forum friends.
Dishes~I've got to try those Mexican Burger recipes, or do like you did and mix them together...
---
| | | |
| --- | --- | --- |
| RE: Burgers on Parade...The Burger Cook-Off | | |
Okay, now I don't like potato salad (neither does DH), but this grilled one is already copied and pasted :) Michelle ... brie and apples ? Yummy !!

This thread is making me hungry ... LOL !
---
| | | |
| --- | --- | --- |
| RE: Burgers on Parade...The Burger Cook-Off | | |
Can we have more fun!!!

Sharon, fabulous burger and I do want to try Peameal bacon sometime during my life!

Linda, love the veggie burger and I tried to find a good recipe and so glad you stepped up to the plate. Please post a link to your blog so everyone can read it.

Sharon....LOL...absolutely love the Spanish Flag garnish...so cute and original and so you!!

Terri, love the stuffed burger idea and I know we would enjoy it. I would like to try stuffing with blue cheese. Kamren is so handsome but all your boys, all 3 of them, are very good looking.

Maryanne, the checked border on your plates is so cute! And your burgers look like a restaurant advertisement...just perfection. I am pretty sure we would love the pepper salad and I copied and pasted the recipe.

Carol, love the mexican burger and the pepper jack looks so good melting on top. Can you taste the tequila?

Nancy, Apples....hmmmm great minds think alike!! Your Apple Chipotle Burger looks just wonderful!! And the Grilled Potato Salad...this I have to try.

Michelle
---
| | | |
| --- | --- | --- |
| RE: Burgers on Parade...The Burger Cook-Off | | |
Interesting to see so many different versions of burgers. Nancy your kaiser buns are amazing.

Maryanne, great plates. Looks like something out of a 50's diner.

Terri, great picture of your son and his burger.

Sharon love your Canadian Burger. Mine is a west coast Canadian version. I picked up sirloin steaks from my local butcher. Cowichan Valley Beef that I ground myself. The tomato was from the farm across the road and so was the red onion. The dills were from a local farmers market vendor. And we had homemade potato chips and the potatoes were local as well. Moe had his with mustard, tomato, onion and dill pickles and mine was basically the same minus the mustard.
---
| | | |
| --- | --- | --- |
| RE: Burgers on Parade...The Burger Cook-Off | | |
Ann, how do you make such beautiful chips???
Give me a tutorial please!!!
And I love your basket and parchment...great idea...
---
| | | |
| --- | --- | --- |
| RE: Burgers on Parade...The Burger Cook-Off | | |
I forgot to ask Terri how she made her fries? They look so good!!

Ann, I would like to know how to make the potato chips too, if it is not too much trouble. Gorgeous burger and so cute in the basket!

Michelle
---
| | | |
| --- | --- | --- |
| RE: Burgers on Parade...The Burger Cook-Off | | |
I didn't know if you wanted thumbnail or full size images, this is a little easier to see :) The pics, as well as the burger recipes are wonderful, now I have to decide between homemade chips or grilled potato salad :) .... hey I can have both !! My blog is linked below.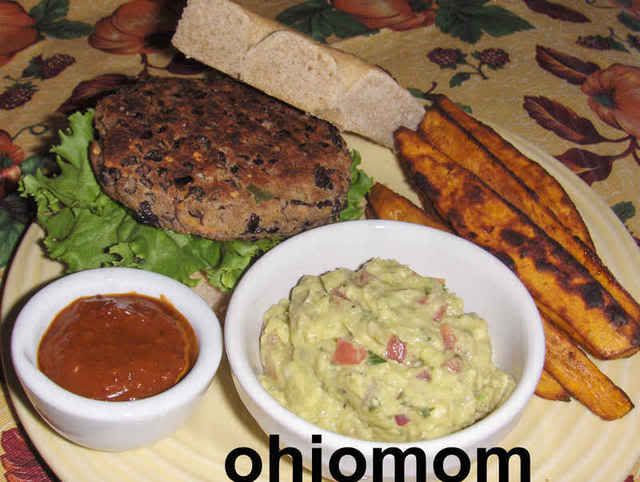 Here is a link that might be useful: Cooking In Cleveland
---
| | | |
| --- | --- | --- |
| cheater, cheater french fry eater | | |
Michelle, I cheated, I dropped frozen fries into the deep fryer..and sprinkled with Penzey's Brady Street Cheese Sprinkle.
---
| | | |
| --- | --- | --- |
| RE: Burgers on Parade...The Burger Cook-Off | | |
Terri, Michelle, The chips are very easy to make. Just like homemade fries only the potato is sliced very thin. I use russet potatoes because they make the best fries. Just slice on a mandolin and soak the slices in cold water. Dry well before putting them into the hot oil. They cook quickly.

I use a cast iron pot on top of the stove to deep fry.

Ann
---
| | | |
| --- | --- | --- |
| RE: Burgers on Parade...The Burger Cook-Off | | |
I didn't really taste the tequila, Michelle, I'd add a little more next time!
---
| | | |
| --- | --- | --- |
| RE: Burgers on Parade...The Burger Cook-Off | | |
Thanks, Ann, I guess, I'll just have to try it..I have a deep fryer that only gets Peanut Oil to feed it..
Yummm So on the chips though, you don't have to "pre" fry? Just drop in for a quick sizzle?
---
| | | |
| --- | --- | --- |
| RE: Burgers on Parade...The Burger Cook-Off | | |
Carol, I was asking about the tequila because when I made the Martini Chicken you could really taste the Vodka and vermouth. Since Vodka Martinis are our drink of choice, we loved the chicken!

Well we just finished our second burger go-round to complete our burger weekend. We were both no hungry this morning so just had a late lunch and I will make a snack about 8:00 pm.

Basically we had our normal burger on a toasted bun with red leaf lettuce and purple sweet onion. I had mine with mustard and Joe had his with bacon and ketchup.

For our sides, I made AnnT's homemade potato chips and they were soooooo good I will for sure make them again. And I wanted to use up the huge sweet onion I bought so did a repeat of the Onion Strings. They were just as good as yesterday too. Joe had a slice of dill pickle and I opened a jar of B&B pickles that I made in July and they were delicious.
Michelle
---
| | | |
| --- | --- | --- |
| RE: Burgers on Parade...The Burger Cook-Off | | |
They all look mouth watering, Ladies ! Nice job.
---
| | | |
| --- | --- | --- |
| RE: Burgers on Parade...The Burger Cook-Off | | |
I have been so impressed with all the wonderful burgers here and I'm looking forward to trying a lot of them. The recipes, the photography and the creativity are fantastic.

Our weekend didn't exactly go as planned and we just had our burgers now. I went with most of my original plan: grilled ground sirloin topped with grilled Hatch chiles and an aged cheddar - had planned to got to the Mexican market and get cheese and bollios there, but had to move to Plan B and use Kaiser rolls. None the less, good beef, freshly roasted and grilled chiles a roll brushed with olive oil and grilled made for a very good combination. Our only sides were sliced garden tomatoes, even more delicious since there won't be many more this year, a sliced avocado and a dill pickle.

Lee
---
| | | |
| --- | --- | --- |
| RE: Burgers on Parade...The Burger Cook-Off | | |
Well, we had a quite traditional burger on Saturday and my plan was to make something different yesterday, but I didn't get to the store. I will go today and later will grill some fresh tuna burgers.

Here is Sat night's. burger was mixed with sauteed chopped mushrooms and onion and grilled = then topped with local Cuba sharp cheddar - mustard and ketchup. On whole wheat buns. They were great! But I am looking forward to the tuna burger today.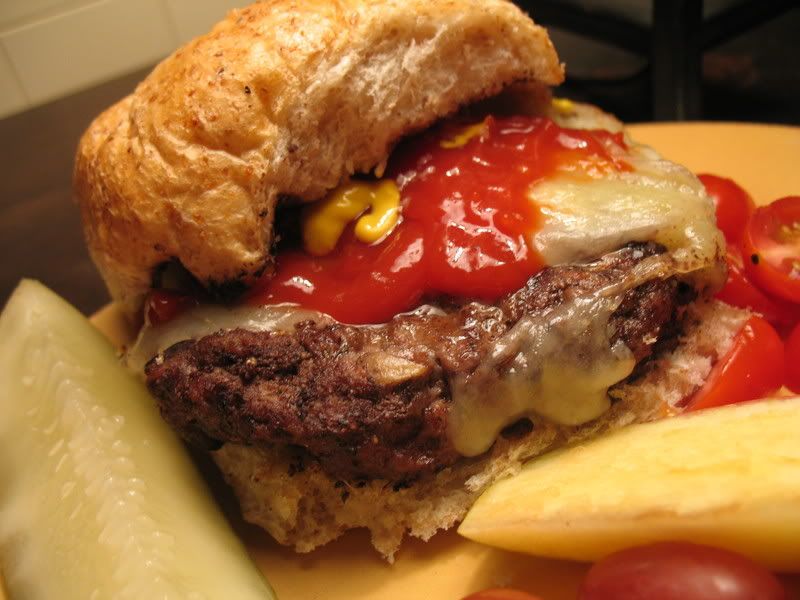 Ann, your photo is gorgeous - your tomatoes always make my mouth water. Everything looks fantastic! i've never made onion rings...I may have to try.
Nancy, I agree, those kaisers look amazing. I can almost taste them.
Stacy (and thanks Michelle, for the idea and for organizing!)
---
| | | |
| --- | --- | --- |
| RE: Burgers on Parade...The Burger Cook-Off | | |
Lee, your burger and entire meal sounds so good. Wish we had a picture!

Stacy, WOW...looks great!! I was going to make Salmon Burgers on Sunday but Joe wanted beef again. Please do post a picture of your salmon burgers!!!!

You guys did great and it is nice to have a final summertime meal thread. I am not quite ready to let summer go, I've just not had time to appreciate it this year.

Michelle
---
| | | |
| --- | --- | --- |
| RE: Burgers on Parade...The Burger Cook-Off | | |
I don't have the recipe written down or a photo, but DH and I love Stuffed Gorgonzola Burgers.

Ground Chuck or Sirloin mixed with minced onion, shallot, sea salt and fresh pepper.

Press out two thin 6"+ patties, crumble Gorgonzola onto one patty (I'm generous with the cheese), leaving a 1/2-inch margin, top with second patty, press together and shape, then grill. Buns and toppings negotiable, of course - I tend to keep it simple because the Gorgonzola is such a dominant flavor (love grilled sourdough bread). Watch out for the molten lava when you take the first bite, lol!
---
| | | |
| --- | --- | --- |
| RE: Burgers on Parade...The Burger Cook-Off | | |
OK, now I'm rethinking this. I don't normally care for anything that has ground beef in a hunk, except Ann T's salisbury steak, so I never make burgers.

All these burgers look so good, though, and I really especially like the idea of adding apples slices.

Annie
---
| | | |
| --- | --- | --- |
| RE: Burgers on Parade...The Burger Cook-Off | | |
We did ours last night, Sunday night, and I have to say that next to everyone else's, mine look pretty sad. I sent some pictures to Michelle just a few minutes ago, but they don't measure up to what y'all produced. Oh, well. Everything tasted fine, they just weren't as pretty as everyone else's.

We had lentil burgers, served on Terri's (sp?) Honey wheat Sandwich Rolls. I made Michelle's Onion Strings, and while I had the deep fryer going, made some French Fries too. We topped the burgers in the traditional way, with lettuce, tomatoes, pickles and onions, mayonaise, mustard and ketchup available as well. Anyway, it's been fun participating, and I still want to learn how to make a really good vegetarian burger. Thanks for spurring me on, everyone to try this out.

Here's the Lentil Burger recipe I used. It's from Vegetarian Times Complete Cookbook.

Lentil Burgers

1 cup dry lentils
2 1/2 cups water
1 bay leaf
1/2 cup diced onion
1/2 cup diced celery
1 tablespoon vegetable oil
1 tabelspoon chopped fresh tarragon (I didn't have any, so I subbed Bronze Fennel)
2 teaspoons chopped fresh marjoram (I subbed oregano, since that's what I have)
1 teaspoon ground cumin
1/2 teaspoon dark sesame oil
1/2 teaspoon fresh lemon juice
1/2 teaspoon salt
1/4 teaspoon freshly ground black pepper
3/4 cups rolled oats
3/4 cup dry bread crumbs

In a medium saucepan, simmer the lentils in water with the bay leaf until the lentil skins split easily, about 45 minutes. Meanwhile, cook the onion and celery in the oil, stirring, until soft, about 5 minutes. Remove from the heat and stir in the remaining ingredinets except the oats and bread crumbs. Process the oats in a blender or food processor until finely ground. Combine the oats and bread crumbs with the lentil mixture. Shape the mixture into 12 patties while it's still warm. (You may freeze the patties at this point.) (My note - There wasn't nearly enough mixture to make 12 patties in my opinion, unless they were very small patties.) I added some cilantro, because I just thought that would add to the flavor, and it did.

Preheat oven to 400 degrees F. Bake the patties on a non-stick baking sheet or a sheet lightly coated with non-stick cooking spray until the patties are lightly browned, about 15 minutes. (I ended up using a griddle instead, which worked fine.)

All in all, next time I will try doing Ohiomom's Black bean burgers instead, The lentil burgers tasted good, they just weren't photogenic.

Sally
---
| | | |
| --- | --- | --- |
| RE: Burgers on Parade...The Burger Cook-Off | | |
I had a burger Friday in your honor....but didn't take a picture!
Mushrooms and swiss cheese....and really yummy!
Linda C
---
| | | |
| --- | --- | --- |
| RE: Burgers on Parade...The Burger Cook-Off | | |
Linda, I thought yours would be a blue cheese burger...:-)

Here is mine from tonight. I made some fresh tuna burgers.

I actually winged it a bit. chopped fresh tuna steaks, some chili powder, fresh minced garlic, s and p, and a couple egg yolks, OH, and cilantro! - all in the f/p.

formed into patties and grilled.

I mixed up some mayo, with some adobo sauce from chipotles, and added a few fresh chopped tomatoes and cilantro.

I bought an avocado - which turned out to be somewhat "bruised" so I had to pick and choose the parts of it to use and mixed it up with some tomato and lemon juice for a "relish" type topping?....

It was a really good fresh tasting burger. Will was unimpressed. he's 9.............he needed a dish of ketchup.

Scott was out of town.
Oh and for dinner, I had grilled some Mature pattypan squash - ( simply s and p) and it was soooooo good!
Also, some wild rice w/ mushrooms. Great dinner.
thanks for the fun everyone!
---
| | | |
| --- | --- | --- |
| RE: Burgers on Parade...The Burger Cook-Off | | |
Here's pictures of Sally Burgers!

First are the Honey Wheat Buns fresh out of the oven. Then a picture of the entire table and a picture of the burger plated with freshly cut french fries and Onion Strings.

Every thing looks scrumptious and I am so starving right about now!!!!!!!!

Michelle
---
| | | |
| --- | --- | --- |
| RE: Burgers on Parade...The Burger Cook-Off | | |
All the burgers make me hungry :) Sally, the burger looks great ! I never thought of using lentils. I also like the Tuna burger. I think mine could have used a slice of cheese and I am impressed by all the homemade buns, will have to try those.

Michelle this has been a fun cook-off, big thanks !!
---
| | | |
| --- | --- | --- |
| RE: Burgers on Parade...The Burger Cook-Off | | |
Wow, those are great looking burgers, fries and onion rings!! Great pics everyone!
I am late to post, due to the other party.
Ours was a mozzarella and fresh tomato chuck chop burger and home made onion rings...used a new recipe, and they were just ok...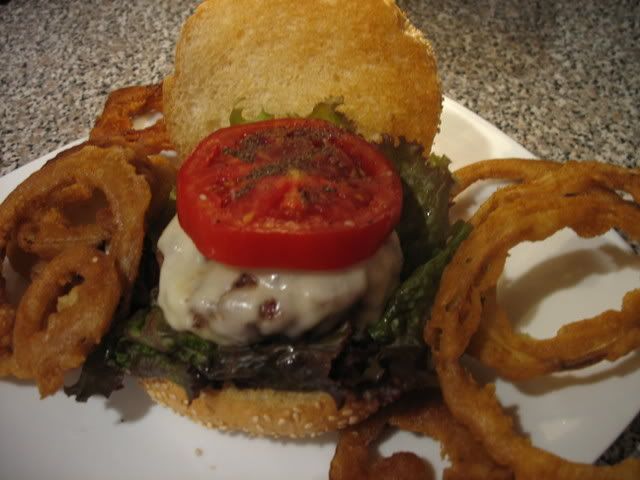 ---
| | | |
| --- | --- | --- |
| RE: Burgers on Parade...The Burger Cook-Off | | |
Sally, your buns look great.

Kathleen, your burger looks good too..

Stacy, both yours look fab!
---
| | | |
| --- | --- | --- |
| RE: Burgers on Parade...The Burger Cook-Off | | |
This was a lot of fun. Everyone's burgers look great, nice variety. We have burgers on a fairly regular basis, easy, quick and so much better than what you get when you go out.

Homemade fast food!

Thanks Michelle, wonderful idea.

Nancy
---
| | | |
| --- | --- | --- |
| RE: Burgers on Parade...The Burger Cook-Off | | |
| | | |
| --- | --- | --- |
| RE: Burgers on Parade...The Burger Cook-Off | | |
Hi, everyone. There's some delicious looking burgers here. Now I'm hungry. I struggled for 2 days to get this picture on my computer and uploaded to photobucket. It kept crashing before it was done.

Now I'm done (but too tired to read the above or write much about mine now). This is a pacific rim chicken burger (recommended here 2 winters ago)- with ginger mayo and cilantro/scallion warm potato salad. Yummy (I'll post the recipe tomorrow if anyone's interested.)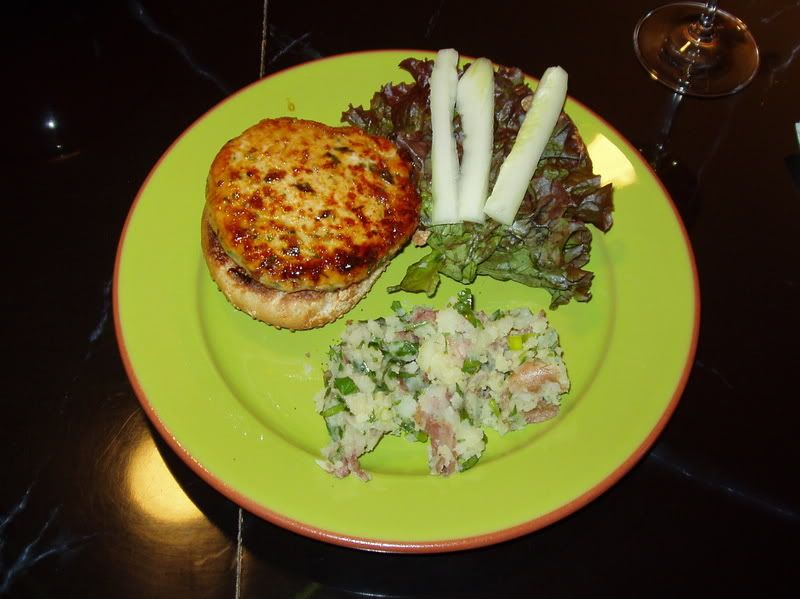 Lynn.
---
| | | |
| --- | --- | --- |
| RE: Burgers on Parade...The Burger Cook-Off | | |
Lynn, Very interested...looks good..
---
| | | |
| --- | --- | --- |
| RE: Burgers on Parade...The Burger Cook-Off | | |
I am for sure trying the two meatless burgers by Linda and Sally. I looked and looked for a good veggie burger and all the one I found sounded so strange. I'm pretty sure we'd like both of these and they look so good too.

Stacy, the Tuna Burgers look so juicy and I especially would like to try the condiments you made. Do you think I could sub salmon for the tuna?

Kathleen, absolutely wonderful looking burger!

Lynn, please do post the chicken recipe as it looks delicious! Also would like to know what sides you made. So sorry you had trouble uploading your photos. I had trouble with photobucket and switched to flickr.com and have not had any problems since. Love the color of your plate!

Great job ladies and this was so fun!

Michelle
---
| | | |
| --- | --- | --- |
| RE: Burgers on Parade...The Burger Cook-Off | | |
Another request for the chicken burger :) I have made them, but they were dry. Cooked too long ? And another potato salad I would like to try.
---
| | | |
| --- | --- | --- |
| RE: Burgers on Parade...The Burger Cook-Off | | |
Oh the new additions look wonderful. You think I'd not be tempted by any more burgers, but I am.

Michelle, sure - salmon would be good. I would suggest not putting the salmon or tuna into the f/p, though, just cut into chunks like in Marilyn's fresh salmon cakes recipe...(which would also be great on a bun!)

These are great if you haven't tried them.

Fresh Salmon Cakes - danain
(This makes a loose, somewhat hard to handle mixture before it's cooked but after it's in the skillet it will hold together, only flip once.)
2 cloves garlic; minced
2 tablespoons minced onion
2 dashes Tabasco (or a pinch of cayenne)
2/3 cup coarse white bread crumbs
2 tablespoons chopped parsley
2 tablespoons real mayonnaise
1 egg yolk (or egg white)
salt and pepper to taste
1 pound fresh salmon
1/2 cup Panko (Japanese bread crumbs)
2 or 3 tablespoons olive oil
Lemon wedges
In a medium bowl, combine garlic, onion Tabasco, bread crumbs, parsley, mayonnaise, egg yolk and salt and pepper. Remove skin and bones from salmon and cut into small cubes (about 1/2-inch); gently stir into crumb mixture. Carefully shape salmon mixture into 4 patties and coat the outsides with Panko crumbs. Heat oil in a non-stick skillet over medium-high heat until very hot and add salmon cakes. Fry the cakes until brown, about 4 minutes on each side turning only once. Serve with lemon wedges or your favorite tarter sauce.
*May substitute cracker crumbs or bread crumbs for the Panko.
Marilyn
Cucumber Dill Sauce:
1 cucumber; unpeeled
1/2 cup sour cream
1/2 cup mayonnaise
1 teaspoon dill (if fresh use 1 tablespoon)
1/2 teaspoon lemon juice
salt and pepper to taste
Cut cucumber in half and scoop out the seeds. Shred cucumber finely along with the peel and combine with remaining ingredients. Chill to combine flavors. Serve with your favorite grilled or baked fish. Also good with salmon patties or crab cakes
---
| | | |
| --- | --- | --- |
| RE: Burgers on Parade...The Burger Cook-Off | | |
Thanks, Michelle, for posting my pictures. I came across some very strange sounding recipes for meatless burgers, too, with very long lists of ingredients.

Everyone's burgers look great. And the sides are so tempting, too. I'd like the recipe for the cilantro/scallion warm potato salad. It sounds really good.

This has been great fun.

Sally
---
| | | |
| --- | --- | --- |
| RE: Burgers on Parade...The Burger Cook-Off | | |
Linda's recipe for Spicy Chicken cakes would be wonderful on a bun too.
Spicy Chicken Cakes with Horseradish Aioli
==========================================
* Posted by doucanoe (My Page) on
Tue, Jul 31, 07 at 8:38
Spicy Chicken Cakes with Horseradish Aioli
CAKES
2 (1 1/2-ounce) slices whole wheat bread
1 pound skinless, boneless chicken breast
1/4 cup chopped fresh chives
3 tablespoons low-fat mayonnaise
1 teaspoon Cajun seasoning
1/4 teaspoon salt
2 large egg whites
2 teaspoons canola oil
NOTE: I used real Helmans, not low-fat and I added a minced garlic clove and cayenne pepper in place of the cajun seasoning.
NOTE: Made my own Aioli. A garlic Lemon Aioli using the extra egg yolks, and adding 3 large cloves of garlic, fresh squeezed lemon juice, lemon zest salt, pepper and olive oil.
AIOLI:
2 tablespoons low-fat mayonnaise
2 teaspoons prepared horseradish
1 teaspoon bottled minced garlic
1/8 teaspoon salt
To prepare cakes, place bread in a food processor; pulse 10 times or until coarse crumbs measure 1 cup (discard remaining breadcrumbs). Set breadcrumbs aside.
Place chicken in food processor; pulse until ground. Combine chicken, chives, 3 tablespoons mayonnaise, seasoning, 1/4 teaspoon salt, egg whites, and breadcrumbs in a medium bowl; mix well (mixture will be wet). Divide mixture into 8 equal portions, shaping each into a 1/2-inch-thick patty.
Heat oil in a large nonstick skillet over medium heat. Add patties; cook 7 minutes on each side or until done.
---
| | | |
| --- | --- | --- |
| RE: Burgers on Parade...The Burger Cook-Off | | |
AnnT

Thanks for posting the chicken cakes that Linda made ... this would probably solve my problem of dry chicken burgers.

Copied and pasted :)
---
| | | |
| --- | --- | --- |
| RE: Burgers on Parade...The Burger Cook-Off | | |
I haven't been home but I'm so happy to be back and reading this mouthwatering thread and looking at the pictures - yum, hard for me to look at right now as this is my hungriest time of day, just before 11:00 a.m. help - I need a burger!

We did have hots and hams on one of our stops on the trip - cooked by the local volunteers and it was great - but the really outstanding part of that meal was the homemade whoopie pies, mmmmmmmmmm.

My friends that we were traveling with told me about their favorite burger that they make at home - make a grilled cheese sandwich, then pull it apart while its still piping hot and melting, put a fresh cooked (thinner and flatter than usual) burger in the middle and put it back together again. You've got your great fried bread, melted cheese and burger all together.
---
| | | |
| --- | --- | --- |
| RE: Burgers on Parade...The Burger Cook-Off | | |
A grilled cheese burger...I love the sound of that.
Gonna try it very soon.... today's lunch won't be soon enough...I'm hungry right now.

Nancy
---
| | | |
| --- | --- | --- |
| RE: Burgers on Parade...The Burger Cook-Off | | |
Lunch is over, it was really good. Thanks Woodie, your idea just hit the spot.

Here's my Grilled Cheese Hamburger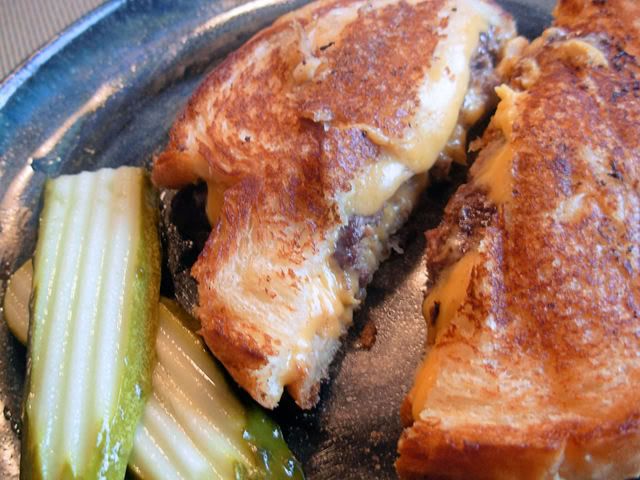 I had the bread already with cheese on both slices, sauteed a slice of onion, fried my burger patty, put the onion and burger on top of one side that had cheese and topped with the other slice, cheese side down on top of the first. Buttered the outside of the bread and grilled the whole thing. I'm hooked!
Nancy
---
| | | |
| --- | --- | --- |
| RE: Burgers on Parade...The Burger Cook-Off | | |
Nancy, that looks decadent!
---
| | | |
| --- | --- | --- |
| RE: Burgers on Parade...The Burger Cook-Off | | |
I thought of making the chicken cakes too, being that they got such great reviews on the WFD thread. Hmmmmm...maybe tonight as I wanted to have chicken and we still have buns. Oh good the decision is done, it's chicken cakes tonight!

Your grilled cheese hamburger looks excellent Nancy!! We call them Patty Melts here. We do them just like Woodie said but I like to put creamy cole slaw on mine...messy to eat but just SOOOoooooo good!

Michelle
---
| | | |
| --- | --- | --- |
| RE: Burgers on Parade...The Burger Cook-Off | | |
Michelle, I put cole slaw on a lot of my sandwiches ...tastes so good!
---
| | | |
| --- | --- | --- |
| RE: Burgers on Parade...The Burger Cook-Off | | |
This is overwhelming. I've read through the recipes - wow - so many yummy burgers to try - esp. Mexican burger, chicken, tuna, and a good old-fashioned classic cheeseburger has never looked as good as many of the ones right here.

Here are the recipes for the Pacific Rim Burger and Warm Potato Salad with Cilantro. My motto is "you can never be too rich, or have too much cilantro." By the way, this is my third time trying to post this - the internet has disconnected midway. So third time's the charm:

Pacific Rim Chicken Burgers With Ginger Mayonnaise Recipe #65297
This recipe came from Kristine Snyder, Kihei, Hawaii, and was the $25,000 grand prize winner in the National Chicken Cooking Contest.
by Sharon123
4 servings
25 min 15 min prep
1 1/4 lbs ground chicken
2/3 cup panko (Japanese bread crumbs)
1 egg, lightly beaten
2 green onions, thinly sliced
3 tablespoons chopped cilantro
1 clove garlic, minced
1 teaspoon asian hot chili sauce
1 teaspoon salt
1 tablespoon vegetable oil
1/2 cup bottled teriyaki sauce
4 teaspoons honey
4 hamburger buns with sesame seeds, split and toasted
4 leaves red leaf lettuce
1 cucumber, peeled,seeded,halved and thinly sliced lengthwise
Ginger Mayonnaise
1/2 cup mayonnaise
2 teaspoons sweet pickle relish
2 teaspoons minced fresh ginger
2 teaspoons lime juice
1 clove garlic, minced
1/4 teaspoon salt

MIX chicken, panko, egg, onions, cilantro, garlic, chili sauce and salt in a large bowl.
With oiled hands, form into 4 patties.
Mix together teriyaki glaze and honey in a small bowl.
In large nonstick fry pan over medium high heat, place 1 tablespoon oil.
Add chicken and cook, turning and brushing with teriyaki glaze, about 10 minutes or until done.
PLACE burgers on toasted buns and top with lettuce, cucumber and Ginger Mayonnaise (recipe follows).
Garnish with additional cilantro and cucumber slices.
Ginger Mayonnaise: MIX 1/2 cup mayonnaise, 2 teaspoons sweet pickle relish, 2 teaspoons minced fresh ginger, 2 teaspoons lime juice, 1 clove garlic, minced and 1/4 teaspoon salt in a small bowl.

My notes: omit the salt. The teriyaki sauce already has plenty. And one cup of teriyaki/honey mixture is way more than you need. I used less than half. The recipe also makes more ginger mayo than you need, but it's delicious on fish and other things.

Warm Potato Salad with Cilantro:

2 lbs. waxy potatoes (like red bliss) scrubbed
kosher salt
1/2 cup evoo
1/2 tsp. fine grated lemon zest
3 tBS. lemon juice
fresh ground pepper
1/2 cup lightly packed chopped cilantro
2 scallions (white and green parts) thinly sliced (or 1 shallot minced)

Bring potatoes to boil in large pot of salted water. Then lower to simmer. Cook, partially covered, until tender when piecered with a fork - about 25 minutes. Drain and let cook slightly. While the potatoes are warm, slice them about 1/4 inch thick (no need to peel, but discard pieces of skin that come off on their own). Put half the potatoes ina large serving bowl. In a small bowl, whisk the oil, lemon zest and juice, 1 tsp kosher salt, and several grinds of pper. Drizzle half the dressing over the potatoes. Add the remaining potatoes to the bowl, drizzle the rest of the dressing, and toss gently with a large rubber spatula to combine well. Add teh cilantro and scallions and toss gently again. Taste and add more salt as needed. serve warm or at room temperature.

I better submit this before it disappears.

Thanks Michelle for putting this together.

Lynn.

PS okay I'm tempting fate by continuing to type, but I have to mention that the idea of having oil on your hands when forming the chicken patties was fabulous. It gave the patties just enough oil to bind them and protect them in cooking. Anyone else ever heard of this technique?
---
| | | |
| --- | --- | --- |
| RE: Burgers on Parade...The Burger Cook-Off | | |
Lynn, I use that technique when I make burgers too. It is great when using a lean beef as well as chicken.

Ann
---
| | | |
| --- | --- | --- |
| RE: Burgers on Parade...The Burger Cook-Off | | |
I've copied and pasted that potato salad recipe. Thanks, Lynn.

Sally
---
Post a Follow-Up
Please Note: Only registered members are able to post messages to this forum.
If you are a member, please log in.
If you aren't yet a member, join now!
---
Return to the Cooking Forum
Information about Posting
You must be logged in to post a message. Once you are logged in, a posting window will appear at the bottom of the messages. If you are not a member, please register for an account.
Please review our Rules of Play before posting.
Posting is a two-step process. Once you have composed your message, you will be taken to the preview page. You will then have a chance to review your post, make changes and upload photos.
After posting your message, you may need to refresh the forum page in order to see it.
Before posting copyrighted material, please read about Copyright and Fair Use.
We have a strict no-advertising policy!
If you would like to practice posting or uploading photos, please visit our Test forum.
If you need assistance, please Contact Us and we will be happy to help.

Learn more about in-text links on this page here