Return to the Cooking Forum
|
Post a Follow-Up
---
| | | |
| --- | --- | --- |
| Rice cookers and my big score | | |
Posted by
annie1992
(
My Page
) on
Fri, Aug 22, 14 at 23:25
Here we have an online auction. It's like ebay, kind of, except it's local, we drive to a neighboring town to pick up our purchases and you can go to their building and look at anything that's up for auction, so there's no shipping

You can get anything from guns to the kitchen sink, I've gotten shovels and snowboards for the kids there, and I just bought a big box of pyrex that had 12 pie plates and a couple of casseroles for $3.00. I've gotten Griswold cast iron and four LeCrueset pans for less than $25 each.

A few weeks ago a rice cooker came up for auction. Used once. I promptly got on Amazon and looked up the Zojirushi pressure induction 10 cup rice cooker, number
NP-NVC18. $464.07? You've got to be kidding me, it's just for cooking rice!

Elery really, really wanted it. I finally bid it up, all the way up to $20.00.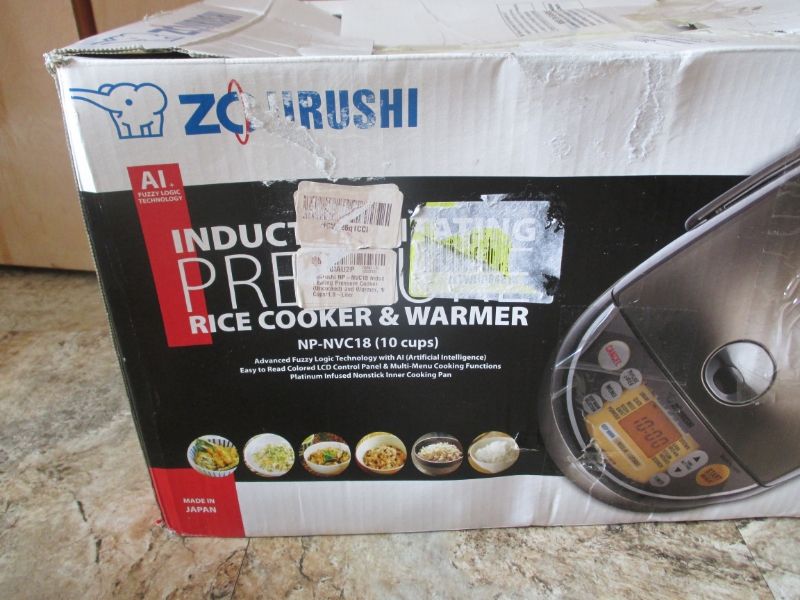 So now it's been used twice, LOL. I've read the instructions 3 times and have given up impatiently each time. Today I cooked rice on top of the stove in a pan while the "machine" sat on the counter and looked at me.
We had one batch of rice and it was perfect right out of the machine but very dry the next day. I understand it has a "moist" setting, so there is apparently a learning curve.
I really gotta keep Elery away from that auction site or we'll need to build another barn, just to keep kitchen appliances in. (grin)
Annie
---
Follow-Up Postings:
| | | |
| --- | --- | --- |
| RE: Rice cookers and my big score | | |
| | | |
| --- | --- | --- |
| RE: Rice cookers and my big score | | |
Oh, wow!!!
If I were in the area of that sale, I would be in BIG trouble! Another barn might not be enough.
Great buy. At that price it is worth it to learn that you don't want it ;-)
---
| | | |
| --- | --- | --- |
| RE: Rice cookers and my big score | | |
Hey--whatever Big E wants. He's worth it!
---
| | | |
| --- | --- | --- |
| RE: Rice cookers and my big score | | |
LOL at your comment of making rice on the stove, while the rice cooker looked at you.

Years ago I had a rice maker, but I didn't like the crusty rice that was always at the bottom. I love the rice using the stove.

I've since found out from Johnliu that the crusty rice is what people love. :-)
---
| | | |
| --- | --- | --- |
| RE: Rice cookers and my big score | | |
What a steal!

Let us know how GABA brown rice turns out. GABA is supposed to do all sorts of wonderful stuff like lower blood pressure and stress.

Also, I bet steel cut oats would be great in that. I cook them in a 1.5 crock pot, but cleaning that crockpot is a PITA.
---
| | | |
| --- | --- | --- |
| RE: Rice cookers and my big score | | |
arley, I read the instructions and I read the reviews. Half of them say you can cook steel cut oats in it, and half say you can't. I guess I'll just have to try it. I'm also thinking maybe wheat berries, those take a long time to cook too...

I'm also wondering about making a big batch of brown rice and freezing some, I see those frozen packages at the store now, so I know it can be done.

Annie
---
| | | |
| --- | --- | --- |
| RE: Rice cookers and my big score | | |
What a great find! You will have to report back after you've had some more time with it to give us your thoughts. I am always tempted to purchase one when someone posts a good price on a deal forum I frequent but have stopped myself so far. Mostly because I am quickly running out of places to store all my kitchen gadgets in my small kitchen.
---
| | | |
| --- | --- | --- |
| RE: Rice cookers and my big score | | |
I've never had problems cooking any rice on the stovetop, and definitely don't have the room to store a rice cooker. Somehow I would have found storage space for the $3 box of 12 pie plates and casserole dishes! wow! I wish we had one of those auction places near here.

BTW: If you have too many pie plates, I've found that they work great as a tray under a large potted plant! :)
---
| | | |
| --- | --- | --- |
| RE: Rice cookers and my big score | | |
That's wild! What a

score
!

Very curious about whoever spent $464, used it once, and didn't return it for a refund.

It will probably drive me nuts with the built-in Artificial Intelligence and fuzzy logic. In other words, it will guess what is best for you. Each time you set something up, it will change it to something else for you, and change again and again each time. The computer software programmer in Japan will be your cook.

"ใ€Œใ"ใ"ใˆใ€็งใฏใใ†ใฏๆ€ใ"ใพใ›"ใ€'ใใ'Œใฏ23ๅˆ†ใฎไปฃใ' ใ'Šใซ20ๅˆ†ใ'ฆใ'ฃใƒซใ'ˆใ'Š่‰ฏใ"ๅ'ณ !!!!"

dcarch
This post was edited by dcarch on Mon, Aug 25, 14 at 9:03
---
| | | |
| --- | --- | --- |
| RE: Rice cookers and my big score | | |
I prefer the rice that I make in stove top Staub pot. My fuzzy logic Zoj takes too, too long to cook rice. And I love the crunchy stuff on the bottom.
P.S. I still use the Zoj if all other burners are otherwise occupied when I cook for a crowd.
This post was edited by kitchendetective on Mon, Aug 25, 14 at 9:40
---
| | | |
| --- | --- | --- |
| RE: Rice cookers and my big score | | |
I'd be interested how it does on the other programs - brown rice, sushi rice, etc.
---
| | | |
| --- | --- | --- |
| RE: Rice cookers and my big score | | |
Great find if you enjoy using it. I've never gotten into the idea of using an appliance to cook rice when I have a saucepan that works just fine, but the local auction sounds wonderful. That Le Crueset would have been tempting me. I only have one pot, but for that price, I'd make room for another.
---
| | | |
| --- | --- | --- |
| RE: Rice cookers and my big score | | |
johnliu, I'm sure I'll be finding out, and I haven't made sushi in quite a while, now I need to get busy and make some.

dcarch, I have no idea what those characters mean, I'm only assuming it's complimentary. (grin)

As for the source of the auction items, the people who run it allow private sellers to take a photograph and write a description of their item to be auctioned, and the auction company keeps a percentage. I've seen items from a child's potty chair to tractors to "a box of awesomeness", LOL. It's easy to find, jnjonlineauction dot com.

In addition to the private sellers, the company and/or agents/sellers buy estate items, store liquidations, the items in abandoned/unpaid storage units, etc. This week there are 2,000+ items up for auction and many of them are complete junk, many are firearms and ammunition, and a few are real gems. You sort through, their search is pretty bad...

Annie
---
Post a Follow-Up
Please Note: Only registered members are able to post messages to this forum.
If you are a member, please log in.
If you aren't yet a member, join now!
---
Return to the Cooking Forum
Information about Posting
You must be logged in to post a message. Once you are logged in, a posting window will appear at the bottom of the messages. If you are not a member, please register for an account.
Please review our Rules of Play before posting.
Posting is a two-step process. Once you have composed your message, you will be taken to the preview page. You will then have a chance to review your post, make changes and upload photos.
After posting your message, you may need to refresh the forum page in order to see it.
Before posting copyrighted material, please read about Copyright and Fair Use.
We have a strict no-advertising policy!
If you would like to practice posting or uploading photos, please visit our Test forum.
If you need assistance, please Contact Us and we will be happy to help.

Learn more about in-text links on this page here