Need Help with DIY Antique Dresser to Sink Vanity Conversion
jan_in_wisconsin
August 5, 2014
Garden Web Friends,
I found this gem of an antique dresser at an antique store this past weekend (sorry, not the best photo):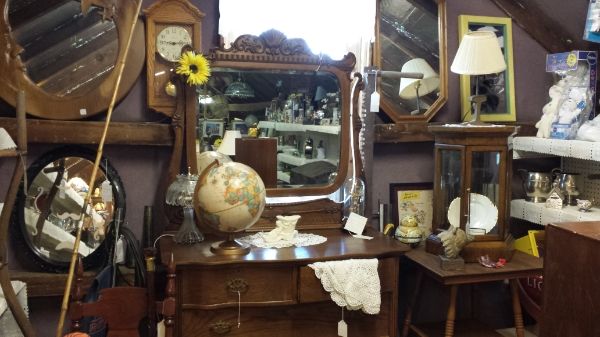 I have had my heart set on converting a dresser like this to a sink vanity for our half bath for a number of years now, and after finding this piece, I'm ready to make it happen. This is the general idea: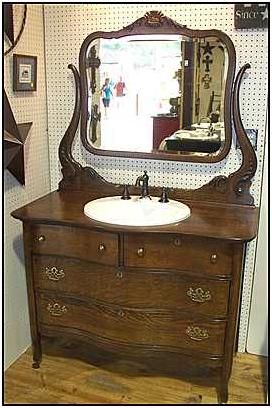 EXCEPT, I want to chalk paint it a creamy white and just lightly distress around the fluting and carvings. I have seen some of Ms. M's work here, and it's gorgeous. I took a chalk painting class recently, and I have used it on a pair of nightstands and mirrors in the past. I think I would like to keep the vanity top either stained or replaced with marble, quartz, or granite, etc., something like this:
I'm looking for some help with the following:
What is the first step (strip and stain the top, if I decide to keep it wood, cut out sink hole and other holes for plumbing, or paint the sides and legs)?

What do you think about keeping the top stained? Is there a way to protect it sufficiently? This will be used in a powder room of sorts. Or would it be wiser to have the top replaced with a more durable material?

If I do stain the top, would it look best to keep it the same color it is currently, since I will be sanding slightly through on the sides and mirror? Or would it look alright to go a bit darker with the stain color?

Do you think it would be best to shellac this piece before painting to ensure the stain doesn't bleed through the paint? I didn't notice a strong odor or musty smell with this piece. It is oak, so maybe with the distinct grain, it would be a good idea to shellac first for that reason?

Since the wood is a medium tone, and I think I might prefer a darker stain showing through with the distressing, I am considering staining the whole piece darker first, but that may be way more work than I want to do.

Hardware - I think I want to keep the hardware a contrasting color (not cream like the dresser will be). Should I leave the hardware the antique brass color, or do something different? Our current faucet is oil rubbed bronze, and so is our bathroom door hardware, etc.

Would we need to hire both a plumber and a carpenter since we're not very handy? What is the best way to coordinate this work, and when should they get involved?
I think I'm in the analysis paralysis stage. My DH already thinks I've bitten off more than I can chew. He is concerned the overall cost is really going to add up, since plumbing needs to be modified and lighting moved. This dresser...