Batik 101: the Birth of a Batik (of my own making)
pirate_girl
October 18, 2011
Hi Folks,
I recently had a class in soy resist batik (rather than the more traditionally done batiks which usually use a combination of bees wax & parafin).
This is the very first step, one waxes over the areas one wishes to remain white in the future.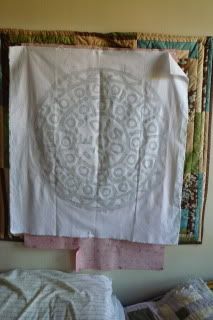 Another of couple of shots (from a series of fabrics I'm designing called 'Manhole Cover Graphics')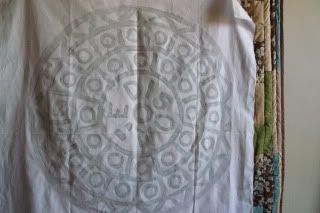 even closer up:
So these darker areas are waxed & the wax completely penetrates the fabric (all cotton in this case). Were we to turn the fabric over, it would look the same.
The next step would be a dye bath for the 1st color (the lightest color gets dyed first). While I have pigments which I used in the class & could use in this work, I'm going to hold out for dyes, which I also have, but don't know where I can work using them as it gets a bit messy.
For those unaware of the difference, pigments are like ink, tend to be thick & viscous sitting ON TOP OF the fabric & often not penetrating through to the back side.
Whereas dyes are colored liquid solutions into which one immerses the fabric, the dye PENETRATES all layers of the fabric (this is why it's often difficult to tell the front of a batik from the back, it's just slightly less well defined on the back side). One can sometimes achieve an interesting effect by using both the front & the back of batiks in the same work.
Am hoping the first dye bath will be a pale aqua or turquoise which will color the entire fabric EXCEPT the places currently covered w/ wax, which will stay white.
Don't know where or how I'll complete this work, I'll post more when I do; I thought folks might be curious to see how it's done. I LOVE doing this work, I discovered the process when I was 14 yrs. old; it's one of my favorite activities of all time!
I promised myself sometime in 1988 when I first took some of the manhole cover rubbings that the next opportunity to batik that came my way, I'd start making the manhole cover graphic batiks.
While I was initially bummed out that I didn't get to finish this work, it took a while for the larger lesson to settle in. It's far more important that I started it, that I was true to the promise to myself so long ago & that first & foremost, I respect my artistic integrity & always live up to it (that a good idea is a good idea & I know it).
Since so many folks here appreciate batik & like them in quilts, I thought it might be interesting for you all to see how they're done. OK, lesson over.