The dining room is nearing completion, should WT match kitchen?
This kind of overlaps questions I've been asking on the Decorating Forum, but I seem to be talking to myself there and thought I'd ask this one here.
I have a galley kitchen with one little window over the kitchen sink, and a full glass door at the end of the kitchen next to the dining room. It has a white pleated shade inside the glass. Next to it, but in the dining room are two connected 36"x60" windows. Across from the windows is a 72" patio door with a 36" French door flanked by two 18" full glass sidelights. Here's a photo of the dining room As you can see, there are also windows in the living room which have wide wood blinds.
And here is a WT I found today that I really like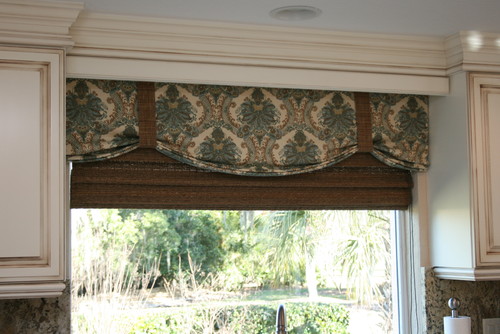 Window Treatments design by Denver Window Coverings Finishing Touches
1. My cabinets are dark, and I wonder if I should go with a light Roman shade and darker valance over it for the kitchen and all the other windows? Or dark color or blinds like the living room?
2. But my main question is if I should treat all the windows the same, or if I can mix it up and still have it look ok? Shades only on the doors and shades (or blinds) and valances on the windows.
3. Since I have the white pleated shade in the door, should I put white pleated shades on all the windows too?
4. Since that shade is inside the door (and it does nothing for bright sun), should I treat it as if it doesn't exist and put a different WT outside the door as well if I choose not to put pleated shades everywhere else? I'm really drawn more to Roman shades than pleated shades.
5. I also have a problem with that patio door. If I put shades on the door and sidelights, could I just use the attached valance alone on it and on the back door and use a fabric valance over the other windows? The doors have nice trim around them (or will have, I hope) but the windows have nothing, just sheetrock.
6. What fabric make the best valances? Something machine washable, or dry clean? Or do you just vacuum frequently and not ever take them down for cleaning?
I'm going out tomorrow to see if I can find some fabric for the valances, and I'd like some opinions regarding question #5 in particular so I know how much to buy.
Thanks for all the help you've given me so far. I promise I'll stop asking soon.