Can I achieve this look? Feedback needed!
BlackChamois
December 3, 2012
Hi friends!
Cabinets are partially in and I need to start narrowing down my backsplash choices.
So here is what I've got so far:
White cabinets with shaker style doors
Raven (Caesarstone) counters
SS appliances, knobs, pulls
Chrome faucet
Pic #1 is my inspiration picture, mainly in terms of the color scheme. I also love the dark chandy and other iron touches. However, this kitchen does not have a tile bs, where as I will. In fact I will have very little "painted" wall. The majority will be covered with bs tile.
Pic #2 in the next post is what I am considering for bs. I love the color and although typically I am not a huge fan of glass, I like it in this photo.
So my first question is ... what do you think? Can I achieve a similar "feel" as in pic #1 with the elements I've picked thus far and a tile such as this?
My other question is that along with my kitchen remodel, I am updating my fireplace. I had a new mantel built and now I need to tile the face. I will be using a brown limestone called Teakwood, but I can't decide on the size of the tile for the face. My "inspiration" fireplace (post #3) uses a 1x2.
The kitchen, dining area, living room and fireplace are in close proximity to one another (I live in a small condo). Will this be too much "mini" tile going on if I were to use a 1x2 for both bs and fp? The other option that I am considering for the fireplace is the same stone but in a 3x6 (see link). Would this better?
I am really stuck on this one as I feel one selection will drive the other (i.e. if I use a mini for the bs, then I shouldn't use mini for the fp. If I use a 3x6 for the fp, then I shouldn't use it for the bs ... etc.)
Thanks for your guidance!!!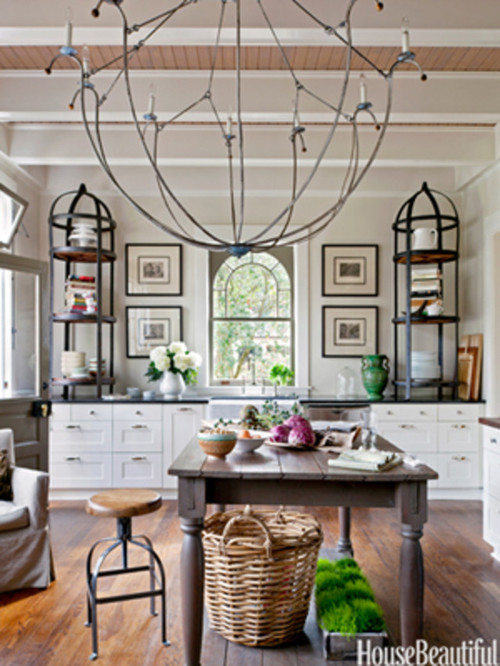 Here is a link that might be useful: Teakwood in 3x6