This is the kitchen layout song that never ends...
Hi all,
So, I posted a first draft of my layout about a month ago. I got some good suggestions but then ended up questioning my entire plan based on some possible future bathroom renovation that wasn't even in the cards previously. I've now come full circle and I'm back to a plan that is similar to my first one! Argggg....
Here are some things I learned:
- I'd really like to be able to put some kind of banquette seating in that lower right corner. The windows are big and low there and it would be a really great use of that space.
- Planning for a desk (that we have a need for now) is more important than planning for a bathroom renovation that may never happen.
- I had hoped to have a longer island, but when it runs in front of the door to outside it's a bit tight.
Thoughts on this plan? Alternatives that don't block the door to outside, or leave empty dead zones? I'm driving myself crazy!!
Thanks in advance! My husband is now convinced I'm nuts because every two days I declare "I have the plan!" and then see all its faults two days later...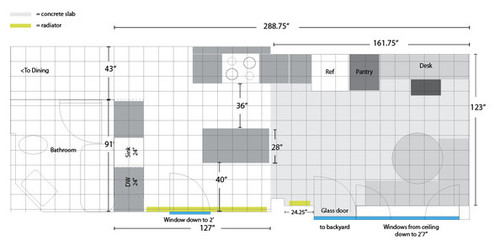 Here is a link that might be useful: Previous layout thread, with many attempts and pictures