~98% finished kitchen
itsnotrocketscience
December 15, 2010
First a big thanks to the many who helped me along the way. My kitchen works better thanks to you. If only I discovered this site a bit earlier!
I still have some finish trim, painting and a few other odds and ends to do. This is the first day in 3 months I have a working kitchen!
I'll provide some details here, I'll fill in the rest when I get around to the Finished Kitchen Blog.
Things I'm really glad I did: large corner susan, three full extension drawer for pots and pans and stuff, spice rack in upper cab to right of range, ''vitamin'' rack (as DW calls it) in pantry, sticking with the plan to include an island even though it is a wee one, trash pullout in end of island. To soon to say how tickled I'll be with my appliances, but I sure like how they look.
Things I would do differently given the chance: more drawers instead of lower doors, a tad better budget management (oh that homeowner induced scope creep is a bugger), a little different lighting arrangement (like one that doesn't give me a sunburn when at full blast). Not any really big woulda shoulda couldas here - I'm happy!
Countertop: Lemonela quartzite from a local yard - I seriously don't think anymore of this stuff exists anywhere.
Appliances: range - Capital Culinarian; hood - Modern Aire; frige - Liebherr freestanding french door; dishwasher - Miele Diamante; speed oven - Miele; warming drawer - Miele
Sink stuff: sink - Koehler Executive Chef; faucet - Kohler Vinnata; instant hot water system - Everhot hot/cold; filter - Bodyglove; soap dispenser - Kohler; air switch for disposal. Hmmm, I'm in California, where's the air gap for the DW? Shucks, I guess I forgot.
Cabinets - Smallbone custom beaded frame, flush inset, Blum hinges and guides, maple melamine interior. Custom stained and finished. Island done differently, it is distressed and darker.
Backsplash: honed and filled travertine, ''Premium Italian'' 12'' x 12'' floor tiles cut into 4'' x 4'' tiles by my granite fabricator, edges eased. 1-1/2'' buttons made from left over counter top material, milled to approximate thickness of tile. I don't recall the grout color.
Floor - existing - Anderson Mountain Hickory Golden (the few spots where new floor was laid sure doen't match the old very well.
Hardware - Jeffery Alexander, Symphony and Venezia lines
Now the pix: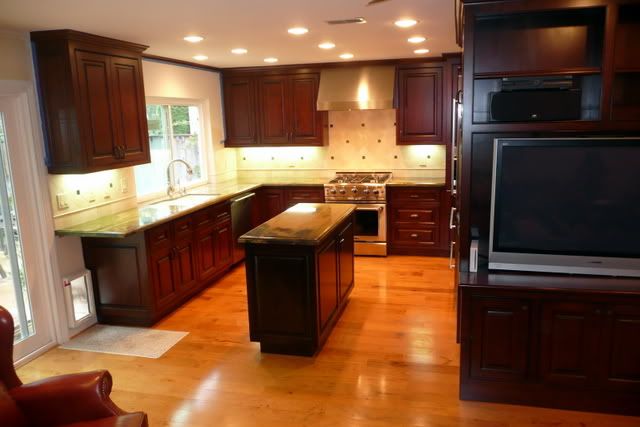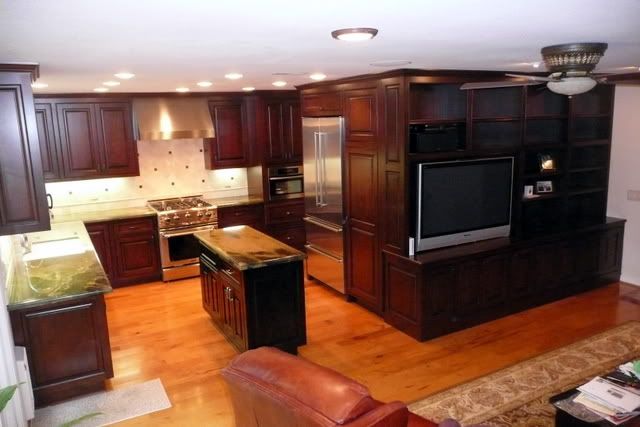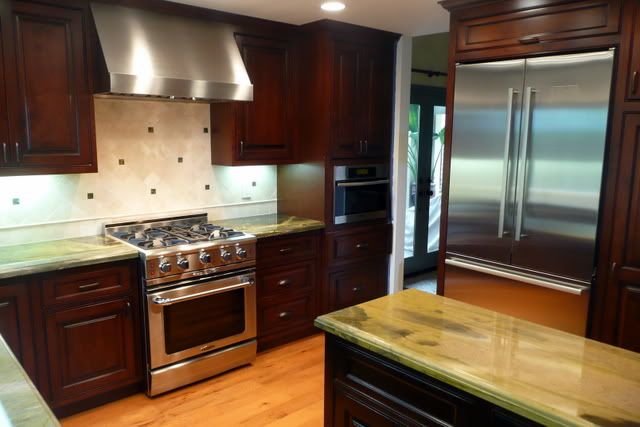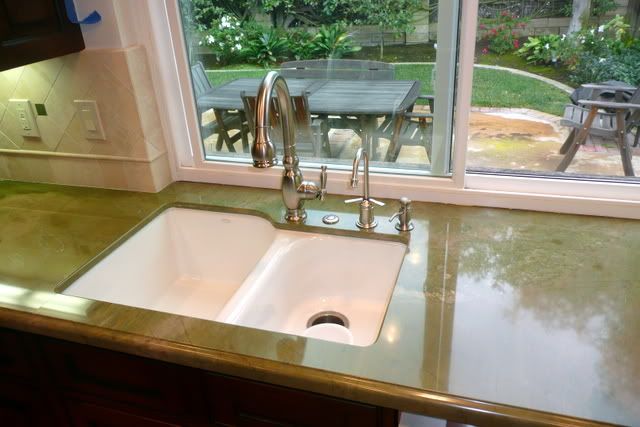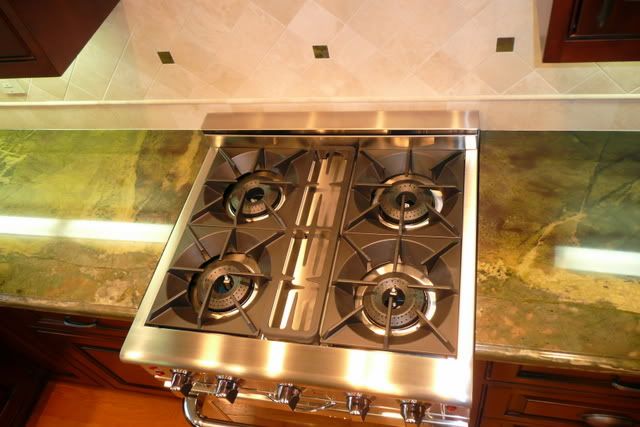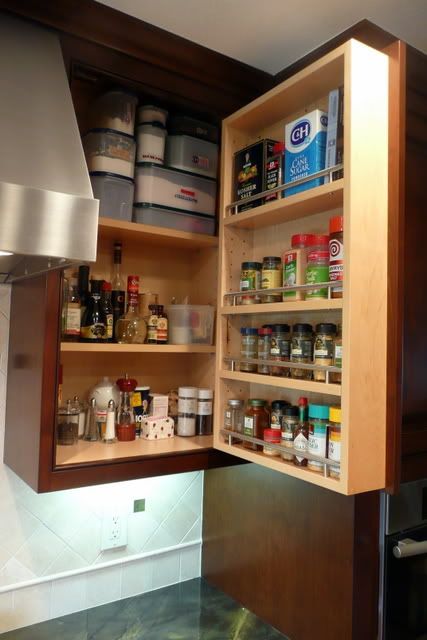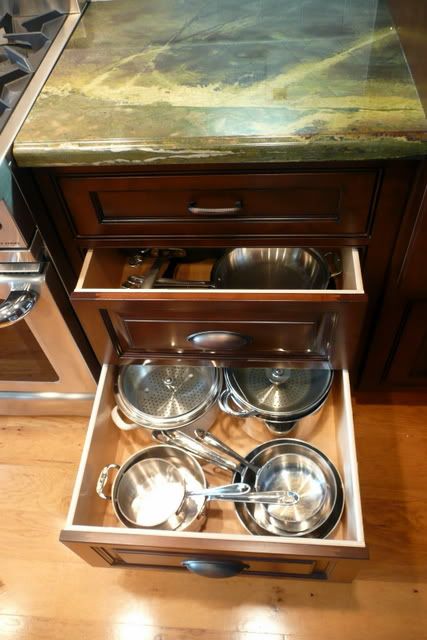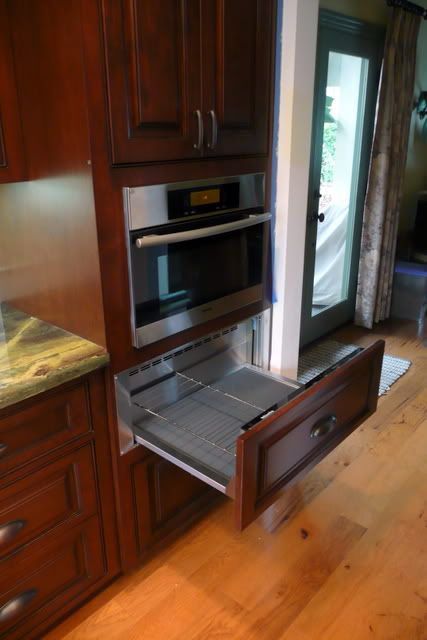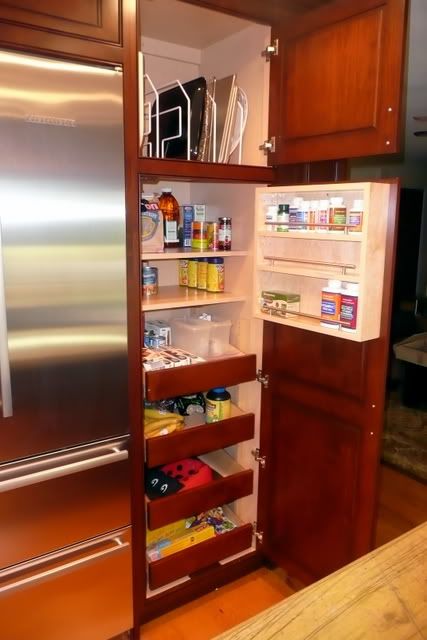 And just to show how much DW and I love our dog, we kept his dog door and stoped the cabinet short (this used to be under the overhang of the peninsula).