Sink Placement - Lesser of two evils?
blackchamois
December 6, 2012
Hi All,
I've selected my counters and the guy came out to template yesterday. They were supposed to be installed on 12/10 but the slab I selected (Caesarstone Raven) won't be in until 12/12. So I have some additional time to ask a few follow up questions without being in panic mode (to your relief!):)
Just to recap, I decided on an eased edge that is 1.5" thick (discussed in Part I)
Now my second question ... as you can see from my photo, the sink base is not centered under the window. This was the case prior, and due to not wanting to relocated the DW and move plumbing, in addition to the fact that my kitchen is small with few option for rearranging things, I opted to keep it the same.
The sink that I purchased is the Franke ORX110 which has an off-set bowl such that the placement of the faucet would be slightly to the right of center.
I have two options for placement of my sink:
1) Either I can center the sink on the base cabinet (which would be the most standard thing to do). But then my sink (and faucet) would not be centered on the window. Or ...
2) I can have the sink set as far right as possible on the base cabinet, thus allowing the faucet to line up (almost) centered on the window.
My cabinet guy, GC, and fabricator said option 2 would not be an issue, so that is what I told the fabricator to go with. But once again I am second guessing myself and would like your feedback since I have a bit more time. Either way, something is not going to line up. Is there a lesser of two evils?
Thanks!!!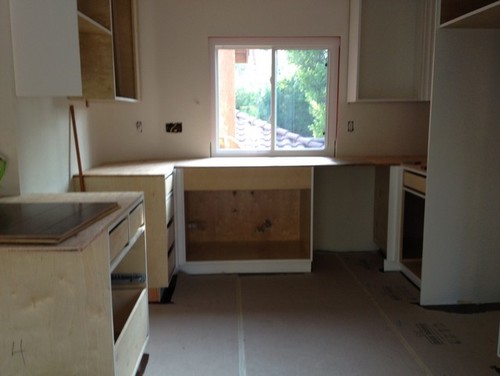 Here is a link that might be useful: Franke ORX 110