Need Layout help
I posted this under my original post from June, but thought I better repost it by itself.
Hi all,
The exterior of the house is 95% finished and we are starting to work on the interior. We have signed on with a KD who we really like and are planning on starting the kitchen sooner than we thought. The KD came up with this initial plan for our price proposal based off of the architect's rough drawing. We do know that the sink wall measures 7" longer than what he has here. The rest looks pretty accurate and they are coming out to measure later this week.
Without the extra 7", there is 42" between the island and the sink and 36" on the other sides of the island. A couple of thoughts I already have: We would only have one wall oven with the microwave above it. I think the dw needs to be on the left side of the sink, although the designer said that it was a toss-up because of the proximity to the refrigerator. The question becomes, then, if I am prepping food on the right side of the sink, where should the trash pullout go. Seems like it would be in my way. Also wondering how best to use the extra 7". I would really like a farmhouse sink and it could certainly be used for that with a wider sink base.
The island has two options right now. One with counter top and a open shelf underneath and one with some cabinetry. My husband would like to do the second option with a bookcase on the end instead of a stool. He would also like to make the island a few inches wider. I like a more open look and am thinking maybe the first option might work with a row of drawers (horizontally) below the counter.
Some other changes since my initial post: We found space for the laundry up on the second floor, so we now have room for a pantry either in that space or where the closet was planned. The opening to the dining room will be a little expanded on the left to widen that traffic area. Also we are moving the door to the half bath over a little so we can have a proper small sink there.
Hopefully the plan is readable once I post it. Any input is greatly appreciated.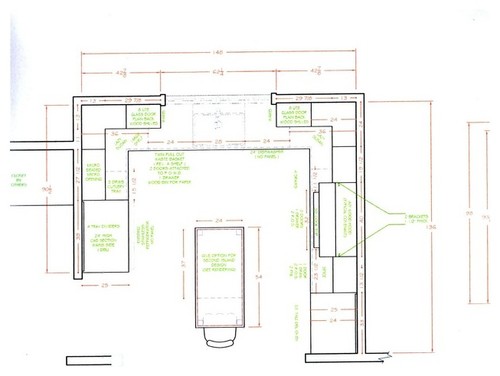 Here is a link that might be useful: Original post