Mini Reveal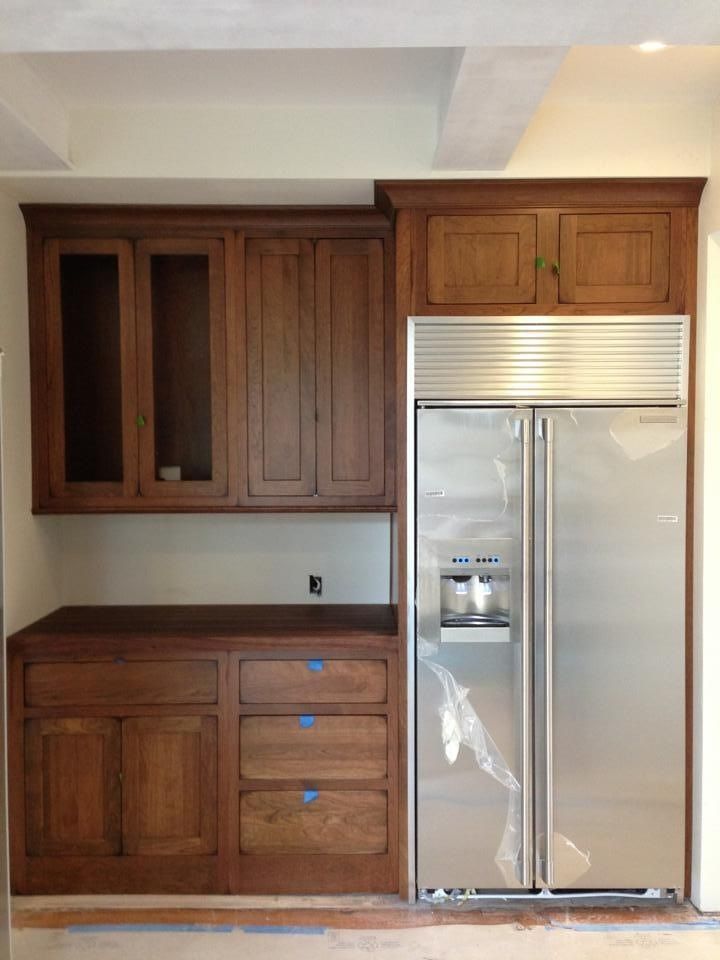 My feature wall cabinets have arrived and been installed. They are Shiloh inset in "vintage" cherry with their Sundance finish. Flush toe kick since this isn't a prep or clean up space. The countertop is 2" thick walnut with an eased edge and oil finish. The rear of the glass front cabinet will have a mirror installed. Eventually, these cabinets will have unlacquered brass knobs and long bar pulls from Colonial Bronze.
The fridge is an Electrolux Icon and I will tell you, it's a big step down in quality from a SubZero (which is what it is replacing) but I really needed to resize the fridge to improve kitchen function. On the bright side, we do have chilled water again. And ice.
So far, my contractor has been a dream and the project actually looks and flows like it is being handled by a professional. I am so pleased. It is such a relief after all the awful contractor experiences I have had. I can't wait til the beams and ceiling are painted in. Also, we have to blend in the floor finish since these cabinets aren't as deep as the "custom" cabinets they are replacing. Once that gets done, we can install the shoe molding and the bottom fridge grill.