Is there any hope for this kitchen?
olivesmom
December 28, 2012
Plans have changed and we *might* be placing an offer on this REO. It was built in 2007, nearly completed and has been vacant since. While its not my dream home it may be too good of a deal to pass up, plus it has many of the features we wanted.
We will be doing an inspection and getting bids for the work needed. The kitchen is missing appliances, a faucet and light fixtures but I think I would go ahead and put new cabinetry in since I don't care for the current stuff. I would do the same with the flooring as well.
I don't have a floorplan, all I have are theese listing photos. Here's the kitchen from the "eat-in" space. The pantry isn't shown, but is next to the refridgerator space. Separated by that wall I believe.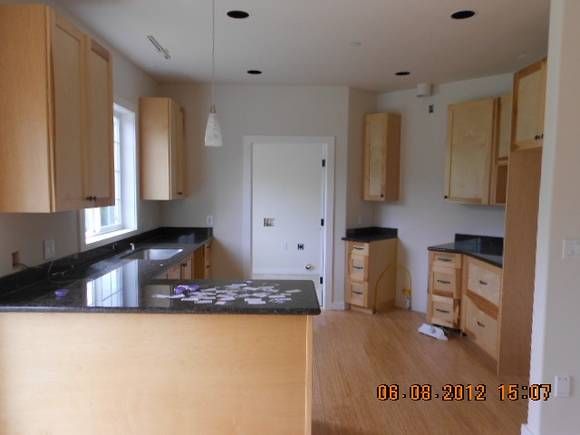 Here's the view as you enter the living room
And this might help to give you an idea of the formal dining room. It is on the other side of the staircase, through that opening next to the door. Walking from the kitchen you just go down the hall, there's no doorway on that side.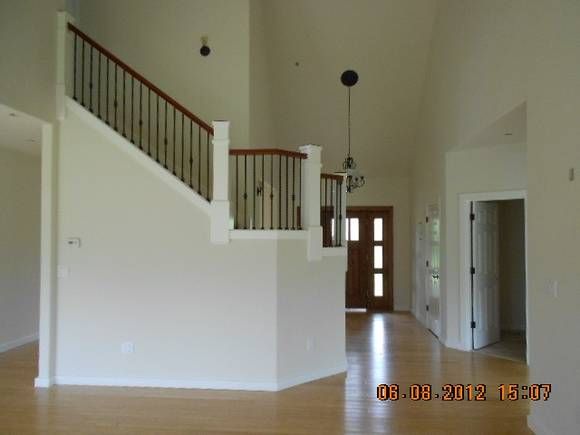 Back to the kitchen: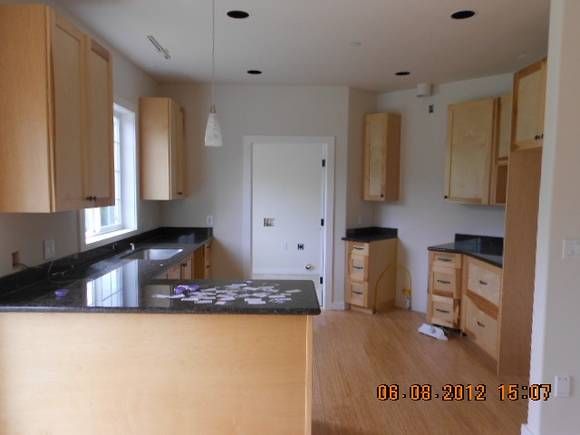 As you can see the laundry room entrance (which leads to the garage) cuts the kitchen in half. I really wish it wasn't like that, but that's the way it is. With the current set up I have the following concerns:
- there doesn't seem to be a good prep spot near the stove area. I do not like to prep facing a wall or cabinets, so I would likely prep at the end of the penninsula. That's seems like too much of a walk from there to the stove carrying ingredients.
-I would like a larger stove (maybe a 36" bluestar) and I don't know how a larger one will work with the cabinets in the current stove spot. I'd also like a wall oven if possible.
- I'd also like a larger fridge, not sure of the size but a SZ of some sort. Not sure if one would fit width wise.
- I'm not sure I want an "eat-in kitchen" at least not in this layout. It seems a bit redundant to have a kitchen table so close the dining table. Also, the eat in space is pretty small and would require a tiny table, not to mention the eat in space sort of encroaches on the already not so large living room. I was thinking of maybe doing an island with seating or enlarging the penninsula to allow for seating. Here's a photo I found on houzz that shows an angled penninsula, which is how I think I'd have to do it in this situation (this photo is just for the angled penninsula, I'm not sure I can move the other stuff around much)
As far as my cooking needs, I'm pretty much the sole cook in the house. I generally cook and serve several meals per day for my toddler and preschooler and husband. We may or may not have more children in the future, but for now we are a family of four. I generally cook from scratch and we go through a ton of produce. I like to entertain when possible and I look forward to finally having a formal dining room. I stay at home and pretty much live in the kitchen, I want it to be nice and functional.
So if anyone has any layout suggestions I would certainly appreciate it. I would like to get an idea of what I want so that I can get a cabinetry quote. Sorry for not having a floor plan ( I only have my iPad right now so I cant draw one either), I know that would make this easier.