Aesthetics Only
aloha2009
December 14, 2012
Hammered out the function of this kitchen but now I need to finish making it look proportional. Here's something we came up with but aren't "sold" on yet. Comments, suggestions are welcome. Most/all of our issues are with the main range wall.
Pic 1 shows a 9-12" shelf across the range wall. It would have up and down lighting to create ambiance. A thin facia board would link the range wall with the frig wall.

Pic 2 shows same thing with a vertical piece giving an end to the kitchen.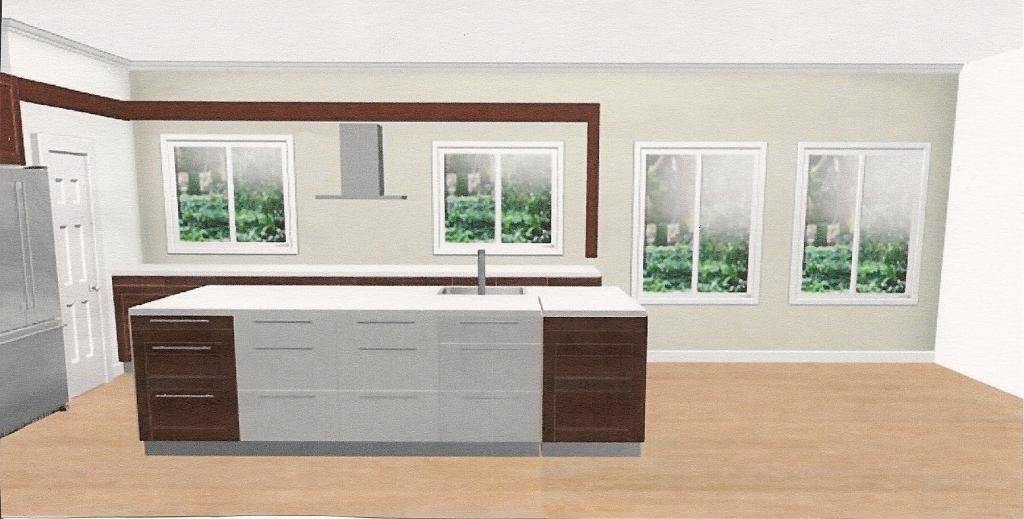 Pic 3 shows an angle of the entire kitchen.

I'm having issues with pic 1 being a bit abrupt with less reasoning behind why it ends. Ideas for finishing off the end? Is pic 2 weird. I would think there may be a better option.
We're obviously open to a topless kitchen, but would love ideas that have something other then just windows. We want the windows in the kitchen to be at the same height (on top) as the existing windows in our octagon dinette to the right. We do have an option of making a transom type window since in the area there are transoms.
Yes I know the DW doesn't have a side panel but it's IKEA software, what can I say. At least I was able to finally fix the frig/oven cabinets.
Also on the range wall, were trying to work within IKEA cabinet sizes and for the most part it doesn't seem to bad.
We're debating about a 36" 30" 36" 30" 36" run or a
30" 36" 36" 36" 30" run. Any thing for us to consider or think about?
I'm not that creative and I don't know what to search on houzz for different abstract ideas with shelving.