How functional is my layout?
It is probably not the best time of year to be asking questions but I would love to receive some feedback on my kitchen layout if any of you have the time.
The rough plumbing and electrical are in, making changes difficult but not entirely impossible.
The kitchen space is open to the living room and the aesthetic is modern with a 15-foot wall/ceiling at the west side (your left), sloping to a 9-foot ceiling on the east. The top of the pantry is open and its side has a sliding barn door.
The dining room table is in a fixed position, centered between two of the home's exposed glulam beams. That position leaves 58-inches from its edge to the bar-side of the one-level island; where there is 18-inches of legroom underneath. On the other side, the island counter is 46-inches from the sink counter.
The cluster of pendants over the island are pictured at the link below. They will be varied in length and color. Their position was based upon the island having an elevated bar-top that extended another 14-inches towards the dining table and overlapped another 8-inches of the island counter (22-inches raised bar in total). That condition only left 43-inches from bar counter edge to the dining table; thus the revision. I think the pendants' position still may work as shown in the provided plan but I could be fooling myself. Their intent is to be a focal point and 'groovy' mood lighting (usually dimmed) more than lighting for the prep-side of the island. If anyone thinks 43-inches from edge to edge with bar-stools in-between will indeed work, I'd love to hear about it...
The east side of the home (with the range) is about 7.5-feet from a neighboring house while the south side (sink) has windows with pretty views of the large front yard. As with the dining table, the range and its hood are centered between exposed beams.
The counter-top space extending into the dining area is definitely not typical and may raise some eyebrows. The wine storage and wine refrigerator were placed beneath and will hopefully be functional. The 7-foot of counter can also serve as a buffet.
The refrigerator placement was a silly blunder that will require an expensive unit with a 90-degree door-stop. Hopefully its placement is good with all other factors.
Anyway, thanks for looking! I am very eager to read your replies.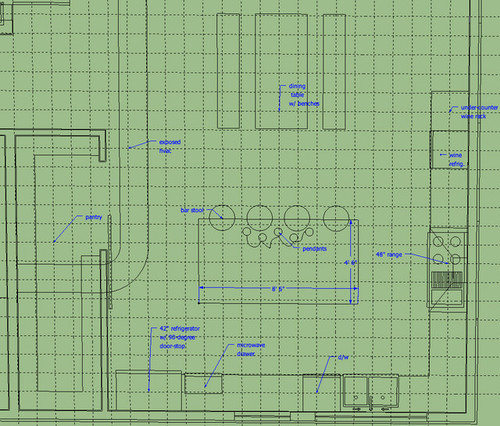 Here is a link that might be useful: Pendants (above island)
This post was edited by pulpo on Thu, Dec 27, 12 at 12:19