Befuddled by my blue/beige floor and color for countertops
foursocks
December 23, 2012
New to a major remodeling project, I'm so worried that we'll spend a lot money and not end up with something we like. Although, we are fighting with many decisions, the one that is my immediate concern is:
We are keeping our current kitchen floor, blue/grey/beige swirl porcelain 12" tile (see picture). Because of the dark shade of the floor, we are going with cream color cabinets.
Thus the counter tops become the problem. "U" shaped counters with a large (4'x8')central island, 1/2 of the counter will be used as dining area. I love soapstone but don't believe the darkness of the floor tile will allow for a dark counter. Granite with swirls wouldn't work because it would conflict with the floor. I like matte finish (told antique finish will give me that).
Some of my thoughts, flaked granite with beiges, golds, browns and whites? Should I go with a darker piece of granite for the "U" shaped and go with a creamer piece for the island? Use all one type of stone?
Any other ideas. I'm at a lost.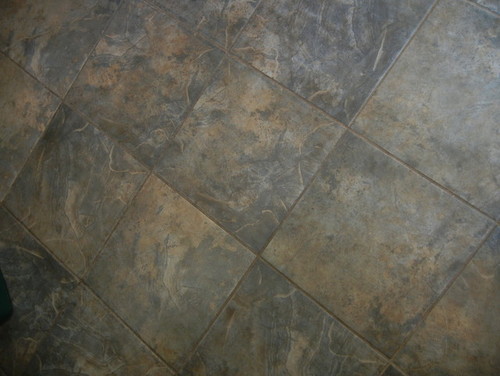 This post was edited by foursocks on Sun, Dec 23, 12 at 18:42