Calling all kitchen space planning gurus :)
GauchoGordo1993
December 14, 2012
Hi All,
I've been reading this site for many years but I've never posted before because up until know every question I had was asked and answered. But now I have a question that involves the layout of my house, which is unique :)
We're planning a kitchen remodel and I'd greatly appreciate any advice y'all have on the layout. Attached picture is my current concept.
The space includes the original kitchen plus what used to be the family room (we added a larger family room a couple years ago, so the original family room space is now part of the kitchen/nook).
Some of the thinking behind my current concept:
- We'd like to center sink on window, and it would be hard to move the window more than a foot or so because a shear wall starts there. So the sink placement is fairly fixed.
- I put the range there because the proximity to the sink seemed about right and because I can easily install a nice exhaust hood if the range is on the exterior wall.
- I like the 3 zones layout: cooking around range, cleaning around sink, and storage on interior wall (all high cabinets, more or less).
- I'd like to have an island, but I concluded there's not enough room.
- We eat all our meals in the dining room, so the nook table is primarily for hobby/utility/homework and dinner party overflow.
- The round peninsula was inspired by the "round peninsula" link below. I'm thinking that it will be great for conversation, serving, and casual eating.
Thanks in advance for your time!
-Gordon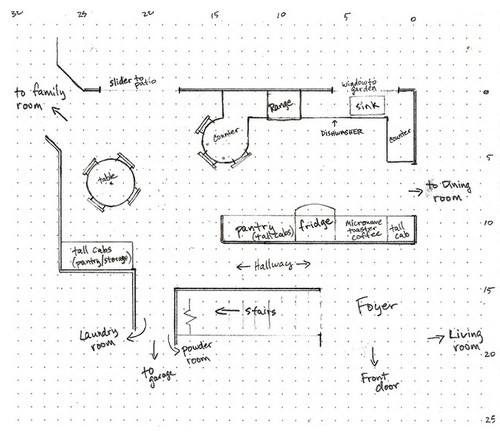 Here is a link that might be useful: round peninsula