My first post... getting feedback on the layout
Everything on the forum has been quite helpful in working through my kitchen planning. I'm now getting to the stage of selecting a plan and picking a contractor. I'd thought some group-think would be useful in helping refine down some decisions.
The plan is attached. A wall between the kitchen and dining room is being removed, and the spaces combined. The blank space shown will either be a corner banquette or a table. The existing formal dining room is being merged into an adjacent formal living room. A large family room is to the rear of the house.
The walls being removed are shown in gray. The smaller wall leads to the original back porch, which transitions to the family room. This is the main open question. Removing this wall is a little more complicated and adds $4 to $5K to the cost of the remodel. Do you all think it would be worth it?
The home is a colonial built in 1937. The cabinets will be inset, in a mix of cherry and white painted cherry. I'm current planning on putting the stained cabinets on the perimeter and making the island white. I know it is more typical to reverse the two. Any thoughts on that?
I'm trying not to change the window locations.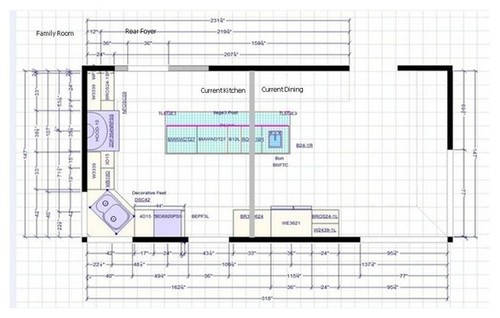 This post was edited by gooster on Wed, Dec 12, 12 at 14:52