Sending out my vintage faucet SOS to the world
I am now in the seventh Malebolgia of kitchen planning, the Sink Fixture Bolgia, wherein homeowners in search of 1920s vintage charm are chased by gigantic living fingerprints and hurled repeatedly into a molten river of FaucetBrite.
I need to find two sets of fixtures that work together in vintage harmony.
The main cleanup sink (a cast iron undermount) gets this, in polished chrome:

The prep sink in the island (an 18" cast iron undermount) gets this, in polished stainless steel (no chrome available):

I realize they only sorta go together. But the Jaclo is the only fixture I can find with the function I need and a look I can live with. No way can I abide a clumsy sidespray at a prep sink, but at the same time, real pull-down faucets are big, bulky and look like something that the Trojan corporation is currently distributing outside a nightclub in Boston. I am hoping the two main fixtures look OK together.
Problem is, I've been looking for matching accessories for so long I'm developing nervous tics.
For the prep sink I need:
- Airswitch
- Soap dispenser. I just can't see leaving a freestanding bottle sitting on the island.
For the main sink I need:
- Airswitch
- Side spray
- MAYBE a soap dispenser. I could live with a bottle here. Unfortunately this counter run is 30" deep so I can't use the cool vintage wall mounted dispensers I've seen online.
So here are some options. For the prep sink:
- The matching Jaclo soap dispenser. Technically it matches--look at the shape of the flange and such. But it's way too mod, unless it would just look sorta invisible.

For the main sink:
- Sidespray, there's this Newport Brass Number.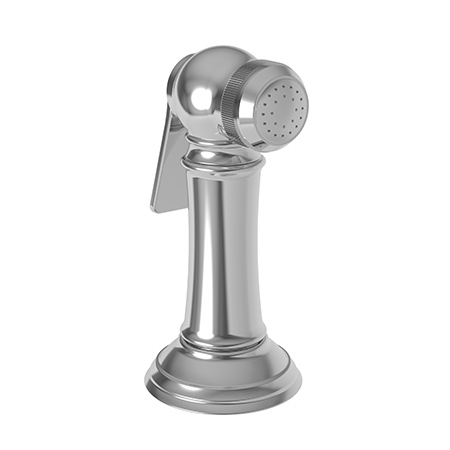 - Matching soap dispenser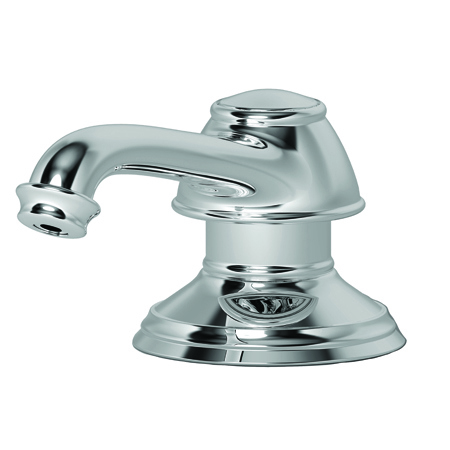 There's a Kohler "Traditional" soap dispenser.

There's also the Kohler HiRise independent side sprayer, which has its own temperature and flow control, sort of. The function is great, but it doesn't seem to go with the main sink faucet. I'd actually considered using it as the only prep faucet, as someone else did here, but I don't know if I could stand it.
So--any ideas?
This post was edited by marcolo on Tue, Nov 27, 12 at 21:39