Pendants are FINALLY hung after almost a year!
breezygirl
November 3, 2012
These pendants have been a thorn in my side for almost a year. I bought them from One Kings Lane for $49 each intending to do a DIY mercury glass technique. I like the shape, but was afraid of bare bulb/glass glare. The Krylon paint for the MG technique is not easily found IRL so I kept looking and was too cheap to pay shipping from Amazon on an already expensive can of spray paint.
Upon closer inspection I saw one of the pedants had black marks on the white cord and some odd flaws in the glass. When OKL tried to send me a replacement, they found the fixture was discontinued. I searched and searched all the sites where I'd seen them, but they were, indeed, gone. OKL kindly refunded my money on the one damaged light and offered to buy back the other from me since I needed two. I figured the cord might be cleanable and the glass flaws would be covered with paint so I kept them both. At $49 for the pair, it was worth the risk.
Then, my sparky came to hang them many months ago and discovered they needed some additional parts in order to do the actual hanging. I spent a couple of weeks searching them out and thought we were good to go. Sadly, my sparky went dark for months. DH finally stepped up to call him and he appeared the next week. Got the fixtures out, handed him the parts I'd scrounged, and stepped back preparing to be amazed. The screws were wrong. Arggggghhhhhh!!! Sparky jokingly said that's what I get for buying India-made fixtures. After a few more days, he found the right screws and here they are!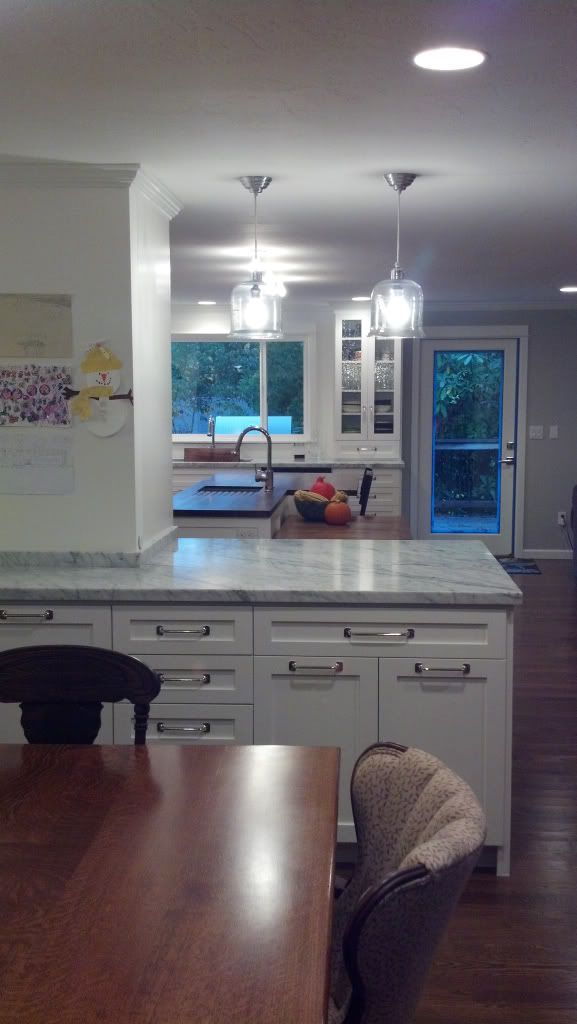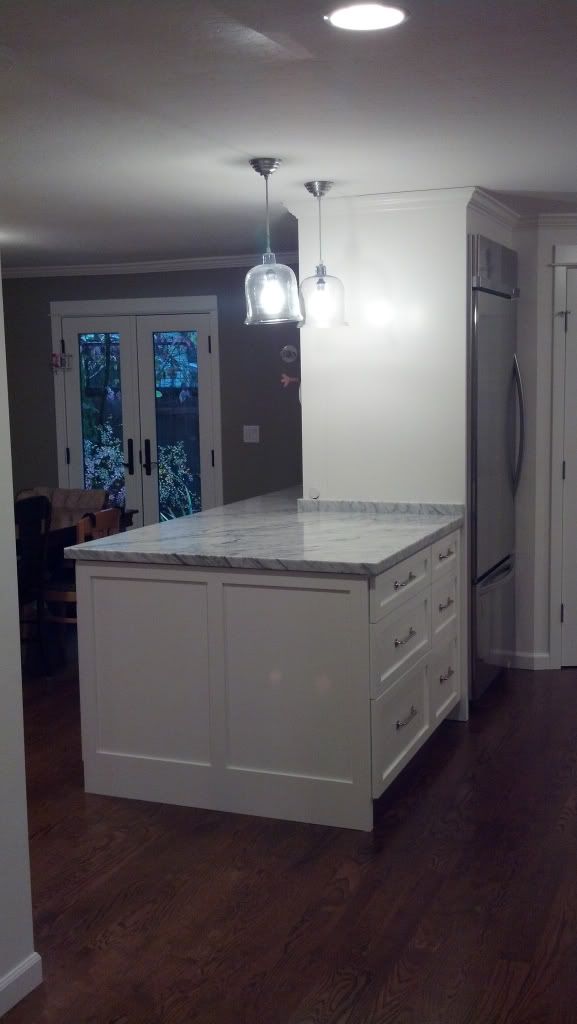 Unfortunately, the wonky fixture is also crooked. I wish sparky hadn't hung that one at the open end of the peninsula. It may take my procrastinating DH months to swap them, but I think I'll ask him if he'll do that for me. Maybe that will hide the crooked one a bit.