Please Help me Design my Pantry
Now that I have my kitchen layout pretty much nailed down, thanks to all of you (!), I need to figure out my pantry.
I have the space in the top right corner allocated for a reach in pantry. I plan to have my m/w in there, along with a p/o cabinet for dog food and bottles for redemption (seperate from regular recycling). Daughter saves these and sends the money into charity of her choice, so I want to make it easy for her. :-)
I'm having difficulty figuring out the door situation.
The space itself is 84" L, and there is a wall to the right side which is 29". However, this wall is deeper than the pantry area by 6", so if I want pocket doors, we have to extend depth of pantry area by 6". (Hope you guys are following me...)
But this involves moving the doorway at the top over 6", which involves losing the banister directly behind it. And also patching my new HW floors in that hallway. And also having doorway literally right at edge of staircase. Also presents the problem of having 'wings' on either side of pocket doors...I was thinking of doing deep shelving here for bulky items like appliances, paper towels, etc.
Other option is bi-fold doors. This would be less expensive since it doesn't require the amount of reframing needed for pockets, and I don't have to worry about moving doorway.
BUT, are bi-folds ugly? If I order really nice ones, I've pretty much negated any cost saved by not having to move doorway, etc.
What about doing two doors with split french doors? So, a regular ~40" door split in two, twice? But then I think I have to have a drywall piece down the middle, and is that a waste of space?
Two of these, right next to each other: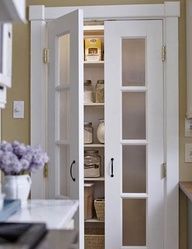 Any ideas?
Space is 84"L x 30" deep, as it is today. That interior door has been removed so that it is just a doorway. Not a major traffic thoroughfaire.