Vintage, low-budget, progress pics:
mama goose_gw zn6OH
November 25, 2011
There are several current threads that address styles that I've used in my low-budget, DIY remodel, including two colors of cabinetry, stainless apron sink, off-white inset cabinetry, and recently there was a 1920's 'Design Around This' thread that I thoroughly enjoyed. I wanted a homey, vintage-style, farm kitchen, that looked as if it had been added piecemeal through the decades, painted by hand, and updated, not gutted.
I've incorporated used, salvaged and inexpensive unfinished materials in the remodel, which is more of a facelift, keeping as much of the old cabinetry as possible, re-using doors and drawers. We'd found some great deals on craigslist and ebay, including a discontinued faucet from a showroom display. The hood is DIY, using an old feed bin from the barn. The countertops around the sink and stove are epoxy resin lab-tops from an old school, and the island was a $100 used table, found on craigslist.
Not including a new (low-end) fridge and microwave, the cost so far, without flooring, is around $3000. If you want to start at the beginning, here's a link to my kitchen album. Or, you can go to the end, and scroll backward.
Here are a few pictures, going around the room: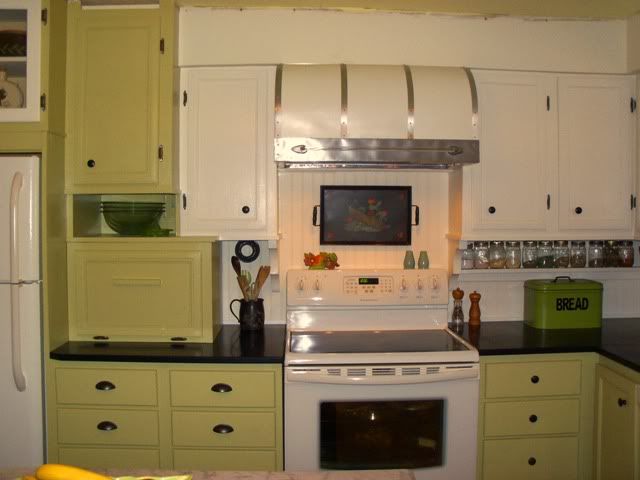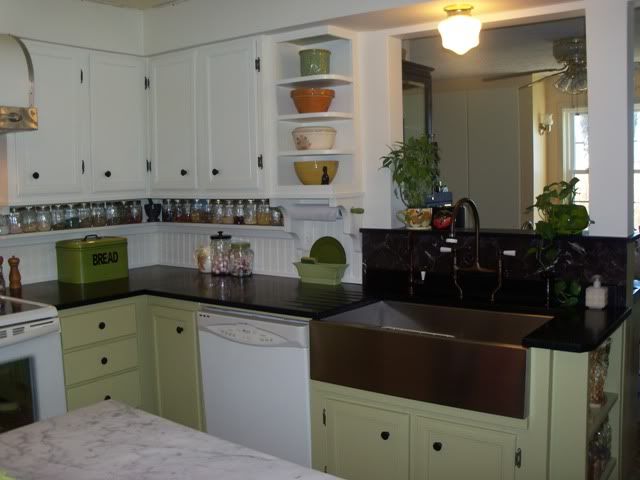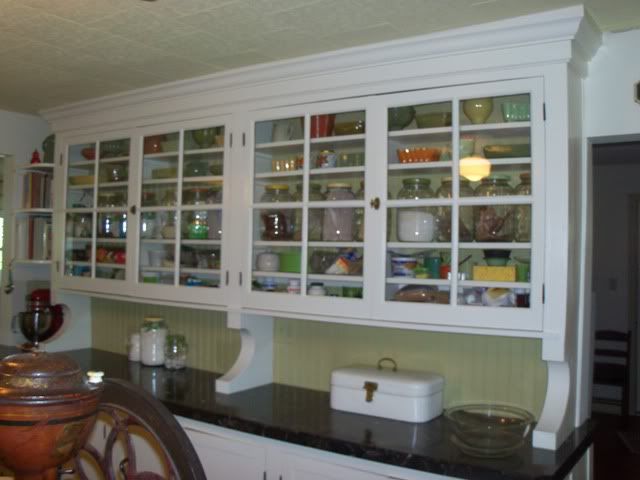 View from the dining room. Not sure if I'm keeping the coffee grinder here--it's huge, but I love it: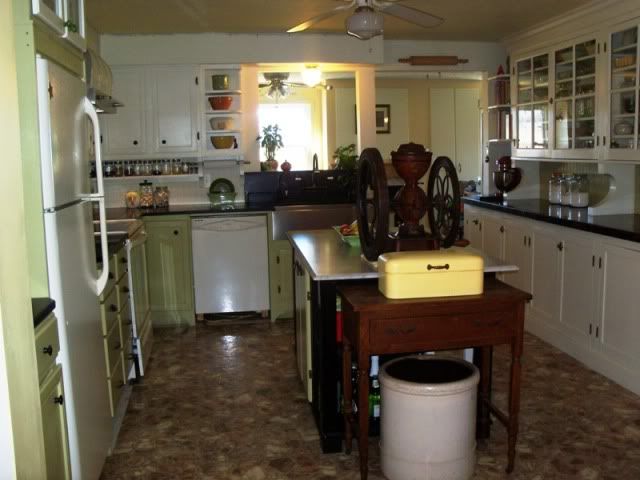 ebay sink, faucets and sprayer: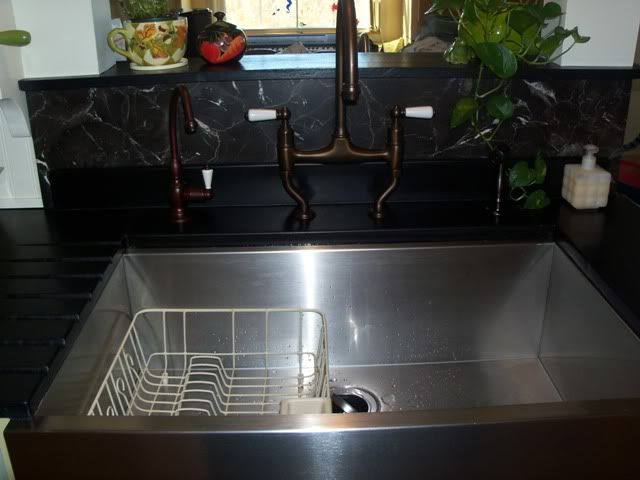 With cutting board: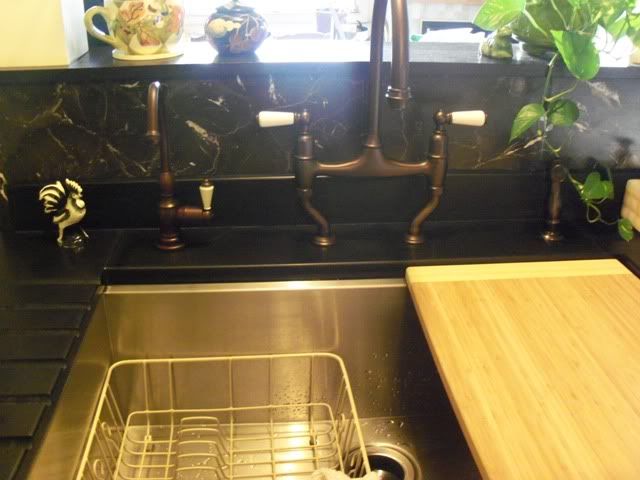 Old stove used for storage. It's in the dining room, my next project: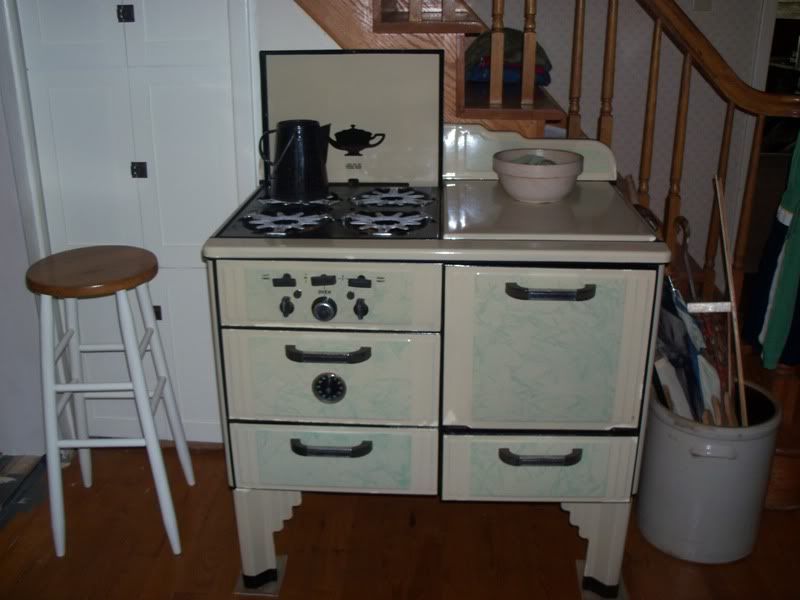 Except for the ceiling trim and flooring, and maybe some short curtains on the glass cabinets, the kitchen is finished. I started posting my kitchen progress in the Smaller Homes forum, and with encouragement from one of my friends there, I've decided to tell the rest of my story.
Some of you who have looked through my kitchen album may have noticed that last October (2010) I stopped referring to my husband, and started talking about having help from my father, BIL, and brother. Three weeks into our kitchen remodel, my wonderful husband of 32 years, suffered a massive, fatal heart attack. It was totally unexpected--in September he had been given medical clearance form his doctor to apply for his private pilot's license. We were high school sweethearts--still happily married and best friends.
I was left reeling, with my life turned upside down, and the kitchen torn apart. Family members stepped up and volunteered, but I realized early on that if I wanted the kitchen that I had envisioned, I'd have to learn to do it myself. I pestered my father, FIL, brother and BIL with dozens of questions, and with their help and encouragement, I've ploughed ahead, sometimes stepping back and starting over, asking for help when I had to have it, but making steady progress. Working on the kitchen has been therapy for me, helping me to cope with my desperation and devastation.
I never wanted the kitchen remodel threads to be about my loss--I've had plenty of support from family and friends, and from my GW Smaller Homes friends, too. I've learned so much from the Kitchens Forum, and many times read GW threads into the wee hours of the morning, when I couldn't sleep.
Since my kitchen is essentially finished, I want to say thank you to you all--your help and encouragement have been invaluable. If anyone has questions about my kitchen, I'd be happy to answer them and provide more information. You can also read my kitchen thread in the Smaller Homes forum.
Here is a link that might be useful: Kitchen thread in Smaller Homes