faucet & hardware for a sort of farmhouse, bold tile kitchen?
Last time I asked for help with my kitchen plans, over a year ago I think, we were looking to do blue cabinets and use some tiles we picked up while traveling in Turkey. Well, plans have changed and I could use some help with a few choices.
This is a mostly DIY job, and while wrapping up some other furniture refinishing projects, I realized that I just don't want to paint all those cabinets. The Turkish tile we bought is beautiful, but would only fill a 24" X 24" space, and we realized that we don't want the behind-the-range focal point mural look - we wanted to go bigger and bolder. So, this is where we're at: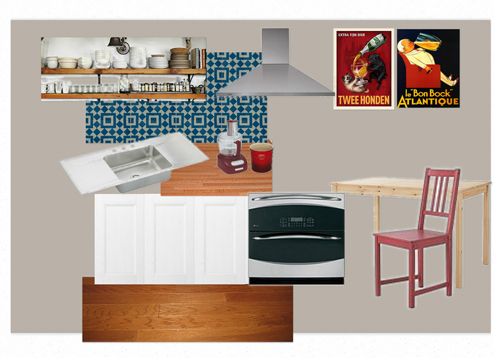 These are the definites, the stuff we already have:
Ikea Ramsjo white cabinets, very few uppers - just 1 wall.
beech countertops
Elkay drainboard sink
Broan chimney hood similar to the one shown
GE profile single/double oven & cooktop
dark red countertop appliances
hickory floor
light pine table & red chairs
vintage Belgian beer posters, not those pictured but in a similar style.
The Fez tiles from Granada Tile, which are much brighter in person, have not yet been purchased but we are fairly certain that these are the ones for us. They're 8" cement tiles, and will go up the entire wall (~7' wide space). This is the wall with the oven and hood.
One wall will have about 48" of open shelves, and we are leaning heavily toward a rustic stained wood look for those, but stainless steel and white painted wood are still possibilities. Our white everyday dishes will be on these shelves, perhaps also cookbooks.
The background paint color shown there is BM Silver Fox, which I have in the adjacent family room and love. Not set in stone, but a strong contender.
We're undecided on a faucet and cabinet hardware right now, and that's where I especially want input.
For faucets, we're pretty sure we want a high arc style pull-down, probably single-handle Our sink, a steal on e-bay, has 4 holes, so we will need an escutcheon plate and maybe a soap dispenser to fill those and hopefully not look awful. We're back-and-forth between the industrial-style and the more transitional, like these examples: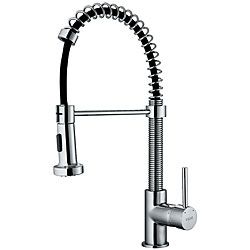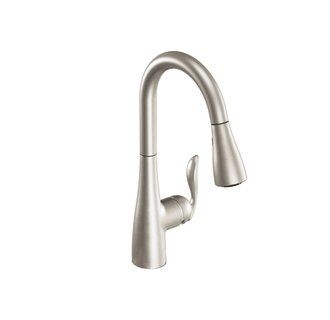 For pulls, I'm at a total loss. I adore the Restoration Hardware Aubrey pulls, though I'd do a cheaper version: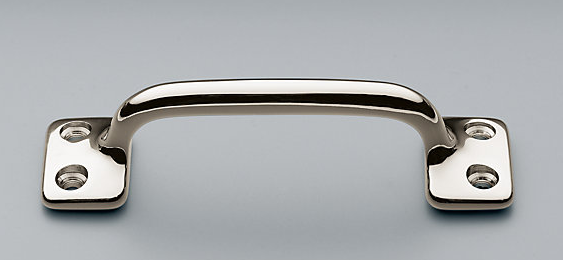 But I don't want to use pulls that are screwed in from the front, so they are out. Nothing else I've seen really speaks to me, but I think I'm getting decision paralysis from looking at hundreds of pulls.
I'm hoping that the collective wisdom of the forum can help me nail these! Any votes or suggestions will be appreciated, but let me note that this is definitely a low-budget operation.