request for layout help - tough space!
msfidget
November 26, 2012
Hi everyone,
We moved into this house about 3.5 years ago. The kitchen was brand new then. The kitchen people came up with a plan and we just went with it. I was being lazy and didn't think about it enough, now I'm suffering for it! When we bought the house we had one child, now we have three. The kitchen is my least favorite part of my home and very painful to be in. I would love to do something with it to make it more functional, and I'm hoping the braintrust here can help! I should mention that I am *terrible* at this type of thing, and I know it, so feel free to bash any ridiculous idea that I might mention.
We live in a historic home. A 'protected' historic home. Meaning, we can't change any windows, doors, or walls since they are original. Because it's an old home, it has an old layout (ie, the kitchen is nowhere near the family room, it is sort of just attached on it's own to the house with 3 exterior walls. Exterior walls means, you guessed it, doors and windows. The windowsills are about 2' off the floor. And I can't remove or replace any of them due to the historic district restrictions.
Here is the current layout:

When we first approved the layout, the intention was for the kid(s) to sit at the breakfast bar. But in practice, that didn't really work. With a special needs child and infants in the house, our little people needed quite a bit of help eating and the one-sided bar didn't allow for that. So the square table was purchased afterwards so we could feed our kids.
Here are my three largest issues with our current kitchen.
#1) sink area. The trash pullout is in the blind cabinet next to the sink. Three small kids means lots of messes, lots of cleanup, and lots of trash. We have three adults in the house so it seems that someone is always in someone's way trying to get to the trashcan. Occasionally I put a second trashcan at the end of the sink run next to the dishwasher but that blocks my only prep area, always gets knocked over, or one of the kids puts something important in it, so I don't like doing that.
#2) walkway from fridge to kitchen. Since we added that small bistro table, that area is really cramped. All three kids are in bulky booster seats attached to the barstools. And between 3 meals and multiple snacktimes through the day, it seems they are always in those chairs. So getting to and from the refrigerator is tight.
#3) no prep space. We rarely use the space to either side of the cooktop, other than to get at the appliances on the counter. Probably because its so far from the trash and sink. The only area we use for prep is the countertop over the dishwasher. And if you stand there prepping food...you are always in the way. And even this small area of countertop is far from the cooktop.
Looking at the layout it looks like the barstools are obstructive in the walkway to the foyer, but they're not really. It's probably not an issue though because nobody ever sits there!
Here are the elevations from the original layout, I made some notes on them. I'm sorry for the size. I've cropped them in photobucket, and they are showing up cropped there. But oddly, they are not cropped here and I can't figure out why.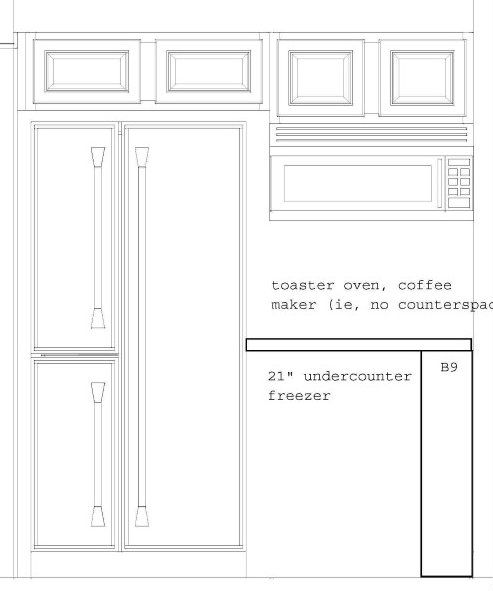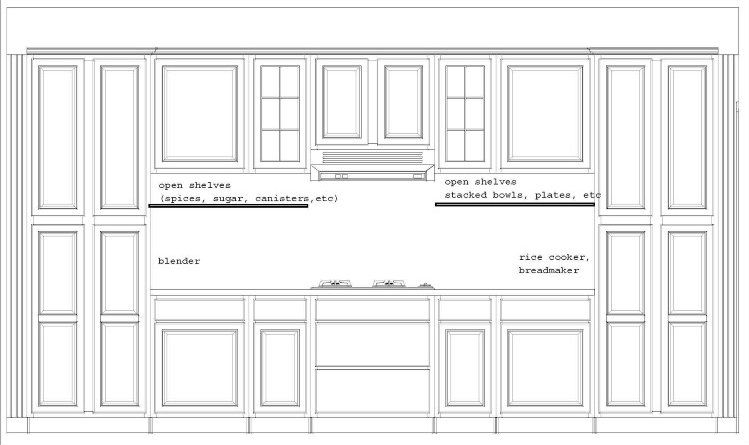 Here are my answers to the questions in the 'layout request' instructions.
What are your goals?
* seating for 4-5 (island/peninsula with two sides with overhangs?)
* more prep space
* more storage - we now have two utility cabinets, one is a food pantry, and the other (currently behind the exterior door) houses brooms, cleaning supplies and rarely used items like vases, roasting pans, etc.
* fridge somewhere with landing space
* less traffic jams
* less junk out in the open (I'm not the neatest person, nor is grandma. I don't know what I was thinking with the open shelves!)
What is your family composition?
* 3 adults (mom, dad, grandma)
* 3 kids under 5yo
How many kitchen workers are there?
* 3 adult workers. Mom and grandma mostly prep and cooking. All three adults cleanup (lots of cleanup in our house!). Three little helpers.
Do you or anyone in your home cook?
* Yes, lots.
How do you see your kitchen used? Just for cooking/cleaning up? Children doing homework while you cook? Party place
* Mainly for cooking/cleanup. The kitchen is tucked away in the opposite end of the house from the family room so I didn't expect alot of 'hanging out', however, it seems any time we have a party...people end up crammed in the kitchen.
Do you entertain a lot? If so, formal? Informal?
* Yes, informal.
Do you want your kitchen to be a "hang out" place? Parties only? Everyday?
* Everyday hangout place right now. Between 3 meals and 3-4 snacktimes a day...we seem to always be in the kitchen.
Do you have a separate DR?
* Yes, we use infrequently because we don't eat together as a family right now. Our DR table is a large circle, so it makes it hard to help the kids. Eventually, I would like us all to sit in the dining room and eat together.
Would you like to open up the kitchen to adjacent areas? Close it up? Do you plan to merge two rooms/areas?
* Not allowed
Where are you flexible?
Can windows or doorways change size? Can they be moved or eliminated? Can windows be raised/lowered? Can any walls come down?
* No (lots of restrictions because in historic district of town. We weren't even allowed to remove that little 2' wall that separates the butler's pantry from the kitchen)
Does the sink have to be centered under a window? Does it have to be under a window at all?
* Nope
Here are the appliances we installed 3.5 years ago.
30" cooktop
30" double oven (the lower one is used for storage right now because we don't have enough storage!)
30" hood
24" apron front sink
24" dishwasher
36" refrigerator (contemplating replacing this for a french door one)
21" undercounter freezer (I'm hoping just buying another fridge/freezer that stores more will eliminate the need for this)
30" micro-hood that is installed under a cabinet, not being used as a hood
The sink plumbing can move. The gas line can move. The only caveat is the cooktop has to be on an outside wall.
My ideas:
* move the pantry cabinets to the butlers pantry
* run cabinets in front of the one window near the corner. (may look weird, i know, but i'm going for function over looks)
* wall of reduced-depth cabinets to accomodate an island. Full height utility for storage?
After hours and hours and hours of playing, this is the best I could come up with: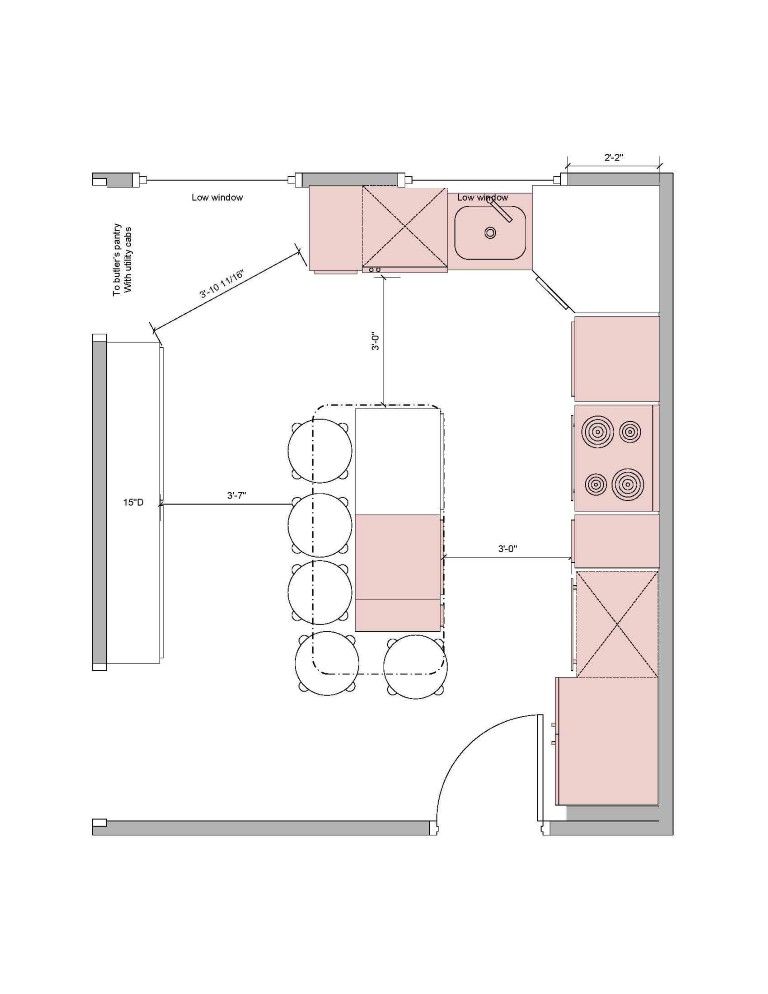 In case you're wondering, the pink boxes are cabinets I already have, the white are ones I'd have to buy. I don't have to reuse everything that I have, but if I could use some that would be great. I like my cabinet style/color. Tomorrow is my birthday and I'd love to reconfigure this kitchen as a gift to myself!
What I don't like about what I came up with:
* that door to the outside is VERY used, it is the main door that family members use. I'm not crazy about it opening onto our refrigerator.
* worried about not having enough landing space to the right of the cooktop
* still no landing space at fridge
* all my small appliances (rice cooker, breadmaker, blender, coffemaker, toaster oven) are going to have to go somewhere, and I can see them eating up that corner countertop, thus taking away prep space.
I'm attaching an empty floorplan for anyone who wants a blank canvas
I've gone to two different kitchen designers and they've both said. "What you have now and what you have come up with are good uses for the tough space." Not very helpful.
Any ideas or advice would be sincerely appreciated!