Revised Layout - please take a look and let me know your thoughts
tamarahl
November 24, 2012
Thanks to Rhome410 and Bmorepanic, I have made some major changes to my kitchen layout. I would appreciate any feedback you can provide based on the below sketches. Please excuse my hand written sketches.
Here is the overall plan:
Here is a close-up of the L, with fridge and cooktop plus clean up sink:
Here is a closer image of the oven wall with pantry and baking with storage above and cabinetry above:
Here is an inspiration for the pantry:
Here is my inspiration picture for the cooktop wall: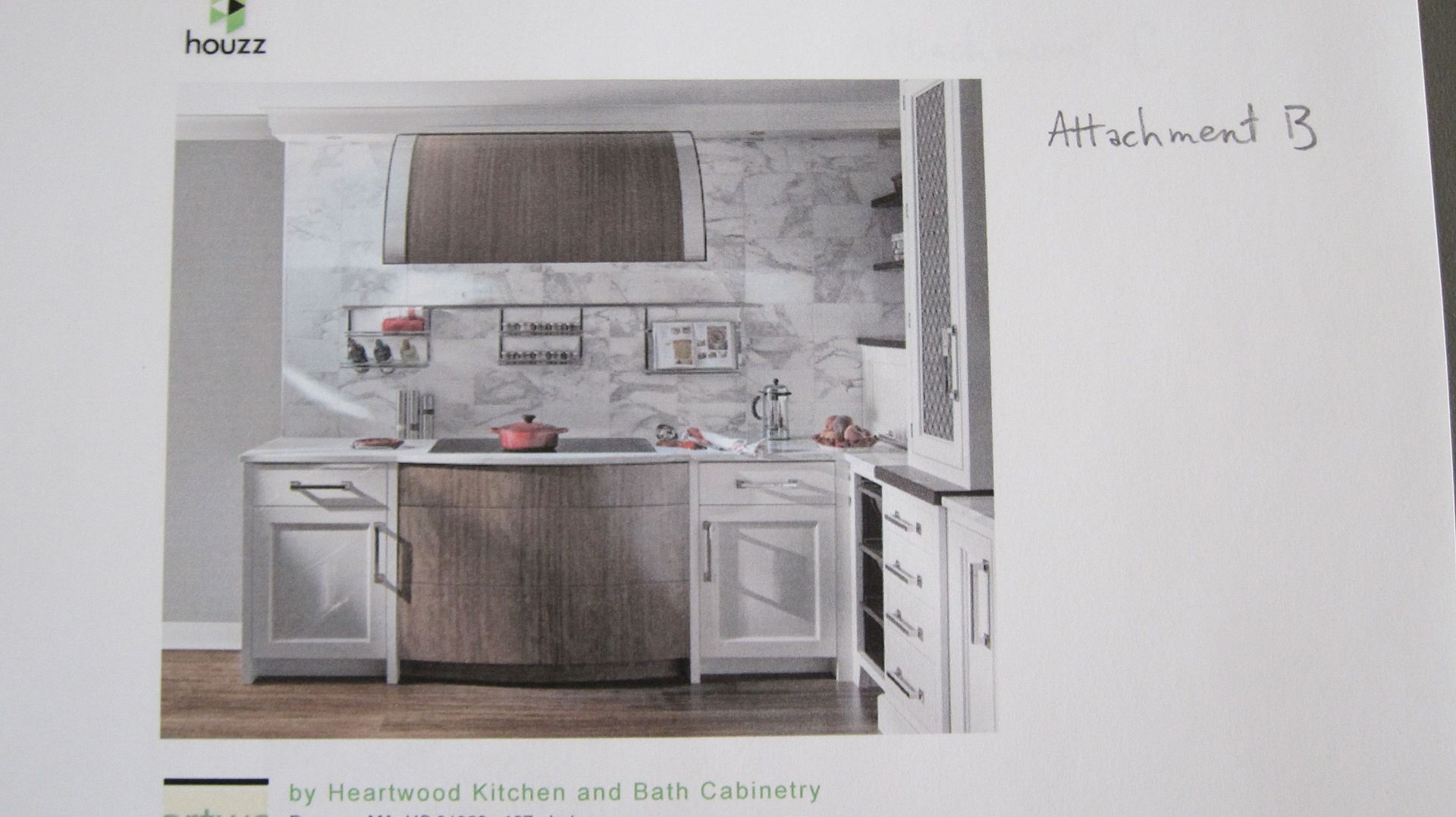 And here is an inspiration picture for the baking area:
Here is the first floor layout, so you can see where everything resides in relation to the kitchen, solarium and dining room. We eat 90 percent of our meals in the solarium and use the breakfast area as a lounging area.
A couple of areas that I am unsure of, the bar area in the sunroom/conservatory. Should it be 36 inches high and have a waterfall countertop coming down from the upper 42" counter seating area that is next to it? Should it be separated altogether from the stool seating? Is 48 inches wide enough for the bar if I want to have 24 inch fridge drawers and a small bar sink, plus some shelving for glasses or liquor? Can the countertop slope in, I love the look of curved counters, and still give me depth I need? Is it possible to have the countertop be 24 inches out for the fridge drawers and be close to the depth of the stool seating, that I think is usually only a maximum of 12 inches deep?
Also, should the baking area be 24 inches deep or 30 inches deep? Would having some appliances along the back of the counter, perhaps behind an appliance garage make sense? I have a 36 inch deep area available along this wall. And should the double wall ovens be where I put it or should the baking area, cabinetry, etc.. be the first thing you see when you walk into the kitchen from the dining room, family room, etc.?
The island is also a bit of a challenge. I have shortened it from 10 feet to 8 feet and hope it will work at that length. I know I want to have a microwave near the fridge, so I am wondering if I could have it stick out an additional 16 inches and put the micro facing towards the breakfast area, with cook books displayed to on shelves next to it?
Thanks to all the great suggestions that came my way with my original post, with my kitchen designer's plans, I feel I have made tremendous improvements. If anyone can tell me how to delete my old post (which has some identifying information I prefer not to leave on Garden Web), please advise. Do I need to contact an administrator or can I do it myself?
I hope I am past the point of major changes and prefer to look at tweaking now. I look forward to hearing from you.