Help me finish the powder room - I need tile help.
muskokascp
November 6, 2012
I know this is OT but there are so many great tile expert/lovers on this forum that I just had to ask.
I am trying to finish my powder room and this has been painfully dragging on for over a year! Something about kitchen renovation burn-out "don't ask me to make one more decision or I will poke my eyes out!"
SO - I finally made a decision on a vanity and sink - the bright red Godmorgon sink from ikea. I love it yet it sits in it's box because I have to decide what to do with the wall behind the sink and toilet. It is a smallish powder room roughly 5 1/2 ft square. I am of the camp that powder rooms should be a little fun, hence the red vanity. I have flipped back and forth between wallpaper and tile, but I think tile is the winner. The layout is similar to the third picture except where the shower door is, this is the door to the powder room. I would love to put the white/silver Bisazza tile (pic 2 and 4) from the level of the sink up and cover the whole wall to the ceiling but when priced out it was crazy due to a minimum order my tile store needed. I really like the silver accent tiles in this tile. Does anyone know where I could find a similar type tile? What should I put on the wall below the small tiles - a larger tile? I would just paint the 3 other walls and put an oversized print on the wall opposite the toilet.
I also need a new mirror and a faucet for the vanity.
If I can make some choices and finish this room I am sure my DH would be eternally grateful.(Me too!)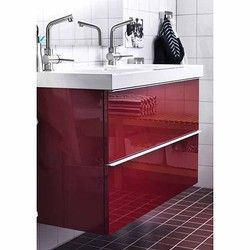 Contemporary Bathroom design by London Interior Designer Kia Designs
Modern Bathroom design by New York Architect Product Bureau LLC
Contemporary Bathroom design by Montreal Interior Designer Studio NOO Design