Layout help - aye, aye, aye!!
phillyfeet
November 8, 2013
I want to say that i am very grateful for all of the people on here who help each other. Kitchen remodeling is an overwhelming process, so it's great to have a place to bounce ideas and share experiences.
We hired architects to help with an addition and kitchen remodel. They have been great and have lots of good ideas that seem to be right on track with what i have seen here on gardenweb. But there are still a few issues with the current plan and wanted some feedback before i meet with kitchen designers for the cabinet quotes.
About us- family of four with 2 toddlers. My husband doesn't cook and I'm hoping my daughters will help me bake when they get older. I always loved to bake and finally have some time to learn to cook and experiment now that i am working only part time. The current kitchen isn't very functional in terms of counter space and sink location. I do almost everything on the small kitchen cart/island we bought. Someone took the part of the wall down between the kitchen and dining room and made the half wall a very non-sturdy peninsula. It has become a catch-all for "stuff."
We will be expadning out the back of the house to add the family room and will relocate the dining room to the back as well to gain more space in the kitchen. Gas lines and plumbing can be moved, but columns/ wall need to be incoporated along sink wall to maintain structural integrity. Also, there is an odd spot of glass blocks 18 inches wide on one wall - i guess someone added this for more light in living room. We have grown used to it and currently, it will remain in reno; however, it starts about 34 inches from the floor and therefore, the counters will have to be lower at this end of the run.
My goal is to create a functional inviting kitchen where i can cook and family can gather (but be out of my way while i'm cooking!)
Must haves- 36 inch gas range, island, prep sink, reduce refrig size in plans to 36 inch from 42 inch
Would be nice - 2nd wall oven (not sure of size or conventional electric vs steam oven), tv spot, refrigerator drawers
maybes- warming drawer
My concerns about current plan -
1. flow from dining area to refrigerator - will people be walking through my cooking zone? can i alleviate this with fridge drawers elsewhere. currently, flow would be good from living and family rooms to fridge
2. where do i put my glassware - so used to uppers by the dishwasher currently
3. location of wall oven and micro - want landing zone above oven and near micro (don't want built in micro)
4. peninsula - we had it extended to accommodate 4 stools, BUT - worried that this forms a bottleneck in kitchen. I have never lived in a house without table in kitchen. I'm afraid losing the table in the kitchen will be less comfortable. Should i nix the peninsula and place small round table in this area instead. i think we are going to widen the raised countertop on other side of sink (in family room) for additional seating when needed and will have cabinets and/ or shelves built underneath for storage of infrequently used items.
5. glass blocks - as mentioned above. if they weren't there, i could have more freedom in appliance locations, upper cabinets and counter height. Husband wants desk over there, but i'm not crazy about that idea at all.
Whew! I hope i got everything in. I can't find the post about what i should include in the layout help request.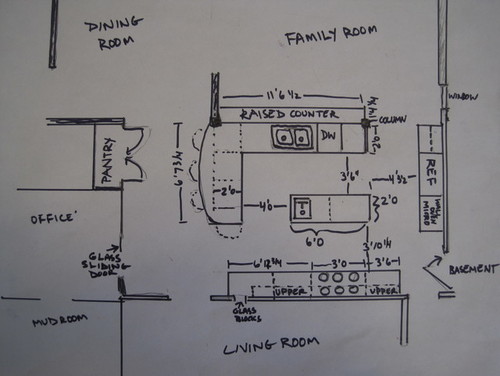 This post was edited by phillyfeet on Sun, Nov 10, 13 at 23:08