Sneak peak at my custom Amish made kitchen (pic heavy)
ICFgreen
November 23, 2011
Yesterday, my family was able to see our kitchen cabinets being made. Our Amish cabinet maker is the brother-in-law of the foreman who framed our new two-story ICF house. He's worked for a cabinet company for the last 15 years or so, and is starting out on his own, so he gave us a GREAT deal to help build his portfolio. (We'll be taking photos throughout the process for him to give to his printer). It's been really fun for our family to get to know his, and especially seeing our toddler play with his boys.
I figured it was about time to share more that you'll ever want to know about my new kitchen.
Here's an older rendering of what the kitchen will look like:
Aerial view. We have removed the open shelving wall to allow more daylight from the dinette. The legless part of the counter is my open baking center/wheelchair friendly counter. Because I have a disability, we are building our house with as much universal design as possible: wide hallways and doors, rockers instead of switches, levers and pulls instead of knobs, even transitions between rooms, ICF walls and cork floors for sound proofing, etc.
View into the kitchen as you come in from the mudroom:
View into the kitchen from the entertainment/prep island.
Recycling center on the end of the prep island. It's touch controlled with Blum Servodrive. We original planned to get Hafale step opener, but he wanted to see how this works, so he upgrades us for free. It's a touch-sensitive, soft-close opener. Really really cool. In addition to the trash/recycle bins, there will be a drawer above for paper recycling and odd recycling (light bulbs, batteries, etc.)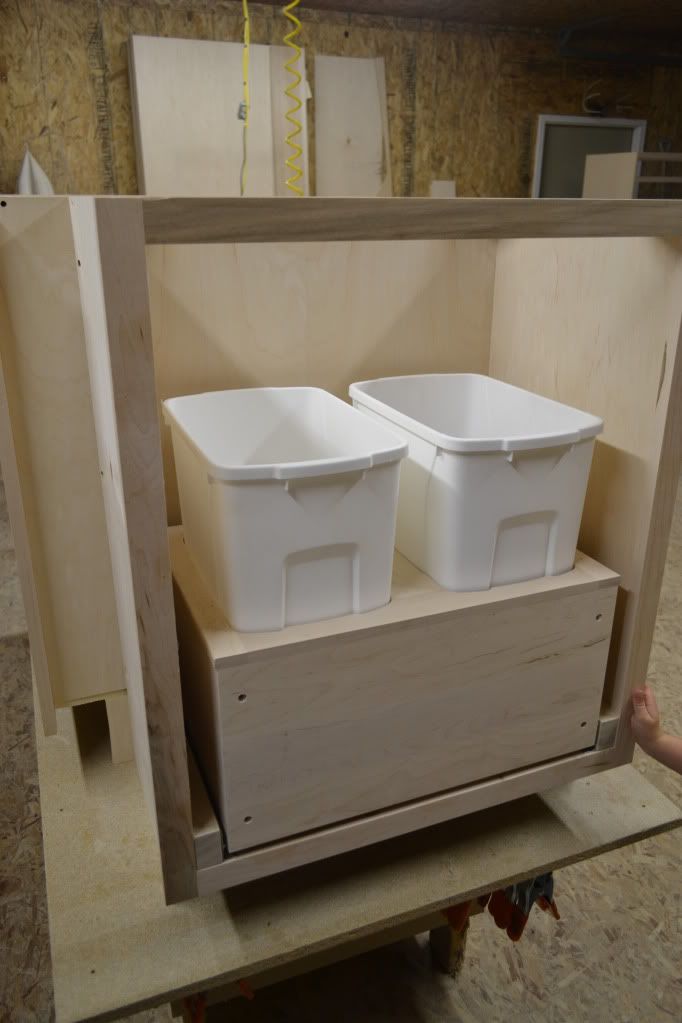 My original inspiration for the recycling center (Ikea):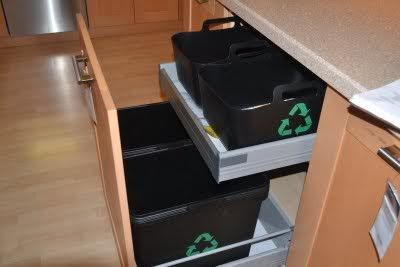 Future baking drawers. To the right of this will be my lowered baking counter/table.
Inspiration for my baking center. This is me at a kitchen showroom near my in-law's house in Holland: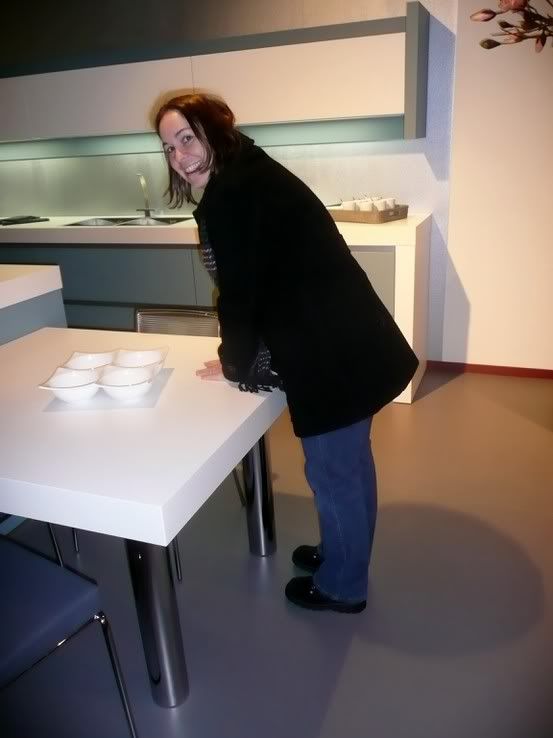 We are so impressed with the quality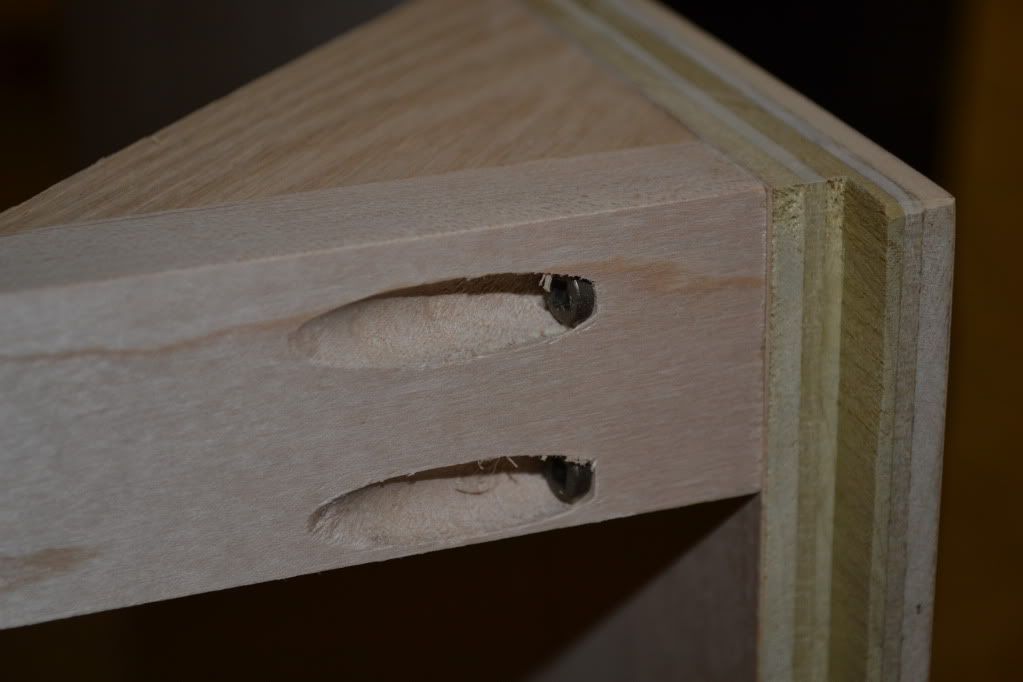 Starting to put the drawers together:
Fits like a glove:
The dovetails are perfectly smooth
All the drawers are soft close with Blumotion:
Lazy susan (and yes, Joe did give us permission to take his picture)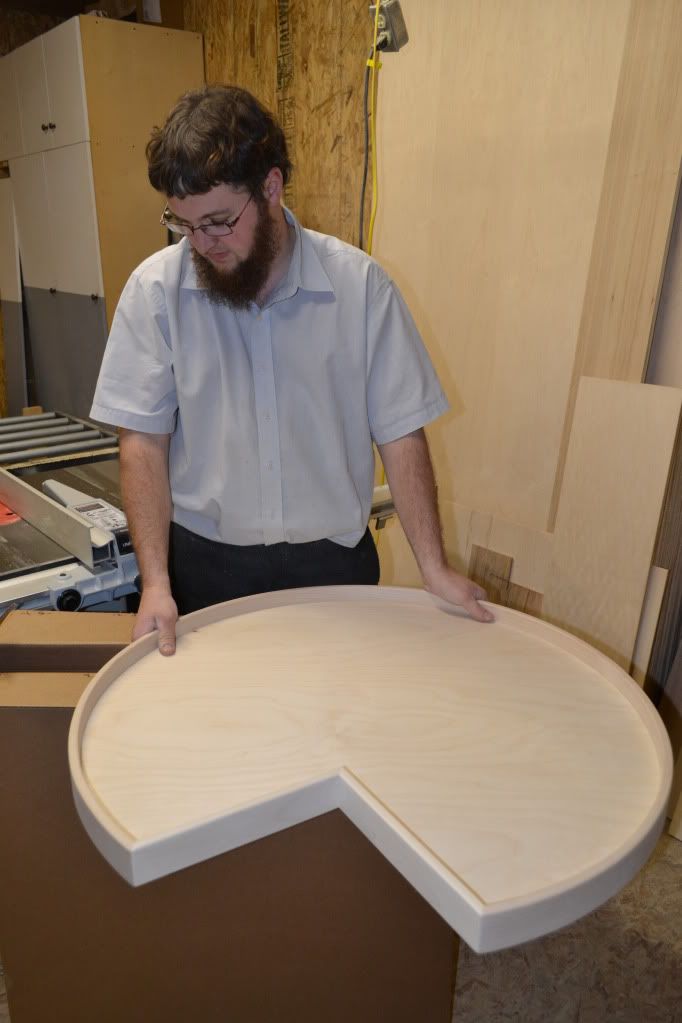 Cubbies for my cooking oils and wines. This will be to the left of the stove.
My little towel/supply shelf under the prep island.
No particle board in this kitchen: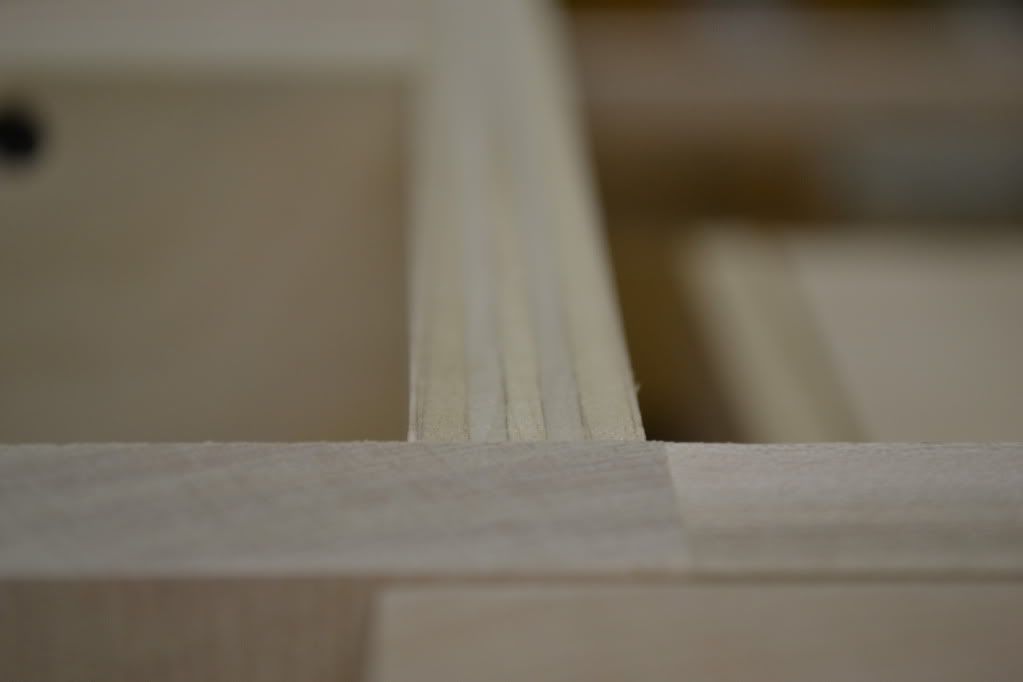 My little cutie does a little quality inspection: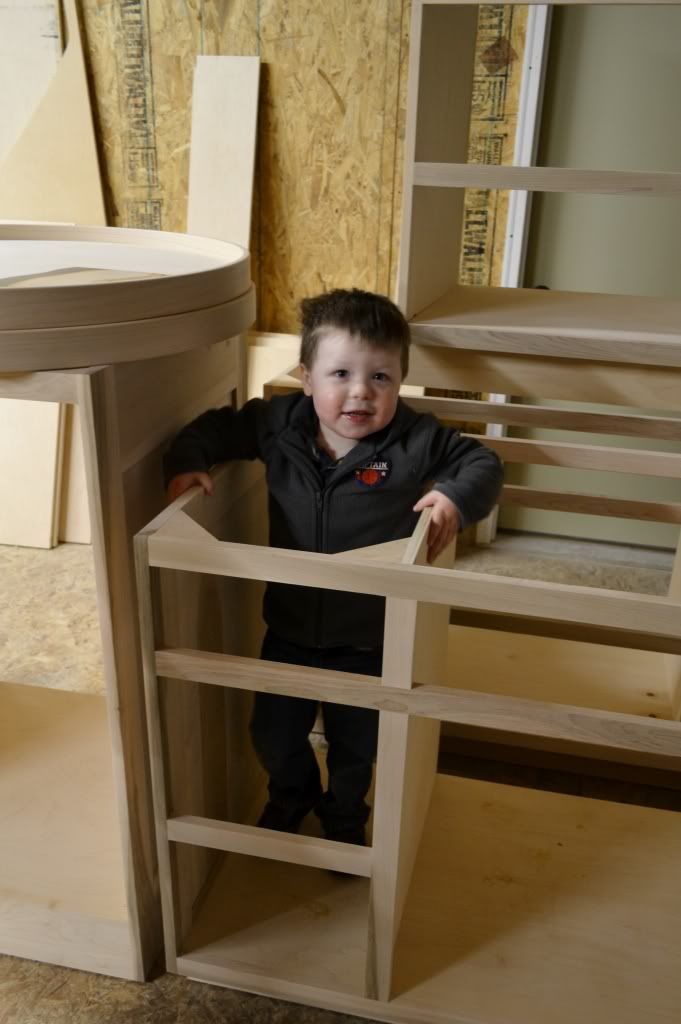 D and his friend:
Here's one finished slab with the cork floor, backsplash, counter and paint:
Close up of cork, counter, backsplash and paint
Close up of quartz: Hanstone specchio white. I love the recycled glass!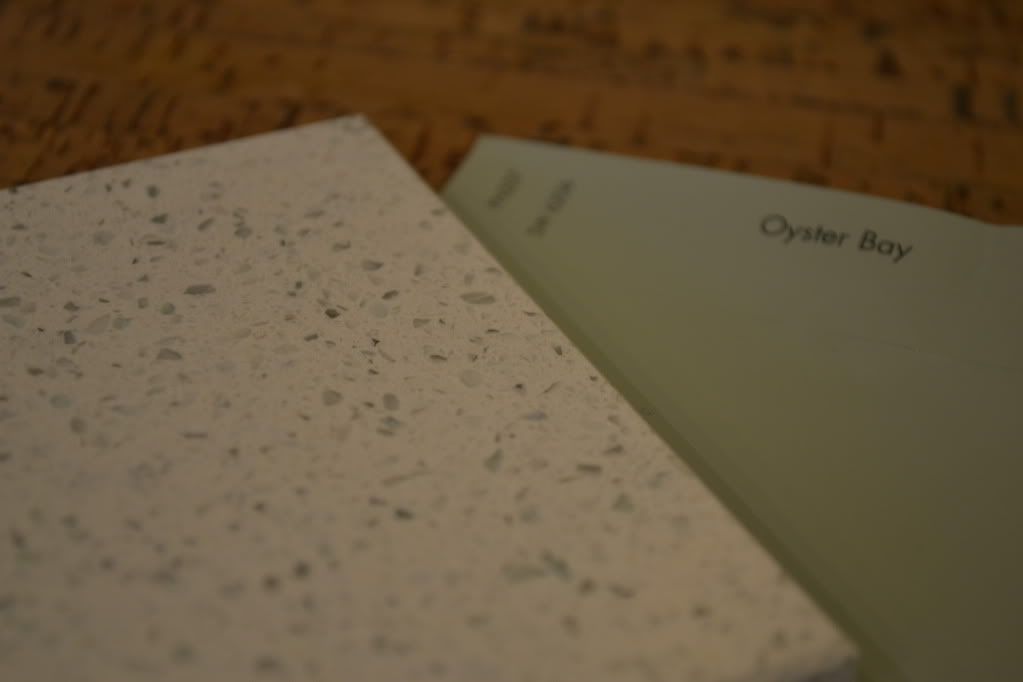 Close up of cork: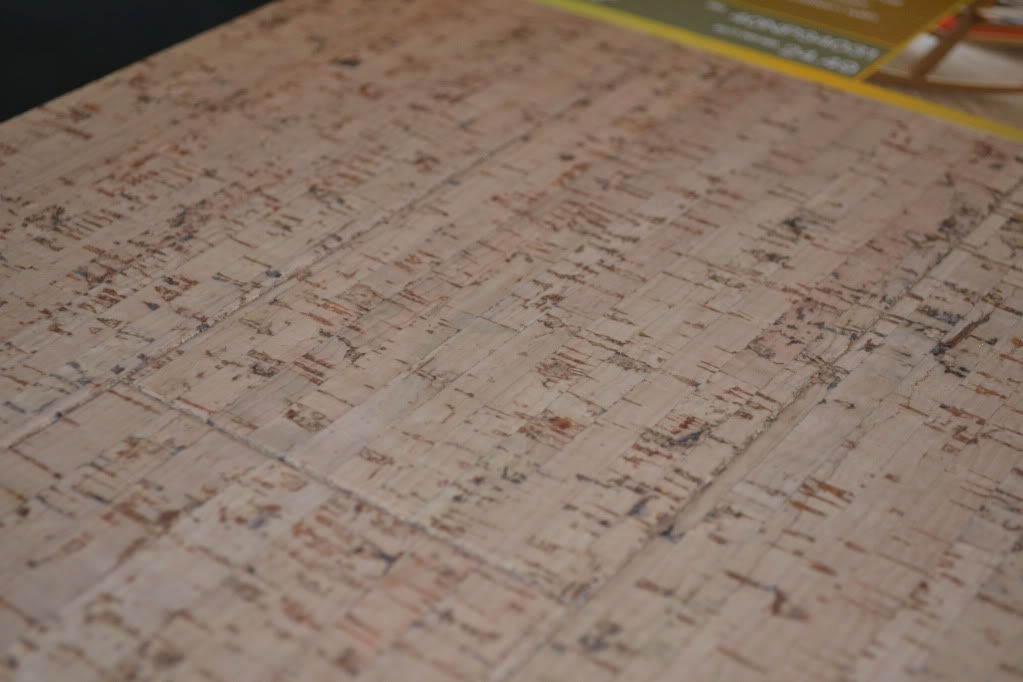 There's a command center off the prep island and a 9' x 9'10 pantry off the entertainment/clean up island.
No pictures of the command center yet.
The quote for custom trimwork in the pantry almost half the cost of our kitchen cabinets, so I decided to get creative.
Pantry layout. I found a cool site (http://urbanbarn.icovia.com/) that lets you play around with furniture placement. This is what I came up with for now. It's not perfect, but it will be functional. There's open space in the middle so a wheelchair can maneuver around. The door is 36", from there, going clockwise: HomeCourt bookcase, full size freezer, 7' bookcase, 6' bookcase, 7' bookcase, 6' bookcase, HC chesser, HC dresser. At some point, I'd like to get a butcher block top to make the two dresser/chessers look like one unit.
Source: facebook.com via Jen on Pinterest
I'm repurposing this wood bookshelves to hold bulk items. I actually have another 7' one not shown:
This is how I stuff my bulk goods, so I'm quite excited to expand my goods!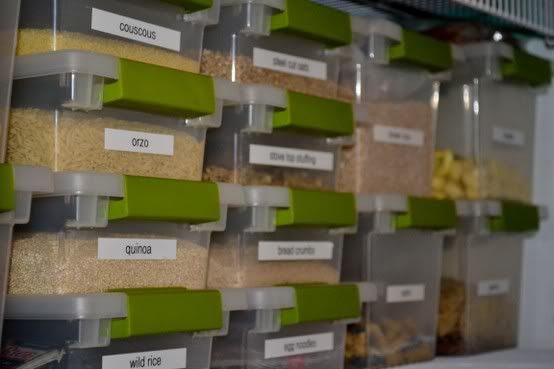 I found the next three pieces on clearance a local furniture store. They are actually part of a boy's bedroom set!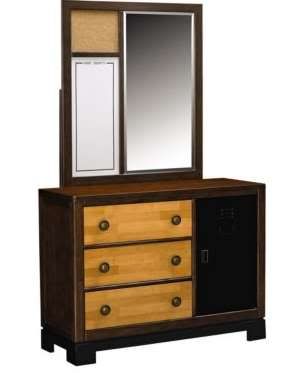 I'll put the first two together and cover with a slab of butcher block. The inside of the shelves will be painted the same green as the pantry and kitchen walls.
Pantry bookshelf inspiration. Similar green inside and natural maple finish outside, instead of white.
Source: heart-hands-home.blogspot.com via Jen on Pinterest
Last but not least, here are the pendants for the outer island:
Source: dejongdreamhouse.blogspot.com via Jen on Pinterest
Here is a link that might be useful: de Jong Dream House