Large pantry remodel - WWYD???
celticmoon
November 2, 2012
In this house 14 plus years. Still content with my 2006 cosmetic gelstain/Marmoleum/Viking update of the 1987 kitchen. But the pantry would truly benefit from refitting.
After too many years, I have finally found a wonderful carpenter/handyman. He is reliable, his work is excellent and very reasonable - but he really had me at "I was cleaning the bathroom last night with my 18 month old son..." OK, you win the perfect man prize. I am happy to employ you.
This pantry narrows into a wedge at the back. Any thoughts on how to deal creatively with the wedge? Moving the entrance would fix the access issue, but that means kitchen cabinets, flooring and massive project creep.
Here's the floor plan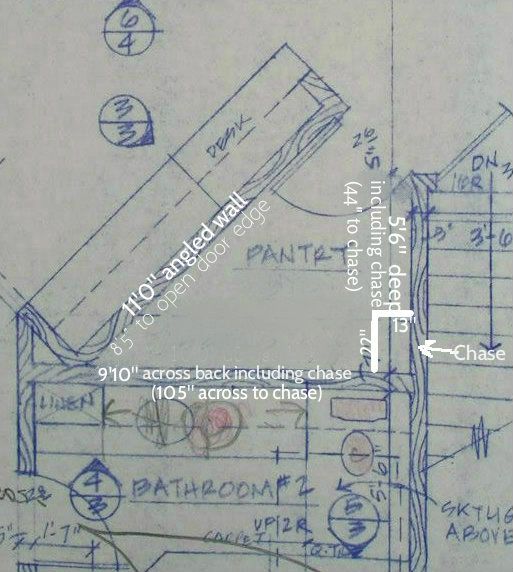 Right now there are 5 too deep (15") shelves plunked in there 18 inches apart. I have a pot rack high on the left as you enter above a hamper storing dog food. Along the long angled right wall there is a rail for hanging table linens, then a hanger holding brooms, mops etc.
The deepest part of the pantry is difficult to access. I do not have a dedicated utility closet. Do you think I could section off the deep corner for that somehow? A reach-in back there?
The space is large - over 26 linear feet of wall space there. But very inefficient as is: