Seriously on the fence about my vintage range...
My floor tile is getting grouted today - another item off my "to-do" list. Next will be counters, but I'm having a bit of an internal mini crisis. Years ago I bought a vintage yellow Chambers range.
This one: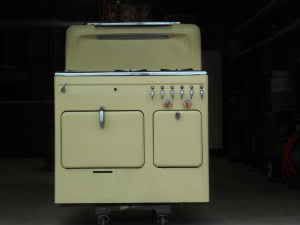 It's been in storage for nearly 3 years waiting for rehab. I've taken some parts off for painting and had others re-porcelained. It still needs cleaning, re-chroming and more.
I'm wondering if I should go through with it. We're getting closer to done on the kitchen, but the stove work is still several weeks/months out IF I have the time to work on it.
Or I can buy a new range. I'm looking seriously at the Bertazzoni. It's one of the least expensive 36" range models with generally high ratings.
I have to make a decision - ASAP. Next week hopefully we'll be getting counters templated, but I have to decide before that. The two ranges are different sizes, the Chambers is something like 37.5" made in the days before standard sizes. Once I decide, I'm pretty much locked in.
Chambers Pros:
No electronic parts to go out
Saves gas, oven can cook with residual heat
Daisy cone burners cook more evenly
Chambers lovers say it's the best they've ever used
Chambers Cons:
Needs work = time
After I rehab all the parts, could still need adjustments to get it working
Repair people are few or nonexistent
Manual pilot lighting
Narrow, but deep oven
Bertazzoni Pros:
Availability
Instant plug and playElectric ignition
Bigger/wider oven
Bertazzoni Cons Per Reviews:
Could be fussy to learn
Oven could be uneven
Vents heat into kitchen
Daily I go back and forth. It's been nearly 3 years (this Feb) and I am SO ready to be done and not to mention up and cooking/baking for the holidays. I'm so tired of not having people over due to the state of my kitchen. I've been making due with a single induction burner and 24" wall oven as well as various small appliances like griddle and skillet.
But, the Chambers is really a uniquely beautiful item, built to last. Re-habbing will likely give me a sense of accomplishment. I've already waited this long, what is a couple more months in the grand scheme of things?