Do any of these cab colors/stains grab you?
With the sink and factoring in the stove. I'd like to be able to use that paper somewhere, too, and I think I have a perfect spot for just a touch of 'art'. Not the whole backsplash anymore.
The cab finish/countertop/backsplash with these appliances has me on a merry-go-round.
(I'm going for an updated, edited rustic leaning towards Grandma cozy and maybe a bit of arts and crafts if that makes any sense)
The ceiling will be knotty pine tongue and groove like this:
and I WILL paint it if I have to. We're now leaning more towards cork flooring, after the marmoleum debacle, if that matters at this point.
This is a close-up of the actual sink if that helps:
And to complicate matters, I have a serious case of like for this onyx and marble mosiac tile: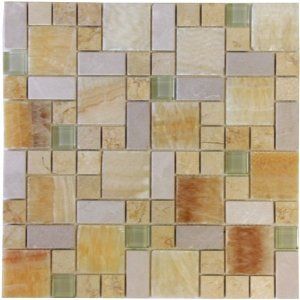 Anything? Am I beyond help at this point?
Additional cab suggestion are welcome.
Worked nights. Going to bed now. Will check back later for my GW fueled cab epiphany! (fingers crossed)
Thanks!