Kitchen flooring...Luxury Vinyl Planks- opinions needed on color!
jphillips_3
November 11, 2013
UPDATE: I found a new option... may be the "winner" -- provides contrast to the cabinet color... but yet "goes" and also ties in the trim work/ room door color (golden oak in background). It is WARM.. which I like too! Best of all world... I think. ;) I have looked at many... this seems to be the best... I think it has a nice "real" look. THoughts? Opinions? It is Mannington Allure. Anyone have experience with it??
Thanks!
We a remodeling our kitchen -- new cabinets (maple deep brown), granite countertop (opalescence /black), glass mosaic backsplash (browns & grays), paint will be "perfect greige" (beige / gray combo). The only decision still to make is the floor. Although I originally wanted wood, with a door and four kids, we decided it was not the right product for us. We have laminate - don't want that again due to issue we have. For months we had been decided on ceramic tile that looks like wood. Although I love the idea of that...the thought of cold tile, grout issues and that it still isn't as "real" looking bothered me. I recently stumbled across Luxury Vinyl Planks. Well, there are many that do NOT look good (fake/cheesy). But many do! It will fit our life. It will also save money. Even if it doesn't last as long as real wood... or we tire of the look... we can replace it in the future and still have saved money!
Anyway... now we need to decide on the color... and brand! Anyone use these? What brand? Feedback?? We need it to stand up to dog
claws and kids with the least amount of scratching!
And now... if you like the idea or not... I'm looking for input on color. In the pictures I have as shelf from the new cabinets that will be installed, my backsplash and granite are on the side. The door and trim in the background will be staying....so they need to coordinate. The carpet in the pic will put up to it at a 20' run where the kitchen dinette meets the family room. We have stainless appliances with black cooktop, etc. The cabinets door handles will be black. So, which floor looks best??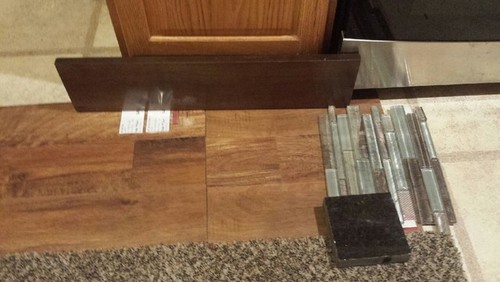 This post was edited by jphillips_3 on Tue, Nov 12, 13 at 20:40