cabinet bottoms are ugly - what to do?
fouramblues
November 13, 2012
I've lived with my ugly cabinet bottoms for a few months now, and I really dislike them: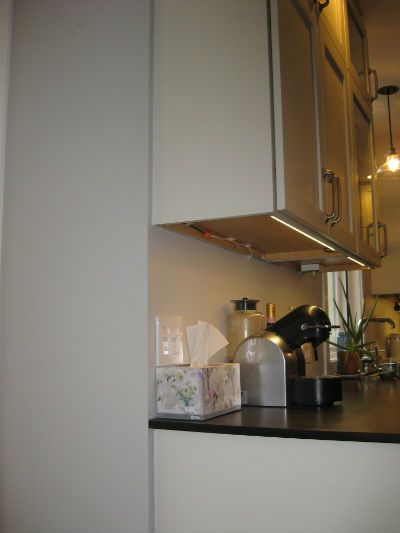 But how should I deal with them?
One option is light shield moulding, but I don't want to put up anything too big because then my vintage kitchenaid won't fit, and the bottom of my cabs would dwarf my quarter round "crown moulding".
The other option I can think of is putting a skin on the cab bottom. But how would I do that without blocking the light from the UCL strips at the front? I mocked this up with cardboard, bringing it to the edge of the UCLs, and it did block too much light. If I cut it back significantly, I think it would look junky.
So what did you do? Do you have some good advice for me, please? Should I start a thread called "show me your bottoms"? Maybe no to that last -- don't want to upset the moderators. ;)