Help! Question about trim matching white cabinets
Melissa-Kitchen
November 16, 2012
Yet another question...
We are repainting our oak cabinets white. I am trying to choose which white and went to BM Moore yesterday to get some of the colors that others have used to paint their cabinets.
We have California shutters throughout our home. Obviously, these aren't going anywhere. The trim in our home is Oxford White and it seems to be a close match to the shutters.
So my question is, how do I select the right white for my cabinets? As you can see, the cabinets will touch the window over the sink. I like BM White Dove but will the Dove White look funny beside the bright, white shutters and trim? I am concerned that it is not enough of a difference and that it will look like I picked the wrong white. That said, I'm not sure if Oxford White would be the ideal choice to paint the kitchen cabinets. All of my trim and doors are BM Oxford White and I am not planning on changing them.
So, what are your thoughts? White Dove or match the Oxford White?
This thread on jmcreque's kitchen dilemma is what is making me worry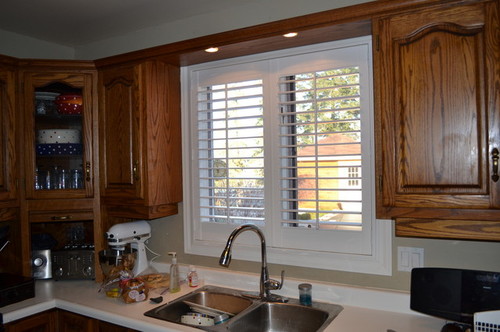 Here is a link that might be useful: This thread on jmcreque's color dilemma is what has me worried.