Suggestions needed for sturdy dishes
laughablemoments
November 15, 2012
Hi all,
Does anyone have super-sturdy, dishwasher safe, lightweight, affordable non-plastic dishes they'd like to recommend? (Phew--that's a tall order!)
My Corelle dishes are fast disappearing. I remember my mom's lasting for years, but we didn't put them through a dishwasher, and I'm from a very small family. Ours are shattering left and right and I need to find a replacement quick. We're running out of bowls daily. (7 kiddos.)
I've been checking out the dishes at the Webstaurant store, and have come up with these: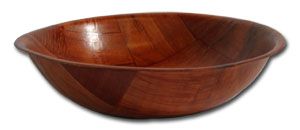 They're cheap at $8.29 a dozen. This is what our college dining hall used, so I'm thinking they're sturdy.
Is there a better option?
Here is a link that might be useful: Wooden Salad Bowls at Webstaurant