Where to end counter?
Oh wise ones -
Working through the last details as subfloor is in and I need to get the cabinets ordered soon. My original plan was to have the counter next to the range run to the end of the wall (note in the picture you can't see the angled corner cabinet that finishes the run - it would be more finished than it appears in the picture) but I had a last minute thought that it might be better to make the run shorter and have it end at the window. The short run is 3' 9" from the range. The long run is 6' to where the counter angles to the wall. Another consideration is the backsplash (posted in another thread). The windows are counter height and the plan was to tile the entire wall. The scheme is more contemporary. Cabinets will be some form of rift-cut oak with a quartz counter. Island will be painted grey. Backsplash tile will be a milk glass type of subway tile. If you think the shorter counter works better, how far beyond the window would you go with the tile?
I maybe just second guessing myself having looked at this so long. The reason I had planned the long run was for the extra cabinet space because as you can tell there are no upper cabinets. Plus the long run made a nice serving area to the table. I guess this is sort of a form/function question.
Original (note the cabinets would have an angled finish not shown. Entire wall tiled.):
Shortened version (what would you do with the backsplash? Tile only the full column of the range to ceiling and then paint the walls?):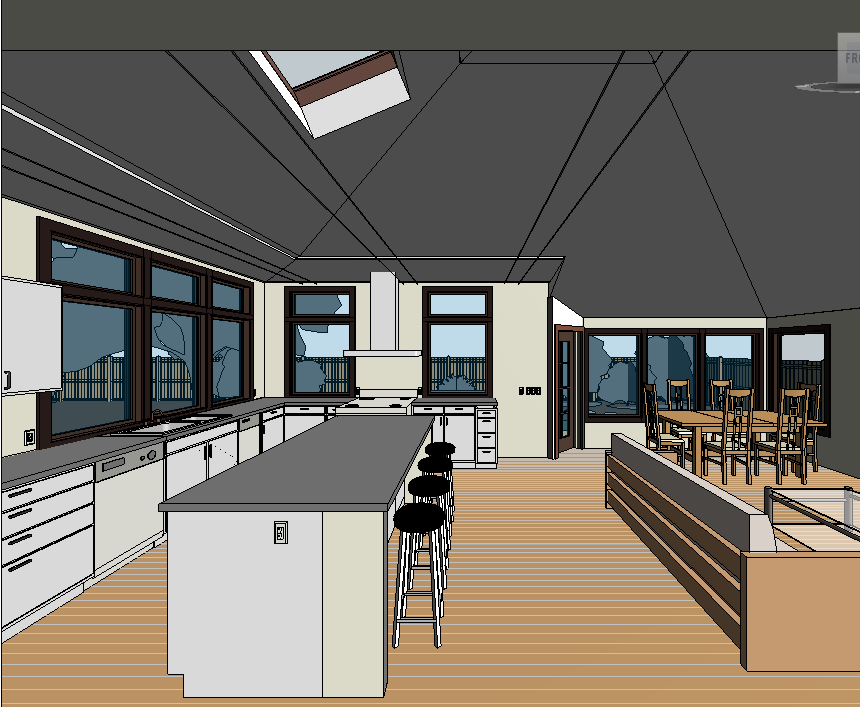 Thank you for your thoughts!!