Slab vs. Paneled
CT_Newbie
November 3, 2013
So my cabinets got installed and I was a little surprised that some of the drawers weren't paneled. I didn't notice it in the elevations (though it was drawn in). Hindsight, I do recall a vague conversation at the end of a long meeting where I think the KD said something about the drawers being flat. However, I had thought that those would be just the top wide drawers vs. the whole column of drawers that are on the left and right side of the sink wall. I had a brief email with the KD who said that some drawers were too small for the paneling. Not sure if it would have made a difference if I were getting the more expensive Rutt Classic line vs, Rutt Regency but I wouldn't have paid the extra just for all the drawers to get paneled anyway.
So now that I am panel vs. slab focused, the question is on the wall with the stove and the oven, should only the bottom file drawer be paneled? Not sure if it was meant to be like a paneled lower cabinet. Should I change it to be slab so that those columned drawers will all be slab like the opposite wall? That was my first reaction - that it had mistakenly been paneled. Or would making that drawer slab make the wall bland because there are no paneled lower cabinets there?
Do you think it better that I make the 2nd drawer paneled if possible? I do like the paneled look. Or will people wonder why those two are paneled whereas the sink wall drawers aren't? In one plan, this drawer had been paneled but in the final one, it wasn't. We changed the bottom drawer to a file drawer so maybe that ended up making the middle drawer too small to panel.
The two sets of 24" wide drawers under the cook top are paneled which makes sense because that is a focal point. If I can't change the 2nd drawer, do I keep or change the bottom drawer?
Would like some opinions and will certainly talk to the KD too. In my quick conversation with her, she said it would be minimal cost to change a drawer and that there was a size limitation on what could be paneled.
Thank you!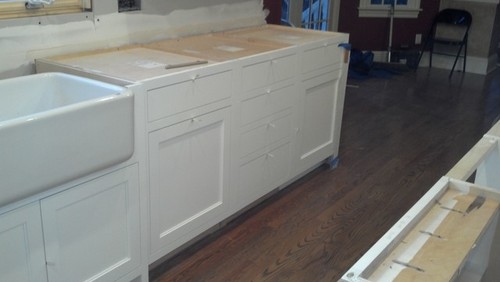 This post was edited by CT_Newbie on Sun, Nov 3, 13 at 1:54