Opinions on our kitchen layout - - in beach cottage
angela12345
October 3, 2009
Like a lot of people, I have lurked a lot and sometimes posted over the last many years, although not much lately for various reasons. We are planning a beach cottage new construction and would appreciate thoughts on our kitchen design, please !!
It will be a rental, so typically guests will be there for 1 week at a time during June July August. During off season we will also be there sometimes (read: as often as we can!!). This home will sleep 23+ (up to 30 including pullout sofas and toddler trundles). The kitchen will need to accomodate a lot of different types of rental groups and sizes ... families with multiple generations, adult couples, all men (golfers), maybe weddings or church groups, etc. We feel like we really need to include 2 fridges and 2 dishwashers because of the need for it for groups this size and also to be competitive with other rental homes. Also, because of the potential size of groups that will be staying here, we will need LOTS of cabinet space ... dishes, silverware, glasses, cups, coffee mugs, etc for 30 people takes lots of space. Most likely, I won't be able to make any changes to the walls of the kitchen on this plan.
One thing I know I am missing is where to put trash, but please don't limit your comments to this ! I am thinking a pullout under one side of the sink. Considering a range something like the following but not necessarily this exact one http://www.samsung.com/us/consumer/appliances/ranges/electric-ranges/FTQ353IWUX/XAA/index.idx?pagetype=prd_detail.
I have included a layout of the top floor below so you can see where the kitchen lies in relation to the other rooms. Comments on other parts of the floorplan are also welcome. The bottom floor will have 5 more bedrooms, laundry, and a morning coffee bar with sink and mini fridge.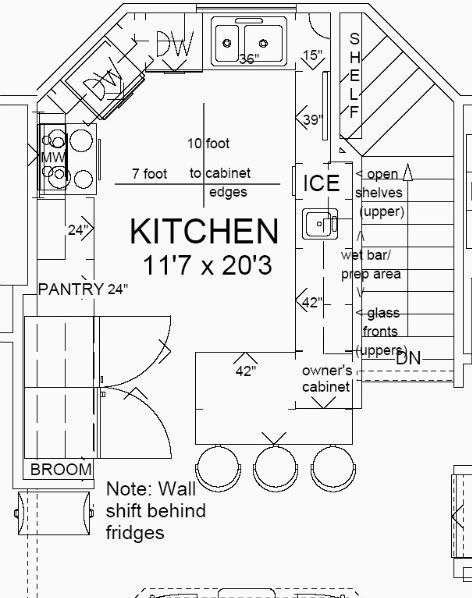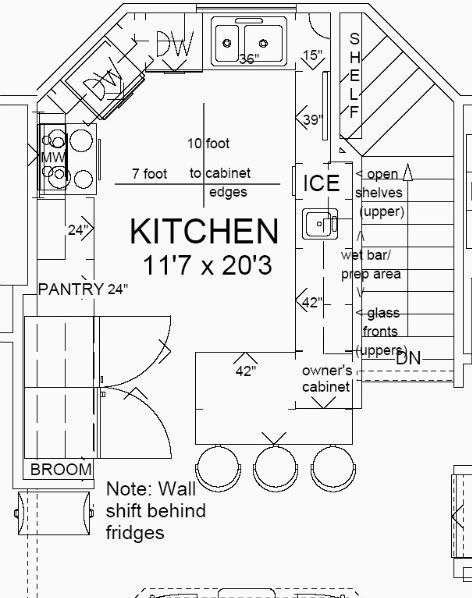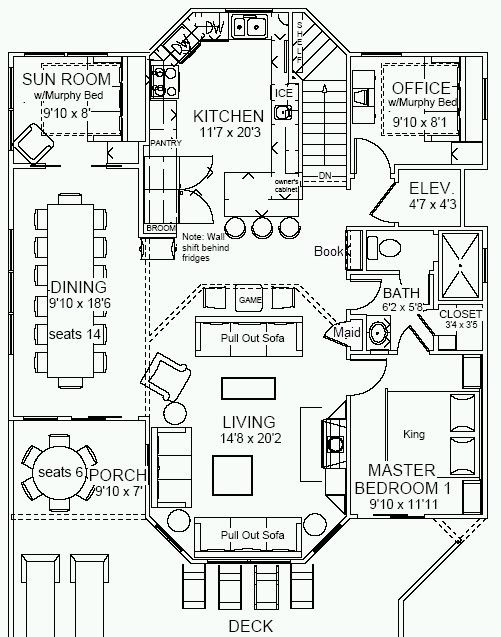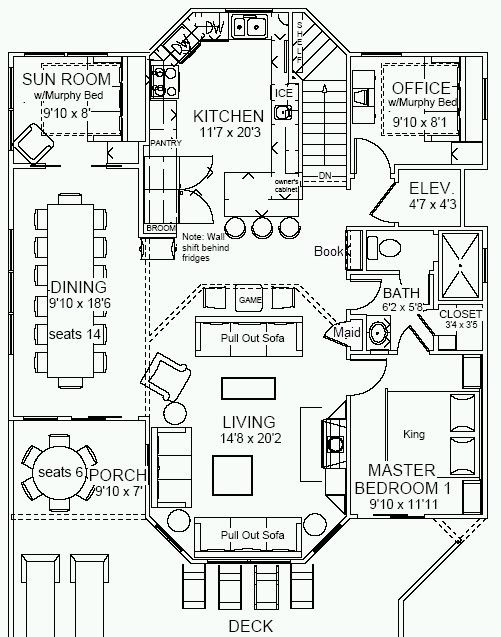 Here is what we envision the wetbar/prep area looking like (except longer of course) ...
http://images.vrbo.com/vrbo/images/usa-ocean-isle-beach-wet-bar-icemaker_1d1848