Thynes' Finished Kitchen
thynes1501
October 18, 2011
18 months after we began, it's nice to be able to finally share our finished kitchen with you folks!
Early 2010 we decided to sell our brand new home and buy a 40 year old home in an established neighborhood. The home was lovely, had good bones, but needed much work so we moved in with the in-laws while an entire home reno was completed. Well, we moved in late last year (made it in for Christmas!), then spent the winter searching for backsplash, ordering samples and catalogues, buying tiles, returning tiles, putting backsplash up, taking backsplash down (!), and completing the kitchen in time to spend the summer re-landscaping the entire 1/3 acre property. Now that things have settled down I've finally taken the time to take a few proper snaps of the finished product!
Some background: The house was a larger executive style but with a disproportionately small kitchen (I think common for its vintage), so we removed a load bearing wall and utilized an adjacent family room as additional kitchen space. The house has rear southern exposure yet the original kitchen had no windows exposed to the south (?), and we were determined to correct that. To boot, we live in the foggiest neighborhood of the snowiest, foggiest, windiest city in Canada... Winters are long, spring is nonexistent, and summers are short... so bright was important!
My wife and I did all the design work ourselves. Being an engineer, I took the function (structural modifications, materials, layout, ergonomics, appliances, gadgets, etc) while she took the form (colors, finishes, fixtures, fabrics, etc). I discovered the GW Appliances Forum while researching appliances and quickly found my way here to Kitchens. By then the fundamentals had been largely settled (the L-shape was unavoidable, sink wall without uppers were a must, separate coffee/beverage station and eating area were musts, as were cream colored cabinets, yellow walls, and hardwood floors) but I think I spent hundreds of hours reading through the archives here and learning new things (and even occasionally posting..!). It was here that I learned about the importance of zones and proper aisle widths. It was here that I learned of induction cooktops, roll out pantries, pull out pantries, dish storage in drawers, vertical tray storage, soft closures, and firsthouse_mp's paper towel cubby (which I have so shamelessly stolen!). It was here that I learned we weren't alone in spending more time finding the perfect backsplash than it took to build the actual kitchen!
So how did it turn out? It could be considered a bit of an eclectic mix of modern (crystal pendants, mirrored induction cooktop, metallic glass backsplash), traditional (5 panel doors, ogee edged countertops) and rustic/country (floral fabric, hand scraped floors, stained Amish table), but we love it. It works like a charm and it's easily our favorite room in the house. Thanks to everyone for your help and I hope readers in the future can gain as much inspiration from this posting as I have from those who've posted before me.
First the details:
Double Ovens - Miele H4892BP2
Induction Cooktop - Thermador CIT365GM
Vent Hood - 36" Ancona Rapido Chef
Warming Drawer - Jenn-Air paneled
Dishwasher - Miele Optima G2472SCSF
Refrigerator - KitchenAid 72" CD KFCS22EVMS
Microwave - KitchenAid Undercounter Convection KBHS179SSS
Beverage Center - KitchenAid KBCS24RSSS
Standup Freezer (in mudroom) - Kenmore Elite Commercial SS
Faucets - Main Grohe Ladylux3 32226, Beverage Station Grohe Ladylux3 32283
Sinks - Main Houzer MS-3210SR-1, Beverage Station Houzer CS-1607-1
Cabinets - Custom 5 panel mitred in BM OC-88 Indian White, made by local cabinet maker
Hardware - Richelieu oil rubbed bronze knobs/pulls, Blum soft closures on doors and drawers, Richelieu vertical lift hinge for appliance garage
Counters perimeter - Zodiac Quartz in Giallo Michelangelo
Counter island - Zodiac Quartz in Saddle Brown
Backsplash Cooktop Wall - Saltillo Imports Metallic Glass 2x4 Subway
Backsplash Elsewhere - Crema Marfil Polished Marble 2x4 Subway
Island Pendant - Trillium by Glow Lighting with Danube crystal
Table pendant - Avalon by Glow Lighting with Danube crystal
Flooring - Kraus Madeira Collection 5" hand scraped oak in Golden Saddle finish
Simply Amish 48" round table, Loft II single pedestal, maple
Simply Amish chairs, Urbandale II, maple, side chairs painted Antique White, desk chair stained
Blinds - Robert Allen @ Home in Sperling Geranium
Wall Paint - BM CC-190 Summer Harvest
Before: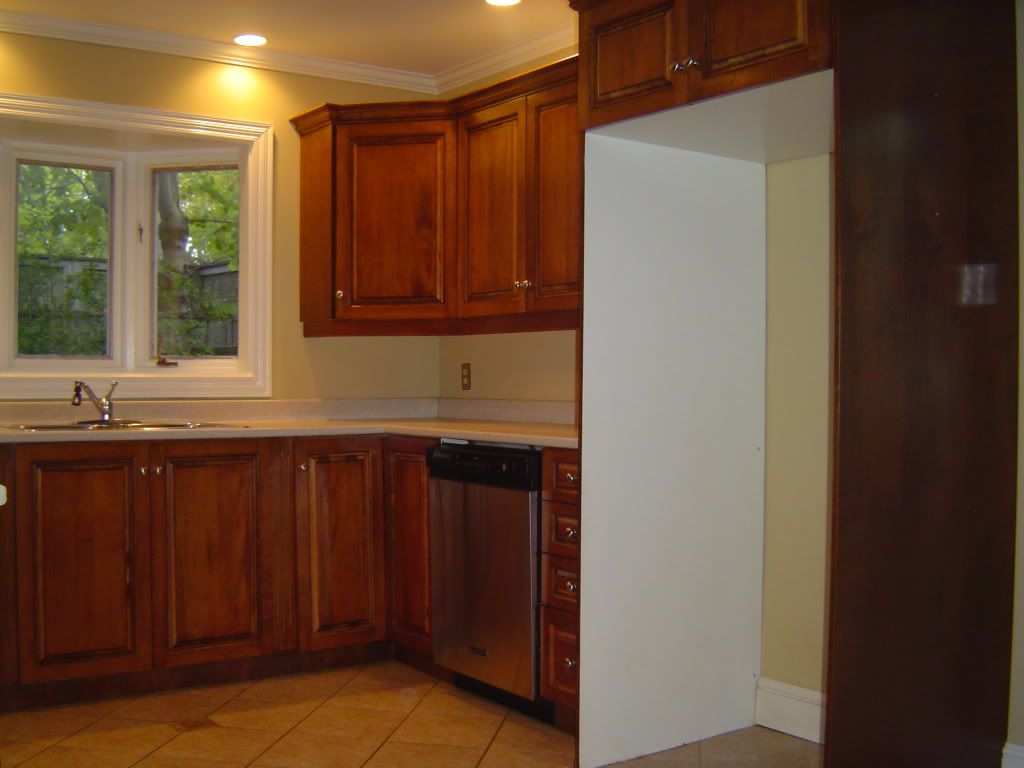 During (notice the LVL beam install and the temporary walls supporting the entire second floor, needless to say my wife was nervous at this point..!!):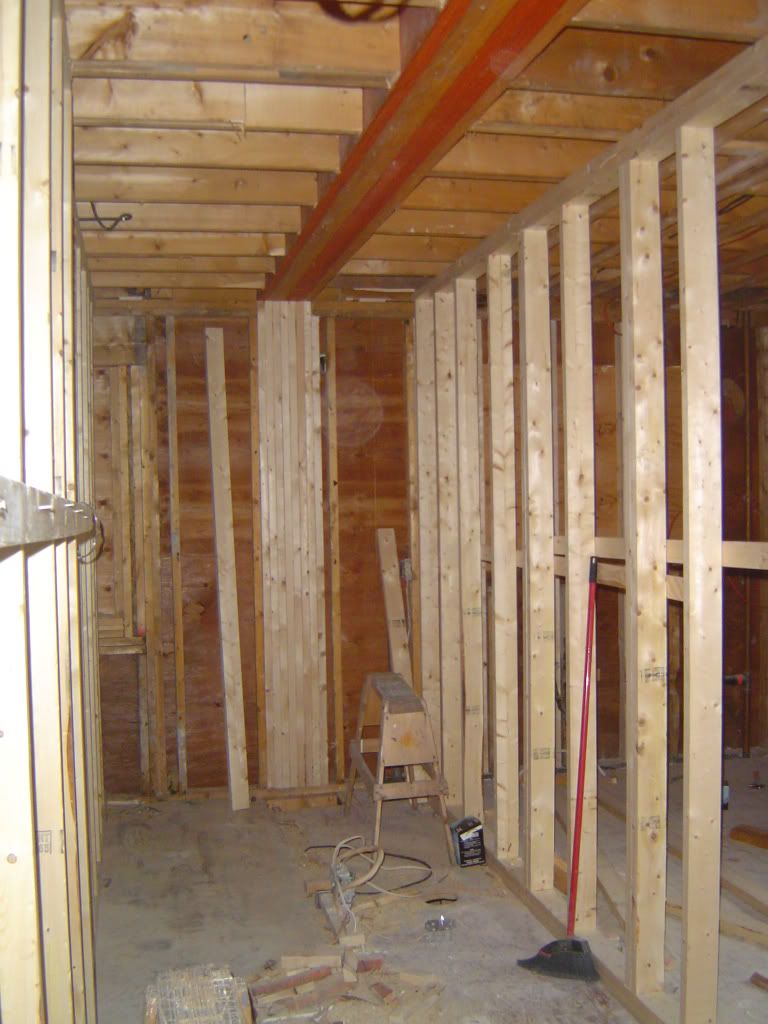 After: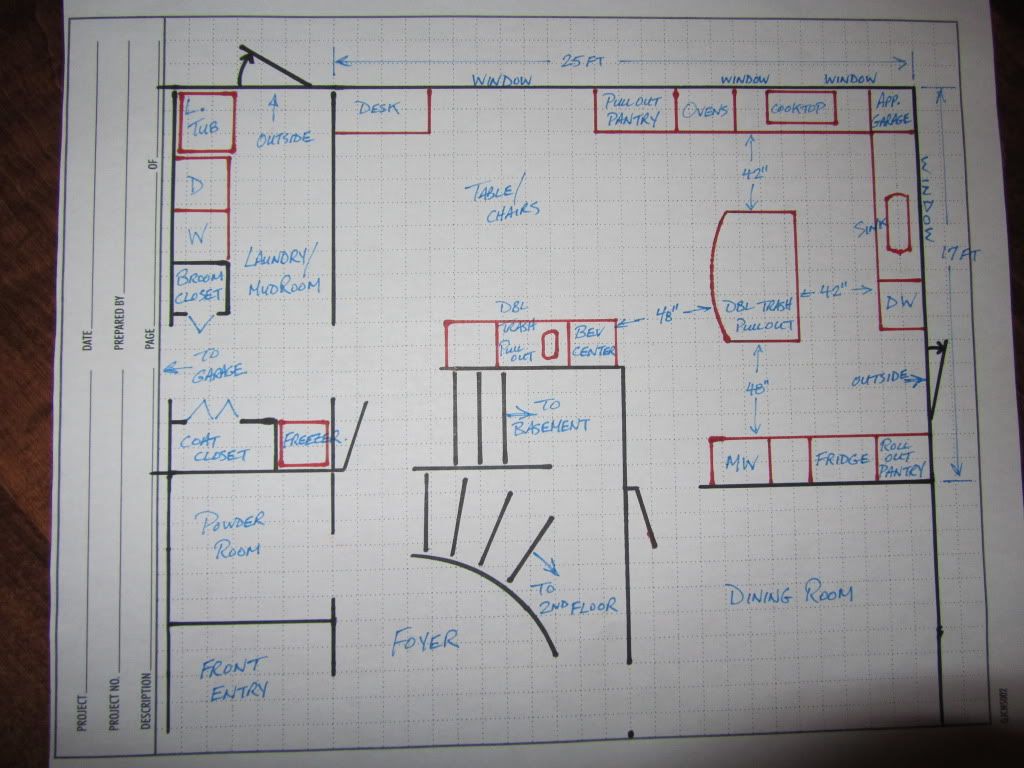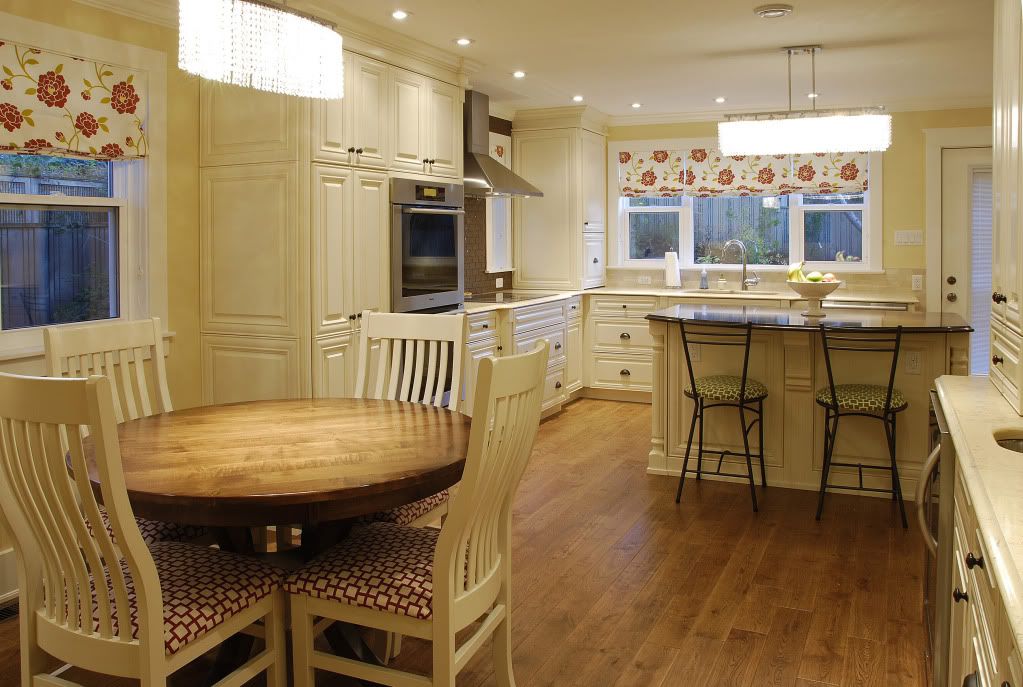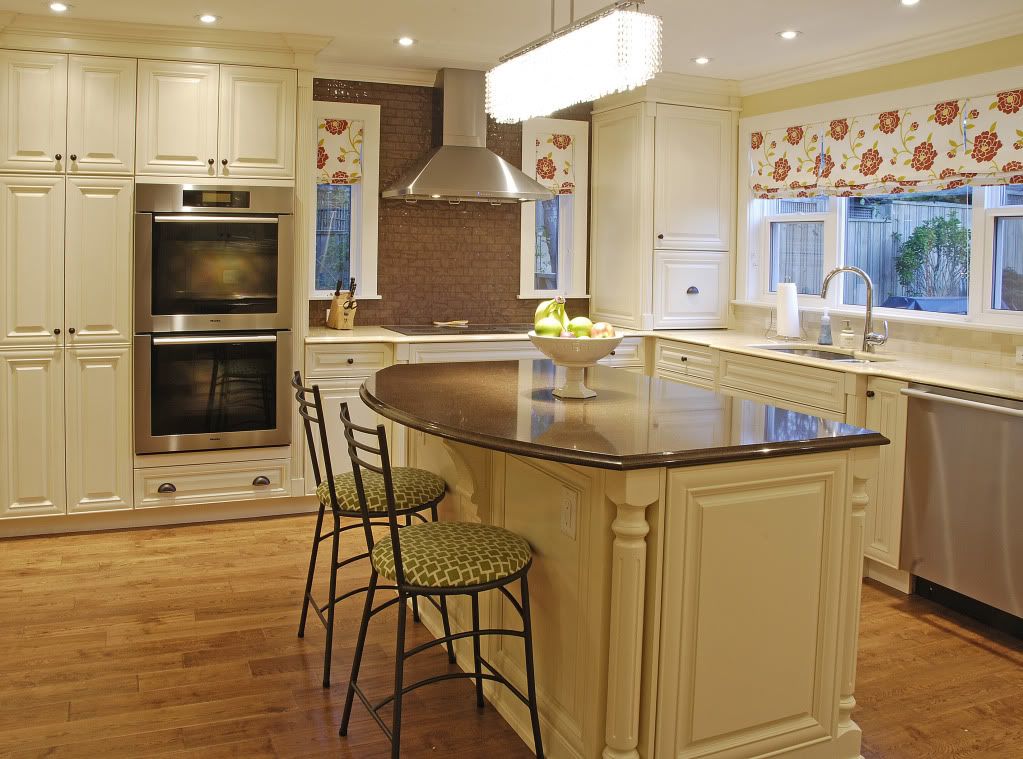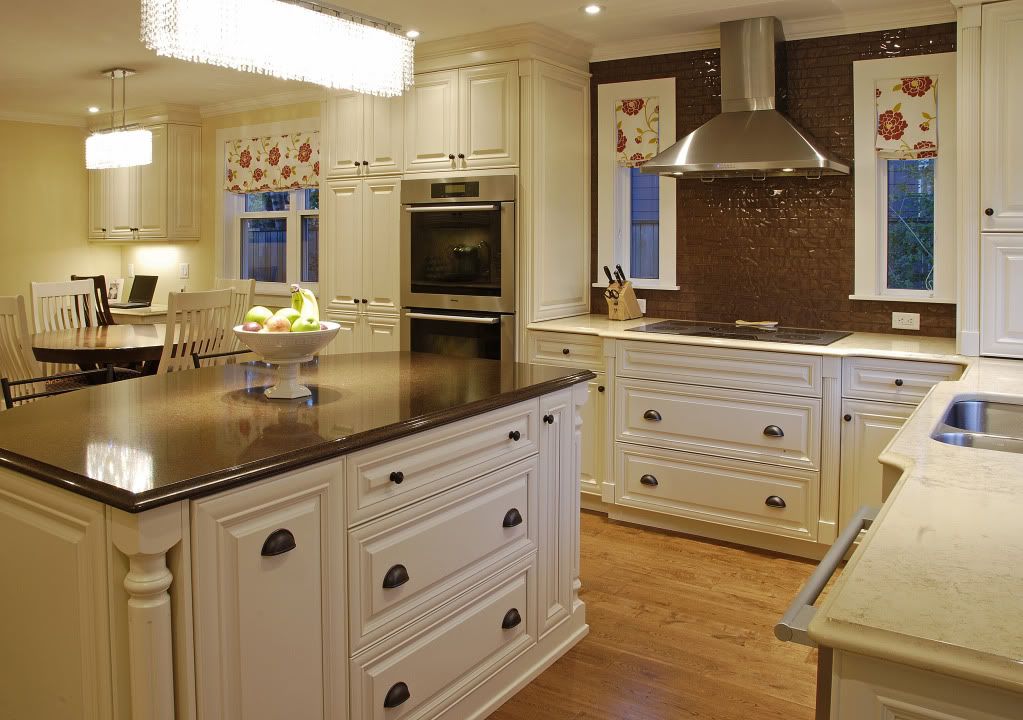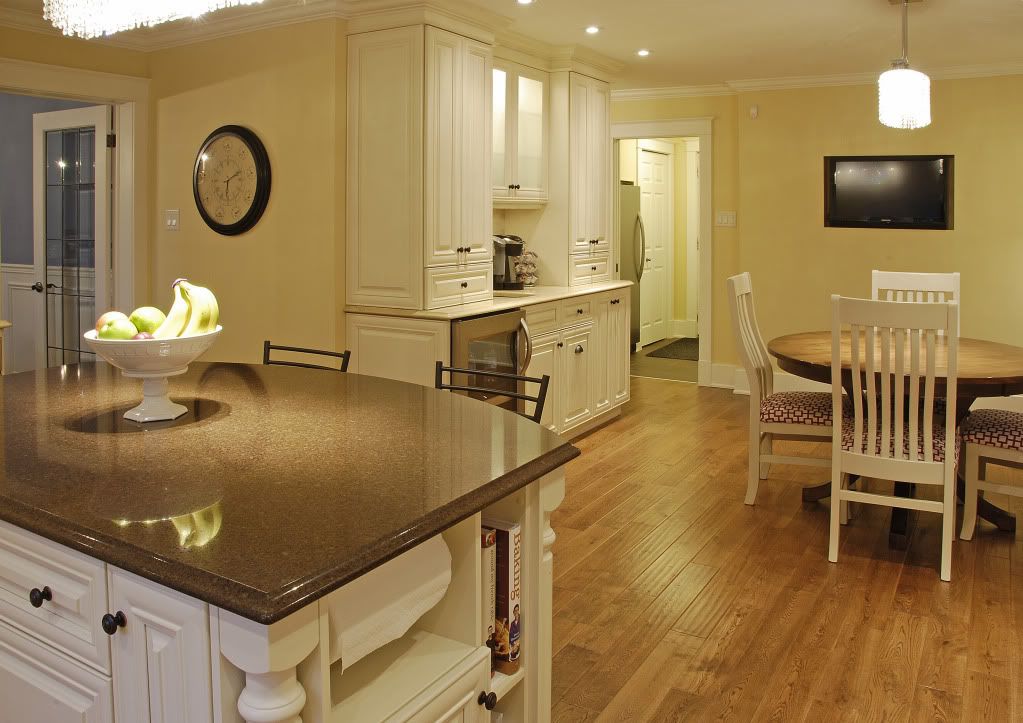 And finally, Daddy's Little Helper. This is what happens when a 4 year old discovers that Daddy's camera has a remote control. One of many self portraits...!!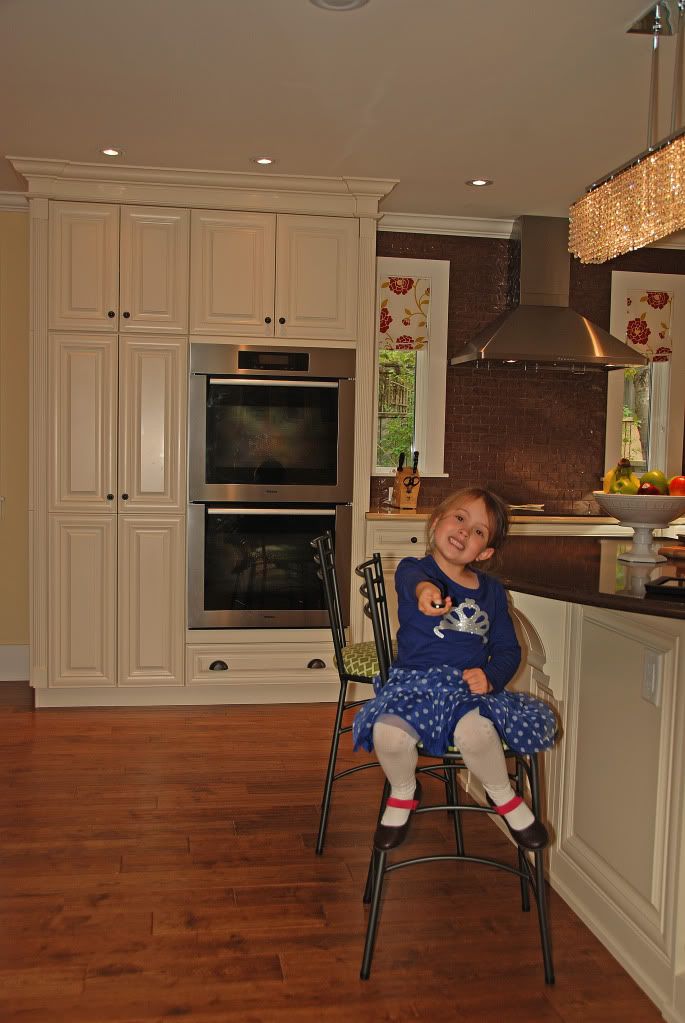 Thanks for viewing!