Help me choose a FR couch color to match kitchen (picture heavy)
cloud_swift
October 12, 2012
This may be a little off topic but I've tried asking on the Home Decorating forum and didn't get many responses and this is an issue of trying to get a couch that goes with the kitchen in our kitchen/family-room.
We had itty bitty leather swatches for the available colors and were having trouble picturing what the effect of couch size sweeps of that color would be so we took our top candidates to a local Sherwin Williams store to get matching paint colors and painted them on large pieces of poster board. Their color expert got a very good match on the color.
Our kitchen and family room have natural cherry cabinets (the FR cabinets are still fairly new so look at the 6 year old kitchen ones to see what the cherry will darken to), Azul do Mar quartzite, maple floors and a Kurdish rug that this needs to go with.
Here are the samples shown against the kitchen and against the rug and floor (the sample color is truer in the rug and floor picture):
Rock (a very dark grey)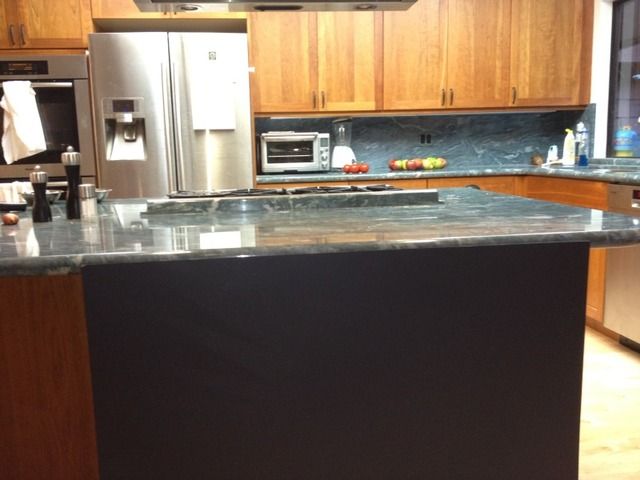 Oxford Blue (a navy blue)
and three browns
Chocolate (dark brown)
Cognac (middle brown)
Brandy (lighter brown)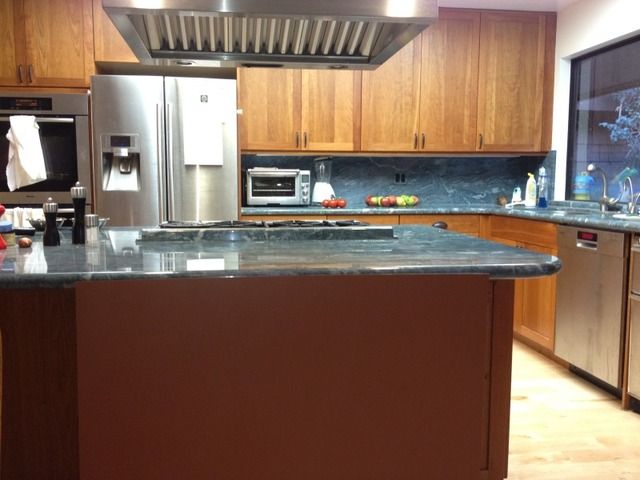 Which color should we choose?