Please help me pick glass pattern for French door and pantry cabi
I am posting sketches of my kitchen below. Some of the details are off, but they show the basic layout. There is supposed to be a single lite French door on the sink wall between the cabinetry runs. On the opposite wall, the reach-in pantry has bifold doors with glass inserts to break up the wall of walnut.
The French door opens onto a walkway along the side of our house. If we used clear glass, the view would be of a wood fence with some greenery on it about 42" in front of the door. My original plan was to have a custom leaded glass insert in the French door to allow light to come in, obscure the ugly view, and function as kitchen art. I love the windows in Sochi's kitchen. I was thinking of something with a combination of circles, straight lines, and maybe some squiggles. I planned to pick one of the more opaque glasses used in the French door to use for the glass inserts in the pantry doors, to tie the elements together. I do not want the contents of my pantry to be visible through the glass.
I am starting to worry that the beautiful door design I had in mind will be too much with all the other material patterns going on in the room (wood grain, striped counters, and swirly stone look porcelain floor tile). The cabinets will be walnut and the counters will be White Macaubus. The floor tiles (already installed) are 24x24 Emil Keystone in "Iron" - the base color is a light-to-medium gray with swirls of darker gray and some cream, blue and green tones, depending on the lighting.
My designer thinks the patterns I am looking at will be too much for a "back door," especially since we will not be able to replace the front doors with single lite leaded glass French doors for at least a few doors. She suggests coming up with a very simple design with just a few lines and a couple kinds of glass (but I have nothing to copy for that). DH thinks we should just use 1 kind of obscuring glass for both the French door and pantry inserts. I'm not sure what kind of glass would look good and not compete pattern-wise with the walnut and other materials. My designer said a textured clear glass is much easier to keep looking nice than acid-etched or sandblasted "frosted" glass, which shows finger prints easily (I have 2 little ones).
What kind of glass would you recommend for my kitchen?
These websites show some glass pattern options:
http://www.buildersdooroutlet.com/i_full_lite_6-8.shtml
http://www.doorsbydecora.net/templates/System/details.asp?id=41910&PID=625087
Pantry wall:
Sink wall:
Walnut cabinets: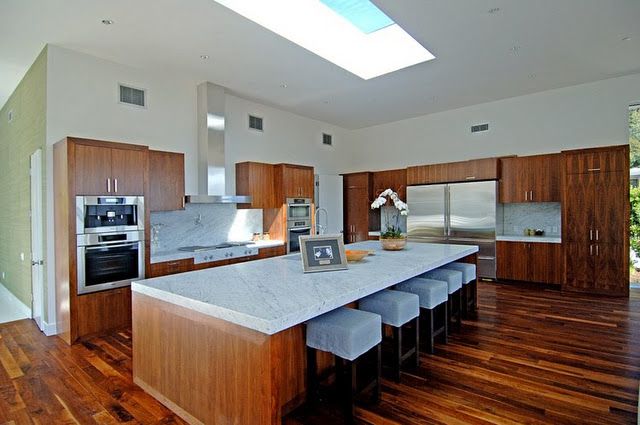 White Macaubus counters:
Glass pattern DH and I like, but a rectangle with no border and few if any pieces of colored glass:
Here is a link that might be useful: glass patterns